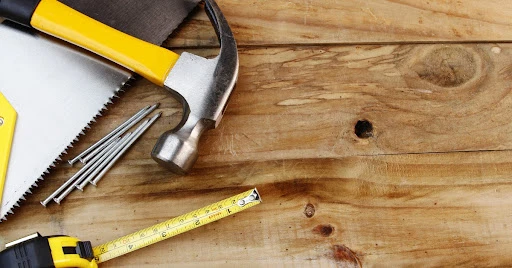 There is no doubt that floor repair and replacement are a critically important part of maintenance in your home or any building for that matter. Those surfaces give you somewhere to stand and are an integral part of the overall structure. But it is also a crucial design element. Your floors take up a huge amount of visual space, so their appearance makes a huge difference in the style and design aesthetic of the entire house. This is another reason why it's important to complete floor repair in South Shore properties.
When flooring has suffered damage such as cracks, moisture incursion, missing pieces, and other unsightly problems, it lowers the value of your property, creates a big eyesore, and can be a hazard for tripping, cuts, and other injuries. That is why expert floor repair or replacement services are essential for the wellbeing of your South Shore home and everyone who lives and visits there.
When you need floor repair or replacement services from an experienced South Shore handyman team, call Mr. Handyman of Central - Eastern Norfolk County & South Shore. We offer skilled floor repairs in South Shore that will get your home back in excellent condition, or we can replace your damaged flooring with a brand-new installation. As a locally owned and operated business with a skilled, licensed handyman team, we are proud to deliver the highest standards of quality workmanship and exceptional customer service on every job.
Floor Repair or Replacement?
Out of all the questions our handyman team is asked by residents of the South Shore area, this one is probably the most common. That makes perfect sense—after all, there's no point in throwing the baby out with the bathwater, and there's no point in getting a new flooring installation if all you need is floor repair.
In our professional experience, this conundrum of floor repair versus replacement comes down to two key factors: the nature of your problem and the extent of your damage. If you are dealing with relatively minor issues such as stains, scuffs, scratches, and chips, and they are localized in one area or at least not too widespread, floor repair will likely be a viable, cost-effective option. Or, maybe you have a bigger problem, such as one smashed tile or a small patch of hardwood that has been softened. In that case, floor repair may involve replacing a tile or a few planks of wood.
But if the damage is severe or covers a large percentage of your overall area, or the damage is in a very prominent and noticeable location, replacement for the entire room may actually be a longer lasting, less costly choice. Not sure which category your issue falls into? This guide covers common problems that can usually be solved with floor repair and includes some frequently asked questions about repair and installation.
Common Floor Repairs in South Shore, MA
There is a pretty large variation in types of material, and it will come as no surprise that each material suffers different problems and requires different floor repair methods. Our experienced handyman team is capable of coming up with long-lasting, effective, and appealing repair solutions that will get your South Shore home back in excellent condition and looking its very best.
When just one part of the surface is damaged, such as a single tile, the floor repair strategy may involve replacing that one damaged part. However, it can be surprisingly difficult to find a tile or other type of material that matches perfectly with whatever is installed. Tiles tend to be discontinued often or may not be immediately available, or you may not be sure of the product name. That is why it's so important to save a few extra pieces whenever you have new flooring installed, in case you need it for a patch job down the road.
Hardwood Floor Repair
Wood floors, whether they are solid hardwood or engineered wood, offer some distinct advantages. They give your home a natural charm that simply can't be matched by synthetic flooring materials, and wood can fit seamlessly into so many different design aesthetics, from old-fashioned or rustic to elegant or modern. On the downside, wood does have some drawbacks. It can be scuffed or gouged fairly easily, and it is vulnerable to warping and rotting when exposed to excessive moisture.
Here are some of the common wood floor repair issues we can fix:
Scratches
Scuffs
Gouges
Flaking or peeling wood stain
Warped, buckling boards
Patches that are softened by wood rot
Sun-bleached patches
If you only have a couple of minor scuffs, you may be able to make them invisible with the help of furniture markers. That is pretty much exactly what it sounds like—a special type of marker that matches the color of your wood stain. It can be applied to a surface scuff to effectively "erase" it. A word of warning, though: exact color matching can be tricky, so it is best to test it out on an inconspicuous part of the wood first.
Vinyl Planks or Vinyl Tile Floor Repair
Luxury vinyl tile (LVT) and luxury vinyl planks (LVP) are essentially the same thing, but LVT pieces are usually square and mimic the look of tile or stone, whereas LVP pieces are long rectangles that mimic the look of wood. They are both made of vinyl, which is highly durable, very inexpensive, and virtually maintenance-free. It isn't easily damaged, but floor repair can be difficult when it does suffer damage and, because it is plastic, it isn't the most environmentally friendly option.
Vinyl became popular in the 1950s and has been going strong ever since. It is often used in bathrooms, kitchens, mudrooms, laundry rooms and other areas with a lot of foot traffic or areas frequently exposed to water. It is an excellent choice for basements because it's highly water resistant and can be installed directly over a concrete subfloor.
Vinyl floor repair issues we can handle include:
Scratches
Stains
Peeling
Cracking
Crumbling edges (particularly in very old material)
Ceramic & Other Types of Tile Floor Repair in South Shore
Tile has been used as a finishing material for thousands of years, and the modern ones aren't so far removed from the ancient version. If it works, it works. Tile is versatile, long-lasting, and typically low-maintenance, but it's worth noting that some types need more maintenance and are more easily damaged or stained than others. For example, a natural stone tile such as slate is strikingly beautiful, but it needs to be resealed regularly to keep it looking good and avoid scuffs. And marble may practically scream "luxury," but it is easily stained and chipped.
On the other hand, ceramic or porcelain tiles may not have the same design appeal as natural stone, but they are highly durable, low-maintenance, and can be very attractive. Many of them are designed to mimic the appearance of natural stone as well. Ceramic and porcelain are actually made out of the same basic materials but have different fabrication processes.
Tile flooring problems we can repair include:
Crumbling or cracked grout lines
Dirty, dingy grout that never looks clean no matter how much you scrub
Minor cracks and chips
Heaving tiles
Replacement for impact damage to one tile
Laminate Floor Repair
Laminate is a very common composite material found in buildings around the world. It consists of a base layer of plywood or high-density fiberboard, an image layer with a high resolution image that gives the surface its appearance, and a transparent, highly durable top layer that protects the image and absorbs wear. The image often mimics the appearance of wood, but there is also laminate material that is made to look like stone, metal, or other patterns. Laminate has gotten a bad reputation in the past for being old-fashioned, but modern laminate is attractive and, in many cases, indistinguishable from other types of synthetic flooring.
We have experience with laminate floor repair problems such as:
Staining
Discolored patches
Sections that are lifting or peeling
Bubbling
Faded colors
How Do You Repair a Rotted Floor?
Wood rot is a type of decay caused by fungi that thrive in timber with high moisture content. It eats away at wood, causing it to soften and crumble. There's no way to restore rotten timber to its previous condition, so wood rot repair usually means replacing the affected timber entirely. That being said, if there are only a couple of tiny rotted patches, your handyman may be able to repair them by scraping out the rotten parts and filling them with epoxy wood filler.
Can Chips in Ceramic Tile Be Repaired?
That depends on the chip's location and the size of the affected area, but it is usually possible to hide chips and defects on the surface of the tile with epoxy and paint. The basic floor repair steps for chips in ceramic are:
Clean the area thoroughly and give it time to dry.
Slightly overfill the chip with tile repair epoxy.
Use a leveling tool to smooth out the epoxy and blend it into the surface of the tile.
Let it dry completely, then use sandpaper to get rid of any ridges or bumps in the filler.
Blend some acrylic paint to match the color of the tile, and paint over the epoxy with a small paintbrush.
Let the paint dry, then apply a clear sealant over the top.
Is Solid Hardwood Better Than Engineered Wood?
Both solid hardwood and engineered wood are good products with different pros and cons. One is not necessarily better than the other—it really depends on what you want or need out of your flooring. As the name suggests, solid hardwood is made of solid wood planks that interlock together with a tongue and groove system, while engineered wood is a thin veneer of real hardwood bonded to a premium plywood backing. They look the same on the surface, and both offer the appeal of natural wood tones.
Solid hardwood can be more difficult to install because it needs to be nailed down to a subfloor. It is also vulnerable to warping if it gets soaked with water. But on the upside, solid wood can be sanded down and refinished many times. Proper care and maintenance will make it last well over 100 years, which cuts down on replacement expenses.
Engineered wood, on the other hand, is easier to install and can be installed directly over a concrete subfloor without the need for a vapor barrier. It is more moisture-resistant and a lot less likely to have issues with warping, which makes it a viable alternative to hardwood for basements and other moisture-prone areas of the house. However, it can only be sanded and refinished once or maybe twice, and you can expect it to last around 30 years if it is well-maintained.
What is the Least Expensive Type of Flooring?
It's always a good idea to look around for a sale or discount because you never know where you might be able to get a reduced cost. But typically, vinyl sheet flooring will be the least expensive option available. In our opinion, the small increase in price for vinyl planks or vinyl tile is well worth it, though. LVT and LVP tend to have a less industrial look than sheet vinyl and are more attractive overall.
Do You Need Floor Repairs in South Shore, MA? Call Your Local Handyman!
Whether you are in Marshfield, Duxbury, or another part of the South Shore and Metro Boston areas, you can depend on the team of professionals at Mr. Handyman of Central - Eastern Norfolk County & South Shore for excellent workmanship and customer care that goes above and beyond. We're ready to complete all your home repairs.
Pick up the phone and call us today to schedule a convenient appointment time. We will show up on time, address any concerns or questions you may have, and get the job done right!