Professional Handyman & Home Repair Services
Welcome to Mr. Handyman of Central - Eastern Norfolk County & S.Shore. Where a professional, safe, reliable handyman service for your entire "To Do" list is just one call away. That's why local residents choose our professional handymen, who specialize in ALL major and minor home repairs over an independent handyman.
Need a trusted local handyman? Get started today by calling us to book your service. Or you can request your service online today.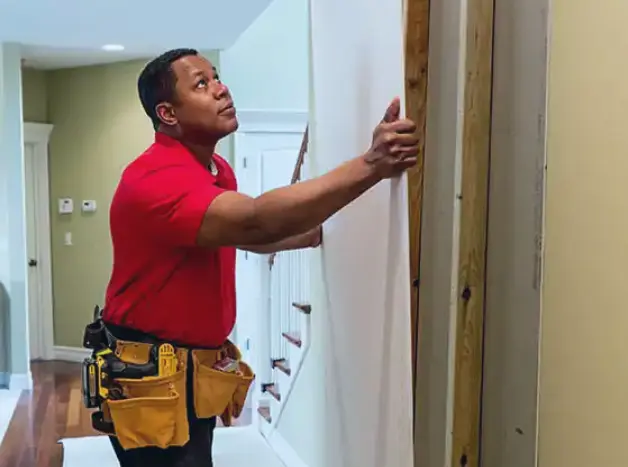 Why Choose Mr. Handyman?
Convenient one-call solution.

Safe, worry-free experience.

Fully insured with general liability and workers' compensation.

We'll clean up when we're done.

Our workmanship is guaranteed.

$25 Off
*2 hours of service or more. New customers only.
Mr. Handyman of Central - Eastern Norfolk County & S.Shore
Expires on date: 06/13/2025

Not to be combined with any other offers
Our Mission
Mr. Handyman is your one-stop shop for a wide range of home maintenance and repair solutions. Mr. Handyman's service technicians are highly skilled craftsmen, so you know they will get the job done right the first time.
Partnerships & Achievements
Professional Handman Services For Every Task
Rather than calling a different specialist to patch drywall, repair wood rot and clean your gutters, our neighbors consistently choose us for quality work that's On time. Done right.®
Mr. Handyman provides professional Walpole handyman services that are On time. Done right. Call today.
We understand your growing "To Do" list can feel overwhelming at times. This along with busy work schedules makes commitments to family and community difficult. We also understand you're invested in the local area. You may even own a local business. Let Mr. Handyman help with your maintenance and repairs. Drop that hammer and Let Mr. Handyman help. We would love the opportunity to add you to our long list of happy repeat customers.
As the local handyman choice, we thank our local community for trusting America's most reliable, insured and bonded handyman services.
Visit Our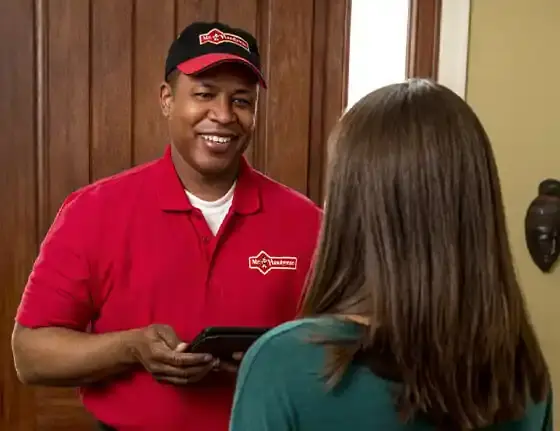 Who to Call for Home Repairs
Wondering who to call for home repairs? You aren't alone! With all the nuances in your home it can be tricky finding someone to handle the repair. Rest assured that you can call our Walpole handyman for your home repairs needs. One call to us is your gateway to "one-call" solutions.
Below are a few benefits of calling us for home repairs:
Versatility: Our handymen are skilled in various trades, including carpentry, light plumbing and electrical work, and masonry, making us a convenient one-stop solution for multiple repair needs.
Cost-effectiveness: Hiring a handyman eliminates the need for multiple service calls, saving time and money. We charge by the hour, not by the project. Our pricing can be more budget-friendly than hiring specialized contractors.
Industry knowledge: Our craftsmen stay updated with the latest industry practices and safety regulations, ensuring that repairs are conducted professionally and in compliance with standards.
Quality workmanship: With our expertise, we provide reliable and high-quality workmanship, giving you peace of mind that repairs are done correctly.
Convenience: One call to us simplifies the repair process, as you can rely on one professional to handle various tasks, reducing coordination and communication efforts.
Our Walpole handymen are backed by over 1,000 positive reviews and over 30 years of home improvement experience. Our wealth of knowledge and expertise allows us to tackle a wide range of projects with confidence and precision. But - for some extra peace of mind - we back our handyman services with a one-year warranty.
Trust us for high-quality local handyman services. To schedule your service, call us today or reach out online.
Mr. Handyman of Central Eastern Norfolk County South Shore
Choose the right handyman services team in your area. When it comes to selecting the right team for your home improvement needs, Mr. Handyman is the right choice.
Areas We Serve:
Abington, Accord, Avon, Braintree, Bridgewater, Brockton, Bryantville, Canton, Carver, Cohasset, Dedham, Dover, Duxbury, East Walpole, East Weymouth, Green Harbor, Greenbush, Halifax, Hanover, Hanson, Hingham, Holbrook, Hull, Humarock, Kingston, Lakeville, Marshfield, Marshfield Hills, Medfield, Middleboro, Millis, Milton, Milton Village, Minot, Monponsett, North Marshfield, North Pembroke, North Scituate, North Weymouth, Norwell, Norwood, Ocean Bluff, Pembroke, Plymouth, Plympton, Quincy, Randolph, Raynham, Rockland, Scituate, Sharon, Sherborn, South Walpole, South Weymouth, Stoughton, Taunton, Walpole, Westwood, Weymouth