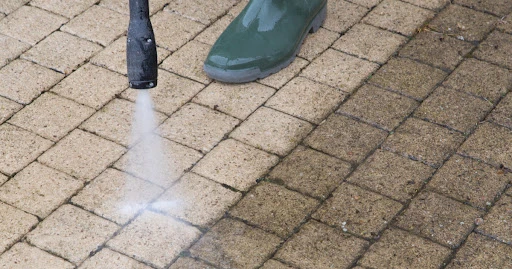 Are you skeptical about whether Charleston pressure washing services are really worth it for your home or commercial business property? If you've never seen pressure washing in action, it may seem like a lot of fuss over nothing. After all, you can just spray your house with a garden hose and get pretty much the same effect, right? The answer to that is definitely not! A hose can't even come remotely close to achieving the cleaning power of pressure washing, or give you the same advantages.
Professional Charleston pressure washing services will make a dramatic, highly noticeable difference to your property's appearance, but it can also help prevent damage and increase your property value. If you have a patio made of brick or concrete paving that is covered in grime and moss, for example, you may not even know what color it truly is until it's had a good wash. Your local Charleston handyman can make it look just as good as the day it was installed in a matter of minutes.
If you're considering Charleston pressure washing services and have some questions, this guide answers common inquiries and provides expert advice from the team of Charleston handyman service professionals at Mr. Handyman of Charleston and Summerville. You can count on us for quality pressure washing and dozens of other repair, maintenance, and improvement services, not to mention outstanding workmanship and customer service.
What is Pressure Washing?
It's a highly effective, efficient cleaning solution that uses high-pressure water jets to blast away grime and stubborn stains from exterior surfaces that other cleaning methods can't budge. Pressure washing can remove built-up grime, dirt, visible algae growth, moss, mildew, oil stains, loose paint, and other difficult-to-remove substances.
The secret to its effective cleaning power is the pressure. Water comes out of the nozzle at pressures ranging between 750 and 3,000 psi (pound-force per square inch). For comparison, a typical garden hose produces pressures around 300 psi, while a faucet is about 40 to 60 psi.
What Can Pressure Washing Be Used On?
Pressure washing is useful for a wide range of outdoor surfaces and items on Charleston properties, including parts of the house itself. It obviously should not be used on items that shouldn't get wet. But most other surfaces can really benefit from getting sparkling clean, even when they have been caked with grime for years—or decades.
Surfaces/Items We Can Wash Include:
Vinyl, Brick & Stone Siding: Remove lichen, algae, bacteria, and other harmful growth from siding to prevent it from eroding the surface and causing moisture damage inside your walls.
Backyard Decks & Front Porches: Wooden structures that have become slick or uneven from accumulated mud and algae growth aren't just unattractive, they're dangerous hazards for your family and guests to navigate around—and they're a sure sign that wood rot will soon make an appearance. Pressure cleaning works just as well on metal or composite decks, too.
Wood, Metal or Vinyl Fencing: Your fence does more than just delineate your property's borders. It keeps pets and small children safe, increases curb appeal, and gives visitors their first impression of your home. Keeping it clean will extend its lifespan, so you can avoid repairs or replacement for longer.
Driveways, Walkways & Patios: A driveway covered in oil stains is unattractive, and moss-covered walkways or patios can actually be a tripping hazard, especially for anyone with reduced mobility. Cleaning will restore masonry, asphalt and concrete surfaces to a like-new condition.
Outdoor Furniture: Is your patio furniture covered in dirt and mildew? Yuck. Not only does it make them unappealing to use, but it could also cause rust and other types of corrosion that will force you to replace them sooner rather than later. A quick blast from the washer will make patio furniture usable again.
Is Pressure Washing Useful for Commercial Properties in Charleston?
Absolutely! If you're a Charleston business owner, you know how important it is to keep a well-maintained business property—especially if your business is accessible to the public. Fair or not, customers tend to judge a book by its cover. If they see dirt, grime, overgrown moss and other signs that property maintenance has been neglected, it may cause your company to lose credibility and prompt customers to take their money elsewhere.
Commercial Charleston pressure washing services can be used for the same surfaces and items as at a residence, along with business-specific cleaning jobs such as parking lots, service vehicles, some heavy equipment, and many other possible applications.
What are the Benefits of Hiring a Charleston Pressure Washing Service?
There are some huge advantages to Charleston pressure washing services. We mentioned how dramatically it can improve the appearance of your home, but it's not all about looks. This cleaning method also makes your life easier, helps prevent serious damage to your house and property, and is a necessary first step before refinishing some surfaces. Here are some useful perks of our cleaning services.
Save Time and Energy
Cleaning exterior items is a huge, time-consuming chore for Charleston property owners, so it's not surprising that it's often neglected. Imagine going outside with a bucket of soapy water and a long-handled brush to scrub away at your home's siding. You would get an excellent arm workout, but it would take many hours of hard labor. Even then, it wouldn't be anywhere near as effective as pressure washing. Even the most aggressive cleaning regimen can't match the power of a pressure washer to remove unwelcome substances at a rapid rate, and get into every nook and cranny to eliminate dirt and grime.
How Long Does Pressure Washing Take?
The amount of time it takes to clean surfaces and items on Charleston properties varies according to factors such as your home or business' size, how many people are working on it, and accessibility to all the building's areas or other items that are being cleaned. However, you can expect even a large house in Charleston to be completed within a couple of hours. A smaller surface or single item can be shiny and clean within 20 or 30 minutes.
Boost Curb Appeal
Whether you're thinking of selling your house in the near future and are looking for ways to increase your property value, or you have no intention of moving but want to keep your home looking and functioning at its very best, you will be surprised and pleased by the difference our professional cleaning services make.
Increase Property Value
Pressure washing is one of the most cost-effective ways to prepare a home for sale, because it's an affordable service that makes a huge impact on how people perceive your property. Seeing siding, walkways, fences, and other exterior areas covered in dirt, algae, and stains is a big red flag to prospective Charleston home buyers. It indicates that the property has not been maintained, and there could be damage lurking beneath the surface. When everything is bright, clean, and looking new again, it reassures potential home buyers that the house is in good shape, and that they won't have to spend a lot of money on maintenance after moving in.
Prevent Damage
Appearance is important for Charleston properties, but it's not everything. Pressure washing is one of the key aspects of property maintenance because it can actually help reduce erosion and corrosive damage. Dirt, grime, algae, mildew, and more harbors harmful bacteria that can eat away at surfaces, such as your siding. The damage caused by contaminant build-up over time can cause siding and other components of your property to deteriorate faster than they otherwise would. This creates problems such as excess moisture inside your walls, which can lead to wood rot and other severe issues—threatening the structure's stability.
Remove Allergens
Pressure washing also removes bacterial growth that could make a pet or small child sick, and it removes pollen build-up. If you suffer from seasonal allergies, or live with someone who does, you may find that making an appointment for a Charleston pressure washing service provides significant relief from pollen and other irritating allergens.
Prime Surfaces for Refinishing
If your deck or porch is covered in peeling paint, flaking wood stain, or weathered, grey wood, it's time to refinish it. But first, the surface needs to be washed. You can't just paint over dirt, so naturally decks and porches need a good cleaning before they can be refinished. But pressure washing does more than just clean off dirt. It also strips away peeling paint far faster and more effectively than sanding ever could, leaving behind a smooth, clean surface to work on. Not up to the task of refinishing your deck, porch, or other outdoor surfaces? No problem! Our experienced Charleston handyman team can take care of that for you as well.
Can Pressure Washing Cause Damage?
In the hands of an amateur who doesn't know the correct pressure settings or techniques for any given project, these machines can damage surfaces and items. That's why it's a job best left to a skilled professional who knows exactly what can or can't be cleaned with the machine, and what pressure settings should be used.
These machines can also injure people and animals if used carelessly. When you hire our Charleston service technicians, you get peace of mind knowing we'll always use the safest cleaning methods to avoid any damage to your property or injury to anyone—human or animal—who is present at the time.
Where Should Pressure Washing Not Be Used?
As effective and convenient as pressure cleaning is, it can't be used for everything. For example, it should not be used for roof cleaning in most situations, because it can damage roof shingles and cause water seepage.
Other Places a Washer Should Not Be Used:
Anything that shouldn't get wet
Electronic items
Soft/delicate items
Masonry surfaces with old, crumbling mortar
People and animals
Plants (unless you want the plants to be removed—they will not survive the wash)
Is Pressure Washing Environmentally Friendly?
This cleaning method has the potential to be hard on the environment. It uses a lot of water, can involve detergents and chemical cleaners that can get into the soil and groundwater, and can rinse grease or other pollutants into the ground or sewer. A professional Charleston handyman, such as the ones on our team, will take steps to minimize the impact on the environment by using techniques that reduce water usage and avoid harmful chemicals. Our methods protect nearby flora and fauna, and also prevent soil from being contaminated by run-off.
Can You Wash a Pressure Washer?
Technically, yes—but not with a pressure washer. These machines contain electronic components, and could be damaged by the spray from, well, themselves. So, perhaps somewhat ironically, these machines should not be pressure washed.
Count on Your Local Handyman for Expert Charleston Pressure Washing!
Whether you're in Charleston or a nearby area such as Summerville or Goose Creek, you can trust the team of professionals at Mr. Handyman of Charleston and Summerville for experienced residential and commercial pressure washing services. We're a locally owned and operated business in Charleston, SC, and we pride ourselves on delivering the highest standards of quality workmanship and exceptional customer service.
Pick up the phone and call us today to schedule a convenient appointment time, or to speak with our friendly office staff about the Charleston handyman services your property needs to be in perfect working order.