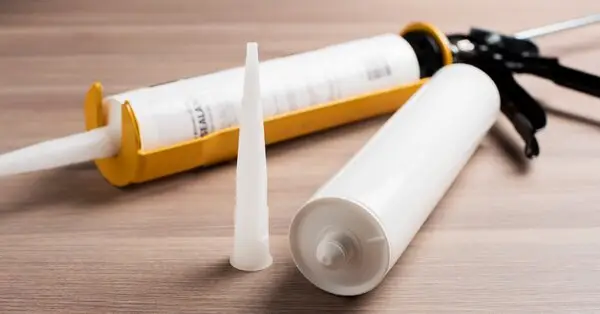 If you're wondering whether your house needs Colorado Springs caulking service, the answer is very likely yes. Caulk is absolutely essential to the way we build houses and commercial buildings in the U.S.A. because it provides crucial protection against water damage, pest infestations, energy loss, and damage to your building exterior and interior that results in very costly repairs. It's already in numerous places around your house, both inside and out, and it doesn't last forever—in fact, Colorado Springs caulking service may be necessary as frequently as every five years in some parts of your home. That's why it's fairly safe to assume that your residential property could do with a visit from a qualified Colorado Springs handyman.
The service professionals at Mr. Handyman of Colorado Springs are the right crew to get the job done. We have plenty of experience providing caulking services and other home installation, maintenance, repair, and improvement services. Give us a call to find out more—we look forward to the opportunity to tell you how we can make your house more efficient, comfortable, appealing, and livable.
Our Reliable Colorado Springs Caulking Service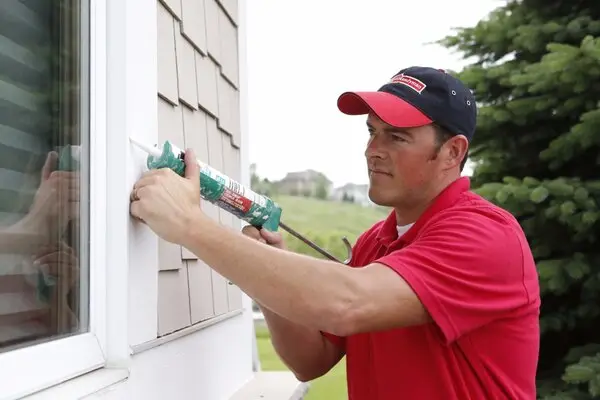 Caulk forms an airtight, watertight seal on all the little gaps and cracks in your house or commercial building that would otherwise cause energy loss and increase your utility bills. It may look easy to apply, and it can be very easy—especially in places where it's not going to be visible. But there are some good reasons to leave Colorado Springs caulking service to the professionals. Knowing where to apply it, which kind to use, and how much of it to apply can be more than half the battle, and that comes with experience. It's also surprisingly difficult to get a smooth, even line of caulk in a visible area. Our team has the skill and experience to get your entire house sealed up properly with effective caulking service.
Any part of your building where you need to either prevent water and dirt incursion or stop air movement in and out of the house needs the attention of a local handyman for Colorado Springs caulking service. That includes areas like:
Around plumbing fixtures such as faucets, sinks, toilets shower heads & bathtubs
The meeting point between tile & other materials like drywall, or the corner where planes of tile intersect
Around air vents, recessed light fixtures & duct registers
Between drywall & trim components like baseboards, crown molding, wainscoting & chair rails
Inside door jambs, window frames, garage doors, vents & other areas where there's a break in the exterior shell of your building
Basement rim joists, where the wood framing meets the foundation of the house
Holes, cracks & gaps in your attic walls or floor can cause heat loss & let in air drafts
Around light switches, electrical outlets & cable jacks
Gaps & cracks in the fascia, soffit boards & exterior siding
Over the top of grout joints in moisture-prone areas such as a shower
Areas where two materials join, like exterior trim & siding
Cracks, leaks & tiny holes in flashing or rain gutters
Choose Mr. Handyman for Caulking Service, Colorado Springs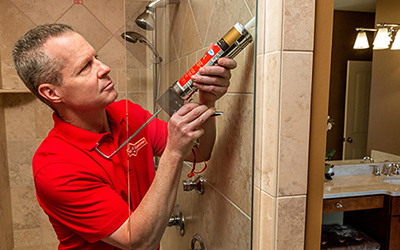 Whether you need our handyman experts to take care of complex projects or basic home repairs, the trustworthy team at Mr. Handyman of Colorado Springs has the experience and dedication to meet or exceed your expectations. Along with Colorado Springs caulking service, we provide a wide range of repair, installation, and maintenance services such as tile installation, bathroom remodeling, and drywall repair. Get in touch with our friendly office staff to schedule an appointment at a time that's convenient for you.
Frequently Asked Questions About Colorado Springs Caulking Service
IS THERE A DIFFERENCE BETWEEN CAULK AND CAULKING?
There is a difference, though it's quite common for these two words to get mixed up. Caulk is the substance that you apply to seal up gaps and so on, while caulking is the act of applying caulk. Another point of confusion is the difference between caulk and grout—caulk is a semi-flexible sealant that is commonly made with silicone or acrylic, and grout is a semi-porous, cement-based product that closes the gaps between tiles.
HOW DO YOU FIX THE CAULK THAT WAS APPLIED INCORRECTLY?
If you or a member of your household decided to try a DIY project and it didn't work out quite how you were envisioning, don't panic. The best way to fix this problem is to remove it and give it another go—or let the professionals take over. If it's silicone and it was recently applied, try softening it up with damp rags and then gently pick at it until you can lift an edge and peel it away. If that doesn't work, it will probably need to be scraped off with a scraper tool or dissolved with dissolving chemicals. We can take care of the removal and reapplication process to deliver the best possible Colorado Springs caulking service results.
HOW OFTEN DO I NEED TO SCHEDULE Colorado Springs CAULKING SERVICE?
That really depends on a number of important factors such as where it's applied and what type of caulk was used, but generally speaking, you can expect to need Colorado Springs caulking service every five years or so, especially in areas that are prone to water exposure such as a shower. Some of the factors that impact the longevity of caulk are:
Quality and type of product
Surface condition
Application method
Humidity levels
Mildew or mold growth
How well it has been maintained
Call the Pros at Mr. Handyman for Colorado Springs Caulking Service
When you need caulking service in Colorado Springs or a nearby area such as Manitou Springs, Castle Pines, or Highlands Ranch, rely on the team of experienced handyman professionals at Mr. Handyman of Colorado Springs. You can reach us to speak with our knowledgeable customer service representatives about any questions you may have or to book a service appointment with our reliable technicians.