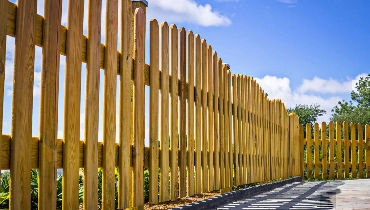 Whether a charming white picket, elegant wrought iron, or classic wood, your fence plays a vital role for your home. It clearly marks property lines—avoiding any confusion with your neighbors—provides privacy in your yard, contributes to your curb appeal and keeps playing children and pets out of harm's way. Perhaps you already have what you need, but if you're contemplating installing a new one—or you need Boulder fence repair services—the choices can seem endless.
A new installation is a big decision. Not only should you choose materials that match your home's aesthetic, are durable and last a long time, but also those that are straightforward to repair. With a range of options available to you, it helps to know a little about each type before investing in a new structure. To help you feel informed about your choice, read on to discover the pros and cons of different types of materials, common Boulder fence repair problems associated with each variety, and how your local handyman can help with both your Boulder fence repair and installation needs.
When you need fence installation or repair services, count on your local Boulder handyman to get the job done skillfully and efficiently. The team of professionals at Mr. Handyman of E Boulder, Broomfield & Erie are very experienced with Boulder fence repair here and in nearby parts of Colorado. We know exactly what to do to get your barrier back in great condition, so it can protect your home and boost your curb appeal.
Types of Fences and Common Boulder Fence Repair Issues
If an outdoor structure is looking rough around the edges, sometimes all property owners need is experienced Boulder fence repair services to get it back in shape. But if your entire fence is covered in widespread damage, a replacement will likely make the most sense. The general rule of thumb is if more than 25% of the structure is damaged, replacement is likely the more cost-effective choice. A brand-new installation is also an option for homeowners who don't currently have a barrier but need or want one.
There is a wide range of materials and styles available to choose from. This guide will cover a few of the most popular choices and explain the common Boulder fence repair problems that each type is likely to encounter over its years of service.
Wood Fence
Wood is the traditional choice for most American homes. Its design can vary considerably, making it a fantastic option for most aesthetics. For instance, both modern and traditionally designed homes can look great with wood fencing. Initially, redwood and cedar were popular options because of their affordability and resistance to decomposition. Today, the rising cost of lumber prices has led to an increase in synthetic materials replacing traditional wood. While these materials, like vinyl, may be more cost-effective, wood is by far the most eco-friendly material. The boards can be treated with environmentally conscious stabilizers and preservatives that protect them from termite damage and swelling from humidity without harming the soil or groundwater. When too worn, wood can also safely be disposed of.
With maintenance, how long wood lasts depends on the type of wood used. For instance, a cedar fence will last between 15 and 30 years whereas a pine fence will only last up to 12 years. A few common Boulder wooden fence repairs include fixing:
Leaning fence posts or fallen panels
Staining and damage from the elements
Rot and insect damage
Missing boards or pickets
Peeling paint
Splinters
Popping nails
Wood rot is probably the biggest Boulder fence repair problem when it comes to wooden structures. Wood rot is a form of decay that only attacks timber with a moisture content of 20% or higher, and any wood that is outdoors and exposed to the elements is constantly being soaked by rain or snow melt—often without a chance to dry out before the next soaking. That's why wood that is outdoors is almost guaranteed to rot without diligent care and maintenance, while timber that is dry indoors can last for centuries. Since wood rot causes timber to soften and crumble apart, an issue like a broken post or broken picket, or an overall lack of stability, can often be traced back to rotting timber.
Chain Link Fence
Although this material does not offer the same range of styles as wood, chain link models have a variety of benefits. This style has many economic advantages, is highly durable and affordable and requires little maintenance. The materials used include interlocking and woven wire mesh and steel posts. Chain link is also quite quick to install and is a popular choice for many commercial spaces—including power plants, schools and community centers—because it's very easy to repair when damaged. One drawback to chain link is security. This material can be sliced through with wire cutters, so it might not be the best option if you have valuables lying about your yard or garden—like an outdoor speaker. A professional installer, such as the team at Mr. Handyman, will simply cut away the broken area and replace it with a new section. Chain link should last up to 20 years. A few common Boulder fence repair problems with this style include:
Leaning
Crooked posts
Drooping and sagging
Vinyl Fence
If you don't like the appearance of chain link and don't want the hassle of wood upkeep, why not consider vinyl fencing? This material has many advantages, and a few disadvantages too. Vinyl is made out of PVC (also known as polyvinyl chloride). It's quite a low-maintenance material, and won't crack or splinter like wood can. Likewise, vinyl won't rot, be infested with pests, or require refinishing as wood might. It can even mimic the appearance of wood. However, initial installation costs can be high and extreme weather may cause vinyl to warp. Also, since this material is a type of plastic, it's not very eco-friendly. If your structure needs a good cleaning, power washing is the best way to get the job done—learn more with our power washing FAQs in Boulder, CO.
Common Boulder fence repairs for vinyl include:
Missing pickets or panels
Staining from bacteria and algae
Leaning posts
Wrought Iron Fence
If durability and elegance are your top concerns, then wrought iron is the material for you. Known as the "100-year fencing" wrought iron is extremely durable—even more so than conventional iron. This is why many homeowners living in heritage buildings or historic houses have wrought iron gates and barriers. Although a luxury material—it's quite an investment to install—wrought iron requires very little maintenance. Indeed, the only primary maintenance required is to apply a fresh coat of rust-resistant paint every year or so. Wrought iron also offers a very high level of security, as the material is unlikely to be broken, cut through or torn down. It can also keep out large animals and pests from your yard and garden. Although this style might not offer as much privacy as wood or vinyl, if you live in a scenic area then it's ideal. You'll have security, mark your property lines and keep loved ones safe while still being able to enjoy the stunning views around your home. Although wrought iron will require few repairs, a couple of Boulder fence repair issues to watch out for include:
Rusting
Corrosion
Patchy or faded paint
Benefits of Professional Boulder Fence Repair Service
Boulder fence repair is often one of those services that is neglected until the structure is practically falling down and the whole thing needs to be replaced—but you can save time, money and stress with professional Boulder fence repair and maintenance services. Plus, you get the advantage of these benefits:
Keep Children and Pets Safe: If you've got small children or dogs, you know how important it is to have a solid barrier in your backyard. Without a secure barrier, you can turn your back for literally just a few seconds and they'll already be headed straight for the busiest street. When your structure is in rough condition with missing pickets, rotting boards or a big gap underneath, kids and dogs won't hesitate to take advantage of those weaknesses to wiggle through and put themselves in harm's way, so Boulder fence repair services are really important to keep them safe.

Prevent Damage From Spreading: Some types of damage such as wood rot and corrosion can worsen and spread over time, making your Boulder fence repair a lot more stressful and time-consuming than it would have been if the damage was caught earlier. Our team has the fence maintenance skills to keep it in great shape for much longer, so you can avoid a total replacement.

Boost Curb Appeal: Appearance may not be the most important thing in life, but it still matters. Your structure is right out there at your property line, so it can really make or break your curb appeal. It also contributes a lot towards first impressions for people who are visiting your property.

Improve Property Value: If you're thinking of putting your Boulder property on the market in the next couple of years, Boulder fence repair or installation could actually help increase your selling price and get you a nice return on your investment. It also helps convince prospective buyers to seal the deal—the majority of buyers are looking for a protected yard, and will appreciate that they don't have to spend time or money to have a barrier installed or restored to good condition.
Fence Regulations in Boulder, CO
When it comes to regulations or restrictions governing installation in Boulder, CO, there are a few things to keep in mind. First of all, you do not need a permit to build a new fence, as long as it is under seven feet tall. The exceptions are for structures located in a floodplain or wetland, or that are being constructed in a historic district or on a property designated as an individual landmark. In those cases, you would need a floodplain development permit, a wetland permit or a landmark alteration certificate respectively.
Regardless of whether or not a permit is required, structures must be at least 18 inches away from public sidewalks and cannot obstruct sight triangles that would obscure a drivers' vision at an intersection or driveway pull-out. Regulations for Boulder County, outside of the city, are a bit different—structures over six feet in height require a permit, and there may be other considerations such as setbacks, easements and wildlife safety. Your Homeowners' Association (HOA) or subdivision may also have additional regulations or requirements for your property.
If you do need a permit, your Boulder handyman can help you obtain it. We are licensed and experienced with handiwork such as Boulder fence repair and installation, so you can rest assured that we always adhere to municipal and state regulations.
Book Our Professional Boulder Fence Repair Services Today!
Are you ready to install a new barrier? Or perhaps your current one has seen better days, and you're keen to get it looking good as new with Boulder fence and gate repair services? Whether your gate is not closing properly or your posts are crooked, our contractors can efficiently repair any damage.
In the event you want a new style entirely, or just moved into a new build and don't have a barrier yet, our technicians can help you with your installation project. Our construction experts will work with you to create a beautiful frame to your already lovely home, giving you the security and privacy you need. Whether you're in Boulder or a community in the surrounding area, such as Superior, Louisville or Frederick, our customers always come first, so you can count on the team of professionals at Mr. Handyman of E Boulder, Broomfield & Erie to deliver exceptional workmanship and service with every job.
To schedule one of our fence repair professionals, or ask any questions about our services, we invite you to contact our helpful customer service representatives. We look forward to the opportunity to help make your property safer and more appealing.