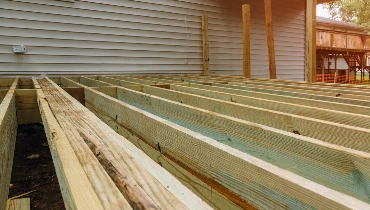 Sitting out on the deck, soaking up the summer sunshine while you socialize with friends and neighbors, is an iconic tradition—as American as apple pie. It's something you look forward to all year round, and when warm weather hits, you can't wait to get outside and turn on the grill—unless your outdoor space is in need of serious Boulder deck repair services.
When your outdoor living space is suffering from problems such as loose railings or rotten wood, it's not just unsightly, it's also dangerous to you and your family's safety. Your friends and family have to dodge hazards that could lead to injury. Not to mention, some kinds of neglected damage can spread to other parts of your home and cause much bigger, more costly headaches.
Wondering if you can last another season in Boulder without deck repair? Here are six signs that indicate your deck or porch is crying out for help from the Boulder handyman service experts at Mr. Handyman of E Boulder, Broomfield, and Erie, plus what we can do to solve those problems, so that your existing deck is always safe and looking its best, season after season.
How Do I Know that I Need Boulder Deck Repairs?
Promptly repairing issues and staying on-top of routine maintenance are the best ways to ensure your Boulder property looks its best year after year. Staying on top of deck repairs in Boulder ensures the area is a safe place for friends, family and pets. And of course, the better your home looks, the more personal enjoyment you will experience while using the space. There are numerous reasons why you should invest in Boulder deck repairs, but it's not always evident when you should hire a handyman service for repairs.
Before you hire the pros at Mr. Handyman for Boulder deck repair service, it's important to have a sense of what needs to be fixed. While some issues are quite obvious, like missing boards or loose railings, other types of damage might be harder to spot, such as wood rot or issues with the structure's foundation. If you're taking the trouble to hire a professional Boulder handyman, you might as well ensure that all the issues with your outdoor space are fixed during the appointment. Our team of experts will spot issues that most homeowners don't notice, and can also help with a range of other needs, such as siding repair, gutter repair, power washing outdoor surfaces, and more. A few warning signs that it's time to call the pros at Mr. Handyman include:
1. Riddled with Rot
There are a lot of places on your property where wood rot might strike, but your deck and porch are among the most vulnerable. That's because wood rot is a form of decay caused by wood-eating fungi that require a high moisture content in lumber to begin growing, and outdoor wooden structures are exposed to weather without much chance to dry out in between soakings. Rot softens and crumbles wood, which can cause serious structural damage.
The Solution: Our handymen are experienced with wood rot mitigation, so we know where to look for patches of rot that others may miss. The best way to eliminate wood rot is removing and replacing rotten boards with pressure-treated lumber, and then applying paint or wood stain and coating the entire surface with sealant for a water repellent finish that will help keep rot at bay in the future. It's also worth noting that overflowing rain gutters are a major cause of wood rot, so it stands to reason that cleaning them will prevent it. There are actually many reasons why gutter cleaning is critical for protecting your home and saving money.
2. Slippery Surfaces
Is your deck or porch covered in a slimy coating of algae or moss, or caked with years of built-up dirt and grime? Slippery surfaces are obviously unpleasant to walk on and can cause you to take a tumble, but all that grime and algae growth is a big problem for your decking material too. It can host harmful bacteria that eat away at the paint and traps moisture, leaving your deck exposed to rot.
The Solution: The most effective and efficient way for us to get your outdoor space spotlessly clean is with our professional pressure washing services. A pressure washer uses high-powered jets of water to blast away dirt, organic growth, and harmful bacteria. You'll be surprised and impressed with how great your deck looks afterward—your neighbors may think you had a brand-new one installed!
3. Peeling Paint
Speaking of pressure washing, did you know it's also the best method of surface preparation when you need to refinish anything outdoors? Peeling paint and wood stain are early warning signs of incoming moisture damage and a clear indication that your deck or porch needs refinishing before worse problems crop up—such as wood rot, of course.
The Solution: We'll use a pressure washer to strip away the old, peeling paint or stain, leaving a spotlessly clean surface to work with. Then we'll reapply the appropriate finish and add a fresh coat of sealer to get your structure smooth and gleaming again.
4. Hazardous Handrails
A good, solid railing is usually the only thing standing between you and a nasty fall off the edge of the deck—sometimes from a story or two up. Even if your porch is low to the ground, a wobbly railing can still cause injury if someone leans against it and it can't support their weight. Grab the railing and give it a firm shake. It shouldn't move at all, so it's definitely in need of repair if it does.
The Solution: If the wood is generally sound but nails and screws have worked loose over time, it could be as simple as re-securing the handrail where it meets the wall or joins other sections. But if the weakness is due to our old buddy wood rot, the railing will have to be replaced. On the upside, this is a great opportunity to enhance your deck with a new style or even built-in seating around the perimeter.
5. Sinking Stairs
Do your porch stairs dip down when you step on them, or make a noise like they're being tortured? It's not you, it's them. Stairs take a lot of abuse over the years, whether it's kids and dogs rocketing up and down or just regular wear and tear. As a result, this is one of the most common deck repairs in Boulder.
The Solution: When it comes to decrepit stairs, replacement makes the most sense. A repair to one part would only be a temporary fix, as the whole structure of the staircase is interconnected and aging at the same rate. Our professional carpenters can get a new set installed efficiently, so you can rest easy knowing they're solid and safe.
6. Damaging Drainage Issues
When you're doing your regular maintenance checks, don't forget to take a look at the underside for damage. Specifically, keep an eye out for problems such as concrete footings heaving and dropping, or soil erosion around posts.
The Solution: Changes to landscaping or just soil shifting over time can cause grading and drainage problems that cause water to pool around footings. Our deck construction pros will regrade the area to get water naturally flowing away from footings, then repair any damage that's already been done.
How to Prevent the Need for Boulder Deck Repairs
The phrase, "an ounce of prevention is worth a pound of cure," applies to nearly every home improvement project—including Boulder deck repairs. By taking care of your property, you'll spend less money and time on expensive repairs and/or replacements. By catching problems such as wood rot and loose railings quickly, you prevent damage from worsening and causing further issues in the future.
Routine Inspection and Maintenance
At least twice a year, you should walk through your property and check for signs of damage. The best time to do this in Boulder is once in the spring and once in the fall. Changing seasons tend to bring a lot of wear, so it's a good time to check for signs of damage. You could also take this opportunity to get all your seasonal maintenance done, including gutter cleaning, pressure washing and fence maintenance. Some routine Boulder deck repairs that should be completed as part of your regular maintenance checks include:
Deck cleaning, including sweeping or power washing
Promptly replacing damaged, missing or rotted areas
Regularly move deck furniture and planters around
Fix damaged stain or paint right away
Seal Decks Regularly
Part of maintaining outdoor living areas involves refinishing. Depending on how well you've cared for yours and if any weather events, like a storm, have damaged it, you should refinish the structure every two to three years. The important first step in refinishing your outdoor structure is to sand down the existing structure and apply a clear, UV-protecting sealant. This will help keep water damage, bleaching and wear to a minimum.The second step is to follow the sealant with either a coat of solid stain or paint. This improvement project is a lot of work. If you don't have the time, tools or ability to take care of this integral deck maintenance step, our team is more than capable of handling it for you.
Benefits of Regular Sealing
Prevent wood rot from growing
Avoid sun damage from bleaching wooden structures
Preserves your wood's natural beauty
Adds an attractive sheen
Protects the structure from moisture damage
Deck Cleaning
You should also give your deck a thorough cleaning from time to time. This is especially important if the structure has significant stains from moss, lichen or mildew, or peeling paint/chipped stain. By far, the most efficient and effective way to clean your deck is by using a pressure washer to give it a deep clean.
Power washing can transform outdoor surfaces like your deck or patio and make them look brand-new. It can also prime surfaces for painting or staining and is much faster than scrubbing manually. However, power washing is a task best left to the professionals. Many amateurs wind up damaging their outdoor surfaces because of improper use, as power washers need to be set to a specific level depending on what you're trying to clean. Also, these machines are very powerful because they use exceptionally high water pressure to clean surfaces. Subsequently, it's very easy to damage your property or injure yourself if you don't know how to safely use them. Instead, let the pros at Mr. Handyman of E Boulder, Broomfield, and Erie handle it for you.
Benefits of Power Washing:
Prevent health issues from mold and mildew
Prime surfaces for painting or staining
Improve your property's curb appeal
Prevent repairs by getting rid of debris and buildup
Clean other areas, such as fences and siding
Mr. Handyman is Your Local Deck Repair Professional in Boulder, CO!
Ready for summer? Let's make sure your deck is, too. Whether you're in Boulder or a community in the surrounding areas, such as Louisville or Superior, Mr. Handyman of E Boulder, Broomfield, and Erie can take care of all your deck repairs with quality workmanship and exceptional customer service.
Our carpentry skills are outstanding, and so is our customer service. In fact, our team of Boulder handyman experts are known throughout Colorado for our dedication to quality craftsmanship and customer satisfaction. It's important to us that you're able to barbecue on your deck in comfort and safety, and that you can enjoy the summer months without worrying about issues with your outdoor living space. We also offer deck installation services, so let us know if you want to change up your outdoor living area entirely with a custom deck or new deck add-ons.
Contact us today, and we'll show you why we're Boulder's number-one choice for wood deck repair and other handyman services!