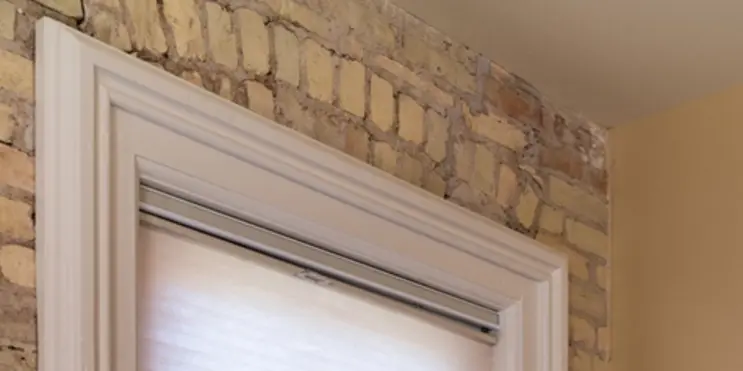 Originally, trims and moldings were used in home construction for practical reasons. The stretch of material that has become a sign of elegance and an elevated aesthetic initially was used to cover the gaps where different materials came together—or the space between a wall and the ceiling.
Indeed, moldings still make the space between ceiling and wall (or, floor and wall) look nice and tidy. But crown moldings in particular do much more than make a room's aesthetic clean and orderly. Crown moldings can draw the eye upward, make a space feel larger, and add a bit of grandeur to your home.
However, if your moldings are in desperate need of interior trim repair, then the delightful aesthetic of moldings will be lost. To maintain your home's appearance and the integrity of your trim and molding, it's important to stay on top of repairs.
To help you keep your trim and molding in the best possible condition, our Keller handyman experts put together this blog outlining what you need to know about the different kinds of trim, common molding repairs, and how to DIY interior trim repair.
What is the Difference Between Trim and Molding?
Put simply, trim is a general term that refers to all molding in a home. This can include:
Door trim
Window trim
Crown molding
Baseboard trim
Baseboard moulding
Molding tends to historically refer to a broad classification of millwork—any type of wood product that is made in a mill. Today, however, molding can be made out of a variety of materials. Crown molding–while likewise can be made out of a range of materials—tends to refer to molding that connects walls to the ceiling. Generally, most people use "trim" and "molding" interchangeably.
Different Trim and Molding Materials
While molding may have historically been made out of solid wood, today many materials are used to create window trim, baseboards, and crown molding. Before we dive into what you need to know about DIY interior trim repair, it's helpful to have an understanding of the different kinds of trim. Continue reading to increase your knowledge of both trim and molding and be better informed when it comes time to repair, replace, or renovate your home's interior.
MDF
Medium-density fiberboard is a commonly used trim material because it's inexpensive. However, MDF has trouble holding up well in humid places like Keller. MDF tends to soak up water like a sponge, making it expand and start to shed paint. Generally, MDF works better for crown molding than it does for window trim or for baseboard trim—since these areas are more likely to accumulate water and moisture.
Solid Wood
Solid wood is the industry standard for trim and crown molding. Typically, homeowners can choose from paint-grade pine or a variety of hardwoods including ash oak and walnut. Being the most traditional material to use for trim and crown molding, solid wood can be a greater financial investment depending on the type of wood that is used. Also, it's generally quite easy to complete interior trim repair on this type of trim.
PVC
PVC holds up well against sunlight and maintains its paint job very well, making it an ideal material for outdoor trim. PVC cuts similarly to wood and is a great alternative to wood for areas that get a lot of water and/or humidity. While PVC is not the best material for the environment, it will last a very long time.
Engineered Wood
Engineered hardwood is made out of layers of hardwood and plywood—as opposed to solid wood that is a piece of hardwood with no additional layers. Engineered wood is treated to protect against termites and rot. Additionally, engineered wood is coated with a moisture resistant overlay that protects against moisture while also giving it an authentic wood aesthetic. Engineered wood otherwise acts and looks like wood and can be painted and stained.
Polyurethane
Polyurethane is lighter than wood, cuts like wood, and can easily be painted. Since polyurethane is quite similar to wood in various respects, it can be sawed, nailed, and painted just like wood. It's a trim option that won't see much deterioration over time, making it a great option for homes in all climates. Polyurethane trim is also available in a variety of styles and colors.
Metal
There are many benefits to metal crown molding and trim. Metal is fire-resistant, strong, durable, and will last a very long time–making metal trim and molding a sustainable option for many homeowners. However, perhaps the most iconic aspect of metal trim and crown molding is its aesthetic. Whether sleek and modern or befitting a hotel in a Wes Anderson film, metal molding has a very distinct and elegant look.
Plaster
Plaster is best suited as a material for crown molding as opposed to other kinds of trim. This is because it can be used to create large, elaborate designs on high ceilings such as two-story entryways or homes with higher-than-standard ceilings. Plaster is evocative of another time during which grandeur and pomp were the norms—this also means that plaster can be quite the investment in your home. Plaster also requires professional installation and cannot be DIY'd.
Polystyrene
Polystyrene is made out of a rigid foam material that is both inexpensive and easy to work with. However, polystyrene dents easily. While close-up its texture looks like styrofoam, a few coats of paint can help cover up the surface texture.
Vinyl
Vinyl trim is very sturdy and strong, so it will not warp or rot like wood trim might; this makes vinyl a good option for window trim or baseboard trim that might be in a humid area like the bathroom. Vinyl also has quite a sleek finish, making it appealing to homeowners with modern—as opposed to traditional—tastes. Vinyl is also very easy to clean and maintain. However, vinyl trim comes in fewer styles and colors than other kinds of trim.
Common DIY Interior Trim Repairs
All different kinds of trim might require repairing—for instance, window trim might sustain water damage or baseboard trim could be easily scratched and dented. Additionally, since crown molding is tricky to install because the angels need to be cut carefully, sometimes it may need a little TLC as well. Whether you've noticed a few gaps in your crown molding, your window trim has warped, or your door trim has become dented and scratched, most interior trim repairs are fairly quick and easy to complete.
That said, if your crown molding or trim is beyond repair, we advise you to call our expert technicians at Mr. Handyman of Keller, Flower Mound and Alliance. Our team possesses an average of 10 years experience in the trades and can repair or install your molding right the first time.
Read on to learn more about our professional tips and tricks for some common crown molding and interior trim repairs.
Drywall Mud or Wood Putty
Common flaws in molding include nail holes, dents, and gaps between sections of crown molding. One of the easiest ways to fix these errors is by applying drywall mud or wood putty to the holes and gaps. This will smooth out damaged texture and hide a multitude of trim and molding sins. If your molding is painted, drywall mud is a better option as it can be easily painted over. If your trim is stained, you should use a wood putty that closely matches your molding. Both materials will easily hold the shape desired and will need to dry for 24 hours.
Caulk
Often, installing crown molding can leave gaps between the wall and the ceiling. One DIY solution to fix these gaps is to use a latex caulk. Use the caulk gun to spread a bead of caulk along the gap. Use your finger to smooth the caulk out and let it dry overnight. We recommend using latex caulk as opposed to silicone caulk because silicone caulk tends to be messy and difficult to clean up. Additionally, if your crown molding is painted, you can use a paintable latex caulk. Once the caulk has dried, simply paint it to match the rest of your crown molding.
Replace a Section of Molding
If your molding has rotted, sustained water damage is cracked, or its dents and flaws are too numerous to be worthwhile to repair, it's a wiser choice to replace the section of damaged molding. Go to your local hardware store and find the molding that matches what you have in your home. Measure the area you are going to replace and use a miter saw to cut your molding into the correct size. You do not need to replace all of your trim or crown moldings, only the section that has been damaged.
Refinish Your Trim
If you're working with wood trim or crown molding, you can refinish it to repair scratches and shallow dents. Simply sand down your trim to remove the current stain and smooth out the damaged areas. Sanding will also enable your fresh stain to soak into the wood. After cleaning the sanded trim and allowing it to dry, use a stain that matches your trim. Apply using a cloth and rub in the stain and wipe away any excess. Allow the stain to set and apply one to two coats of varnish.
Paint Over Your Molding
While staining your wood trim or molding is an effective interior trim repair, paint can be useful for hiding even more damage—including small gaps. Consider painting crown molding, door trim, and window trim if you've noticed small gaps around the edges. Painting your trim can also be a refreshing way to change the look of your space. Most molding is painted with a glossy or semi-gloss finish. However, an eggshell or flat finish may hide more imperfections in your trim or crown molding than a glossy finish.
The Mr. Handyman of Keller Difference
Perhaps reading this blog has inspired you to DIY your molding and interior trim repairs. However, at Mr. Handyman of Keller, we understand that not everyone enjoys tackling home improvement tasks by themselves—or, has the time to do so. That's why our skillful and professional technicians are available to help with your interior trim repairs.
No matter the material or type of damage, our qualified technicians each possess an average of 10 years of experience in the trades. Our repair services are the gold standard in our industry. Additionally, we prioritize our client's needs and consistently deliver outstanding customer service. From arriving on time to our scheduled appointment to keeping our work area tidy and leaving your home as clean as we found it, we truly care about creating a positive experience for Keller homeowners.
When you hire the team at Mr. Handyman of Keller, you can rest assured that your interior trim repair is in good hands. We'll carefully and efficiently repair your trim, or install new molding if required so that you can enjoy your space and ensure your molding is free of any gaps, chips, or dents.
Book an Interior Trim Repair Service Today!
Having finished reading this guide, you may have gained the confidence to repair your damaged molding on your own. Otherwise, you may be excited to enhance your home's interior but need a little extra support. If that's the case, we invite you to call our courteous and professional staff or request a service online to get started today. We look forward to making your acquaintance and helping you with your interior trim repair or installation needs.