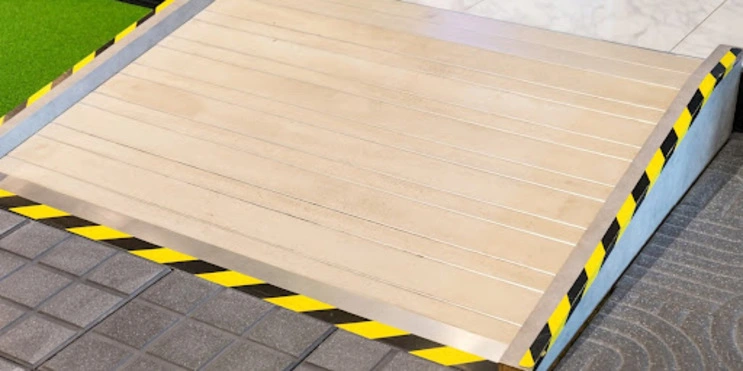 Are you welcoming a loved one with mobility issues into your home and looking for ways to make your Keller house safer and more comfortable? Or, maybe you're looking for Keller home accessibility solutions for yourself because you're interested in aging in place in your familiar, well-loved home. People with disabilities deserve access to home accessibility modifications for their personal environments that will allow them to live comfortably and safely while still maintaining their independence.
You may even be considering moving out of a house in Keller that you would prefer to remain in, just because it doesn't have the right features and amenities for you or your loved one. Before you make a heart-wrenching decision to move, find out if a few relatively simple home accessibility improvements by a local handyman could make all the difference and allow you to enjoy your home for many more years.
The team of Keller handyman professionals at Mr. Handyman of Keller, Roanoke, and Alliance have plenty of experience providing helpful service for home accessibility issues in Keller and other parts of Tarrant County. From wheelchair ramps to bathroom accessibility, we know how to remove obstacles and install features that will make it a lot easier and more pleasant to get around your house.
What Is Universal Design?
When it comes to construction and designing buildings, universal design refers to the practice of creating residences, commercial properties and public spaces that are accessible to all, regardless of age, disability, or other factors. You can see accessible design all around public spaces in Keller, from doors that open with the press of a button to lowered curbs that make life easier for motor-impaired people. Home accessibility is just as important, or maybe even more so—everyone wants to feel like the master of their own domain, and that includes being able to move around independently.
Wheelchair Ramps & Threshold Ramps
If you have a wheelchair user in your family and your home has steps outside, a wheelchair ramp will make outings simpler and easier for the entire household. But they aren't just for people who use wheelchairs—ramps are also a helpful Keller home accessibility improvement for those who:
Find it painful or uncomfortable to use stairs
Have difficulty lifting their foot high enough to plant it firmly on a step
Feel unsteady while using steps and are concerned they may fall
You may be concerned that a ramp will take up too much space, or get in the way of other stuff near the front, back, or side entrance, but there are actually a number of options available, including portable wheelchair ramps. Some of the choices your local Keller handyman can install are:
Portable ramps—usually made with aluminum—that can be folded up and conveniently stowed away when they aren't needed
Permanent ramps, which are typically constructed out of wood or concrete
Modular ramps can be either permanent or temporary and are usually steel or aluminum
Threshold ramps for getting through entryways with a raised door sill or lip of about six inches in maximum height
What Is the Correct Incline for a Wheelchair Ramp in Keller?
For commercial businesses or public spaces in Keller, ramps need to have a 1:12 slope to be in compliance with ADA (Americans with Disabilities Act) recommendations. That means the ramp should be 12 inches long for every inch in height. That makes for a gentle incline of about five degrees, which is easy for people in manual or motorized wheelchairs to navigate.
However, home accessibility ramps on a residential property in Keller could potentially go up to a maximum slope of 1:4, or 15 degrees of incline. That may be tempting in a limited space, but we don't recommend it. An electric wheelchair may not be able to get up an incline that steep, and it could be challenging for a manual wheelchair user or someone with a walker. A 1:6 slope with around 10 degrees of incline is a better solution. It's half as long as a ramp with a 1:12 slope, but the incline isn't too severe for motorized wheelchairs or people using assisted walking devices.
How Long Is a Wheelchair Ramp for Three Steps?
That depends on how high your steps are, but assuming they are a standard height of 7.5 inches, three stairs would have a combined height of 22.5 inches. If you are using the 1:12 ratio to calculate the slope, the ramp would need to be 22.5 feet long. With the 1:6 ratio, it would measure 11.25 feet in length.
What If There's Not Enough Room for a Wheelchair Ramp?
If you've done the math and realized you need a home accessibility ramp that's more than 20 feet long, you may be worried that it's simply not going to fit outside your house. Even if there's not a lot of space between your front door and the curb to fit a long ramp, remember that it doesn't have to go in a straight line. The ramp could switch back on itself or turn 90 degrees as long as there's plenty of room to turn around on the landing. It also doesn't have to connect directly with the front door—with some houses, it makes more sense to have the ramp lead up to a porch or deck, or a back or side door.
Smooth, Even Floors and Path Surfaces
Whether you're getting around on wheels or using assistive devices such as a walker or cane, it's much easier on an even, smooth surface. If you have rooms with thicker, high-pile carpet, or a different type of flooring that has suffered damage and is warped, sagging, or pitted, it's a good idea to have your Keller handyman remove it and install a finished floor using a more suitable flooring material for home accessibility.
Types of flooring that could improve Keller home accessibility include:
Vinyl, including luxury vinyl planks (LVP) and luxury vinyl tile (LVT)
Laminate
Tile
Rubber
Low-pile carpets
In a similar sense, outdoor paths and walkways that are made of gravel, uneven bricks, or irregular paving stones make movement more difficult and increase the risk of falls due to tripping. Smooth concrete or asphalt paving is a much better solution to provide an even surface that is easy to get around on.
Space to Move Around
Anyone who uses a wheelchair, walker, or cane—or just needs to move slowly without lifting their feet— requires ample space to move around. Tight turns, narrow doorways, and obstacles such as large furniture can be dangerous and increase the risk of a fall. Doorways and hallways should be at least 36 inches wide. Also, wheelchair users (and potentially those using walkers) need about five feet of space to be able to turn around safely and comfortably. Open floor plans often help with ease of movement, but if that's not an option, there are still ways to help improve Keller home accessibility. Our team can widen doorways and relocate or remove built-in obstacles that are creating narrow bottleneck spaces.
Kitchen Home Accessibility
For many Keller residents, the kitchen is the heart of their home. It's for cooking of course, but it's also an important gathering place for family and visitors alike. If you or your loved one want to prepare a meal or just grab a snack and make themselves comfortable in the kitchen, your local Keller handyman offers a number of home accessibility services that can help them accomplish those goals.
Lowered Countertops, Tables & Desks
For a wheelchair user, a typical kitchen may feel like a maze of looming countertops and appliances that are just a little too far out of reach to be usable, and that's understandably very frustrating. We could lower a section of countertop space to a comfortable height that can be easily accessed from a seated position, making it much easier to prepare food and drinks. The same basic home accessibility principle applies to tables, desks, and similar types of furniture—if they're the wrong height for you to use comfortably, we can lower or raise them to the perfect level.
Knee Space
Most kitchen countertops have cabinets underneath. That's great for storage but makes it really difficult for a disabled person who needs to use the counter from a seated position to get close enough to the surface in front of them. We can remove some lower cabinets to create space for knees to fit under the counter, so someone in a wheelchair or sitting on a stool can get their arms and body close to the work surface.
Upgraded Cabinet Handles & Drawer Pulls
For someone with limited manual dexterity, opening a cabinet or drawer could be difficult. Knob-style cabinet and drawer pulls are hard to grasp, and latch mechanisms can be very difficult to operate. Instead, the handle should be easy to open with one hand, without needing to pinch or twist. The best option is a large U-shape that you can easily pass your fingers through and pull open. Levers and push-style mechanisms may be suitable as well. Luckily, you don't need to replace all your cabinets and drawers if you don't want to. Your Keller handyman will simply remove the cabinet and drawer pulls and install new ones on your existing cabinet system.
Bathroom Home Accessibility
Most of us like privacy when we use the bathroom, so it is important that people with disabilities are able to complete as much of their bathroom routine as possible without assistance. Our Keller handyman team can provide bathroom remodel services that will make your bathroom safer and more comfortable for family members with reduced mobility—without sacrificing function or style. Even a simple installation like a pivoting mirror can improve accessibility by making it easier to use the mirror from a seated position. Learn more from our tips on bathroom remodeling.
Raised Toilet Seat
This simple Keller home accessibility modification does exactly what it sounds like—the toilet seat is elevated several inches, which makes it much easier for seniors, wheelchair users, and people with reduced mobility to get on and off the seat on their own.
Grab Bars
Using the bathroom often involves navigating wet, slippery floors or moving from a standing to a sitting position and vice versa. Those tasks are a lot easier if you have a grab bar or rail on the wall to steady yourself on or use to pull yourself into a standing position. We can securely install grab bars and rails along your bathroom wall, across from the toilet, and even inside the shower.
Barrier-Free Shower Base
Showers usually have a short lip or threshold ledge that is a few inches in height, to help contain water pooling in the bottom of the shower. But that little ledge can make it difficult or impossible for some people to get into the shower on their own. A barrier-free shower base eliminates the ledge and keeps the water moving toward the drain with a gentle slope. This makes entering the shower much simpler for someone who has difficulty raising their foot up and over obstacles.
Shower Bench
Once you get into the shower, you need somewhere to sit—or you may just want somewhere to sit, which is fine too! Our tile experts will install a beautiful tiled bench seat that is comfortable, offers extra in-shower storage space, and could actually increase the value of your home.
Keller Home Accessibility Modifications Can Make Your House Safer and More Comfortable
Whether you're living in Keller or another nearby community such as Alliance or Roanoke, you don't have to move away from a familiar home that doesn't have exactly the right home accessibility modifications for you or your loved one. Rely on the team of service professionals at Mr. Handyman of Keller, Roanoke, and Alliance for experienced handyman services that make it easier to age in place.
Get in contact with us today to schedule a convenient appointment time, or to speak with our friendly customer service staff about what we can do to transform your Keller home for the better.