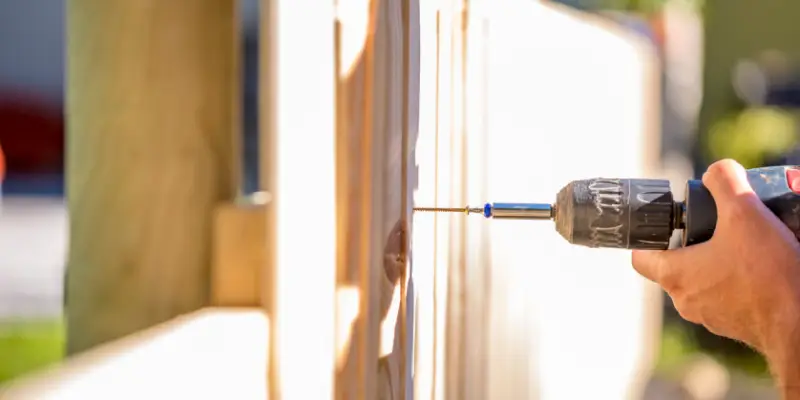 Depending on your household and lifestyle, a fence installation in McKinney, TX, will fall somewhere on the scale between "nice to have" and "absolute necessity." For dog lovers and parents with small children, it's definitely the latter. You can turn your back on a toddler or a puppy for literally just a few seconds, and they'll start running toward the nearest busy intersection as fast as their little legs will carry them.
But fences do a lot more than keep pets and children safe. They also delineate the border of your property, discourage casual trespassers and go a long way toward boosting your home's curb appeal and property value by enhancing the outdoor living space. The planning phase can feel like a challenge, but this guide covers some advice that will make it easier to plan a perfect fence installation in McKinney, TX.
If your current structure is in poor condition and looks like it's being held up by wishes and dreams, or you don't have one and would like the advantages of a new fence installation for your property, your local, qualified McKinney handyman is here to help. The professionals at Mr. Handyman of Midwest Collin County are experienced with handyman work in this area of North Texas, so we know what permits need to be obtained and how to adhere to municipal regulations. Customer satisfaction is our top priority, so we strive to deliver top-level quality on every job.
Signs You Need Fence Replacement and Repair Services
If you don't have a structure in place, you already know you need McKinney fence installation services. But if you're thinking about replacement or repairs, you may be wondering if you need to have it done right now or if you can focus on other parts of your property and leave your barrier structure alone for another couple of seasons. A damaged barrier can actually cause some big problems for homeowners and business owners, and damage has a way of worsening and spiraling out of control. Here are some indications that you really shouldn't wait any longer to schedule repairs, or a new fence installation in McKinney, TX:
Cracked or broken slats, pickets, or rails
Softened, crumbling, rotted wood
Gray, weathered wood
Peeling, flaking paint, or wood stain
Rust stains or other signs of corrosion on metal fences
Unstable, leaning posts that wobble when you touch them
Bent, warped, or loose chain link panels
Contact with the ground (pickets and rails should not be touching the soil)
Vinyl faded by sun exposure
Broken, loose, or squeaking hinges and latches
A gate that is difficult to open or close
Repair Vs. New Installation
The "repair or replace" question is one we hear fairly often from McKinney homeowners, and in our professional experience, the answer usually depends on how severe and widespread the damage is. Smaller surface issues can be handled with common fence repair services, or if you have one specific section that has suffered damage, then just that section can be replaced. But for more extensive damage, replacement with a new McKinney fence installation will likely be the most cost-effective option.
Here are some indications that you need your handyman to replace stretches of fence or the entire structure:
Over 25% of the whole structure has been damaged by factors such as harsh weather, neglect, or normal wear and tear
It suffered impact damage from a falling tree branch or a vehicle that jumped the curb
It is infested by termites, carpenter ants, or other destructive pests
You would like to enhance the curb appeal and property value of your home with a new style
Local Rules and Regulations for Fence Installation in McKinney, TX
When you get a new McKinney fence installation, there are a few rules and regulations set in place by the City of McKinney that need to be followed. Understanding the basic building codes and requirements for obtaining a fence permit is an important part of planning. When you call the team at Mr. Handyman, we can help you out with the permitting process and make sure everything we install is in full compliance with municipal regulations. You can find more detailed information in Chapter 122, Article IV of the McKinney, Texas Code of Ordinances.
McKinney Permit Requirements
First, you should find out if a building permit is required for your particular project. In McKinney, you need a permit for fence installation if it's a new construction (not a replacement). If less than 50% of the overall structure is being replaced, and it's going to be the same material and same height in the same location, it is considered a repair and does not require a permit. But if more than 50% is being replaced, regardless of height and location, you will need a permit.
Height Restrictions and Other Rules
Speaking of height, the maximum height of fences along rear yard lines is 8'6", but an installation in the front yard can not exceed 48 inches in height. Here are a few more rules to keep in mind:
Spa and pool fences are subject to pool barrier regulations and must be inspected
Barbed wire fences or structures with an electrical current are not permitted in residential districts and must meet special requirements when they are constructed in an industrial or agricultural zoning district.
In residential areas, chain link structures that are lower than five feet in height must have a finished edge of material on the top of the structure.
In the historic overlay district, side and rear yard setback area fence requirements state that the structure can not be more than 6'8" in height.
Every enclosure is required to have at least one gate
Land Survey
You are not legally required to have a land survey done before you get McKinney fence installation services for a new perimeter structure, but there are some benefits to calling a land surveyor to find out exactly where your property lines are. They have a way of slowly shifting over time, especially in older residential neighborhoods where heavy rain, landscaping changes, and outbuildings can change the lay of the land and make it more difficult to tell where the official property markers are. Getting a survey done can also prevent or settle a dispute with your neighbors if there's any question about where the property line actually sits.
Utility Markers
Your backyard may look serene and untouched on the surface, but you might be surprised by all that's going on right below a few feet of soil. Fence installation in McKinney naturally involves digging post holes, and we don't want to risk damaging pipes or cutting electrical wires when we dig. That's why it's important to call 1-800-DIG-TESS (1-800-344-8377) before digging and have utility companies mark the locations of gas lines, electricity lines, and so on. That way, we can avoid damage or injury and make sure the project goes smoothly from start to finish.
Types of Material for McKinney Fence Installation
There's a huge variety of high-quality materials and types of fences available to choose from when it's time for McKinney fence installation. If you're getting a replacement, you may want the same material and look like your old structure, and of course, there's nothing wrong with that. But if you're getting a brand-new installation or you're thinking about switching it up with something different for a replacement, it's helpful to know a bit about the most popular choices for fence materials.
Wood Fence
There's a reason wooden fences are considered classic. Wood is natural, attractive, easy to work with, renewable, and readily available—and there are probably hundreds of options for styles and configurations when you're working with a skilled carpenter. However, it does have a major weakness: wood rot. Any timber that is outdoors and often soaked by rain or humidity is going to be highly susceptible to rotting because wood rot is a form of decay that only affects timber with high moisture content. That's why timber that is indoors and always remains dry will never rot, while wooden structures outdoors are likely to rot if they don't get regular maintenance and refinishing. You can expect a wood structure to need replacement every 10 to 15 years in our climate, depending on how often it gets repairs and a fresh coat of sealant to help block moisture absorption.
Vinyl Fence
Not sure you're up to the task of maintaining a wood barrier? There are alternatives that are worth considering. Vinyl (PVC) is a durable, low-maintenance material that comes in tons of different styles and colors, including some options that imitate the look of real wood and other common styles. It does have a few cons, though—it's prone to fading in direct sunlight, and initial installation costs can be higher than they are with wood. Vinyl is also not considered environmentally-friendly since it's made of plastic.
Wrought Iron Fence
Wrought iron is a great choice when you want to add some elegant, vintage style to your property—in a super-strong, durable, long-lasting package. There's no denying that the upfront McKinney fence installation costs are high with wrought iron, but on the upside, the replacement costs are pretty much non-existent! As long as you give it a coat of rust-resistant paint every few years, it could still be standing a century from now. Plus, you can always use wrought iron as an accent material, too, such as with a wrought iron gate.
Chain Link Fence
Chain link fencing is the most utilitarian and affordable option. It's durable, very low maintenance, and holds up well against a lot of wear and tear abuse. You'll likely be able to get about 20 years out of it here in McKinney before it needs to be replaced, which is a pretty decent span of time when you consider the low upfront cost for McKinney fence installation. The only real downsides of chain link are that it doesn't offer any privacy, and it's not very appealing to look at, so it doesn't do your curb appeal any favors.
Aluminum Fence
This durable material doesn't quite have the style of wrought iron, but it does have a classy, subtle look, and it's inexpensive. It does come in a wide variety of colors and styles but isn't necessarily the best choice for privacy or security. Aluminum structures are usually made from recycled material, so it's an environmentally-friendly choice when it comes to McKinney fence installation.
Choosing a Gate for Fence Installation in McKinney, TX
If your structure is a full enclosure, you need at least one gate for entry and exit—and even if it's not an enclosure, a gate is a nice touch to add extra security or add to the design aesthetic. Here are a few of the potential choices for a new gate to go along with your McKinney fence installation
Hinged gates with single or double doors are a classic for barriers that cross pedestrian walkways.
Swing gates are usually placed across a driveway to prevent vehicles from accessing an area.
If you're working with a limited space like a narrow street or alleyway, consider a cantilever gate that slides open so it doesn't get in the way or take up any additional room.
Rolling gates use a track and wheel system embedded in the base
Count On Your Local Handyman for Expert McKinney Fence Installation Service
Whether you're in McKinney, TX, or a nearby community such as Allen, Weston, or somewhere in Grayson County, you can get the same top-quality workmanship and attentive service on your fence installation project from the team of professionals at Mr. Handyman of Midwest Collin County. We proudly serve both residential and commercial properties.
Get in touch with us today by calling to speak with our friendly customer service staff and find out more about our trusted handyman services in McKinney, TX, or to book an appointment at a time that's convenient for you.