Best Handyman Services Near Mooresville
Mr. Handyman® of Mooresville offers all types of home repair services for homeowners throughout the area. Our full list of services ensures that when you need repairs, our trained professionals can do the job. They have an average of ten years of experience and arrive equipped with all the tools and materials they need to complete each task.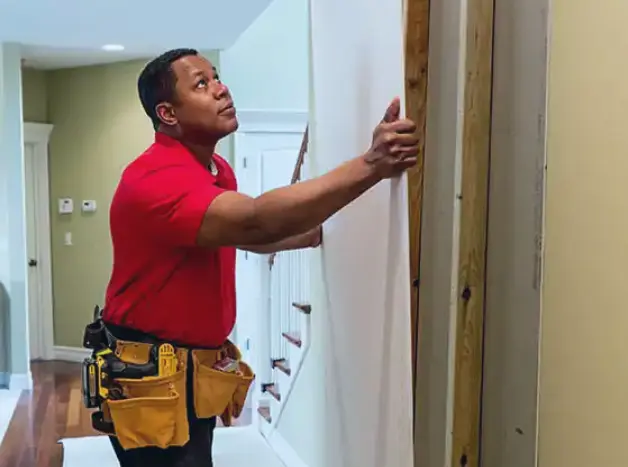 Why Choose Mr. Handyman?
Convenient one-call solution.

Safe, worry-free experience.

Fully insured with general liability and workers' compensation.

We'll clean up when we're done.

Our workmanship is guaranteed.
Our Mission
Mr. Handyman is your one-stop shop for a wide range of home maintenance and repair solutions. Mr. Handyman's service technicians are highly skilled craftsmen, so you know they will get the job done right the first time.
Residential & Commercial Handyman Services in Mooresville
Some major home improvement projects require a contractor, and these are usually obvious. But what about miscellaneous tasks, such as hanging curtain rods, mounting a TV to the wall, repainting a room, fixing a hole in the drywall, and the like? Trust the team of Mooresville handyman professionals at Mr. Handyman to deliver efficient, high-quality, no-hassle results at a price you can afford.
You can count on our local handymen near you for:
Carpentry
Painting services
Plumbing services
Drywall
Windows
Maintenance
Repairs
Assembly
Installation
Ready to start checking off your to-do list? Then don't hesitate to call Mr. Handyman serving Mooresville, Lake Norman, and Concord. Remodel your home!
SAFE & Honest Handyman Services in Mooresville
In every repair, we keep everyone safe by meeting the most recent fire and electricity standards as we implement your repairs and remodeling projects. Our professional handyman services are priced competitively, yet affordably, because we make sure to give you options on how to implement your projects. You can rest assured that our prices are honest and affordable with the high-quality handyman services that we deliver.
FREQUENTLY ASKED QUESTIONS
What areas do you serve?
Our local handymen of Mooresville, Lake Norman, and Concord proudly serve:
Charlotte
Concord
Davidson
Denver
Huntersville
Kannapolis
Mooresville
Salisbury
Sherrills Ford
Stanley
Statesville
Troutman
We ensure we are consistently providing the best, high-quality handyman services in your area!
Do you offer any coupons or special offers?
Yes! Check out our special offers page to see how you can save money on your next handyman service in Mooresville, Denver, Concord, and surrounding areas.
Can I install flooring myself?
A new floor makes a big difference. If you have in mind to change the flooring in your home, you have to keep in mind that it is a big project and can become expensive. You may be looking to install the flooring yourself. If you are considering that option, we recommend that you look for those types of flooring that are easier to install without professional help.
However, since flooring is a very important part of your home that if installed incorrectly can compromise the appearance and functionality of your flooring, we recommend hiring a professional to do the job for you. The trained professionals at Mr. Handyman offer impeccable and fast installation, as well as a warranty to ensure that the work is of the highest quality.
Contact us online or by phone today to hire a handyman in Mooresville, NC.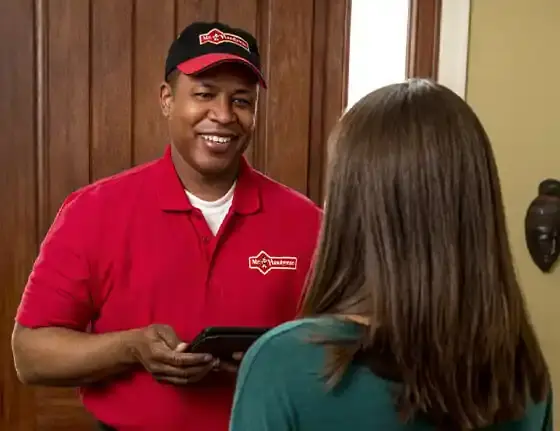 Handyman Repair Services
Our handyman services are backed up by the Neighborly Done Right Promise™. When you need quality repairs for your appliances or any other home repair projects, trust Mr. Handyman to get the job done right the first time. From minor repairs to a variety of replacement projects, our professionals will keep your home running smoothly.
Handyman Maintenance Services
Home maintenance services keep the complex systems in your home running efficiently. Without proper maintenance, many systems in your home may begin to fail due to excessive wear and tear. At Mr. Handyman of Mooresville, our professionals use their training and experience to make sure every component in your home remains functional.
Handyman of Mooresville FAQs
Homeowners and business proprietors frequently have questions for our professionals—and we're happy to answer them to ensure total peace of mind.
What is a handyman?
A handyman is someone who can complete general home repairs and perform maintenance tasks to keep your home's systems running as smoothly as possible. Every handyman has the training, tools, and experience they need to fix a wide variety of issues that may be affecting your home.
What does a handyman do?
A handyman's job is to identify potential problems and make the necessary repairs to reduce your risk of a breakdown or malfunction. Each handyman receives training that allows them to complete a wide variety of tasks. Decades of experience allow our handymen to find efficient solutions that will keep your home in good working order for many years to come.
Does a handyman in Mooresville need a license?
A handyman in Mooresville does not need a specific type of license to complete small tasks. If they plan on working on larger projects, they will have to apply for a general contractor's license. This license ensures they have the skills they need to complete the work they've been hired for.
Mr. Handyman of Mooresville Lake Norman Concord
Choose the right handyman services team in your area. When it comes to selecting the right team for your home improvement needs, Mr. Handyman is the right choice.
Areas We Serve:
Barium Springs, Catawba, Charlotte, China Grove, Claremont, Cleveland, Concord, Cornelius, Davidson, Denver, East Spencer, Faith, Granite Quarry, Huntersville, Kannapolis, Landis, Maiden, Mooresville, Mount Mourne, Mount Ulla, Rockwell, Salisbury, Scotts, Sherrills Ford, Spencer, Stanley, Statesville, Stony Point, Terrell, Troutman, Turnersburg, Woodleaf