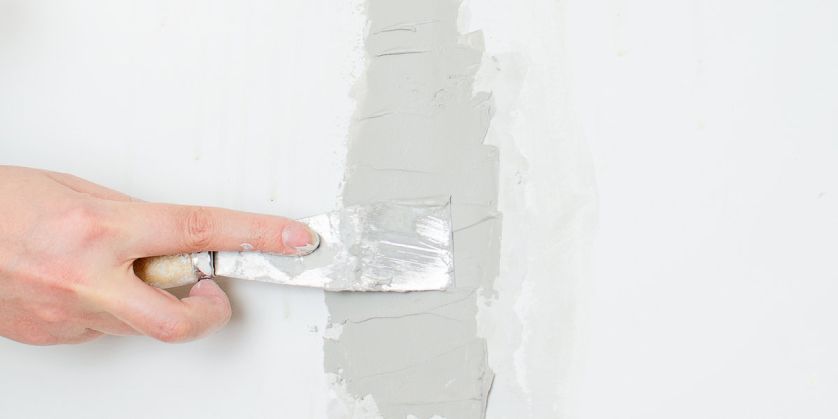 Do you need drywall repair in Manassas, VA, or other nearby parts of Northern Virginia? Like all good things in life, being a homeowner is both a rewarding and challenging experience. When you own your home, you have a space that's all your own to fill with beautiful memories. However, maintaining a residential property is also a big responsibility.
Over time, you'll likely put a fair bit of work into your home. As the years go by, parts of it will wear and break, and you'll paint walls, renovate floors and redesign as your tastes change. At one time or another, you'll likely have to invest in drywall repair for exterior or interior uses. Manassas, VA homes have taken a lot of wear and tear damage over the years. Whether you just moved into a new house and noticed hairline fractures in the drywall, the walls have suffered water damage, or your child was playing catch inside and had a mishap, Manassas drywall repair is part of being a homeowner.
If you notice signs that you need to fix damaged drywall, it's important that you do so as soon as possible. When it comes to services such as drywall repair, Manassas, VA homeowners want to know it'll be done right the first time by an experienced, local Manassas handyman. A good drywall contractor can be hard to find for your drywall project. Discover how the team of expert service professionals at Mr. Handyman of Northern Virginia - Arlington to Haymarket can assist with your drywall repair needs and can install drywall for you.
How Does Wall and Ceiling Damage Happen?
Before we dive into why it's important to invest in drywall repair, Manassas, VA homeowners can benefit from understanding what causes damage. Sometimes it can be obvious why your drywall (which is also referred to as sheetrock or wallboard) needs to be patched up or replaced—for instance, if your child was throwing a baseball indoors. Other times, the cause is not so obvious. Walls and ceilings can be damaged by:
The natural settling of a building. As a home settles deeper into the earth it's built into; the resulting shifts can cause cracks in walls and ceilings. This process is natural and often caused by the type of soil your home is built on or the proximity of tree roots. If you need popcorn ceiling removal after a crack has occurred, we can help.
Damage from moisture. Poor ventilation, flooding, or improper drainage in a home increases the amount of moisture. This moisture could cause walls or ceilings to become damp. This affects the structural integrity of the wallboard.
Holes from wall anchors. Heavy items such as TVs, large paintings, or shelving units are often held in place by anchors. Wall anchors cause holes in your drywall panels that are unattractive and could impact the overall integrity of your wall.
Regular wear and tear. Life happens; door handles sometimes get shut really hard, or heavy furniture gets moved and ends up puncturing your walls.
Why is Manassas Drywall Repair Important?
A tiny dent in a wall may not seem like a big deal, but even the smallest amount of damage may indicate greater problems. Besides being aesthetically unappealing, small problems may worsen over time. For instance, a small spot of water damage on your ceiling may look like nothing, but it could cause unhealthy bacteria to grow in your home. When it comes to drywall repair, Manassas, VA, homeowners find that there are some compelling reasons to get it taken care of as soon as possible.
Water Damage May Lead to Bacteria
Removing stains and bacteria from walls and ceilings with soap and water or bleach is incredibly difficult because sheetrock is a porous material. This means that bacteria can still be in your sheetrock even if you've scrubbed it clean. So if your wall has been damaged by water, it will need to be replaced. It's very important to replace walls and ceilings that have been damaged by water as soon as possible. Bacteria can potentially harm your family's health.
Drywall Impacts the Structural Integrity of Your Home
Damp or soggy sheetrock can potentially collapse. Although your home will remain upright (sheetrock is not part of the load-bearing structure of your home), fixing a caved-in wall is a hassle and a danger to your family. If you spot water damage, be sure to:
Find the source. Water damage can be caused by a leaking pipe, improper drainage from an incorrectly installed downspout, or a rising water table beneath a building due to heavy rains.
Repair the cause of the damage. The cause of water damage needs to be fixed before you invest in drywall repair. Manassas, VA homeowners who neglect to fix the source of the damage is only applying a band-aid solution to a frustrating recurring problem.
Clean the damaged area once you've repaired the source of the water damage, and clean and dry the area thoroughly. Ensure there is no residual water or mess caused by flooding or leaking before repairing the damaged wallboard to prevent bacteria growth.
Drywall Does Not Last Forever
Sheetrock is made out of two paper boards with a layer of gypsum in the middle, which is a powdery white sulfate mineral. It was invented in 1916 to replace heavier and more expensive plaster or wood. Gypsum is non-combustible and much lighter than alternative materials. Since sheetrock is lighter than wood or plaster, it's also more prone to damage from water, humidity, and regular wear and tear. Having quality material put in your residential drywall installation will make for an excellent job that will last a while. That's why getting a professional to repair sheetrock is a natural part of maintaining your home.
A Smooth Finish Means Smoothly Painted Walls
As a homeowner, you've put a lot of work, time, and love into making your space truly your own. When repairs are required in your space, it's very important to get them done efficiently to keep your family safe. But maintaining the aesthetics of your home is important too. When your sheetrock is damaged, the imperfections are highlighted by paint. Nothing ruins a lovely wall like a big hole or crack running up it. As drywall is the foundation of your room's appearance, it's important to invest in drywall repair. Manassas, VA residents can count on our experienced team to create a perfectly smooth, beautiful surface for painting.
Properly Installed Drywall Keeps the Elements Outside
Living in Northern VA, you are no stranger to the warm, humid summers and cold winters. While living in a dynamic climate is enjoyable outdoors, you don't want to feel the elements in your home. Correctly installed and maintained wallboard keeps your home safe and comfortable by:
Contributing to your house's insulation. The function of sheetrock is not to actively insulate your home—that's what insulation is for. However, cracks or holes in walls and ceilings do allow cold or warm air to seep into your home. This can affect the internal temperature and efficiency of your house.
Keeping bugs and pests out of your space. All manner of critters—mice, rats, and ants, to name a few—will try to get into your home if given the chance. Ensuring walls and ceilings are damage-free will help keep pests from infiltrating your house.
Inhibiting moisture from damaging your home. Sheetrock acts as a barrier to the elements. When that barrier has cracks or holes in it, moisture and humidity from rain or snow can creep into your home.
Correctly Mounted Drywall Boosts Your Home's Energy Efficiency
A crack or hole in drywall can expose your home to air that fluctuates in temperature. When the temperature in your home is not stable, your HVAC system has to work harder to regulate the interior temperature of the building. This, in turn, contributes to higher energy bills, which is why it is so important to get prompt drywall repair. Manassas, VA residents, can avoid costly energy bills by having damaged ceilings and walls repaired, along with other important home maintenance handyman tasks.
Why Use a Professional Manassas Drywall Repair Service?
Training, experience, and practice are the only ways to become capable of skilled tasks like drywall repair and drywall installation. Manassas, VA homeowners, sometimes decide to take a stab at repairing sheetrock themselves only to find that the issue becomes worse in the hands of an amateur.
Our professional Manassas handyman team possesses decades of experience in the trades. When you hire our services, you have peace of mind knowing your home is in good hands for easy renovations because:
We know the right fix for any situation. Each of our clients is unique, and so the solution for the damage will be unique too. Our highly trained Manassas drywall repair technicians each possess an average of 10 years of experience in the trades. Thus, we have the expertise to efficiently and effectively repair your drywall.
We'll do it right the first time. Our locally owned and operated business team is honored to serve our community. We know how important your home is to you, so we guarantee we'll take the time to seamlessly repair your damaged wallboard.
Our team is prompt, professional, and thorough. When you invite us into your home, we treat you and your space with respect. From your first call with our team to finishing the job, we make the process easy and transparent.
We'll help you avoid unnecessary stress in your home. Undertaking a DIY Manassas drywall repair job can quickly become a source of stress for you and your family. Save yourself the hassle by trusting our professional team to handle repairing or replacing your sheetrock.
What We Can Do for You
Our team works tirelessly to provide consistently outstanding customer service to families throughout Northern Virginia. We are there for you when your new bookshelf crashes into the wall; you move into a fixer-upper that requires a bit of patching up, or when your basement floods.
The team at Mr. Handyman of Northern Virginia - Arlington to Haymarket has the skills and qualifications to address your home's Manassas drywall repair needs, including:
Fixing cracks and holes. Our technicians will assess the severity of damage to your home's walls and, if needed, figure out the root problem. Next, we will provide a solution for a long-term fix—whether that means a patching job or replacing an entire sheet of drywall. The exterior part of drywall doors is very prone to holes but can be an easy fix.
Home renovation installation. If your home renovation includes updating your drywall, too, we'll work with you to make sure our team steps in at the right time to put up your new drywall.
Repairing flood damage. When your basement floods, it's a lot of work to get it back to normal. We will help you get rid of damaged drywall, clean up the resulting mess, and install new drywall promptly and correctly.
Painting services. Our team offers more than drywall repair and installation. We also have the expertise to paint over fixed drywall and give your home a smooth, elegant finish or even a remodeling.
Smoothing ceiling texture. Do you find the textured ceiling in your home dated? Or do you simply want to refresh the look of your space? Our team will smooth out your ceiling, so it suits your taste.
What Sets Our Team Apart
Our Manassas handyman team values expertise, attention to detail, and professionalism. We believe in earning our customers' trust with every job, treating you and your home with respect, and never compromising our dedication to excellent workmanship. No matter the task at hand, we always offer outstanding customer service when you require drywall repair services. We can provide the experienced, excellent drywall repair Manassas, VA home and business owners deserve from their handyman services.
Your Home
You have enough on your plate without having to worry about fixing your damaged drywall between work, picking up kids from school, cooking dinners, seeing friends, and spending time with your family. The last thing you want to do is spend your valuable time fixing drywall or making sure it's of quality material.
We will ensure that the process of obtaining an estimate, providing an in-depth assessment, and completing the job is a seamless process. Our professionalism, expertise, and transparency will empower you to focus on living your life instead of adding another task to your already packed to-do list. You can rely on us for a great job on your drywall project.
Your Business
Damaged walls and water stains look unattractive and could also indicate hidden damage that might affect your business or commercial building. We will work quickly and precisely to repair problematic drywall without causing too much disruption in your shop, restaurant, or office building.
In Case of Emergency
Our professional handyman team has your back. When the worst happens, we'll be there to handle any required removal, clean-up, and replacement of damaged drywall. We'll do our best to ensure that you can have your house back and resume normal life as soon as possible.
Need Drywall Repair? Manassas, VA Experts at Mr. Handyman, are Waiting for Your Call!
Have you noticed hairline cracks in your drywall? Maybe you spotted water damage on the roof of your new home? Or maybe your little one threw a baseball into your wall? Whatever the case, our Manassas drywall repair experts can fix the damage quickly with a great job of maintaining the integrity of your home and keeping your space looking its best.
Our services aren't just for Manassas. If you're living in a nearby community such as Lorton, Occoquan, or Alexandria, you can get the same outstanding workmanship and customer service from the team of Northern VA home improvement professionals at Mr. Handyman of Northern Virginia - Arlington to Haymarket. We invite you to give our friendly staff a call to learn more today about our quality work.