Mr. Handyman Gives Back
National Day of Service is a day to honor those lost in 9/11, pay tribute to those who rose in service, and honor those that continue to serve our country today. Mr. Handyman of Northern Virginia - Arlington to Haymarket takes great pride in recognizing this day with local veterans and giving back to the community.
National Day of Service Tribute
In celebration of the National Day of Service, Mr. Handyman of Northern Virginia - Arlington to Haymarket considers it a privilege to provide our service to the below Military veterans:
---
Ron and Carol Beyer (2022 Honoree)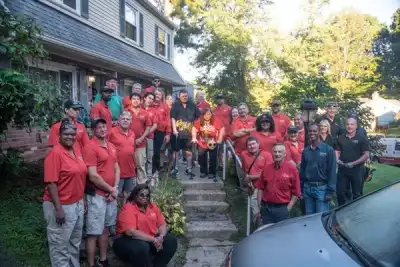 Mr. Handyman of Northern Virginia - Arlington to Haymarket was honored to serve Ron and Carol Beyer this year for our National Day of Service 2022. Ron is a local military veteran who served in the United States military for more than 20 years. "This is the greatest thing that has happened to us in I can't tell you how many years," Ron said.
We would like to thank the many local businesses that volunteered their time and services, or made monetary donations to support this family. These local companies include Mr. Handyman of Fairfax and Eastern Loudoun Counties, The Junkluggers of Gainesville Virginia, RulyScapes Inc., Shaw Services Air Conditioning & Heating, Patriot Pottys, LLC, DJMcNeely, Inc., Mosquito Joe of Northern Prince William County, Five Star Painting of Manassas, DHill Financial, Spectrum Homes, Inc., ABC Glass and Mirror, and Optimal Dental Center. Without all of their help we could not have done as much for this well-deserving family as we were able to accomplish.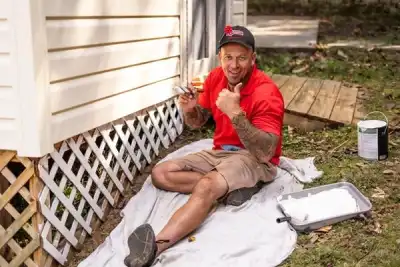 The projects we completed at the Beyer home include:
Installing a chair lift
Renovating two bathrooms
Removing a rotted deck
Pressure washing the house
Cleaning the gutters
Painting the foundation
Servicing the HVAC unit
Landscaping
Electrical and plumbing work
Unpacking and organizing the kitchen
Removing wallpaper and painting a wall
Repairing an inside railing and an outside railing
Removing debris
Bob and Sarah Dugas (2021 Honoree)
Mr. Handyman of Northern Virginia - Arlington to Haymarket had the pleasure of honoring Bob and Sarah Dugas as our 2021 National Day of Service Military Veteran.
Bob is a Vietnam veteran who served in the U.S. Army, and is currently an active member of the VFW Post 1503 in Dale City, VA. He was deployed to Vietnam in 1969, where he was assigned to a unit building motor pools, and worked for Metro Transit for 37 years following his military service.
It was our pleasure to take care of some much needed repairs around Bob's home, all at no cost to him and his family. "Mr. Handyman has a great program going on here to select veterans who could use a little help around the house, and they're doing a wonderful job," Bob said. It was great having the entire Mr. Handyman team all working together to give back to a local military veteran who sacrificed for our country.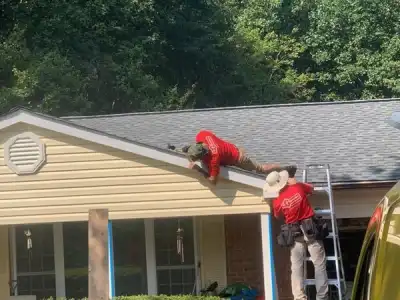 The projects we completed for the Dugas family included:
Replacing the roof
Replacing the shower
Installing grab bars
Drywall repairs
Painting
Replacing the porch railing
Chimney repair
Landscaping
Ralph (SGM Retired US Army) and Linda Steinway (2019 Honoree):
Ralph served in the 1st Army, 7th Army, Army Recruiting Command, Army Europe Headquarters, Army Corps of Engineers, Ballistic Missile Defense Command, Intelligence and Security Command, Sergeants Major Academy, and the Army Personnel Command. He was awarded the Legion of Merit upon retirement.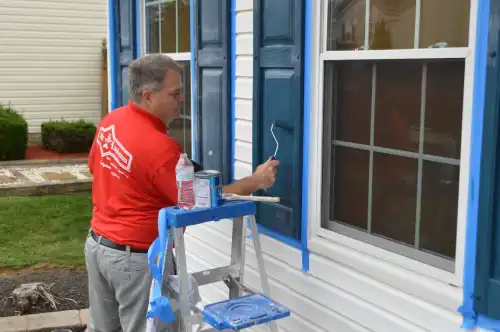 Ralph and Linda are life members of VFW Post 1503 where Ralph served as the Post Commander and Linda served as the President of the Women's Auxiliary.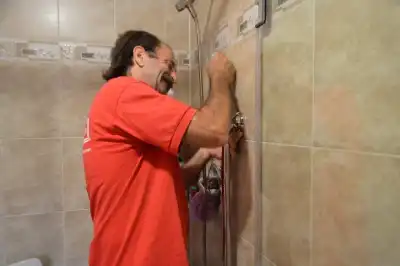 Some of the projects Mr. Handyman and Mr. Appliance had the privilege to perform for this well deserving veteran family were: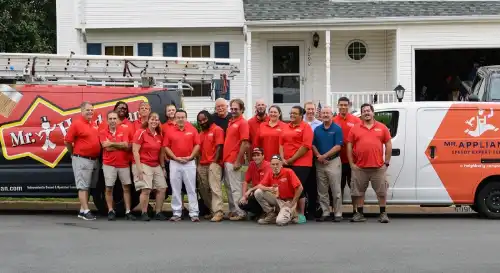 Installing an entry ramp for improved accessibility
Installing grab bars
Installing exterior security light fixtures
Servicing appliances
Installing stair railing
Pressure washing
Deck maintenance
Painting shutters
Reversing the entry door swing
Drywall repair
---
Joe and Sarah Saitta (2018 Honoree):
Joe served in the 101st Airborne Division unit. As a former Combat Medic with 2/502, Joe received various citations for his incredible service including: The Silver Star, Army Commendation Ribbon with Valor Device, Purple Heart-Brave Eagle Coin and the Combat Medical Badge among others.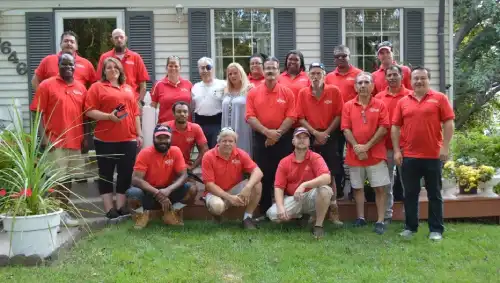 During his service, Joe was wounded in the Ashau Valley where he sustained wounds throughout his body. Sarah, a cancer survivor, is disabled as well with debilitating nerve damage in her legs.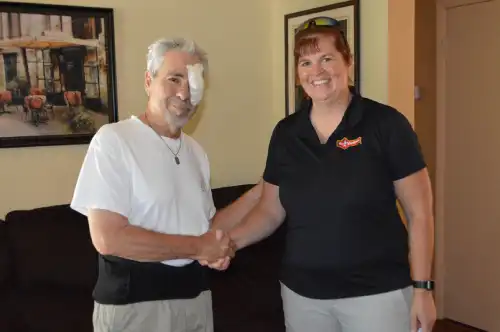 Joe and Sarah are life members at VFW Post 1503.
Some of the projects Mr. Handyman and had the privilege to perform for this well deserving veteran family were:
Repairing the deck
Power washing
Renovating the bathroom
Installing grab bars
Installing a tile back-splash
Installing a front porch to improve access to their home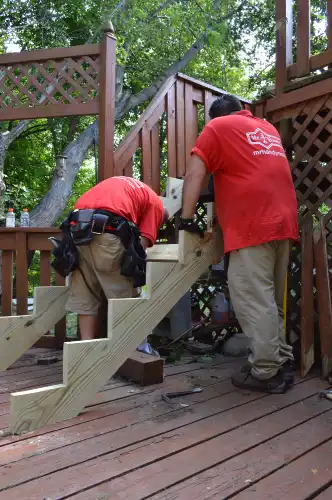 ---
James and Ilka Lovett (2017 Honoree):
Ilka Lovett is the surviving spouse of James Lovett Sr., a World War II, Korean and Vietnam War veteran. The Lovetts were married for 65 years and Mrs. Lovett is a VFW Post 1503 auxiliary member.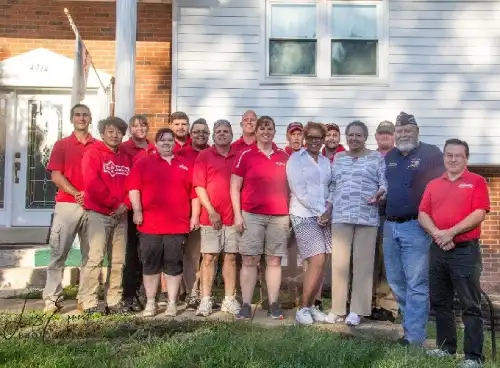 Some of the projects Mr. Handyman and Five Star Painting had the privilege to perform for this well deserving veteran family were:
Install railings on sidewalk stairs, porch steps and front porch
Remove the damaged retaining wall
Replace mailbox
Hang shutters
Replace rotted decking boards
Power wash and stain deck
Secure stair railing
Install grab bars in bathrooms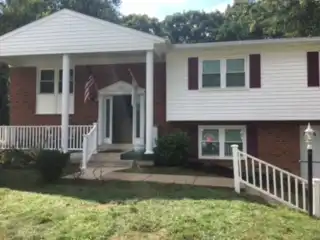 ---
Thomas and Jo Ellen Crawford (2016 Honoree):
Dale City resident, Thomas Crawford retired as a master sergeant in the United States Army in 1974 after 20 years of service. Thomas is still a resident after 44 years where he lives with his wife of 50 years, Jo Ellen Crawford.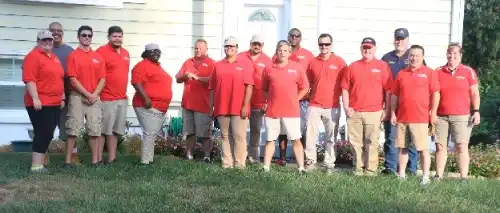 Thomas joined the United States Army at 17 years old after graduating high school in Detroit Michigan. In his 20 years of active service, he served mainly as an administrative specialist. His duty stations included three tours in Ft. Meyer, Virginia working in the Pentagon for the office of the Joint Chiefs of Staff, as well as two tours in the Republic of Vietnam and one tour each in Korea and Germany, and a few other stateside stints.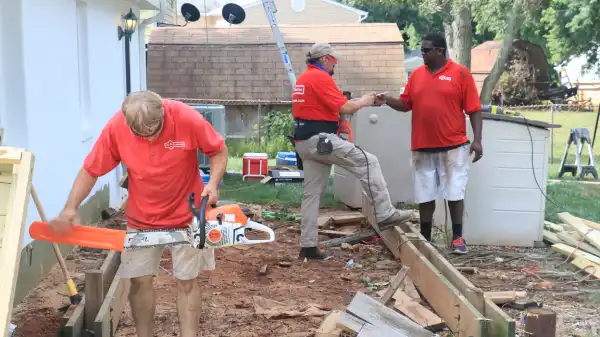 He received numerous award citations and commendations such as the National Defense Service Medal, and the Humanitarian Service Medal to name a few. In December of 1990 through April of 1991, Thomas was called back into service to escort the remains of casualties of the Persian Gulf War from Dover Air Force Base in Delaware to their hometowns.
In retirement, Thomas had been an active member of VFW post 1503, where he served as Quartermaster for three consecutive terms. He now battles with Alzheimer's disease which he has had for the last 14 years.
Some of the projects Mr. Handyman had the privilege to perform for this well deserving veteran were:
Remove the existing deck and install a ground level deck from the back entrance to the driveway to allow the veteran access to the outdoors
Install an awning on the deck
Replace a rotted section of roof
Install handrails and railings on the exterior porch and walkways
Paint the bedrooms
Install a handrail on the stairway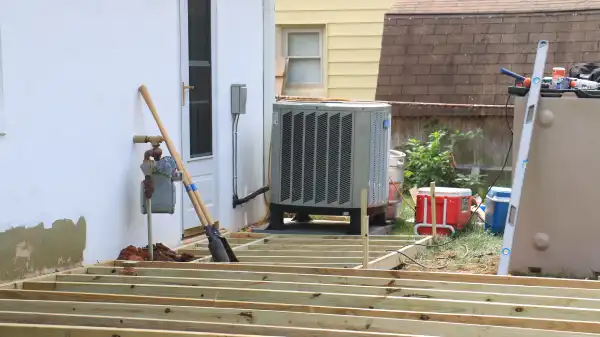 ---
Colonel Don and Irene Sortino (2015 Honoree):
After having completed college, Don Sortino began his military service in Quantico, Virginia. During his career, he achieved the rank of Colonel, retiring after 27 ½ years of active duty.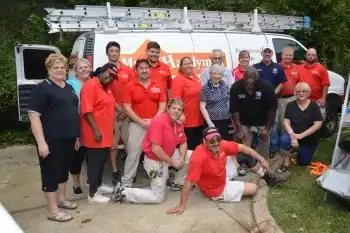 Colonel Sortino's military specialty was artillery. Colonel Sortino had varied jobs, including: Instructor in the Army's field artillery school at Ft. Sill, Oklahoma as well as XO of the Marine detachment aboard the Sixth Fleet flagship home ported in Villefranche, France.
Colonel Sortino was 1 of 10 Marines in the 1976 class of 1200 officers at the Army's Command and General Staff College, Ft. Leavenworth, KS. Colonel Sortino also served in Vietnam as XO of 3rd Battalion and later became CO of F Battalion 211. (1967-1968)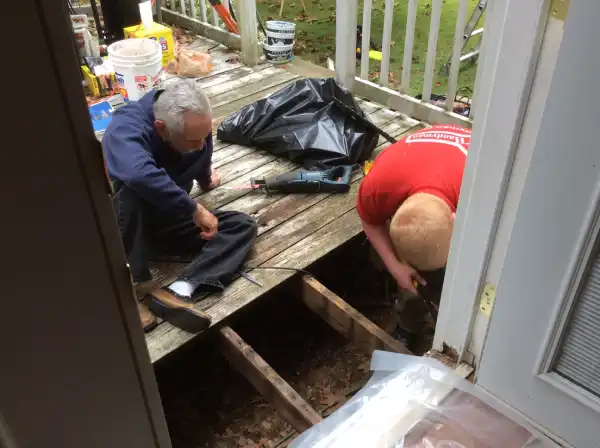 Colonel Sortino's career includes: 2 tours in Okinawa, 2 tours at Parris Island as XO of G Company 3rd Recruit Training Battalion and then as Base Operations Officer, including tours at Camp Lejeune, NC, to include Commander of 4th Battalion 10thMarines.
Colonel Sortino served as commander of the Joint Interface Test Force at Ft. Monmouth, NJ. He also served at Head Quarters Marine Corps as the Marine Corps Artillery Acquisition Officer and ultimately the Deputy Director of Plans Division.
Colonel Sortino feels fortunate to have been recognized for his dedication by receiving several awards and honors. Among them, the Defense Superior Service Medal.
Some of the projects Mr. Handyman had the privilege to perform for this well deserving veteran were: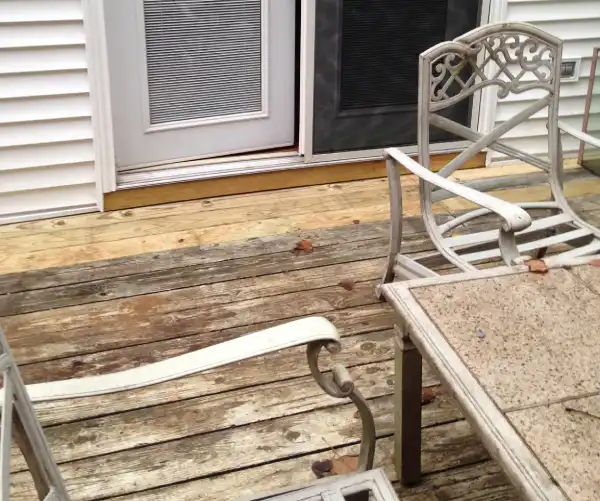 Replace the rotted and sinking deck
Replace the rotted wood under the French door
Replace the exterior lighting
Replace the damaged crown molding in the family room
Install a storm door
Install a second stair railing
---
William and Ida Martin (2014 Honoree):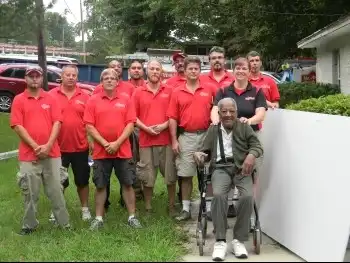 William M. Martin was drafted by the U.S. Army on November 18, 1942 in Richmond, VA. He was stationed at Fort Meade MD for basic training. William was sent to Fort Huachuca Army Base in California. He was then shipped to the South Pacific.
He was trained for the job as a Machine Gunner. William was located in Saipan in the South Pacific. William Martin and other members of his platoon were sent on a mission to locate survivors of a crashed B-29 airplane. The troop proceeded to Anatahan Island in continuous rainfall and dense jungle growth. William and the others reached their destination and were dropped off March 2. The mission continued until they reached the site on March 3 and buried members of the crew.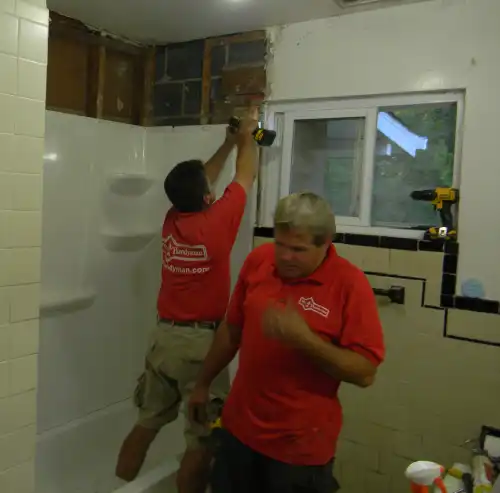 William received an APO 244 certificate of commendation award. William served in the Army for four years. He was discharged January 19, 1946 in Fort Bragg, NC. William and his wife Ida have been married for 68 years.
Some of the projects Mr. Handyman had the privilege to perform for this well deserving veteran were:
Replace the kitchen floor and sub floor
Renovate the bathroom
Replace the gutter
Reinforce the basement stairs
Switch the bathroom door to swing out to allow for mobility
Remove all the water damaged items from the basement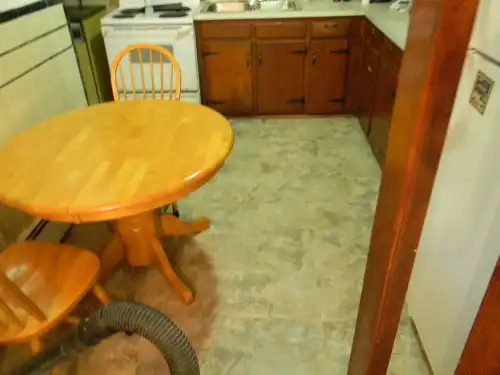 ---
B.J. Richardson LCDR SC USN (ret) (2013 Honoree):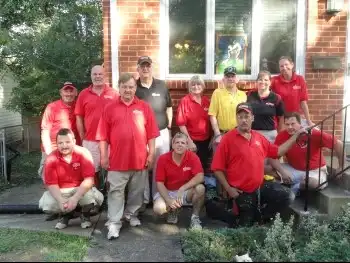 Mr. Richardson joined the US Navy in September 1964 serving his country for 23 years. He served in Vietnam from March 1968 through April 1969. Upon returning to the states he transferred to the Reserves.
After obtaining his AS degree in Business Management and BS degree in Accounting, he attended Officer Candidate School and graduated as an Ensign and served on the USS Barney as the Disbursing Office and was promoted to LTJG.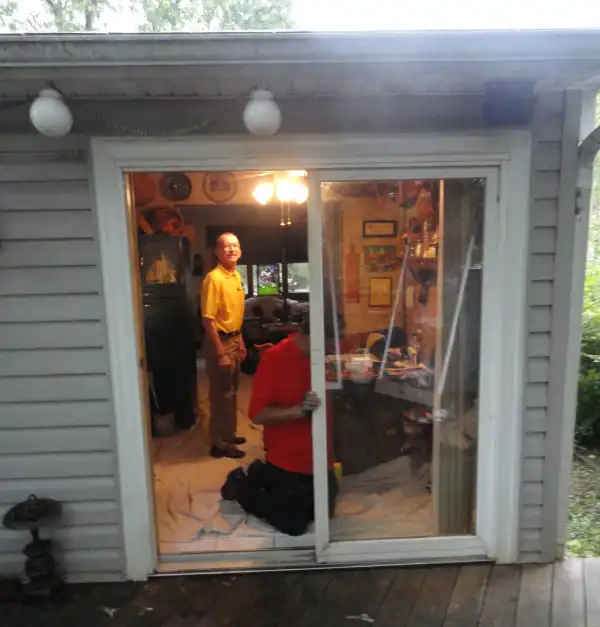 From 1978 to 1988 he served throughout Virginia. He started in Williamsburg as a Department Operations Supervisor, at Quantico Marine Base as the Assistant Supply Officer; on the USS Stump in Norfolk, VA as the Supply Officer, promoted to LCDR, transferring to Falls Church for the Military Traffic Management Command, at Naval Operations in Arlington as a Budget Analyst and finally Supervisor at the Bureau of Naval Personnel in Arlington. He served in CA for a couple of years as a Supply Manager for the Antarctic Development Squadron and returned to VA from 1990-1992 as a Supervisor for the Bureau of Naval Personnel.
Mr. Richardson is very active in the VFW. Mr. Richardson proudly declares himself a Washington REDSKIN fan! Our Mr. Handyman team found him to be a wonderfully gracious man. We wish him well and feel we have made a lifetime friend.
Some of the projects Mr. Handyman had the privilege to perform for this well deserving veteran were:
Replace the sliding glass door
Replace the front porch railing
Replace the chimney cap
Power wash the deck and house
Repair the holes in the shed
Renovate the bathroom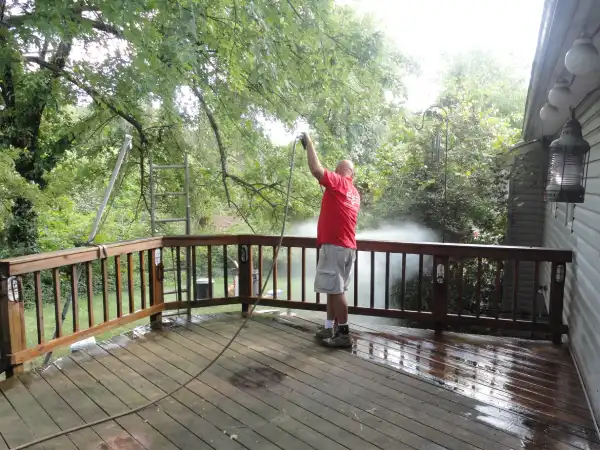 ---
Joe and Barbara Hurlbert (2012 Honoree):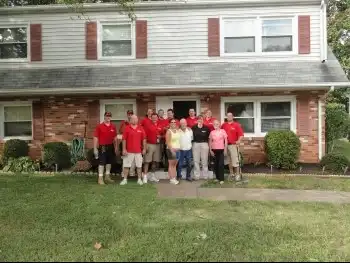 Joe enlisted in the Army January 14, 1949 in San Francisco, California. His Army career was evenly split between operational assignments and service as an instructor. Joe's military specialty was heavy equipment maintenance and repair. Joe's assignments took him all over the world and include Okubo, Japan, Fort Leonard Wood, Missouri, Korea, Fort Belvoir, Virginia, Fort Benning, Georgia, Newfoundland, Canada, Fort Devens, Massachusetts, Fort Drum, New York, and Murnau, Germany.
Joe's awards include the Army Occupation Medal (Japan), Korean Service Medal, United Nations Service Medal and the National Defense Service Medal. Joe retired from the Army at Fort Belvoir as a Staff Sergeant on 1 April 1969 with over 20 years of active federal service. Upon retirement Joe started a new career with the Hylton Construction Group and finally PEPCO which resulted in a second career retirement. Joe and his wife Barbara have been married 53 years and have resided in Dale City for 43 years. Joe has been a member of the VFW Post 1503 since 1988 and is still considered one of our most active role models for his volunteer work. Joe's service to his country, his community and to the Veterans of Foreign Wars has been exemplary throughout the years.
Some of the projects Mr. Handyman had the privilege to perform for this well deserving veteran were:
Replace a section of roofing that had rotted
Replace the wood rot around the exterior windows
Clean the yard of debris that had gathered
Repair drywall damaged from water leaks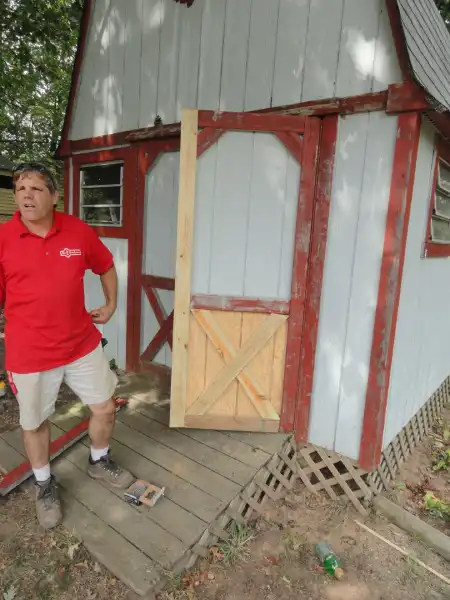 ---
Damon and Vicki Wainscoat (2011 Honoree):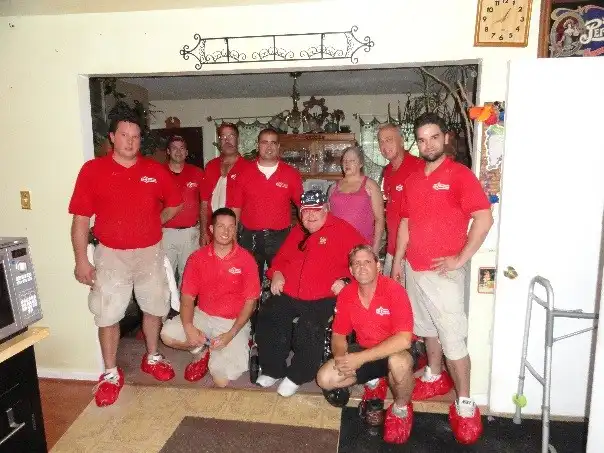 Damon was in the Army from June 1960 to July 1967 and served in Vietnam from August to November 1965. While out on an operation, Wainscoat rappelled out of a helicopter. The next thing he knew, he woke up in the hospital two weeks later. The accident left him with a compression fracture of his spinal cord, as well as a permanently broken sternum and severe concussion. He spent the next two years learning to walk with canes and to talk again. He uses bot a wheelchair and walker to get around.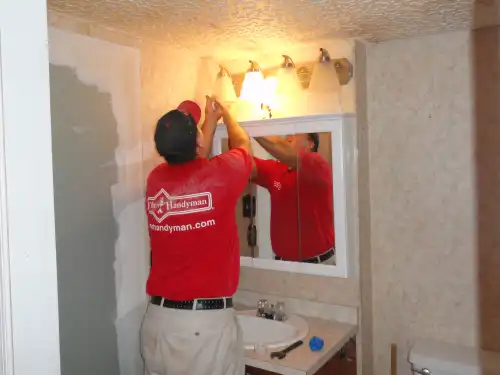 Some of the projects Mr. Handyman had the privilege to perform for this well deserving veteran were:
Move the medicine cabinet down to allow him to shave more easily
Install laminate flooring in the hallway to allow easier mobility with his wheelchair
Move and widen the door opening into the bathroom to allow for wheelchair accessibility
Install a shower surround unit in the bathroom for easier access