Frequently Asked Questions About Awning Repair and Replacement in Northern Virginia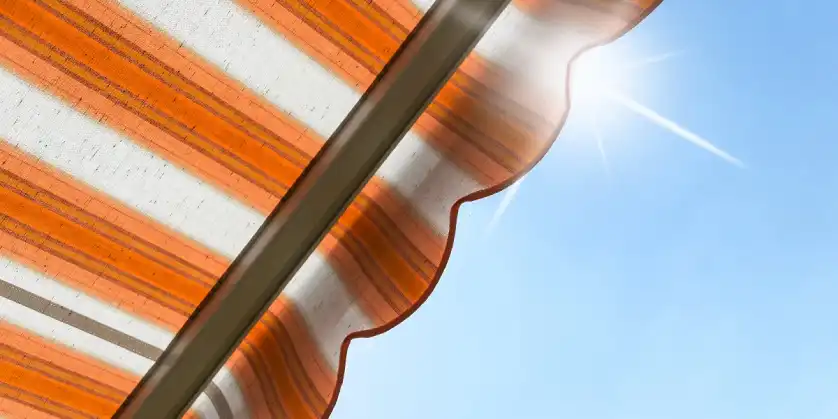 Residents of Northern Virginia have it all when it comes to weather. Between snowy, mild winters, hot summers, and vibrantly colored falls, there is a joy to be found in all seasons. While many homeowners are eager to lap up the summer heat after a snowy winter, strong UV rays can make sitting in your outdoor spaces uncomfortable. Additionally, the powerful sun can quickly heat up your home and cause your AC unit to have to work harder, leading to a higher energy bill. Thankfully, with the help of a Northern Virginia handyman, you can combat both of these issues with awning installation and awning repair.
Whether you already have a canopy that is in such disrepair that it's no longer benefiting you, or you don't currently have one but would like to get one installed, Mr. Handyman can help. In this article, you'll find the answers to 9 commonly asked questions about awning repair and installation services and strategies for Northern Virginia homes.
Common Awning Materials And Designs
There are four main types of awnings designed for residential homes and commercial businesses. If you're installing an awning for the first time, your options include:
Retractable designs
Motorized designs
Fixed designs
Portable designs
The most common type of awning found in NOVA homes is the retractable type. In the winter, you can keep these rolled up to let more sunshine into your home and keep them rolled down during summertime to keep your home cooler. RV awnings are also usually the retractable type, as they can be rolled up and down depending on whether the vehicle is being transported or is stationary.
Motorized canopies are a type of retractable awning. Instead of using a rope or band to open and close them, a motor controlled with a remote does all the heavy lifting for you.
Fixed canopies are very affordable, but they can't be rolled up. Because they're up all the time, they tend to deteriorate more quickly due to constant exposure to the elements. Finally, portable awnings act as tents that can be placed on a patio, or taken with you for beach days and camping trips.
In Northern Virginia homes, patio, deck, and window awnings are the most common types you'll see. As far as materials go, cotton, polyester, canvas, and metal awnings tend to be popular choices for homeowners.
Top Questions About Awning Repair and Installation in NOVA
How Do Awnings Get Damaged?
Though the way that retractable units work is fairly complex, for our purposes here, we'll pay attention to just two components: fabric covers and arms. Though other parts can become damaged through the regular wear and tear that comes with repeated use, most of the causes of damage to the fabric cover and arms are accidental.
Strong winds can cause the metal arms to bend, making them more difficult to slide along tracks. While tracks can sometimes require lubrication to work smoothly, tracks warped by winds will need to be realigned.
The fabric topper of your canopy is constantly plagued by harsh UV rays, moisture from rain, and the weight of heavy snow. Birds love to land on awnings, and as such, you'll likely get your fair share of bird droppings. All of these signs of wear can cause the fabric to deteriorate, resulting in tears and holes.
Why Is Awning Repair Important?
Some assume that the primary purpose of canopies is simply to provide a comfortable, shaded place to sit outside in the summer. While this is a big benefit, there are so many additional perks that come with awning installation. These include:
Deck and Patio Protection: You know how harmful the sun can be to your health, which is why you apply sunscreen before going outside. The sun can be incredibly harmful to your wooden deck and patio furniture too, resulting in bleaching and drying. A functioning canopy blocks the sun and helps your deck last longer. If you already have porch or deck damage, check out this article on what you should know about porch repair.
Protects Indoor Furniture: That intense sun won't just bleach your deck; it can bleach the furniture you have placed close to your windows too. Protect that stunning leather sofa you spend a pretty penny on by installing a canopy above your windows and patio door.
Reduce Energy Costs: No matter how optimal your insulation is or how many panes of window glass you have, there's only so much they can do to combat the incessant heat of the summer sun. Installing an awning over your windows will significantly reduce your air conditioning costs by keeping your home cooler in the first place.
If your canopy is currently full of holes and tears, or you're unable to get it to pull out due to track damage, your awning won't be able to block the sun as well as it should be able to.
Can the Awning Fabric Be Repaired Or Replaced?
Absolutely. There are several possible types of repairs for rips, or you can order canopy replacement fabric. The direction you decide to go in will depend on your budget and the extent of the damage.
If you only have one or two small rips and you're happy with your canopy's appearance, then repair is a great option. Simply uncover your awning and sew up any holes. Not much of a sewer, or not enough time? No problem! Awning repair tape is an aggressive adhesive that can provide permanent repairs for rips, holes, and punctures.
For fabric that is essentially in tatters, we recommend ordering replacement fabric. If you're tired of your current fabric pattern and color, or you recently made major exterior alterations to your home and your existing fabric just doesn't match anymore, you can also consider fabric replacement.
How Long Do Awnings Last?
When it comes to the lifespan of awnings, the biggest determinant by far comes down to how you care for them. If an unexpected storm rips through your area without a moment's notice, there isn't much you can do. Barring unexpected extreme weather events, your awning's arms can last you decades, while fabric tends to last most owners around 10 to 15 years.
While it may be tempting to go for the cheapest option available to you, by spending a little extra to get a quality product, you'll find that it will cost you less in the long run. Products that offer a 5-year warranty may not be trustworthy. Instead, look for products with a 10-year warranty or more.
If you're interested in getting the most bang for your buck and you have enough mobility to expand and retract your canopy whenever you need it, a manual retractable unit is probably a safer bet than a motorized unit. It will often be your motor that is the first to wear out, and if you don't have a long warranty on your motor, you may find yourself needing to pay for a motor replacement sooner than you envisioned.
Can I Fix An Awning Arm That Doesn't Retract?
As long as the metal arms haven't been significantly damaged by strong winds or some other forceful impact, arm retraction should be fixable. The trickiest part of awning repair is figuring out exactly which component is damaged or failing to function properly. If your unit's arm isn't retracting properly, try the following strategies to get it working again:
Compare arm positioning on each rail. Is the awning retracted the same amount on both arms? If not parallel, the arms can get caught. Pull the arm closest to the wall towards you so that it's about as far out as the other arm, and then try again.
If things are looking a little rusty or you've noticed a lot of squeaking recently, try spraying the tracks with some WD-40 to lubricate them again.
If your unit is motorized and you're not hearing anything at all when you hit the 'retract' button, you likely have electrical issues. Contact the manufacturer for further troubleshooting or to take advantage of your warranty.
If none of these fixes seem to be doing the trick, give a professional a call.
What Steps Can I Take To Prevent Awning Damage In The Future?
The key to ensuring your awning lasts for years to come is to take the time to perform regular maintenance. We recommend taking the following steps to maintain your unit:
Wash with mild soap: Once or twice a year—preferably in the spring and fall—wash down your canopy's fabric with warm, soapy water. If you're cleaning it before the winter, make sure you give it ample time to dry before rolling it up.
Always keep your awning rolled up when not in use: If you have a fixed awning, this is not possible. However, retractable awnings should be stored rolled up to prevent wind, rain, sun, and snow damage.
Store with a weatherproof cover: Though it may not be overly attractive or do much to help your curb appeal, placing a weatherproof cover over the top of your rolled-up awning during the winter when not in use will help the fabric last longer.
Can I Repair And Install An Awning Myself?
Depending on the issue, you can certainly try troubleshooting awning issues yourself. As long as you're comfortable being on a ladder, you can apply an awning repair tape to any damaged areas of the fabric. Likewise, you can troubleshoot an arm that won't expand or retract—just be sure that you don't force anything, or you risk damaging your awning even further.
Though awning repair is possible to try on your own before calling in the professionals, awning installers should always be used for new awnings. Awning installation is a two-person job, and it must be installed properly to avoid damaging your home or damaging the product.
How Much Do Awning Repair and Installation Cost?
The cost of awning repair and installation depends on several factors, including:
Size of the awning
Type of damage
Type of awning
Specific product choices
Labor costs
Material costs at the time of repair or installation
Though actual project costs will vary from homeowner to homeowner, recent national statistics estimate that awning repair typically costs between $300 and $1,200, but some homeowners have reported repair costs upwards of $1,700.
Replacement fabric tends to cost between $300 and $1000 (with installation), depending on the material you choose. Motor replacements cost approximately $200 to $600. Finally, to install a brand-new awning, you're looking at a product cost between $250 and $3,500, or more.
Keep in mind that these prices depend heavily on supply chain shortages and labor, and are only estimates made at the time of writing. Look for awning installers that will offer no-obligation quotes for their services, and get an accurate estimate for your unique product and property specifications.
When Is Awning Repair Better Than Replacement?
At the end of the day, whether awning repair or replacement is best for you comes down to a judgment call. That being said, there are two main questions you should ask yourself when deciding which route to take:
How much will replacement parts and repair services cost? Once you've tallied up the costs for replacement parts and factored in the cost of labor for the installation of these parts, compare this number to the cost of installing a brand-new awning. If you won't be saving much by choosing repair over replacement, you may want to consider installing a brand-new awning instead.
How old is my awning? If your awning is already very old, it's unlikely that these repairs will be your last. If you expect to have to spend money on more repairs not too far down the line, you may be better off replacing the entire awning.
Contact Mr. Handyman of Northern Virginia - Arlington to Haymarket For Awning Repair Or Awning Installation Today!
Does your existing awning need repairs that you don't feel well-equipped to do on your own? Are you convinced by the potential savings benefits of awnings and looking to get one or more installed for the first time? For superior awning repair and installation services in Northern Virginia, including the areas of Sudley, Haymarket, and Alexandria, Mr. Handyman of Northern Virginia - Arlington to Haymarket has you covered.
To book your service appointment or discuss your project requirements in more detail, reach out to us directly by phone or fill out our online contact form, and we'll get back to you as soon as possible.