Curious About Tile Backsplash Installation in Northern Virginia? Here Are the Answers You're Looking For: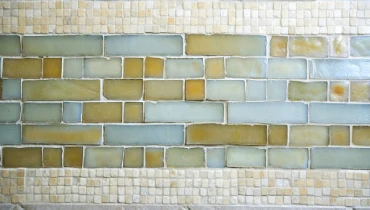 Whether you are planning a major renovation of your kitchen or other rooms such as a bathroom and looking for ways to add beautiful, practical touches that will enhance your space, or you just want to give your room a little tweak that will increase its appeal and make a welcome visual change, a new tile backsplash is the way to go. A few square feet of tile on your wall may not seem like a big deal, but it can make a surprisingly huge impact on how rooms look and how homeowners in Northern Virginia feel about them.
A backsplash takes up a lot of visual space right at a critical point—your eye level. You may not realize it, but you spend a lot of time looking at the wall in your kitchen while you're stirring a pot on your stove, prepping food on your countertop, or daydreaming while you do the dishes. The perfect tile backsplash will give you something attractive to look at and can truly change the entire style of your room for the better. As an added bonus, it protects the wall against splashes of water and food and is easily wiped clean.
Not sure what options are available for a tile backsplash in Northern Virginia, or which ones are right for your house in particular? We have the answers to some common questions, along with expert advice from the Northern Virginia handyman professionals at Mr. Handyman of Northern Virginia - Arlington to Haymarket. We have plenty of experience with installation and can get even the most elaborate tile backsplash installed beautifully.
What Type of Tile is Best for a Backsplash?
This can be a difficult thing to determine, because there is such a wide range of backsplash tiles available in Northern Virginia, from a classic subway tile to an elegant mosaic option. It can feel overwhelming at first, but the positive side is that a new backsplash project is the perfect opportunity to choose a color, pattern, and material that will infuse your home with your own personal style.
It's important to consider the location and purpose of your installation. Since it may be splashed with cooking grease or other substances, natural stone tile is not necessarily the best choice. A stone such as marble can become stained surprisingly easily, and stone with a rougher texture such as slate is more difficult to wipe down. Many types of natural stone also need to be sealed regularly to keep them looking good, so they are a more high-maintenance option. Ceramic wall tile may not be quite as flashy, but it is attractive, durable, and virtually maintenance-free.
What Is the Most Popular Kitchen Backsplash Material in Northern Virginia?
Glass subway tile backsplashes are especially popular in Northern Virginia and many other areas. While glass tile is too delicate for the floor, it adds depth and dimension to the wall with its translucent beauty. It is also available in pretty much every color imaginable, so it is a great way to add a pop of color in an otherwise neutral-colored room. And, ceramic tile or porcelain tile aren't just for floor tiles. They come in a wide variety of styles, including many options that mimic the look of natural stone. Metal tile is also a great option, especially for a more modern or minimalist style of room.
Lately, backsplash trends have been more about shape and pattern than material. Interesting choices such as herringbone, honeycomb, or another geometric pattern are quite popular among some Northern Virginia homeowners. If you want to stick with neutral colors, an unexpected pattern or shape can go a long way to add some fascinating visual elements without changing the color scheme of your room. On the other hand, your backsplash can be the ideal place to break up a monochromatic look. And, a pattern isn't all about placement—sometimes pieces themselves feature artistic patterns on the surface.
What Size Should the Pieces in a Tile Backsplash Be?
The size of individual pieces is a matter of personal preference, to an extent. There are some sizes that tend to work better than others for a tile backsplash. Since the space between your countertops and upper cabinets is relatively small, it makes sense to choose a mosaic tile backsplash made up of tiny 1x2 inch pieces or go a bit larger with a 3x6 inch subway option. Mosaic backsplashes add some interest to the backsplash area without feeling overwhelmingly busy like they might on a larger, more open stretch of wall.
That being said, it is your house and you should choose what looks best to you. There are plenty of examples of beautiful backsplashes that feature large pieces such as 12x24 porcelain or travertine. Just keep in mind that if there are a number of obstacles on the wall that need to be worked around, such as electrical outlets, large pieces will need to be cut—and that will look awkward and stand out a lot more than it would with small pieces.
How Far Up the Kitchen Wall Should a Tile Backsplash Go?
Typically the backsplash is positioned between the countertop and the upper cabinets, and it may not even go all the way up to the cabinets—sometimes they only rise about four inches from the surface of the counter. But backsplashes aren't just decorative elements. They provide protection for your wall in rooms such as the kitchen or bathroom where there might be water and other substances splashing on the wall. So, it makes sense to bring it up to the cabinets and even beyond if you want. There is often tile backsplash behind the stove, covering the entire space from stovetop to range hood, and some people in Northern Virginia like it to go all the way up to the ceiling. There's no hard and fast rule—it really comes down to your personal taste and what you think would look best in your kitchen.
Does a Backsplash Have to Be Tile?
Nope! There are plenty of other options available in Northern Virginia for attractive backsplashes that still have the protective qualities you need for your wall, and are durable and easy to clean. For example, you could choose panels of metal such as stainless steel or copper, which can be styled to look old-fashioned or sleek and modern. Thermoplastic panels are also an option—they are water-resistant and are available in many different styles and textures, including ones that mimic the look of stone or ceramic. Glass panels and slabs of stone are also potential options that could give your room a unique and appealing look.
Is Tile in Kitchens Outdated in Northern Virginia?
Absolutely not! While trends related to the size, pattern, shape, and material tend to come and go naturally, the tile itself has been popular in homes throughout Northern Virginia since it began to be mass-produced in the Industrial era and shows no signs of going out of vogue.
Is a Tile Backsplash Suitable for Rooms Other Than the Kitchen?
They are most popular in kitchens, but that certainly doesn't have to be the only room in your house with a tile backsplash. A bathroom backsplash is a great idea to protect the wall behind the sink from splashes of water and speckles of flying toothpaste. Backsplashes are perfect for utilitarian areas such as laundry rooms, hobby benches, around fireplaces or behind wood stoves, children's play areas, and anywhere where the wall needs a little extra protection—or a little extra style.
Should My Handyman Use Caulk or Grout for a Tile Backsplash?
Both grout and caulk should be used, in different places and for different purposes. People in Northern Virginia sometimes get these two materials mixed up or assume they are interchangeable, but they are actually quite different. Grout is a masonry product made primarily of cement that goes in between the tiles and forms a bond with the backer board, or tile substrate.
Caulk, on the other hand, is a semi-flexible, watertight material made out of plastic polymers such as vinyl and silicone. It is used at the point where one type of material meets another, such as the line where a tile backsplash meets a countertop, and also where two planes of tile meet at a right angle in a corner. While it isn't always used in corners, it can be helpful because all houses settle and shift over time. The flexible caulk gives more "wiggle room" to accommodate house settling, unlike rigid grout that can be cracked. Caulk can also be used over the top of grout lines as a grout sealer, but that is more common in wet areas such as a shower. Planning on remodeling your shower? Here's what you need to know about completing a shower remodel in Northern Virginia.
Can a Tile Backsplash Be Installed Without Grout Lines?
The short answer is no. The long answer is, while it may technically be possible to install a tile backsplash without grout lines, it is not a good idea and the installation wouldn't be up to professional standards of quality workmanship in Northern Virginia. While you may not love the look of grout, it does have an important role to play.
Here are the three main reasons why you need grout lines:
The pieces may look perfectly uniform in size and shape, but any experienced installer will tell you they are not. Those tiny differences don't register to the naked eye because the additional grout space "absorbs" the difference, but without grout, it would be obvious that they aren't sitting perfectly even because they aren't all precisely the same size.

As we mentioned above, all houses settle and shift over time. Without grout to accommodate that slow settling process, the pieces would grind together and crack or chip.

Even if two pieces are placed perfectly flush against each other, there will still be a tiny crack between them that will let in dirt, bacteria, and moisture, making them a nightmare to clean and encouraging the growth of mold or mildew.
What Else Do I Need to Know About Planning a Tile Backsplash Installation in Northern Virginia?
Here are a few things to remember when you are working on a plan for your ideal backsplash.
Get Inspired!
First, check out some sources of inspiration. There are thousands of pages of kitchen designs and tile-related photo galleries online, and while that may seem intimidating, you probably only need to click through a couple of them to spot an idea that will get you thinking about what you want to see in your home. For example, the all-white kitchen trend is increasingly popular in Northern Virginia these days, but that might feel too bland to you. If you think you may want an all-white room, consider white options with a fascinating texture or shape to add some spice.
Pick a Focal Point
Many backsplashes in Northern Virginia feature a focal point such as a decorative tile insert above the stove or sink. They can be quite elaborate, or clean and simple, but they draw the eye to that area. Inserts are particularly popular in Tuscan-style or rustic kitchens, but they can apply to any design aesthetic and make a big difference in the look of the room.
Lighten Up
Once you get your tile backsplash installed, you might as well make sure everyone can see it! Accent lights underneath your upper cabinets will cast light on the new installation, making it look even better. But they also provide some ambient light for the room and make it a lot easier to see what you are doing on the countertop when you're prepping food.
Ready to Spice Up Your NoVA Home With a Tile Backsplash? Your Local Handyman Will Get It Installed!
Whether you are in Haymarket, West Gate, Woodbridge, or another nearby part of Northern Virginia, you can trust the experienced team of service professionals at Mr. Handyman of Northern Virginia - Arlington to Haymarket for expert tile backsplash installation and dozens of other reliable handyman services—not to mention customer care that goes above and beyond.
Give us a call today at to schedule a convenient appointment time, or to chat with our friendly customer service staff and find out more about what we will do to enhance your home.