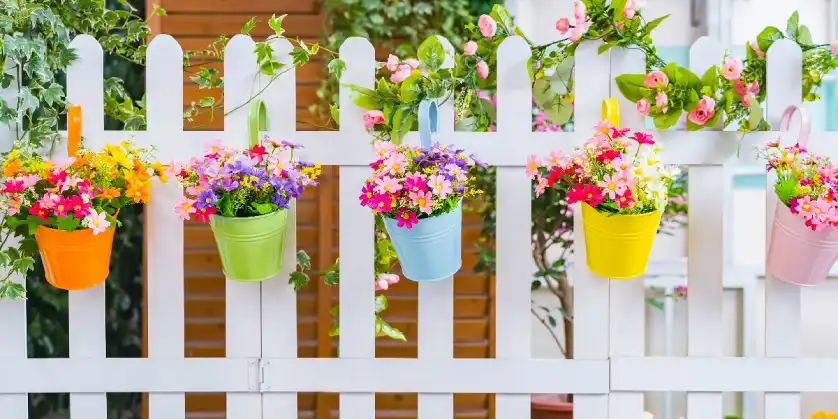 One of the biggest reasons that Manassas residents love their community is its inescapable historical atmosphere. While Church Street is full of brick buildings one after the other, many of the surrounding neighborhoods also house their fair share of homes with brick facades and wrap-around porches. As lovely as your Northern Virginia town is, you may desire some privacy that isn't always easy to obtain in a small community. Alternatively, you may have some young children and pets that you'd like to let play outside without having to worry about them running into the street. If this sounds like you, it's time to consider Manassas fence installation.
For most property owners, fence installation isn't a project that should be attempted on your own—even if you read our guide to fence repair and installation. For fence installation that is done to a high standard, completed efficiently, and adheres to all the appropriate building codes, contact our team of Manassas handyman professionals.
Top Reasons to Invest In Fence Installation In Manassas, VA
If you're considering fence installation for a residential property or commercial property but are still on the (you guessed it) fence, consider the following major benefits of this exterior improvement project:
Keep Things In If you have kids and pets, a fence can provide peace of mind that they won't accidentally run into your street if you take your eyes off of them for a couple of seconds.
Keep Things Out: While most fences won't stop someone from setting foot on your property if they're determined to, it acts as a deterrent to wandering teenagers and other animals that might not be so friendly towards your dog and kids.
Increase Privacy: Though Manassas is home to lots of old, historical houses on large lots with trees, if you feel like a bug under a microscope when you're in your yard, fencing can be a great way to keep things a little more private.
Boost Curb Appeal: Depending on which material and style you choose, adding a fence can actually add a lot of charm to your property. If you go to sell, this can be a big plus for potential buyers.
Our Manassas Fence Installation Service—Step By Step
At Mr. Handyman of Northern Virginia - Arlington to Haymarket, our handyman professionals have the expertise and experience to take care of your entire project from start to finish. To build you a fence that will last for years to come, we'll follow the established best practices for fence installation while maintaining a high standard of quality for workmanship.
Our service technicians have years of experience in many different types of perimeter installation. Some types of materials we've worked with include:
Wood
Chain link
Vinyl
Ornamental steel or iron
Galvanized steel
Other metals
Some materials, such as chain links, are frequently requested for commercial fences by commercial and industrial property owners, while vinyl fencing is a popular choice for homeowners. We also install panels in a variety of styles, from waist-height picket fencing all the way to privacy fences. No matter what style and material you choose, our service technicians will be there every step of the way throughout the entire process.
Our installation process will vary according to your property type and product choices, but in general, you can expect us to take the following steps:
Step 1: Preparation
Like most home improvement projects, the first step is to plan and prepare your project. In this case, this involves mapping out your property lines. It's a good idea to discuss your project with your neighbors in advance, not just to be a good neighbor but to discuss the possibility of splitting costs. If your neighbors are interested in cost sharing, your fence can be installed directly on top of the boundary line between your properties. If not, we'll install your fencing on your side of the property line.
Next, we'll measure out the length of paneling we'll need by systematically marking out the perimeter using string and stakes. If your fence will be installed on a slope, we'll mark out and install posts and panels in stages to ensure the greatest amount of accuracy possible. We'll also take care to check for pipes, cables, and wires underneath your property.
Step 2: Gather Tools and Material
After your perimeter has been measured and marked out, materials can be ordered. The number of panels needed will depend on the panel size and how many gates you plan to have. The following materials will need to be ordered:
Panels
Support posts
Hangers
Doors or gates
Hinges
Springs
Handles
Latches
Foundation material (more on this in step 3!)
On installation day, we'll bring all the necessary tools to get the job done properly and efficiently. Some of the tools we may bring include:
Post-hole auger
Carpenter's level
Line level
Sledgehammer
Standard hammer
Tape measure
Gloves
Step 3: Lay Foundation and Posts
Once we've dug holes for your posts, we'll lay the foundation. There are several different types of foundations that can be used for installing quality fencing. The right method for you will depend on which material you choose, the slope of your yard, and Manassa's climate conditions. Common types of foundations include:
Sonotubes: For wood and metal posts, a tube will be inserted into the hole. With the post centered in the tube, we'll fill it with concrete up to ground level.
Concrete footings: In this method, concrete is poured first and the posts are then submerged in concrete.
Metal stakes: Using a sledgehammer, we'll drive metal stakes into the ground. A major perk of this method is that digging holes is not necessary. Once secure, we'll attach the posts to the top of the stakes.
In all of these methods, about four inches of gravel will be poured into the hole first to ensure that the post does not come in contact with the earth.
Step 4: Panel Installation
Once the foundation is set, the hangers and panels can be installed. In this final stage, doors, gates, and any other accessories you may have will be added.
Our Manassas fence installation service will finish with cleaning up after ourselves and providing you with any maintenance tips you may need for your newly installed fence. Once we've answered any questions you may have, we'll leave you to enjoy your new fence!
Maintaining Your Manassas Fence Installation
As long as your fence was installed properly—which it was, if you hired our talented team of handyman professionals!—it will require very little maintenance. For durable materials, we recommend pressure washing your fence every now and then to keep it clean and free of contaminants.
One of the biggest reasons you should get a power washing service for your home's exterior is to prevent dirt and other contaminants from leaving behind stains that are difficult to remove. Certain particles can also cause their surface to degrade and deteriorate. By keeping it clean, you can help it look its best for many years to come.
Manassas Fence Installation FAQs
How Long Does It Take To Complete A Fence Installation?
Fence installation is one of the longer installation services we offer. It's not a project we want to rush, due to the high level of precision required. Staking out your property usually takes several hours, and once we've poured the concrete, that generally needs about 24 hours to cure before installing panels.
You can generally expect installation to take two to four days, but the condition of the ground, property size, and weather conditions could cause the entire process to take even longer. At the beginning of your service, we'll take the time to clearly explain the project scope and timeline so you know exactly what to expect.
How Can I Prepare For My Fence Installation Service?
You can count on us to do most of the work for you, but there are a couple of things you can do ahead of your service appointment to make the process go a little smoother.
If your yard has several decorations and pieces of furniture that may get in the way of installation, we encourage you to move these away from the perimeter of the fence line. This allows us to work more efficiently, as well as ensures your property is fully protected.
We also encourage you to inform your neighbors. If you can negotiate a shared installation service together, that's even better, but at the very least, let them know what kind of fence you'll be putting up and the service dates. It can create problems for both you and your neighbors if we show up to complete a noisy installation at the same time a children's backyard birthday party is going on.
Can I Complete My Own Fence Installation?
Some homeowners consider attempting fence installation themselves to save on labor costs. We generally advise against this for a couple of main reasons:
Fence installation isn't a one-person job. You need at least one other person to help you level and fill posts.
Fence installation requires advanced carpentry skills. Precise measurements and leveling calculations are needed to ensure your project goes off without a hitch.
Additionally, the process takes quite a while for even a team of experienced service professionals to complete. If it's just you and a friend, you can expect it to take much longer than a few days.
Do I Need To Use Concrete For Fence Posts?
While concrete isn't technically necessary for securing fence posts, we strongly recommend it. Using gravel alone or metal stakes can keep your fence fairly secure, but nothing guarantees stability like concrete.
If you've chosen natural wood for your fencing material, it's imperative that the wood does not come in contact with the earth, as this can cause wood rot.
What Is The Easiest Type Of Fence To Install?
It really depends on the specific project, but in general, vinyl fencing is fairly easy to install. Prefabricated fence packages that are ready to install can make the process much quicker, but a moderate level of expertise is still required to install these types of fences properly.
How Deep Should A Fence Post Be?
The appropriate depth for a fence post comes down to physics. A good rule of thumb is that the post hole should be at least as deep as one-third of the post, and up to half as deep. This will prevent gravity from tipping over your posts.
Additionally, post holes should be approximately three times the diameter of the post itself.
How Much Does Fence Installation Cost?
The average cost of fence installation varies considerably depending on the materials you choose and the amount of fencing you require. According to recent estimates, the average national cost for fence installation tends to fall somewhere between $1,800 and $4,700, but expect to spend even more if you have a very large property to fence.
Chain link fencing is the most affordable material, with the cost per linear foot ranging from approximately $10 to $30. Wrought iron tends to cost the most, at an average of $30 to $50 per linear foot. Keep in mind that these prices are just estimates, and estimates that were made at the time of writing. Inflation and supply chain issues can cause significant fluctuations in the cost of materials and labor.
For Reliable Manassas Fence Installation, Contact Mr. Handyman of Northern Virginia Today!
By using our Manassas fence installation service, you'll have peace of mind knowing that your fence will last for years to come thanks to the due diligence and expertise of our handyman and carpentry professionals. Not only do our experienced fence contractors have an average of 10 years of experience to back their excellent workmanship up, but they're also customer-focused, so you can guarantee that you'll receive excellent customer service.
Whether you live in Manassas or one of the surrounding communities, such as Springfield, Woodbridge, or Gainesville, our team at Mr. Handyman of Northern Virginia would be happy to complete your fencing project for you, whether you have a minor fence repair job you need to be done or you want a brand-new fence put in.
To book your service appointment now, or to further discuss your unique project plans, specifications, and expectations, don't hesitate to give us a call or fill out our online service request form.