From a minor change around your house to a major renovation, Mr. Handyman of Orland Park and Oak Lawn is the one to call. With support from a nationally recognized brand, we're your local resource for professional home repairs in the Chicago Ridge area. All our services are backed by our Done Right Promise® because we consider ourselves neighbors helping neighbors. You deserve only the best. And if you don't have time to check everything off your to-do list, or aren't sure how to accomplish a certain task, get in touch with our team.
Ready to get started with an experienced Chicago Ridge handyman? Call us today or request handyman services online!
ASSEMBLY & INSTALLATION SERVICES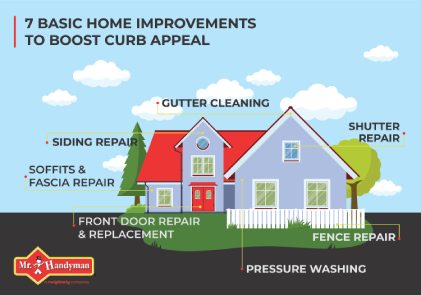 Do you still feel a little irritated when you look at your bed frame because you remember how much of a pain it was to assemble? Don't put yourself through that again.
Our team can safely assemble items such as:
Bed Frames
Bookshelves
Cabinets
Decks & Deck Furniture
Desks & Tables
Entertainment Centers
Fences & Grills
Storage Racks
Along with putting together furniture or other items, Mr. Handyman of Orland Park and Oak Lawn is licensed and insured to professionally install household fixtures, doors, floors, and more.
Some of the common installations we provide include:
Babyproofing
Countertops & Kitchen Islands
Doors & Windows
Staircases & Handrails
Crown Molding
Gutter Guards
TVs & Mantels
MAINTENANCE & REPAIR SERVICES
It's easy to let the little things add up, but regular maintenance can change the game. Whether your bathroom grout needs TLC, your fence is deteriorating, or your deck needs power washing, you don't have to handle it alone.
Looking for Chicago Ridge home repair services? Call us today or request an appointment online!
REMODELING & CARPENTRY SERVICES
Renovating your home is a fun, and sometimes overwhelming, time of change. We've got you covered from establishing a design concept to procuring the materials and efficiently installing them.
Sometimes the box stores can't provide the shelving, cabinets, or other items you'd like to compliment the aesthetic of your home. Or maybe you need a specific storage solution. Either way, our professionals have years of experience building pieces from scratch. Just let us know what you have in mind!
It's important to keep in mind that none of these lists of services are exhaustive by any means. If you need help with something around the house, don't hesitate to reach out. Even if you have a complicated problem – our creative team has lots of experience coming up with creative solutions. With an average of 10 years of experience, our home improvement professionals know how to get the job done well the first time.
Of course, you don't need to take our word for it – that's why we ask that our customers share their experiences working with us.
Dial or request an appointment online for residential handyman services in Chicago Ridge today.