Professional Handyman Services for your Home or Business
In today's fast-paced world, it's challenging to find time to tackle the ever-growing to-do list amidst work, school, and family commitments. But there's no reason to fret. If you're worried about not having enough time to assemble that office furniture or complete those pending home repairs, our skilled handyman services are here to save the day.
Introducing Mr. Handyman of Orland Park and Oak Lawn, your reliable partner for a wide range of tasks, serving both residential and commercial clients in Orland Park, Oak Lawn, IL, and neighboring areas. We understand the importance of a well-maintained home and business, and our professionals are ready to assist you with various services tailored to your needs.
Need professional handyman services? Get in touch with our team today to request your service.
Comprehensive Residential Handyman Services
With Mr. Handyman of Orland Park and Oak Lawn, you can trust that our professionals are dedicated to providing top-notch service and exceptional results for all your handyman needs. From minor repairs to major installations, we're here to help you maintain and improve your home or business with efficiency and expertise. We offer local home repair and home improvement services in Orland Park and Oak Lawn, IL. For residential properties, our handyman services include:
Attic Insulation Installation
Proper insulation in your attic is crucial for maintaining a comfortable and energy-efficient home. Our skilled handyman professionals will assess your attic and recommend the best insulation options based on your needs and budget. Whether it's blown-in cellulose or fiberglass insulation, we'll ensure your attic is well-insulated to prevent heat loss during winters and keep your home cooler in the summer.
Bathroom Fan Installation and Repair
Bathroom fans play a vital role in maintaining good air quality and preventing mold and mildew growth. Our expert handyman team can install a new bathroom fan or repair your existing one if it's not functioning correctly. We'll ensure that the fan is properly ventilating the moisture and odors from your bathroom, creating a more pleasant and healthier environment.
Kitchen Cabinet, Countertop, or Backsplash Installation and Repair
A well-designed and functional kitchen enhances the heart of your home. Our experienced handyman services include professional installation and repair of kitchen cabinets, countertops, and backsplashes. Whether you're upgrading your kitchen or need to fix damaged elements, our experts will ensure precise and secure installations, giving your kitchen a polished look.
Window Installation & Repair
Windows not only add aesthetic appeal to your home but also serve as an important barrier against the elements. If your windows are damaged, drafty, or outdated, our skilled handymen can handle window repairs or install new ones for you. We'll make sure your windows are properly sealed and functioning optimally, contributing to improved energy efficiency and comfort.
Indoor and Outdoor Painting
A fresh coat of paint can transform the look and feel of your home or commercial property. Our handyman professionals are well-versed in indoor and outdoor painting projects. Whether it's refreshing the interior walls or giving the exterior a new color, we'll provide precise and even painting, using high-quality materials for a long-lasting and impressive finish.
Furniture Staining
If you have wooden furniture that has lost its luster or needs a touch-up, our skilled handymen can help with furniture staining. We'll carefully prepare the surfaces and apply the appropriate stains to enhance the natural beauty of the wood. From tables and chairs to cabinets and bookshelves, our staining expertise will revitalize your furniture, making it look as good as new.
Handyman Services for All Types of Businesses & Commercial Properties
At Mr. Handyman of Orland Park and Oak Lawn, we understand the importance of maintaining a well-functioning and attractive commercial space. With our expertise in various commercial handyman services, we are committed to helping you create a professional and inviting environment for your business. From installations and repairs to enhancements and restorations, you can rely on our handyman professionals for top-notch service and outstanding results.
For businesses, our handyman services cater to a variety of industries and include:
Door Installation and Repair
Efficient and secure doors are essential for any commercial property. Our skilled handyman team specializes in commercial door installation and repair. Whether you need new doors installed for your storefront, office, or warehouse, we'll ensure proper fit and functionality. If you have existing doors that are sticking, misaligned, or damaged, our experts will provide effective repairs, ensuring smooth operation and enhanced security.
Drywall Installation and Repair
Well-maintained drywall is crucial for a professional and presentable workspace. Our handyman professionals are experienced in commercial drywall installation and repair services. Whether you're remodeling your office or need to fix holes and cracks, we'll deliver seamless drywall installations and precise repairs, leaving your walls smooth and ready for painting or further decorating.
Cubicle Assembly
Efficiently assembling cubicles is essential for creating a productive and organized workspace. Our skilled handymen are proficient in cubicle assembly services. Whether you're setting up a new office space or reconfiguring existing cubicles, we'll ensure accurate and timely assembly, providing a conducive environment for your employees to thrive.
Office Furniture Assembly
New office furniture often comes in unassembled pieces and putting it all together can be a time-consuming task. Our handyman team can handle office furniture assembly efficiently. From desks and chairs to shelves and cabinets, we'll follow manufacturer instructions and use the right tools to assemble your furniture correctly, saving you time and effort.
Request Professional Handyman Services Today
Whether it's lingering repairs or maintenance tasks that have been put on hold, our team of skilled professionals will transform that daunting list into a thing of the past. Let Mr. Handyman of Orland Park and Oak Lawn handle all your home and office repairs in the Southwest Suburbs of Chicago. Say goodbye to the stress of unfinished projects and embrace the convenience of our top-notch local handyman services. Contact us today to request home repair service.
Proudly Serving Orland Park, Oak Lawn, & the Surrounding Areas
Mr. Handyman of Orland Park and Oak Lawn proudly serves Chicago Ridge, Hickory Hills, Oak Lawn, Orland Park, Palos Heights, Palos Hills, Palos Park, Willow Springs, and Worth.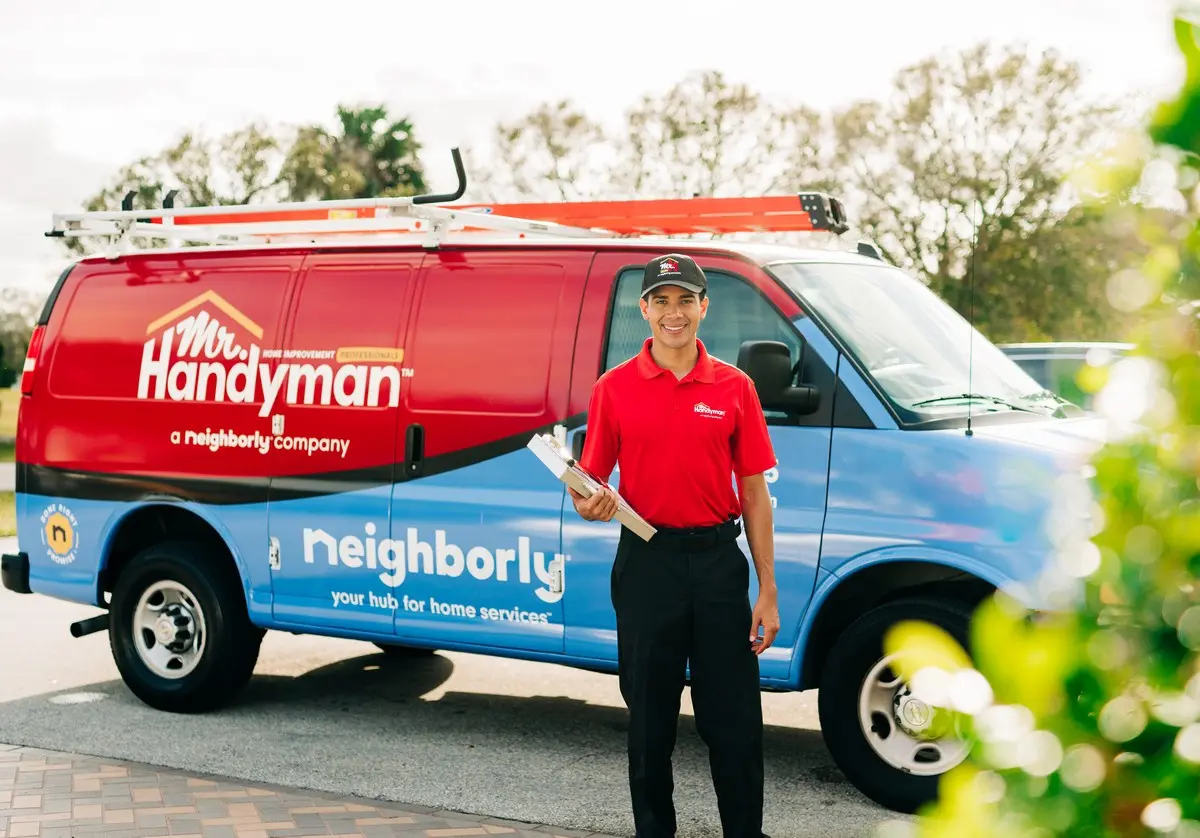 Why Choose Mr. Handyman?
Convenient one-call solution.

Safe, worry-free experience.

Fully insured with general liability and workers' compensation.

We'll clean up when we're done.

Our workmanship is guaranteed.
Our Mission
Mr. Handyman is your one-stop shop for a wide range of home maintenance and repair solutions. Mr. Handyman's service technicians are highly skilled craftsmen, so you know they will get the job done right the first time.
Partnerships & Achievements
Trustworthy & Dependable Handymen & Women
Our superior-quality services aren't done by magic. They're executed by the talented and highly trained professionals on our team. Our local pros live and work in Orland Park and Oak Lawn, so we care about the community and want to help you—our neighbors—in any way we can. This includes helping you complete your home and office-related repairs and tasks so you can get back to more important things. We have over 25 years of industry expertise, and all of our specialists have an average of 10 years of hands-on experience.
Not only do we hire the most qualified professionals in the industry today, but we also use advanced equipment and state-of-the-art tools to ensure the tasks we help you complete are done right. We pride ourselves on displaying the utmost professionalism no matter the job. With competitively priced services and a customer-centered approach, there's no reason to look anywhere else for your professional handyman services and repairs.
Handyman Reviews
Visit our Mr. Handyman reviews to see why clients choose our home services company. Do you need home improvements like furniture assembly, carpentry, window work, installations, and drywall repair? Count on us - we offer trusted home repair services Orland Park & Oak Lawn.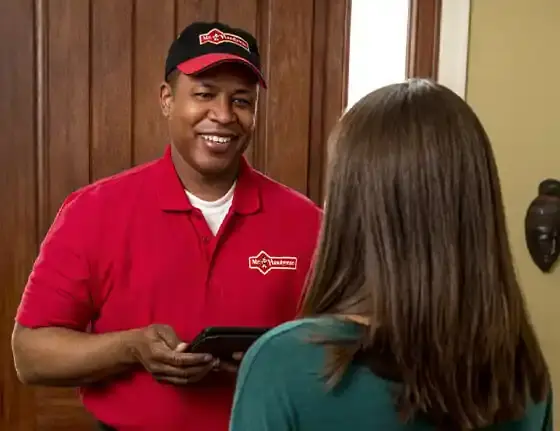 Mr. Handyman of Orland Park and Oak Lawn
Choose the right handyman services team in your area. When it comes to selecting the right team for your home improvement needs, Mr. Handyman is the right choice.
Areas We Serve:
Chicago Ridge, Hickory Hills, Oak Lawn, Orland Park, Palos Heights, Palos Hills, Palos Park, Willow Springs, Worth