Professional Handyman Services in Richmond, VA
Welcome to Mr. Handyman of Richmond, where professional, safe, reliable handyman service for your entire to-do list is just one call away. We specialize in ALL major and minor home repairs, and that's why local residents recommend us for service from a professional handyman in Richmond, VA. Since 2001, Mr. Handyman of Richmond has been serving Richmond, Glen Allen, Midlothian, Mechanicsville and beyond.
If you live in Henrico County, Chesterfield County, Hanover County, or the city of Richmond, you have found your local, qualified handyman! From our office in Short Pump, we are ready to take care of all your Richmond home improvement projects. Count on our team of experts for a wide variety of comprehensive business and home repair, maintenance, installation and improvement services designed to make your property more appealing, functional and comfortable.
For reliable handyman services in Richmond, VA, and surrounding areas, call today and request a service!
Professional Handyman Services in Richmond, VA
Rather than calling a specialist to patch drywall or repair wood rot and then calling a separate contractor to help with gutter repair and door repair, your Richmond neighbors consistently choose Mr. Handyman of Richmond for quality work that's on time done right. Our technicians can do all that and more! Richmond bathroom remodeling, door installation, ceiling fans, and even garbage disposal repair—our experienced technicians can do all that and much more!
Our team of Richmond handyman professionals is experienced with a wide range of services, from basic home repair and maintenance solutions to larger projects such as bathroom and kitchen remodeling. Our reliable services include:
Drywall repairs and finishing
Flooring repair and installation
Cabinet installation, repair and replacement
Custom kitchen island installation
Bathroom remodeling
Patio, porch and deck repair
Gutter cleaning
Fence repair and installation
Gate installation
Fence sealing
Pressure washing
Light fixture and ceiling fan installation
Basic plumbing repairs
Plumbing fixture replacement
Trim and door painting
Exterior repairs
And much more!
Home Repair, Maintenance & Improvements
When hiring someone to help you with home repairs in the Richmond metro area, you may wonder: "Will they answer the phone? Will they show up? Will they do a good job? Is it safe?" Yes, if you choose Mr. Handyman! We make it easy to schedule service, we show up when we say we will, and we do high-quality work for you.
As far as safety goes, we don't hire anyone to go into your home that we wouldn't want in our home when we need help from a handyman in Richmond, VA. Our technicians go through extensive screening that includes an employee background check program. We know them, we know their work, and we know you will be thrilled with the service they provide you.
Instead of calling multiple service providers to handle specific jobs, why not call your local, trustworthy Richmond handyman? We can help you with any job, from roof, gutter and siding repairs to furniture assembly, wall-mounted TV installations and more. Please review our list of home repair and maintenance services, and give us a call for quality work that's "On time. Done right.®"
Need help with small repairs, appliance installation or home improvement from a reliable handyman in Richmond, VA? Contact us today to find out more.
Business Repair, Maintenance & Improvements
We are a local Richmond business, so we understand the needs of businesses well! Using Mr. Handyman for your commercial repairs in Richmond allows you to spend your time doing more productive things. We schedule your service quickly, do the job right, can provide photos and recommendations and are accustomed to working in national stores and restaurants. We do unique assembly jobs, custom carpentry work, sign hanging and special remodeling projects, as well as routine maintenance such as replacing the restroom faucet.
We thank our local Richmond community for trusting America's most reliable, insured and bonded handyman services: Mr. Handyman of Richmond. For professional Richmond handyman services that are reliable and trusted, call us today or stop in at our conveniently located Innsbrook office. We'll be happy to plan your next project with you!
We provide commercial handyman services near you to keep your property in its best condition. Contact us today to request service.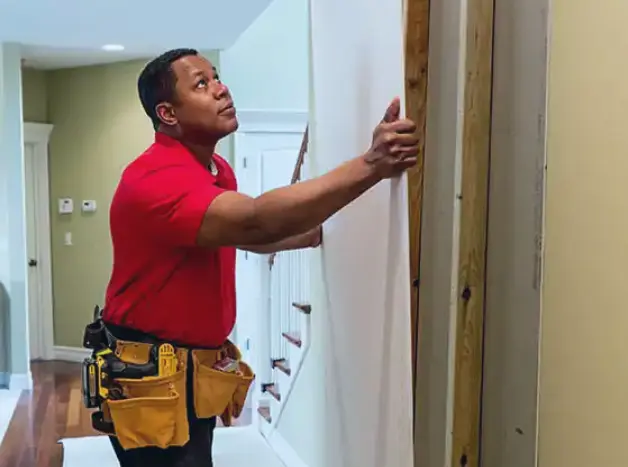 Why Choose Mr. Handyman?
Convenient one-call solution.

Safe, worry-free experience.

Fully insured with general liability and workers' compensation.

We'll clean up when we're done.

Our workmanship is guaranteed.
Our Mission
Mr. Handyman is your one-stop shop for a wide range of home maintenance and repair solutions. Mr. Handyman's service technicians are highly skilled craftsmen, so you know they will get the job done right the first time.
Partnerships & Achievements
Call Us When You Need a Reliable Handyman in Richmond, VA
Are you looking for a trustworthy, capable handyman in Richmond, VA? Look no further than the team of professionals at Mr. Handyman of Richmond. We can be relied on to show up promptly for your scheduled service appointment, in uniform and ready to get the work done correctly. We take pride in serving the people of our local communities with expert workmanship and genuine customer service that always goes above and beyond. Request a service today to get started!
Top-Quality Workmanship Guarantee
There's nothing more irritating or downright frustrating than getting a repair or installation service and finding out just a short time later that the job wasn't done correctly—meaning you then have to get another repair to deal with the results of the original work. That never happens when you call us for service from a handyman in Richmond, VA. When we're hiring, we take care to choose highly skilled and experienced individuals who understand what goes into genuine customer service. We're totally confident that our Richmond handyman team will meet or exceed your expectations with their workmanship. That's why we back them up with the Done Right Promise, a guarantee on our workmanship. If it's not done right, we'll make it right!
Dependable, Highly Skilled Professionals
Your property is naturally one of your most valuable possessions, so when it needs improvement, maintenance or repair services, it's very important to locate a fully qualified, capable handyman in Richmond, VA. You can rest assured that we have the skill, training and experience to provide top-notch service on every job. Our Richmond handyman team has decades of experience with improvement and repair trades, including specializations in such as drywall, tile and carpentry. You'll never have to worry that we'll just do the bare minimum or apply a "Band-Aid fix" that will look alright for a few weeks and then fall apart, leaving you to pick up the pieces. Instead, we leverage our practiced handyman skills to find and implement long-lasting repair solutions that will stand the test of time and make your property more attractive and livable.
Locals Recommend Our Services
If you've been searching for a handyman in Richmond, VA, you know there are plenty of options available—but how do you narrow it down to a dependable, trustworthy choice of a handyman who will be able to get everything you need done in a timely, capable manner? You likely won't be surprised when we say the team at Mr. Handyman of Richmond is your best option for everything listed above, but you don't have to take our word for it. Check out the customer reviews we've gotten from locals who were happy with their experience when they called us for handyman services. Many of our customers recommend our dependable technicians by name to their friends, family and neighbors once they've seen our skill and dedication for themselves.
Frequently Asked Questions About Handyman Services in Richmond, VA
If you have a few questions about our Richmond handyman services, or you'd like to know what we can do about a bigger project that has been on your mind, give us a call today! Our knowledgeable customer service staff can address all your questions and concerns. Alternatively, you can read our replies to frequently asked questions below or request a handyman service today!
Is It Worth It to Hire a Handyman in Richmond, VA?
Homeowners sometimes assume it's better to hire a general contractor instead of a handyman. But in many situations, a Richmond handyman is, in fact, a better choice than hiring a general contractor or a tradesman. That's because these professionals specialize in one specific type of work. Many residential and commercial repair and improvement tasks require more than one specialization. A kitchen remodel, for example, would require electrical and plumbing services, drywall repair or replacement, carpentry services, tile work and more.
Why hire a variety of contractors who aren't communicating with each other or working together when you can access a convenient one-call solution to find a multi-skilled handyman in Richmond, VA? Homeowners and business owners alike can actually save money, stress and time by letting our dependable handyman team take care of a wide range of improvement, maintenance and repair services.
Do Your Handyman Technicians Follow All Regulations for Repair and Improvement Work?
Absolutely. Mr. Handyman of Richmond is licensed and insured. Our handyman professionals receive ongoing training about industry best practices and local rules and regulations, so we know the permitting requirements for the work we do, and we always follow them to the letter. It's important to us to do so because we value a safe workplace, and we want to ensure that the results of our workmanship are safe, done correctly and will last a long time.
Does a Richmond Handyman Have to Come Into My House?
That depends on the type of work that needs to get done. If it's to do with the exterior of your property, such as deck repair or fence installation, your local handyman can avoid entering your home to ensure your comfort. But if it's an interior service such as door installation or flooring repair, of course, it will be necessary for them to come inside.
Some homeowners are uncomfortable with having service professionals inside their home, and that's why we take care to always treat you and your property with the utmost respect. You can have peace of mind knowing that the technicians at Mr. Handyman of Richmond will always behave with professional courtesy so you can be assured of a safe, worry-free experience.
What Do You Call Someone Who Fixes Homes?
You call them Mr. Handyman! Regardless of what needs to be done to get your home or commercial property in ideal shape and perfectly tailored to your unique needs, you can trust the Richmond handyman professionals on our team to do a great job by getting the work done efficiently and effectively. We take pride in serving the people in our local communities with services that are designed to enhance curb appeal, livability, comfort and functionality.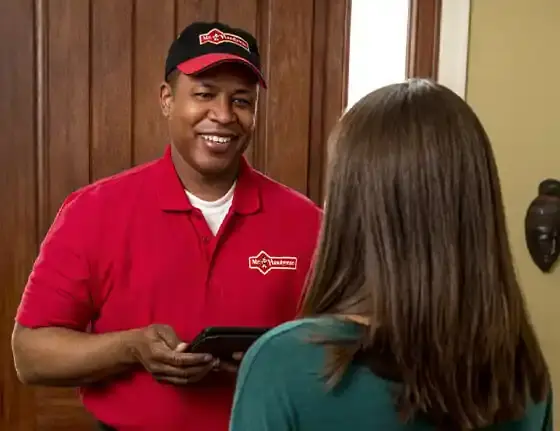 Reach Out to Mr. Handyman of Richmond
Choose the right handyman services team in your area. When it comes to selecting the right team for your home improvement needs, Mr. Handyman is the right choice.
Areas We Serve:
Ashland, Chester, Chesterfield, Glen Allen, Henrico, Mechanicsville, Midlothian, Moseley, Richmond, Sandston