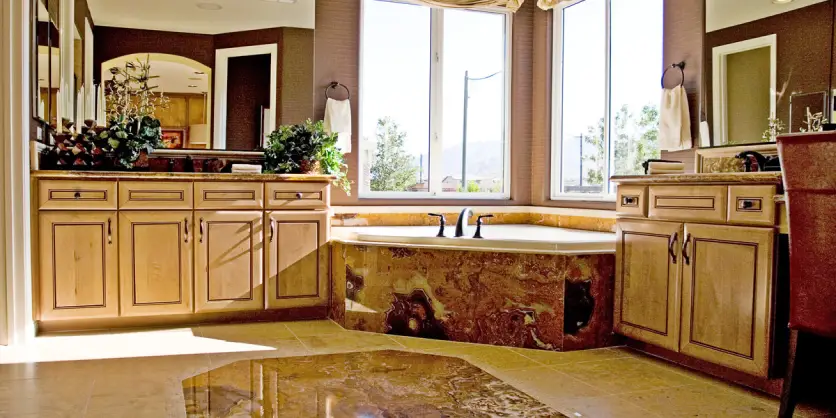 You've made the call: it's time for a bathroom remodel. Whether your old bathroom is malfunctioning and not suited to the needs of your family, or just plain ugly and outdated, a remodel is the perfect way to make your Knoxville home more attractive and comfortable for years to come — and add property value if you're thinking of selling in the near future — but do you have all the information you need for a Knoxville bathroom remodel?
First, you need to find some remodeling ideas to create your dream bathroom design. It's easy to get wrapped up in paging through glossy photos of other stunning Knoxville bathroom remodels and forget about some of the basic steps you need to take in order to make sure your plan is a success. That's why we put together this list of seven important Knoxville bathroom remodels steps that sometimes get overlooked.
Ready to start swinging the hammer? When you've got a good idea of what you want your new bathroom to be like, you can rely on the Knoxville handyman team at Mr. Handyman of West Knoxville for handyman services to help with your Knoxville bathroom remodel. Our skilled service professionals have years of remodeling experience and are dedicated to delivering high-quality workmanship combined with outstanding customer service.
1. List Everything You'll Need for Your New Bathroom
The first thing you should do is make a big list of literally everything that will need to go into your new bathroom — remodeling materials, fixtures, bathroom cabinets, and even the small stuff. It may seem unnecessary at first, but you'll be glad you did it when you're relaxing in your perfectly appointed personal spa with absolutely nothing missing.
Your list may contain:
Toilet
Sinks
Sink faucet
Shower head
Glass shower wall
Shower curtain
Bath
Tub-shower combo
Lighting fixture
Electrical fixtures
Single or double vanity
Countertop
Custom cabinetry
Linen cabinet
Wall color paint
Tile
Drywall
Extra space for storage
Towel rack
Toilet paper holder
Decorative items
Keep in mind that you don't necessarily need to do a complete overhaul to get the impact you're looking for. If you want to keep bathroom remodeling costs in check, swapping out plumbing fixtures or converting an underutilized bathtub into a walk-in shower can give you the change you're craving without starting from scratch.
2. Consider What Your Future Life Will Be Like
Obviously, you want your bathroom to meet your current needs. But you should also take a little time to think about what your life may be like in a few years. For example, you may not want to remove your bathtub if children are forthcoming — toddlers are slippery, and bathing them in a shower can be difficult. Or, if you or a loved one are approaching your golden years and want to age in place, consider adding some amenities to your home in Knoxville that will make life easier for a person with reduced mobility.
Also, if you're planning on selling your house in the next couple of years, it pays to choose a neutral, classic design that will increase your property value and encourage prospective Knoxville buyers to envision their own style in the room. Not sure how to go about that? White tile is a good place to start. If it feels too bland, remember you can always add a pop of color with textiles and other decor.
3. Make Room in the Budget for Unexpected Expenses
You may be certain you've got every possible expense budgeted down to the last dollar, but unexpected costs are notorious for popping up during the renovation process. The best way to deal with that eventuality is to pad the budget by adding 30% on top of what you think it will cost. That way, if something does nudge you past your original bottom line, you'll be able to deal with it stress-free — and if you don't end up needing the extra padding, you have the start of a kitchen remodel fund.
4. Sketch Your Layout (Or Keep the Old Layout)
Most bathroom layouts follow a few tried-and-true basic layout patterns designed to make the most of limited square footage with a lot of utilitarian functions. It's expensive to relocate plumbing fixtures, so if you're fine with your current layout you can save money by keeping it the same.
If you do need to create a new layout, it's a great idea to sketch it out on a piece of paper. It doesn't have to be an artistic masterpiece. Just seeing a bird's eye view can help you identify potential trouble spots, and also help your handyman understand what you're going for. Try to maximize natural light, and give yourself as much space as possible to move around the room — it's hard enough to keep a bathroom clean without adding unnecessary obstacles.
5. Choose the Perfect Tile
Most bathrooms contain at least some tile, and many are pretty much all tile. It makes sense — tile is waterproof, durable, beautiful, and comes in such a wide variety of colors, sizes, shapes, patterns, and textures. A new tile installation is an opportunity to infuse your home with your own personality and sense of style.
The type of tile material you choose is a big decision. Consider the location and purpose of the tile first. For example, glass tile is far too delicate for the floor, but its translucent beauty adds depth and interest when it's on the wall. You should also think about ease of maintenance. A natural stone such as slate is striking, but it needs to be resealed regularly to keep it looking good. On the other hand, ceramic and porcelain may not be as flashy, but they're highly durable and almost maintenance-free.
6. Don't Forget About Lighting and Ventilation
Lighting and ventilation are two of the most critical parts of a successful bathroom design, but they are often completely overlooked. When you're working on your bathroom remodel plan, make sure to include ample lighting for all the parts of the room that need it most, especially the vanity mirror and inside the shower. You may not be able to get a light fixture right in the shower, but there should be one near enough to cast light in, so you can see what you're doing in there.
Ventilation is very important because of all the moisture and humidity in a bathroom. If the steam can't be vented out, it condenses and soaks into walls and trim, causing damaged drywall and wood rot that can spread to other parts of the house and even affect the structural stability. It also ends up inflating your monthly energy costs, which is why drywall repair and wood rot repair are two home repairs that help save money on utility bills in Knoxville.
7. Treat Yourself to a Little Luxury
Finally, don't forget to make it all worthwhile by adding in a bit of luxury. That could be something bigger like a beautiful claw foot tub, or in-floor heating so you don't have to step on ice-cold tiles in the morning. But it could also be a couple of smaller touches like a heated towel rack or one-touch faucet. And, if you're trying to lower the cost of bathroom remodeling, remember that even inexpensive additions like a potted plant or fresh flowers can go a long way toward brightening up the entire space.
We're Here to Help with Your Knoxville Bathroom Remodel!
Whether you're in West Knoxville or a nearby area such as Powel or Oak Ridge, you can rely on Mr. Handyman of West Knoxville for experienced, efficient workmanship and superior customer care.
Give us a call today to chat with our friendly customer service representatives and request an appointment, and we'll show you why we're considered West Knoxville's best choice for dependable Knoxville bathroom remodeling services!