Knoxville Floor Repair: What Homeowners Want to Know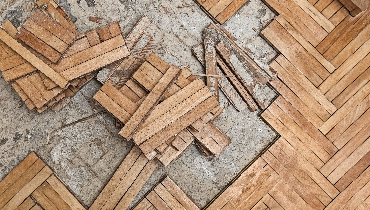 You may have absolutely loved that flooring when it was installed five or 10 (or 30) years ago, but now it has taken years of abuse from the normal wear and tear of family life. It's looking rough—and not just around the edges. Damage such as chips, gouges, scuffs, stains and cracks is very noticeable and lowers the appeal of the entire room (or entire house) by making it look ragged and rundown. But there's a way to restore that appeal and get your beautiful floors back: expert Knoxville floor repair by a qualified handyman flooring professional.
Homeowners sometimes choose to ignore damaged flooring, especially surface damage. They don't want to deal with the hassle and expense of having the entire floor replaced, so they just live with problems that make their floor less attractive, or potentially even cause a tripping hazard on an uneven surface. But in many cases, replacement isn't actually necessary—those issues can be dealt with by a handyman who is experienced with quick, cost-effective Knoxville floor repair strategies.
If you'd like to restore the beauty and function of your flooring materials, count on your local Knoxville handyman at Mr. Handyman of West Knoxville to take care of floor repair. Knoxville, TN homeowners can trust the team of service professionals at Mr. Handyman of West Knoxville to deliver reliable, efficient workmanship and customer service that goes above and beyond. We want to do everything in our power to ensure the results of our work meet, or even exceed, your expectations. Just think of what your entire house would look like after fixing your wood floors?
Flooring Replacement Vs. Knoxville Floor Repair
Before you get started on flooring projects, it makes a lot of sense to pause, step back and ask yourself, "Do I need to have my entire flooring surface replaced, or is there a Knoxville floor repair solution that would get the job done favorably?" If they aren't familiar with the entire process involved in floor repair, Knoxville, TN homeowners may assume they need a replacement when a few basic repairs would suffice—or they may assume repair services can handle a problem that is far too big and requires replacement. Our customers sometimes ask us for our opinion on repair versus replacement, and in our years of professional home repair and improvement experience, we've found that answer typically comes down to a few key factors such as the extent and nature of the damage.
Minor or Cosmetic Damage
If the issue you're facing is a smaller problem like scratches, scuffs, chips, small gouges or hairline cracks, and they're localized in one or a couple of areas rather than being spread across your entire surface, in most cases that is a relatively simple issue for your Knoxville handyman to address. Simple Knoxville floor repair techniques should be sufficient to get your flooring looking as good as the day it was installed and fully restore its durability and beauty. Or, you may have a problem that's a bit more complicated than scuffs or small floor cracks, like a few rotting planks of wood or a smashed tile. In those situations, it may be possible for your handyman to handle repairs by replacing just damaged planks or tiles, so there's no need to remove the rest of the material that is in good shape.
Widespread or Severe Problems
If you are dealing with more severe damage such as a heaving or sagging surface, that's a clear indication that the trouble goes much deeper than just the surface materials—in fact, the surface materials are just casualties of the serious problems brewing underneath. This type of structural damage problem is related to a subfloor, joist or foundation issue, which naturally means that those problems need to be corrected for reasons of safety and structural stability before we can even worry about what's happening with the surface.
Or, maybe you're dealing with damage that really is relatively minor and on the surface—but the entire floor is covered in dents, dings, scuffs and other unsightly spots of trouble. If you've got solid hardwood, Knoxville floor repair is no more complicated than sanding down the surface and refinishing to make it as good as new. But, if there is widespread damage across the entire surface of a tile or laminate floor, repair just isn't going to cut it. Tile and laminate repair strategies are typically based around concealing the damage, which works really well on a couple isolated examples of damage, but numerous small repairs would result in a surface that just doesn't look "right." In that case, replacement is likely going to be the best looking and most cost-effective solution.
No Matching Pieces Available
We mentioned above that if just a couple of pieces are seriously damaged, such as rotting boards or a smashed tile, the best approach is to simply have your Knoxville floor repair professional replace the damaged units and leave the rest of the surface intact. However, there is one big caveat that often makes that strategy impossible: there has to be a perfectly matching replacement piece available.
Consider tile for example: since it's such a widely available material, it seems like it would be a simple matter to just pick up a matching replacement—but that's unfortunately not the case. Tile is manufactured in lots, so the same brand and style of tile from a different lot may not be an identical match. That's if you can even find the same brand and style in the first place, since tiles are frequently discontinued and the one you had installed a few years ago may not be available for purchase anymore.
Even if you saved a few extra pieces from the original installation, it may not be a perfect match anymore since the installed surface has taken wear and tear damage over time while the extras are still brand-new. Anything less than a perfect match will stick out like a sore thumb, so if the right match isn't available, it makes more sense to have the entire installation replaced.
Knoxville Floor Repair for Tile
Almost every building in the United States features at least a bit of tile. It's the go-to option for kitchens, bathrooms, laundry rooms, mudrooms and other parts of a house that see a lot of foot traffic and are prone to moisture exposure. It's durable, long-lasting and attractive, and it's available in almost any color, size, shape, texture, pattern or style you could possibly want. Learn more about Knoxville tile installation services and make informed decisions for your home. Because tile is so widely used and well-loved, there are a number of Knoxville floor repair solutions available for a wide array of possible tile problems. Common issues our Knoxville handyman team can repair include:
Cracking or crumbling grout
Small chips or hairline cracks
Tiles that are heaving upward
Dingy, dirt-infused grout that won't come clean
Impact damage to a single unit
Knoxville Floor Repair for Hardwood Floors
Homeowners in Knoxville, TN and across the United States love hardwood flooring for some very good reasons. It's the standard for quality and attractiveness because it infuses the room with natural charm and unique appeal. It's also incredibly versatile—hardwood fits into a rustic country home aesthetic or a sleek, minimalist design scheme equally well. In fact, there's virtually no interior design style that can't benefit from the right hardwood installation.
But as ideal as hardwood is, especially when it comes to aesthetics, it does have a couple of drawbacks. Wooden flooring, especially solid hardwood, is vulnerable to water damage, can be gouged by heavy furniture and needs to be refinished every now and then when the sealant wears away in order to avoid scuffs and scratches. Common Knoxville floor repair problems that we can handle on hardwood include:
Gouging
Scratches and scuffs
Wood stain that is peeling or flaking off
Buckling or bulging boards
Wood bleached by direct sun exposure
Rotten patches, or entire planks that are softened and crumbling apart
It's worth noting that if you only have a couple of minor scuffs on the surface of the wood, you may be able to handle Knoxville floor repair yourself with a furniture marker. That's pretty much what it sounds like: a marker that you use on furniture and other wood items to make a scuff blend in by coloring it the same color as the rest of the surface. You can get them at most home repair or hardware stores, and they are very fast and easy to use. However, matching the color perfectly can be a challenge so it's a good idea to test it out on a hidden or inconspicuous part of the surface first.
Is Solid Hardwood Better Than Engineered Wood?
One is not necessarily better than the other. Solid hardwood, as the name suggests, is constructed from planks of solid wood that lock together at the edges using a tongue and groove system. Engineered wood is composed out of a thin veneer of real hardwood bonded to a premium plywood or MDF backing. Both options look exactly the same because they're both actual hardwood on the visible surface.
Solid hardwood takes more labor and time to install than engineered wood does because the planks need to be fixed in place by either gluing or nailing them to the subfloor. However, with the right care and maintenance, it can be much longer-lived. Solid wood can be sanded down and refinished many times, which means your great-grandchildren could be enjoying the same flooring 100 years from now—and that definitely cuts down on replacement costs. Engineered wood is easier to install and can be put overtop of a concrete subfloor without the need for a vapor barrier. It's also more resistant to warping and buckling, so it's a good option for areas that are likely to be exposed to moisture. However, it can only be sanded down once or maybe twice, so it will need replacement every 30 years or so.
Knoxville Floor Repair for Laminate
Laminate is a composite material that is well known for its low cost, durability and ease of maintenance. It's gotten something of a bad reputation for its appearance, but it has actually come a long way since it was on every grandmother's kitchen floor in the 1970s. Modern laminate is made with a base layer of plywood or MDF, followed by an image layer that gives the material its appearance and finally a transparent wear layer that protects the image from taking damage. Because image technology is a lot more advanced now than it used to be, laminate looks a lot better than it did a couple of decades ago. Common Knoxville floor repair issues on laminate surfaces include:
Fading
Discolored areas
Staining
Bubbling
Peeling or lifting edges
Is It Possible to Repair a Chip in Laminate Without Replacing the Damaged Piece?
Your handyman can take care of Knoxville floor repair for minor chips and scratches in a laminate surface by using filler putty to conceal the damage and leave you with a smooth, flat surface again. If the damage goes deeper than cosmetic damage on the surface, the laminate plank may need to be replaced. When you have a new laminate surface put in, always be sure to save a few extra pieces from the installation, so that they can potentially serve as replacements if damage occurs later on.
Do You Need Knoxville Floor Repair? Count on Your Local Handyman!
If you are a resident of Knoxville, TN or a nearby community such as Oak Ridge, Claxton or Hardin Valley, depend on the reputable team of handyman professionals at Mr. Handyman of West Knoxville for all your home repair, installation, maintenance and improvement tasks. We'd love to help fix-up your entire house or property. After all, isn't it time to upgrade that square footage to its full potential?
Get in touch with us today to find out more about our reliable handyman services in the Knoxville, TN area, or to schedule a convenient appointment time for service.