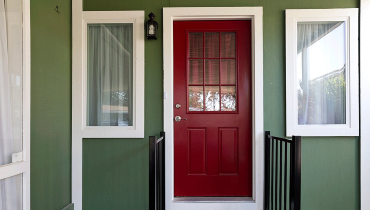 You never get a second chance to make a first impression. Your front door can offer a beautiful and welcoming entrance into your home, so it's important to have it look as nice as possible. The easiest thing to change about your front door is its color; here are some ideas for choosing the right paint color to enhance the style of your entire home.
Start with a color wheel, available at most craft and paint stores, or online. Find the color of your home's exterior (vinyl siding, brick, stone, or wood) on the color wheel; this is your starting point. If you prefer a more modern, monochromatic look, pick a paint shade that is close to the color of the home's exterior. If you want a slight contrast, then choose a color approximately 3 shades away from your starting point. For a big contrast, choose the complimentary color on the opposite side of the color wheel. For example, if your home is painted yellow, paint the front door a pretty shade of purple. You can also match the front door to painted porch railings, garage doors, or additional trim features on the house.
It's a good idea to take the colors of your neighborhood into consideration. You may not want your home to stand out too much among the others on your street. It's also important to realize that if you live in a neighborhood with covenants, or rules that have to be followed, you should check to see if certain colors are not allowed.
Darker colors are more sophisticated, while bright, bold colors add dramatic overtones. Blue and yellow are very welcoming and inviting. Green shades offer a more natural look that blends well with the foliage surrounding the house. A bright, jewel-toned red looks great on a white farmhouse-style home. For more information about choosing a paint color for your front door, please contact:
Mr. Handyman of Wheaton-Hinsdale
245 W. Roosevelt Road #69
West Chicago, IL