Mr. Handyman of Wheaton Hinsdale Explains 3 Important Things to Know About Caulking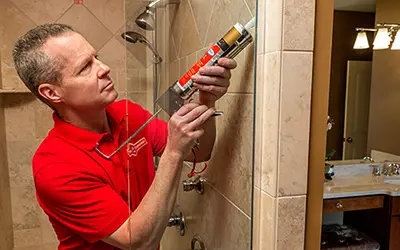 Caulk is a soft, sticky compound that, once applied and exposed to the air, hardens into a substance that provides an airtight, watertight, non-porous seal. It's used to seal cracks and gaps around your home, both inside and out. Inspecting the caulk around your home, and repairing or replacing it as needed, is a critical maintenance project that should be performed every year.
Outside the home, caulk is used around window and door frames, and on joints, corners, and angles where siding materials come together. It's also used between the exterior siding and any attached trim work. Caulking reduces the air flow in and out of the home, which helps keep your air conditioning and heating bills lower, and it prevents insects and other creatures from getting inside. It keeps moisture from getting in the walls of the home; if left unchecked, it can lead to wood rot and mold growth. Caulk should also be applied around outdoor faucets, vents, and electrical outlets.
Caulk is necessary inside the home as well. It's used in showers and around bathtubs to help keep moisture from seeping underneath tiled floors and behind tiled walls. Over the years, caulk manufacturers have made improvements that allow it to be mildew, mold, and sunlight resistant.
Some types of caulk allow for flexibility over time; others are paintable or can be stained to match the materials it seals. It's an extremely useful material that goes a long way in preventing water damage in your home.
Over time, caulking can become brittle, causing it to crack or pull away from the surfaces it's intended to seal. If not detected early, water can seep in and cause damage. It's important to have the caulking in your home inspected every year to make sure it's still effective. For more information about caulking and how to inspect or replace it, give us a call.