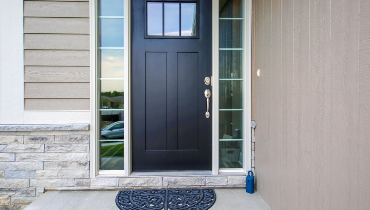 Unless you have experience with installing doors in a home, you are probably unfamiliar with shims. A shim is a tapered slice of wood (or other material) in the shape of a wedge, which is used to position a door in place so it is plumb and level during installation. While doors typically come pre-hung inside a finished frame, that complete set has to be properly positioned inside the rough frame of the doorway. Here are 3 things to know about using shims:
1. Shims are essential for properly installing a door inside a rough frame, which is usually comprised of 2"x4" wall studs. Set the finished frame inside the rough door frame. Slide shims, pointed edge in front, into the largest gaps on the sides between the two frames to hold the finished frame in place. Once the frame can stand on its own, use a level to determine that it has been placed correctly. Tap shims gently with a hammer to adjust them if necessary. Using a screw gun, fasten the pre-made frame to the rough frame with 3-inch screws.
2. Shims are usually made from old wood shingles, but some carpenters cut their own shims using scrap lumber. Cedar is a popular wood for shims, but plastic and other non-splitting materials may also be used.
3. Shims are typically about 1-1/2 inches wide, and are tapered from a point at one end to about 3/8-inch thick at the other end. Some manufactured shims allow you to peel away small layers until the necessary dimensions are reached.
Shimming a door usually requires two people. The frame is heavy, even with the door removed for the shimming process. If you need assistance hanging doors in your home, Mr. Handyman of Wheaton-Hinsdale offers experienced professionals for all types of home repair and installation projects. For more information, please contact:
Mr. Handyman of Wheaton-Hinsdale
245 W. Roosevelt Road #69
West Chicago, IL