How do I check the weatherstripping and know when it needs to be replaced?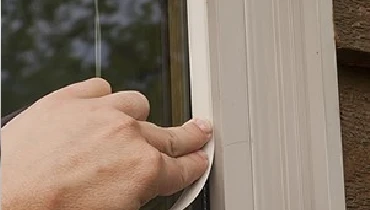 Weatherstripping around your windows and doors in your home is very important as it saves up to 30% on energy bills by stopping cold/hot air from entering and leaving. That is why a simple check of all the weatherstripping in your home in the spring and/or fall is important! Here is what you can to check weatherstripping around your home:

First, inspect the weatherstripping on the door or window by looking for any missing chunks and or damage. You can also see if there is any light shining through the seal by closing the window/door. These are signs that you should replace the stripping.
If you are still not sure, you can burn a candle and hold up to the door/window frame while watching for any fluttering of the smoke. For closed doors, you can try pulling a dollar bill from under to see how easy it is. The easier it is, the more likely it is time for some replacing!
Lastly, if you find any damage to the
weatherstripping
, simply cut away the piece and replace with a brand new one. There are a few different types of stripping, i.e. adhesive foam tape, rubber, and vinyl. Check to ensure you purchase the right one
The process of checking your
weatherstripping
is easy and should take no time at all! The results should be lower energy bills for you and your family.