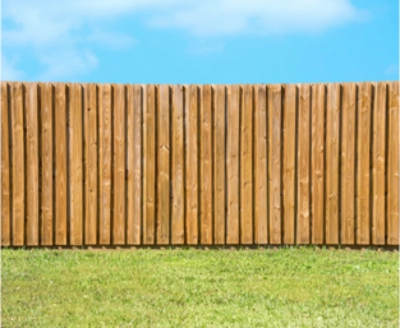 Your fence is an important part of your home. It contributes to your curb appeal, making your property look inviting for friends and neighbors alike. The structure also clearly marks property lines, provides privacy, and keeps playing children safe in the backyard.
But when it looks rundown, is leaning, or was actually built on your neighbor's property by accident, you'll need the help of a professional repair service to set it right. That's where Mr. Handyman of Wheaton-Hinsdale steps in. Our team of expert service technicians can repair, replace, install, and maintain your fence. Whether your problem is small—like a rusted hinge—or big, like straightening leaning posts—we've got it covered.
We've helped homeowners across the Wheaton-Hinsdale area—including Glen Ellyn, Hanover Park, and Schaumburg—with a range of home repair and improvement needs. Discover a few ways we can help troubleshoot and fix the following fence problems:
6 Common Problems
1. Leaning Posts
Leaning fences are one of the most common problems homeowners in the Wheaton-Hinsdale area face. Usually, sagging is the result of poor maintenance. The extent of damage—how much it's leaning—can vary quite a lot. The easiest solution is usually to replace the entire structure, but it's possible to correct the leaning posts and secure them with concrete rigid foam or a ground spike.
2. Accidents Happen
Did you accidentally back up into your fence? Or perhaps your teenager is learning to drive and pulled into the drive a bit quickly? Maybe a tree fell during a storm and landed on a section? As they say, life happens. And when it does, the experts at Mr. Handyman are here to help. If a section has been damaged because of an accident, we can efficiently replace the broken areas and re-paint them to match the others.
3. Gates Won't Close
When your gates won't close, it can be quite annoying—especially if you have pets in the yard that are keen to go on an adventure through the neighborhood. Usually, issues with the hinges are the cause of finicky gates. It could be that the hinge has rusted, is sagging, or has broken off entirely. A quick replacement should set it right!
4. Broke the Rules
Depending on where you live, there will be different rules for how you can build your fence. Generally, this revolves around height, the material used, and whether you need a permit. It's important to contact your local municipality office before starting construction to learn about municipality ordinances that will affect the building. If you've already built the fence and been informed that it's incorrect, our team will be able to help you build a new one that complies with local rules.
5. Wrong Side
Did you accidentally build your fence on your neighbor's property? While it's best to avoid conflicts with neighbors, you may have constructed the structure not realizing it was on their side. While some neighbors might let it slide, if not then our team is happy to help put it back on your property line.
6. Underground Damage
One of the biggest mistakes property owners can make is to neglect to excavate where they want to put a fence. Since your posts have to be put in the ground, it's important to know what lies beneath. If not, you could accidentally damage utility lines or pipes! You should have the area staked by your utility company first before beginning construction.
Maintenance Tips
The best way to avoid the above issues—as well as other unwanted issues such as wood rot, missing/damaged slats, and peeling paint—is to complete routine maintenance on your fence. Read on to discover our top three tips for fence upkeep.
Routine Inspection
You should be completing seasonal maintenance both inside and outside your home at least twice a year. We suggest inspecting your property once in the spring and once in the fall. Part of this inspection should include looking at your fence. Checking for signs of damage will help prevent issues from worsening down the road. Look for signs of:
Wood rot: If you notice crumbling boards, softwood, or discoloration, there's a good chance it could be wood rot.
Rust and corrosion: Discolored and flaking metal usually indicates corrosion.
Peeling paint/chipped stain: Maintain your fence's appearance and help protect it from moisture damage with a fresh coat of paint or stain.
Missing pickets and slats: These should be replaced promptly.
Loose/leaning posts: These will need to be reinforced.
Posts: Lookout for signs of hornets, termites, and ants.
Broken/rusted latch: Ensure your gate will close with a new latch.
Painting and Staining
As mentioned above, regular painting and staining is one of the surest ways to prevent damage to your fence. And not just wood, iron fences can also benefit from a fresh coat of paint to prevent corrosion. Not only do paint, stain, and sealant safeguard against moisture damage, but it also revitalizes its appearance.
Regular Cleaning
Just like anything else in or on your property, your fence needs to be cleaned from time to time. And no, letting the rain wash it doesn't count! There's actually quite a bit of pollution in the rain, so it's not cleaning it but rather adding to the existing grime. When it comes to cleaning the structure, you basically have two options:
Rinse with a garden hose to wash away a light amount of dirt or dust.
Hire professional power washing services. This will give your fence a thorough cleaning and can also remove chipped and peeling paint, which is ideal for priming the surface before painting.
Hire Our Expert Services Today!
When you need professional fence repair services, trust the experts at Mr. Handyman of Wheaton-Hinsdale to get it looking good as new! Not only do our top-rated pros provide quality services, effective repair solutions, and unparalleled customer service, but we'll also offer expert advice and tips to keep your fence looking its best year after year. Even if you're dealing with extensive damage from a storm or accident, our qualified experts have it covered.
To book an appointment today, we invite you to call or text our friendly customer service representatives. You can also reach us online by filling out our contact form.