What You Should Know About Tile Repair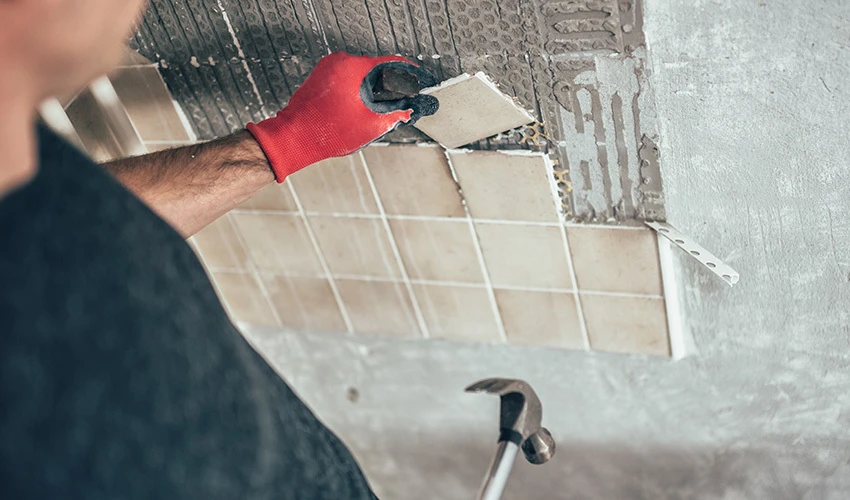 Tiles are a beautiful, durable, and easy-to-clean material perfect for floors, countertops, and backsplashes. There are many types of tile—from ceramic and porcelain to slate and glass—that can add a perfect pop of color, texture, or pattern to any space. Indeed, few things look as luxurious as a beautifully tiled bathroom, or a stunning mosaic backsplash in your kitchen.
Yet, when you notice a crack, chip, or dent in your tiling, it can immediately detract from the rest of your space. Not to mention, there are quite a few other reasons why you should repair or replace the damaged area right away. Although replacing tile is time-consuming for most homeowners, our home improvement professionals offer expert repair services that will make your tiling look good as new.
Why It's Important to Fix Broken Tiles
If you've just noticed a damaged tile—or broken one yourself—you'll likely feel disappointed. We've all been there, groaning inwardly when yet another thing has to be repaired in the house. Yet, it's also tempting to put off fixing it. How many times have you told yourself, "I'll get to that later"? When it comes to broken tiles, there are a number of reasons why you should get them repaired as soon as possible:
Worsening Over Time
Typically, the longer you leave a problem the worse it gets. This is true for broken tiles as well. Whether on your floor, backsplash, or in the shower, most surfaces are subject to regular pressure—from people walking or resting furniture. What started out as a small fracture could turn into a big crack, or damage the surrounding areas if left unattended.
Unappealing Aesthetic
The damaged tile is an eyesore. No matter how cozy your kitchen is, a chipped or missing piece in your backsplash looks unpleasant. Likewise, damaged grout or even dirty grout can detract from a space's aesthetic—particularly in the bathroom. What should look fresh and clean could look worn and dingy without proper maintenance.
Water Damage
Most types of tile are water resistant, which is why this material is such a popular choice for moist areas like the bathroom and kitchen. But when damaged, the resulting cracks can let water seep through into the drywall or subfloor beneath. Even a hairline fracture can cause serious damage, including staining, mildew, and mold.
Safety Hazard
Broken tiles are very sharp, and your family or beloved pet could be hurt while stepping on or touching a cracked area. Additionally, if there are damaged tiles in your shower there's the risk that a loved one could nick their foot, be caught off-balance, and slip on the wet surface.
How Did It Break?
Tiles are durable, particularly ceramic and porcelain varieties. After all, they get walked on, are exposed to hot temperatures from cooking on the stove, and are subject to moisture and humidity in the bathroom. Yet, despite their strength, there are still a few ways that they can break.
Accidents Happen
Fluke incidents can crack tiles. For instance, say you drop a heavy cast iron pan onto your kitchen floor or are moving furniture and drop your heavy sofa. It's entirely possible that heavy items dropped on your floors can cause cracks or dents.
Incorrectly Installed Joists
Joists are part of your floor that supports everything else. Joists have to be built at a specific distance from one another. If the joists are too far apart, the top floor won't be supported correctly. When this happens, your floor might sag between the joists. Over time, this will cause your tile floors to crack.
Should I Hire Professional Services?
As we've established above, it's imperative to repair the tile right away to prevent further issues and to keep your loved ones safe from harm. Yet, you might be tempted to tackle the repair yourself. Unless you're an avid DIYer or used to completing home repair tasks on your own, we suggest hiring a professional handyman.
Although laying tile isn't the most challenging DIY repair, there is a lot of room for things to go wrong during the tile installation process. A trained professional has the correct tools, years of experience, and skills to correctly swap out the damaged piece with a new one. You won't even be able to tell there was an issue, to begin with! Trying to replace the tile yourself could make the problem worse. A few common mistakes DIYers make include:
Cracking tiles while cutting to size
Messy grout lines and caulking
Improper underlayment
Crooked and/or irregularly spaced tiles
Hire Our Handyman Services Today!
When you need tile repair services, trust the pros at Mr. Handyman of Wheaton-Hinsdale. Our expert technicians have an average of 15 years in the trades and have helped countless homeowners across DuPage County with their tiling needs. When you need to fix a chip in the shower or replace the grout on your backsplash, we're the best team for the job.
To get started, we invite you to call or text our friendly customer service representatives. Alternatively, you can reach us online through our website.