Top 5 Reasons You Need Professional Drywall Repair in Wichita, KS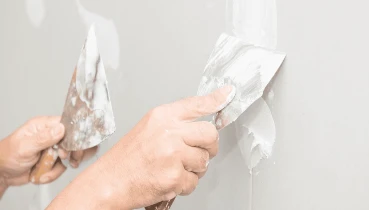 Many modern homes in Wichita, KS, have drywall installations for their interior, whether you're building your home or planning a home improvement project. Drywall is made of a sulfate mineral called gypsum. It's fairly easy and cost-effective to make, requiring wallboard panels that consist of gypsum plaster layers sandwiched between two layers of durable paper. The core is made out of foaming agents, fibers, and ground gypsum crystals, as well as some other additives, to increase durability. These sheets of gypsum wallboard are also commonly known by their trade name Sheetrock, and they're the reason that so many people need drywall repair in Wichita.
While other materials used for building the interior walls of homes, such as plywood, drywall is the most standard and popular because it has many benefits that set it apart from other wall materials, including easier to fix, easier to work with, cheaper than other materials, easier to paint, and it has an excellent rating for fire resistance. Some types even have waterproofing elements like a waxed surface which are typically used as backer boards behind tiles in the shower.
However, there is one downside: it's easily damaged. Drywall isn't an extremely durable material when it comes to blunt impacts, moisture, and other types of damage. The effects of everyday life take their toll, and the payment is often taken out of your walls.
Luckily, the drywall experts at Mr. Handyman of Wichita know all about drywall damage. In many cases, a simple patch kit can do the trick of repairing small holes and damage; yet, the lack of experience or knowledge might make that small repair job a bigger pain than it needs to be.
Before you get started on your repairs, it pays to know all the reasons why a professional Wichita drywall repair service will benefit you.
1. It's Not Always Safe
Safety isn't something that many people consider when they plan to do their own drywall repair. Wichita homeowners may think the job seems so simple at first and perhaps so easy that they could be creative with it. But if you don't have a detailed diagnosis of your drywall damage, safety is a huge concern. From hairline cracks to vertical cracks, you will never know if you have foundation problems until you call for Wichita drywall repair service. When you decide to proceed with any kind of repair project without properly considering the safety protocols, it is an easy way to end up with an injury or even compromise your home's insulation system.
How To Safely Prepare For Drywall Repair?
Wichita homeowners should wear a dust mask or respirator: During the drywall repair process, you will be sanding down the dried compound surface to remove any blemishes. The dust that gets emitted in the process is a known respiratory irritant that has negative effects on your airways. Wear the appropriate gear and protect your lungs.
Grab a pair of safety glasses to protect your eyes from drywall dust.
Lift with your knees: A full sheet of drywall is very heavy, weighing about 50 lbs. The sheets are also an awkward size and shape for lifting and carrying, so it's important to make this a two-person job. Find someone to help share the load or, at the very least, to watch out for obstacles in your path.
Be aware of empty buckets: If you end up using the joint compound bucket to carry other materials, especially liquids, always keep them away from small children as they are large enough for a toddler to get stuck in.
2. Want A Hassle-Free Clean Up?
Would you think to throw down a drop sheet before you start a minor repair job? All that dust has to go somewhere, and most professional craftsmen know that clean-up is a big part of drywall repair. Wichita KS homeowners can rest easy knowing that our drywall installer always comes prepared. Service professionals with a mind for customer service always arrive with everything they need to clean up after themselves and leave your home looking better than it did when they arrived. That includes drop sheets, boot covers, shop vacuums, and everything else it takes to maintain your property and keep everyone safe.
Did You Know?
Most household vacuums aren't capable of capturing super-fine dust and only blow it back into the air. You should always use a shop vacuum with a HEPA filter to clean up fine dust and then go back with your regular vacuum after the air has settled to make sure everything has been picked up.
3. Not Equipped For Major Drywall Repairs
Wichita residents with common wall damage, like door knob holes and popped nails, often have the DIY expertise to fix these minor issues themselves without causing a mess or injuries. However, repairing major damage like a crumpled corner bead, sagging textured ceilings, or larger holes can be a risky undertaking if you're unsure of any safety procedures. Lack of preparation or knowledge about where to cut and drill could lead to more damage and greater costs in the long run.
Before you embark on your own Wichita drywall repair, we recommend creating a material and tool checklist:
Tools:
Framing square
Putty knife (1x four inches and 1x six inches)
Sandpaper, sanding block, or sponge
Sharp utility knife
Mortar box
Drill, driver
Screws, screwdriver
Drywall saw
Pliers
Materials:
Drywall compound (joint compound)
Drywall tape
Mesh drywall tape
Drywall panels, drywall scrap pieces
Wood strips (plywood)
Important Note: Depending on the severity of the damage and how far behind the wall you need to go, remember to inspect behind your walls for any electrical wiring or plumbing pipes because your repair will involve drilling, cutting, and nailing.
4. Get Custom Jobs Done
There are a lot of ways for good drywall service to give your room a unique look. Customization looks great, but it's not always easy to create. When you want special work for your home, it pays to have the guidance and advice of experienced craftsmen with quality workmanship. Your local team at Mr. Handyman can draw on their experience from the work each single service technician has done for other residents in Wichita. We will give you ideas you might not have even thought of!
How Can You Customize Your Wichita Home With Drywall Repair?
Wichita homeowners who have an individual project or a major renovation can use drywall to create many unique features, including:
Custom wall textures
Hidden lighting
Built-in shelves and bookcases
Custom storage solutions
Unique ceiling patterns
You can even make a room soundproof. We're here to help you come up with custom designs for your Wichita home and then implement them to complete your dream renovation project.
5. Get All-in-One Service
Wichita drywall installation and repair services are just the first steps. Finished jobs need to be primed and painted to match the rest of your walls. Sometimes that means painting the whole room, reinstalling, or replacing your baseboards. There are many tiny details that you need to consider before saying this project is complete, and an unlicensed contractor may not tell you about them. On the other hand, Mr. Handyman will give you all the details in advance, including upfront pricing.
Your local Wichita handyman who arrives at your door will come prepared to take care of every stage of your project—from design all the way to the finished project. You won't have to worry about equipment rentals, sourcing building materials, or applying finish for walls because we are already geared up for your entire drywall project. We'll even rehang your framed photos, and curtains like nothing ever happened.
Common Damage Signs You Need Drywall Repair
Wichita property owners are certainly aware of the risks of settling homes, standard wear and tear, and other types of damages that could appear when they least expect it.
As we have mentioned before, water damage is by far the biggest drywall damage one can imagine. The only reliable fix is an outright replacement, whereas stains and holes, of which you know the culprits, could be easily repaired. No one knows your Wichita home better than you, which is why any warning signs should be addressed immediately, especially if you experience a plumbing problem or suspect rodents behind your walls. Let's expand on some warning signs that require professional Wichita drywall repair:
Popped Nails
A nail hole can be challenging and an eyesore. We recommend using a utility or putty knife to dig through the compound and a pair of pliers to pull out the nail. Ensure those are not drywall screws, as otherwise, you will need to either screw them back in or drill in a new one. When done, use your putty knife to fill the repair area with some joint compound.
Small Hole
Does it happen every day that someone moves their furniture and accidentally punctures a hole in their wall? Probably yes, and even though small drywall holes (smaller than six inches in diameter) are sure a nuisance, they are safe to repair with fiberglass mesh tape. An 8x8 mesh tape and two coats of joint compound will cover the damage splendidly.
Large Hole
Any holes from six inches in diameter and up require a substitute panel which needs to be cut accordingly to properly fit the damaged area. To make that happen, the large hole needs to be adjusted into a solid square, which means it needs to be cut to a size that will allow the new panel to fit. To increase the stability of this replacement panel, you will need to install two wood strips on either side of the square hole using drywall screws. Lastly, you will continue with taping the seams with mesh tape, followed by patchwork with one coat of compound and then another.
Water Damage
This is probably your number one worst enemy. We can tell you right away that there is no way around a replacement, especially when suffering from plumbing leaks or exterior damage. Your water lines might run behind walls or beneath your floors. If you ever hear running water or experience a sudden change in pressure, you should turn off your shut-off valve and get your plumber involved immediately.
Unless your drywall damage is caused by bad weather, you might experience wet spots and musty smells. Here, it's best to investigate your attic and roof system for potential damage areas that could be caused by clogged gutters or damaged soffit and fascia. You can rely on your local handyman for efficient drywall repair. Homes will receive a thorough inspection with cost-effective repair solutions.
Notice signs of wet spots, discoloration, bubbling paint, or musty smells? Contact your Wichita handyman immediately to stop matters from getting worse!
Are Hairline Cracks or Holes Making You Cringe? When Should You Call For Wichita Drywall Repair?
Sooner or later, you will need drywall repairs. Property owners who either need a big or small project will benefit from the expertise of an experienced, skilled handyman. Sometimes, DIY repair jobs are too risky and difficult, especially when you miss the tools to efficiently inspect for any underlying issues. Severe damage and building complexity are topics you should address with your local Wichita handyman. Besides, the actual practice can be very overwhelming. When hiring a licensed technician, you can rest assured that they follow building codes and know how to keep you and your home's foundation safe!
Does the idea of cutting, mudding, and sanding give you anxiety? We admit that it is a messy business that you'd rather not witness. But our expert service providers know exactly how to fix a hole in drywall. When it comes to drywall repair, Wichita residents will get immediate results of any underlying issues and prompt repair options to restore their home's equilibrium.
We are your home improvement experts and proud to serve not only residents and business owners within the city of Wichita but also surrounding areas like Augusta, Derby and Bel Aire. Whether it's fixing a crack or completing an entire wall replacement, you can count on our high-quality workmanship to get it done right the first time.
For any guidance or information about Wichita drywall repair, call Mr. Handyman of the Wichita Metro Area us today to find out more about our dependable handyman services, from ceiling fan installations to siding repairs.