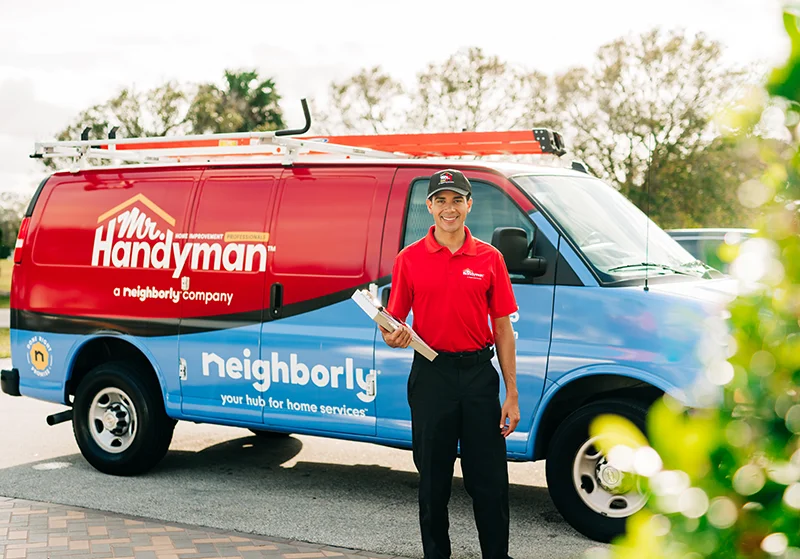 Our Comprehensive Services
Mr. Handyman of Woodstown, Swedesboro, and Sewell is dedicated to providing extensive home repair solutions tailored to meet your unique improvement and maintenance requirements. Our team of highly trained experts is well-versed in handling a diverse array of projects, spanning from minor fixes to major renovations. Whether it's laying down new tile flooring, restoring drywall, or any other home enhancement endeavor, we have you covered. Additionally, we offer specialized services like window cleaning, carpentry, door repair, soffit & fascia repair, and various other options.
The Mr. Handyman Mission
Our mission is to be the trusted partner for homeowners, providing reliable and high-quality home repair and improvement services. We strive to exceed our customers' expectations by delivering exceptional workmanship and unmatched customer service. With a team of skilled professionals committed to excellence, we aim to make the home improvement process hassle-free and enjoyable for our clients. Whether installing new windows, repairing drywall, or any other home repair task, our goal is to enhance the comfort, safety, and beauty of our customers' homes.
Our Experienced Craftsmen
Each member of our skilled team brings years of experience and expertise in various trades, ensuring that every project is handled with precision and attention to detail. Our service professionals undergo rigorous training and stay up-to-date with the latest industry advancements to deliver the highest quality home improvement services. Their dedication to excellence is matched only by their passion for customer satisfaction. Our service professionals are equipped to handle many home repair and improvement tasks.
Top Benefits of Our Handyman Services
When you choose Mr. Handyman of Woodstown, Swedesboro, and Sewell, you can trust that your project will be in the hands of capable and reliable experts committed to turning your home improvement dreams into reality. The top benefits of our services include:
Comprehensive Solutions

– We offer home maintenance, repair, and improvement services, providing a one-call solution for all your needs. Our skilled technicians can handle everything from small repairs to major renovations.

Highly Skilled Craftsmen

– With years of experience, our technicians can ensure the quality and professionalism of the work performed.

Reliable and Efficient

– We pride ourselves on professional reliability and arriving on time in uniform and a marked van with the tools necessary to complete the job right. We promise to get the job done correctly and efficiently.

Trusted and Insured

– As a part of Neighborly, the largest home franchisor in the world, Mr. Handyman is a trusted and knowledgeable resource for home improvement needs. We are fully insured professionals, providing peace of mind for customers.

Easy Scheduling

– With one simple call, you can schedule your handyman service at your convenience, making the process hassle-free and efficient.

Neighborly Company

– Being a part of the Neighborly family means Mr. Handyman is part of a leading national service franchise, providing reliable services you can trust.
Call Mr. Handyman of Woodstown, Swedesboro, and Sewell Today
Experience the convenience and reliability of Mr. Handyman of Woodstown, Swedesboro, and Sewell's exceptional handyman services right here in Swedesboro, Woodstown, Sewell, and neighboring New Jersey areas. Our dedicated team of professionals is ready to tackle all your home repair and improvement needs with precision and expertise. From small fixes to extensive projects, we take pride in delivering top-notch workmanship and ensuring your satisfaction. Contact us today to schedule an appointment and discover the difference Mr. Handyman of Woodstown, Swedesboro, and Sewell can make for your property.
Mr. Handyman of Woodstown, Swedesboro, and Sewell proudly serves Alloway, Blackwood, Bridgeport, Buena, Clarksboro, Clayton, Elmer, Ewan, Franklinville, Gibbstown, Glassboro, Grenloch, Harrisonville, Landisville, Malaga, Mantua, Mickleton, Minotola, Monroeville, Mount Royal, Mullica Hill, National Park, Newfield, Newtonville, Norma, Paulsboro, Pedricktown, Penns Grove, Pitman, Richland, Sewell, Swedesboro, Thorofare, Vineland, Wenonah, Westville, Williamstown, Woodbury, Woodbury Heights, and Woodstown.