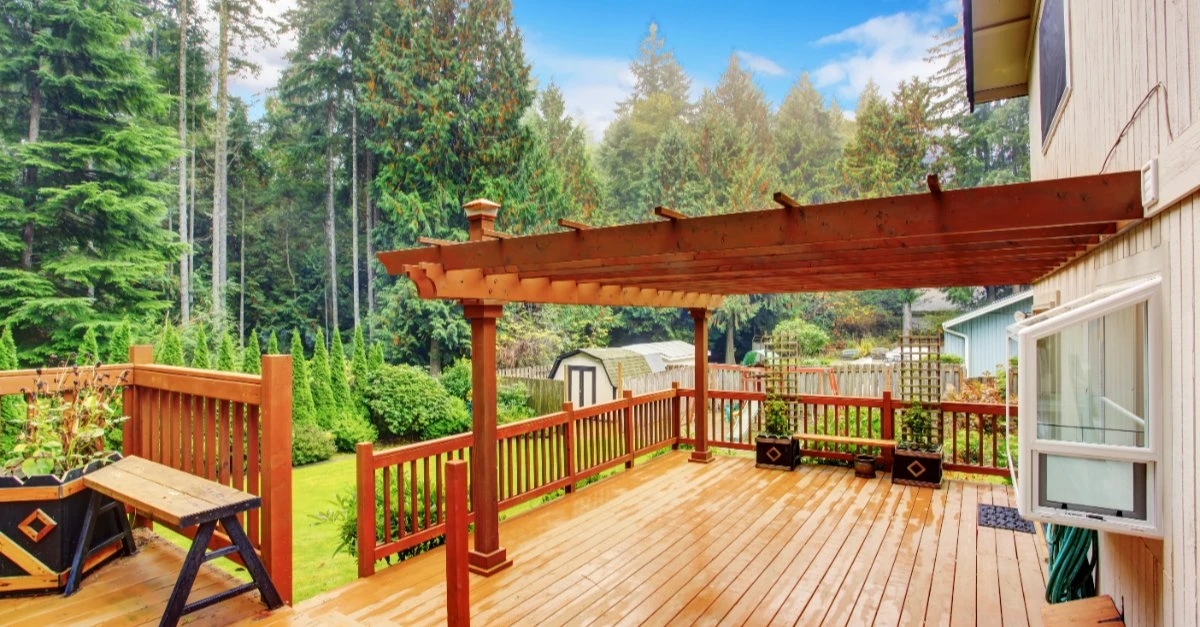 You're sitting out on your patio on a lazy summer day, just drinking in the sunshine and fresh breezes. You lean back, stretch and open your eyes—and suddenly notice that your beautiful pergola is not looking so hot anymore. Caked-on grime, patches of softened, crumbling wood, peeling paint, bowed beams and other problems aren't just spots of unsightly cosmetic damage. They clearly indicate that you need professional Walpole pergola repair services from a qualified, local handyman.
Walpole pergola repair might not seem like that big of a deal. The damage often starts out small and worsens incrementally over time, so it's not as noticeable as sudden damage from a harsh storm or a collision with a riding lawnmower. But because problems like wood rot do worsen and spread, the damage can get out of control fast, and you may not notice until it's too late, and there's a risk of property damage or even injury caused by a collapse.
If you see signs that you need a Walpole pergola repair, count on your experienced handyman to get the job done right. The Walpole handyman service professionals at Mr. Handyman of Central-Eastern Norfolk County & South Shore have decades of combined experience with the types of problems that commonly affect pergolas, such as wood rot. Whatever is wrong, we can correct it quickly and effectively, so all you need to do is relax and enjoy the peace of your own backyard.
What is a Pergola?
Pergolas are outdoor structures composed of a roofing grid with beams and rafters supported by columns. They are typically placed over wooden or concrete patios, decks, garden benches, concrete slabs, and similar locations to provide a shaded space or shelter for your outdoor living spaces that are intended for socializing, dining, and relaxation. They are sometimes open on the sides and between rafters or may feature retractable canopies and mosquito netting. They vary from unique and custom pergolas enhancing the landscape in your yard to prefabricated ones that are more of a traditional open-roof pergola.
Whether you have a freestanding pergola or it is attached to a concrete wall or your house at one side of the roof grid, they add appeal and can make your backyard look like it's straight out of the pages of an outdoor design magazine—as long as it's in good condition. When it's in rough shape and needs a Walpole pergola repair, it can have the opposite effect and bring down the curb appeal of your residential or commercial property.
What Are The Different Materials Walpole Pergolas Are Made Of?
There are several types of pergolas, each with unique design features and functionality. The materials range from high-end cedar pergolas to a low-maintenance composite material, and each can be customized to your home's aesthetics and personal preferences, where your designs are as unique and original as you choose. Some of the types:
Traditional Pergola
Gable Pergola
Arched Pergola
Louvered Pergola
Plus, Many More!
These are just a few examples of the different types available to you in Walpole. The choice depends on your personal preferences, desired functionality, and the overall aesthetics you want to achieve in your outdoor space. Our technicians can help build one for you, and our team can also repair and maintain your pergola, ensuring it is functional and at its prime all year round.
What Are the Signs That Walpole Pergola Repair is Needed?
A deteriorated, damaged pergola that is on its last legs—or last columns—is not a very attractive place to relax and enjoy nature. But it can also cause problems that spread to other parts of your property or lead to injury for a member of your household. If you know the signs that indicate your structure is in trouble, you can get the help you need from a local Walpole pergola repair expert on our team before the worst happens. Here are some of the key warning signs homeowners should be aware of.
Rotting Timber
Timber is an excellent building material. It's beautiful, strong, durable, renewable, widely available, and easy to work with, so it's no surprise that it's the most popular choice for homeowners and builders alike. That being said, it does have one weakness. Outdoor wooden structures are particularly susceptible to a wide range of moisture damage issues. The number one, most common (and most irritating) problem is wood rot, a form of decay caused by wood-eating fungi that require the timber to have high moisture content in order to begin growing. That's why any natural wood products outdoors are vulnerable to decay, while indoor wood that never gets damp can remain unchanged for more than a century.
Wood rot causes timber to soften and discolor and eventually crumble apart. There's no real way to restore decayed timber to its former condition, so wood rot repair usually involves removing the damaged piece and replacing it with new, pressure-treated pine wood or cedar wood that is resistant to rot. But when it comes to Walpole pergola repair, that can be more difficult because almost the entire shade structure is made up of supporting beams and columns. If removing the entire decayed piece is not really feasible, your Walpole handyman can likely still fix it up by scraping out the soft, rotted parts and filling the gaps with epoxy wood filler. Once the epoxy has dried and been sanded to a smooth finish, the structure should be painted to conceal the epoxy. If replacement wood is necessary, consider pressure-treated pine wood or cedar wood that has natural and chemical resistance to wood rot.
Leaning or Shifting Posts
Signs of deterioration or damage on supporting columns are a big problem because those columns are holding up the entire roof structure, and if they fail, they'll bring the whole structure down with them. Minor cosmetic damage like scuffs or scratches isn't a cause for concern regarding structural stability, though it can hurt curb appeal. But any type of damage that looks like it could affect the stability of the column needs to be taken care of as soon as possible with professional pergola repair in Walpole, MA. Homeowners may notice wood rot, rust, corrosion, and other signs of decay on columns or that columns are visibly leaning or shifting and wobble when touched. Your Walpole pergola repair expert can replace columns and column bases to ensure they look their best and won't have any difficulty holding up your roof. In some cases, we may be able to simply re-secure or repair them without replacement, but typically if they are noticeably leaning, it is because they are broken or damaged under the ground and need to be replaced.
Grime Build-Up
Suppose your pergola is looking run down because it's covered in a thick layer of dirt and grime build-up, or there's organic growth such as moss or algae slowly creeping up the columns. In that case, that is a clear sign you need professional Walpole pergola repair services. The grime and algae make your outdoor space a lot less appealing and inviting—it's not really the kind of thing you want to show off to friends and family. But all that grime build-up and organic growth can also negatively affect your structure.
All that build-up traps moisture and harbors harmful bacteria that accelerate the deterioration of paint and sealant, leaving the material underneath prone to water damage like wood rot. It can also disguise other warning signs of trouble. Pressure washing will take care of this Walpole pergola repair problem, and we'll also take care of refinishing to ensure your boards are protected. We can get your pergola looking as good as the day it was installed much faster and more effectively than if we had to scrub away at it with a bristle brush.
Peeling Paint or Flaking Wood Stain
Speaking of pressure washing, did you know it's one of the best ways to remove peeling paint or flaking wood stains and prime an outdoor structure for refinishing? Peeling paint and flaking on pressure-treated wood posts is an early warning sign of moisture damage. Once the water starts to seep into the wood, it swells up and pushes on paint from the underside. That causes the paint to lift, bubble, crack and peel away in strips. The paint and sealant are the only things preventing water incursion in the first place, so once they start to peel away, even more water gets in, and it's a self-perpetuating cycle until the whole thing is in tatters and rotting away.
Pressure washer machines are able to produce pressures that range between 750 and 3,000 psi (pound-force per square inch). That's strong enough to strip away damaged paint, along with dirt, stains, and other stubborn substances, leaving behind a smooth, clean surface to refinish. If you're not up to the task of painting or staining and then sealing your structure to keep out moisture, no problem—our team can take care of that for you as part of our Walpole pergola repair services.
Sun Damage
Direct sunlight can cause damage and affect the overall appearance of the frame, flooring, or materials used in the pergola construction. Any material that is directly exposed to the sun for extended periods of time will cause the wood and finishes to fade, crack, warp, or twist, and the breakdown of any protective coatings on the surfaces. When dealing with a wooden pergola especially, the sun's harsh rays will break down the integrity of the wood and lead to needed a pergola repair in Walpole, MA. Regular maintenance will reduce the need and frequency of repairs. You can provide shade with an adjustable or convertible canopy as it will minimize sun exposure, and applying protective coatings or sealant will slow down the fading process, minimizing the wood from drying out. When a repair is needed, simple fixes like repairing cracks, reapplying protective coatings, and reinforcing structural components will help extend the lifespan.
Insect Infestations
If you've ever had to deal with an infestation of destructive insects such as termites or carpenter ants, you know how much damage those little pests can cause in a short amount of time. They're only too pleased to target your pergola if given the chance, and they are capable of creating some major problems that require Walpole pergola repair. If you see signs of insect activity, such as a maze of holes or channels on the surface of the wood or "sawdust" accumulating under your structure, you know it's time for Walpole pergola repair—along with a dose of pesticide to prevent them from coming right back and causing even more trouble with your newly repaired structure.
Beam Arching
This particular Walpole pergola repair issue is usually related to faulty installation. If a beam has to span a gap between supporting posts that is too big for it, the beam can slowly start to arch or bend over time. If the problem continues unabated, the roof structure can eventually collapse—and needless to say, that could cause serious injury to anyone who happens to be underneath. In this case, your Walpole pergola repair professional will need to replace the damaged beam with a longer one.
Rusted Hardware
It's pretty common for pergolas to be held together in places with metal hardware such as screws and brackets. Metal is sturdy, but it can suffer corrosion and decay over time which can cause it to break or come loose. If it's truly just the metal hardware that has degraded, your Walpole pergola repair handyman can simply replace the metal parts. But rust is usually related to water exposure, and if you have serious water damage on the metal parts, the wood parts are probably affected by rot. If the damage is really widespread, the whole structure might need to be replaced. But if it's just one particular area, Walpole pergola repair techniques will probably be sufficient to get it back in good shape.
What's the Best Way to Avoid Needing Pergola Repair, Walpole, MA in the Future?
After having a professional take care of pergola repair in Walpole, MA, homeowners are often interested in learning a few maintenance tips to avoid needing replacement and Walpole pergola repair services for longer. Regular maintenance is key to preventing damage or catching and halting damaging factors early on, and when it comes to timber, that means preventing moisture incursion. If you have a metal, vinyl, or aluminum pergola, rot isn't going to be such a concern because of the low-maintenance material the vinyl pergola is made of. Here are some tips to help preserve the beauty and longevity of your structure:
Inspect the entire thing (as much as possible) at least once per year, checking for signs of wood rot and other forms of decay.
Surface checking that all pergola assembly hardware is securely attached and not rusted, as well as the convertible or adjustable canopy is in good repair with no holes or insect damage.
Trim tree branches and bushes so you don't have moisture-laden leaves, soaking the bottom half of your columns and leaving them vulnerable to water damage.
Have your structure refinished and sealed every few years to keep the wood in solid, strong condition.
Keeping on top of maintenance and repairs, or if maintaining is beyond your comfort level or time you have, then rely on one of our professionals to take care of the regular maintenance. We will ensure you have a year-round backyard beauty you can enjoy for many years.
Can Walpole Pergola Repair Improve Property Value?
It may not actually raise your selling price when you put your house on the real estate market, but it can help to convince prospective home buyers to seal the deal. If one of the first things they see walking down the patio stones is a rotted, leaning pergola covered in peeling paint and stains, that's going to be a big red flag warning them to run for the hills before they even get through the door.
Do I Need A Building Permit For A Walpole Pergola Repair?
The need for a building permit is usually determined by a few factors, such as the size of the structure, its height from the ground or horizontal surface it is sitting on, the expected average cost of repairs, and the local building codes. Generally, if it exceeds certain heights or a size threshold, then permit requirements need to be followed. It's important to consult with your local building department in Walpole to understand the specific requirements for your repairs. Our professionals also can assist with obtaining the proper permits and understanding the required regulations. Reach out today, and we can ensure you not only have the proper permits and follow the town's bylaws, but we can complete all the repairs, so all you have left to do is hang the string lights!
Who Offers The Best Pergola Repair Near Me?
When looking for the best pergola builders and repair service technicians, you want to rely on a team that is well-known in the industry for excellent customer service and warranty services and is backed by numerous glowing reviews. You can count on us to be that team!
We are your team of professional technicians offering all that plus more. We are the one-stop shop for all the popular services plus the mundane to-do tasks. We do it all with a smile. We love our job, and we love our customers more! We are highly trained, show up on time every time in a company uniform, and strive to always exceed our customer's expectations!
Our upfront costs and transparency in pricing ensure that you know what you are paying for before the job even starts and that there will be no hidden or surprise fees on the final invoice. Customer satisfaction is our prime focus, so we also offer a warranty on all our workmanship and parts, giving you the peace of mind you want in a professional service.
Next time you are looking for an expert pergola repair near me, click on us and experience the handyman difference we offer to each and every customer. You won't be disappointed!
Trust Your Local Handyman For Expert Pergola Repair in Walpole, MA
Regardless of whether you are in Walpole or in one of the nearby communities such as Hingham, Hanover, or Quincy, you can count on the same outstanding workmanship and experienced customer service from the team of professionals at Mr. Handyman of Central-Eastern Norfolk County & South Shore. Get in touch with us today to find out more about our excellent customer service and reliable handyman services or to schedule a convenient appointment time.