Deck Installation in Boulder, CO: What You Need to Know to Get Your Dream Deck Built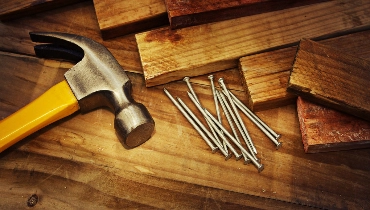 It's no secret that winter recreation opportunities are a big part of what attracts people to Boulder, CO—but the summer has a lot going for it as well. When the snow finally melts in spring, most homeowners can't wait to get outside to their deck so they can grill dinner on the barbecue, socialize with friends and family, and soak up the sunshine. But if your deck looks like it's going to collapse with the next light breeze that comes along, or you don't have a deck at all, your outdoor space isn't as welcoming, comfortable, and appealing as it could be with expert deck installation services.
A brand-new deck installation in Boulder, CO, will make your property even more enjoyable for your household, and your outdoor living space may even end up being your favorite part of the house. The first step is to make some preliminary plans so you have an idea of what you'd like your backyard deck (or front porch, or side patio) project to look like. This guide offers some expert advice on important considerations such as material, size, features, and building regulations in Boulder that will help make the early planning process a lot easier.
Once you've taken a look at some of the possibilities and have a vision of how you want your deck installation to look, trust your local, experienced Boulder handyman team to make it a reality by building your dream deck from the ground up. The service professionals at Mr. Handyman of E Boulder, Broomfield & Erie have built many outdoor structures around Boulder, CO, and other nearby communities, so we know how to get the job done safely, efficiently, and effectively.
Choosing Decking Material for Deck Installation
It stands to reason that one of the most critically important decisions you'll need to make for your new deck installation is what material it should be constructed with. You want something nice looking that will enhance your curb appeal and property value, of course. But it's also really important that it be durable, long-lasting, and ideally pretty low-maintenance. How important each of those factors is will vary depending on your personal priorities, so it's good, to be honest with yourself about the answers to questions such as, how much maintenance am I willing to do? And, what makes the most sense for my budget? Here is some information on the types of materials that are available for deck installation in Boulder, CO.
Natural Wood Decking
Wooden decks are a classic for a reason. They're beautiful, comfortable, and durable, and lumber is readily available, renewable, and easy to work with when installing decks. That's a lot of pros! But wood does have a few cons as well. If it loses its protection against moisture and starts absorbing water, it is highly susceptible to wood rot. It's also a favorite snack of destructive insect species such as termites and carpenter ants. Natural wood is an excellent choice, but it does require regular care and maintenance to keep it in good condition throughout the years. The other potential downside is cost. It's not necessarily the most costly choice, but prices will vary widely depending on what variety of lumber you choose. Cedar is likely to be the least expensive, while some exotic hardwoods can exceed $20 per square foot.
Pressure-Treated Wood
If you like wood, but you're concerned about the annual maintenance requirements or you're looking for a more cost-effective alternative, pressure-treated wood (also called green-treated wood) is a good option. It's basically a type of wood such as southern pine that has been infused with chemicals that give it additional protection against moisture, decay, and insect infestations. It is usually considerably cheaper than natural wood but has a similar appearance to natural wood. You can choose to have it painted or stained to get the exact look you want, and your ]deck installation professional will follow the paint or stain with a layer of sealant for extra moisture resistance.
Composite Material
Composite decking materials are highly durable and virtually maintenance-free because they are made from recycled plastic mixed with wood fiber byproducts such as sawdust and wood chips. The upfront cost of a composite deck in Boulder, CO, is likely to be higher than the least expensive natural wood and pressure-treated wood options, but it has some big advantages, too. Composite material won't be affected by wood rot or pest infestations, and it's available in a huge variety of colors, textures, and styles, some of which mimic the look of real wood quite convincingly. It doesn't need to be painted or stained, so maintenance is basically down to the occasional cleaning. (The best cleaning method is power washing.) However, the color will fade over time, especially on parts that are frequently exposed to direct sunlight, and it can be vulnerable to stains. It's also prone to mildew and algae growth in shady areas and can get really hot to the touch in the sun.
Aluminum
The cost of installing a deck with aluminum is more expensive than most other materials (with the exception of exotic hardwood), and many people don't care for the more industrial, unnatural appearance of aluminum. However, it does make up for those cons, with some great benefits in the pro column. It's very durable and long-lasting, won't be affected by rot or insects, and typically features a powder-coated or anodized finish that will withstand all kinds of harsh weather conditions. It stays relatively cool to the touch, even in the sun, and usually comes with a textured surface that helps prevent injury from slipping and falling.
Plastic
Homeowners are sometimes surprised to learn that plastic is an option for deck installation material. Like the other materials that can be used for this construction project, it has some notable pros and cons. Plastic is impervious to rot, corrosion and insects. It's also really durable and easy to clean—all it needs is a rinse with the hose now and then and maybe a little mopping. It doesn't need to be painted, stained, or sanded. However, it does have some issues that are similar to the problems with composite material—shaded areas are susceptible to algae and mildew growth, and it is prone to fading over time. Lighter-colored plastic, in particular, can sometimes develop a chalky coating that is difficult to get rid of.
Rules and Regulations for Deck Installation in Boulder, CO
In Boulder County, it is necessary to put a building permit application in for most deck installation projects. The only exception is free-standing decks that are less than 200 square feet and do not exceed 30 inches in height. If you're not sure how to navigate the process of preparing and submitting building permits for residential construction, don't worry—our experienced Boulder handyman team is very familiar with building code requirements and permit regulations. We will make sure to secure the appropriate permits before we begin work.
Determining the Right Size for a Deck Installation
There's no standard-size deck—the right size and shape for your deck installation in Boulder, CO, will depend on the amount of space you have and how it is configured in relation to your house. Here are some factors that you should keep in mind when you're figuring out how big your new deck installation should be.
House Size: The general rule of thumb is that the square footage for a deck installation should not exceed 20% of the overall square footage of the house so it doesn't visually overwhelm the house and detract from your curb appeal. However, this is only a suggestion, so homeowners shouldn't feel bound to follow it if they don't want to.
Restrictive Elements: Part of constructing a deck installation is digging holes for the posts that will be supporting the entire structure. If your yard has buried utility lines or other elements such as a septic tank, well, or drain field that would prevent post-hole digging, it will restrict the possibilities for the size and shape of your deck.
Must-Have Features: Naturally, your new structure needs to be big enough to accommodate the socializing and other activities you'd like to do outside. If you have a large family or enjoy having guests over, you will likely want to consider making room for a grilling area, a dining area, and a place for relaxation at a minimum.
Transition Area: Your deck will meet the rest of the yard at some point, and many homeowners choose to include a transition area between the two. That could be as simple as a small area at the bottom of your deck steps with brick pavers or cobblestones.
Ideas for Features and Amenities on a Deck Installation in Boulder, CO
One of the very best parts of having a new deck installation built just for you is that it can be tailored to perfectly meet the unique needs of your household. Got an artist in your family who would love an outdoor studio area? We can do that. Need the perfect place to relax around a fire pit? We'll make sure to include it. Here are a few ideas for special features that can transform your outdoor living space from "pretty nice" to "the envy of the neighborhood" with help from a professional Boulder handyman:
Adirondack-style bench seating around the perimeter of the whole structure, so there's always somewhere to sit.
Multi-level structure with distinct areas for cooking, dining, socializing, and recreation
Custom-built flower boxes and planters
Dog-washing station with a drainage basin, in reach of the garden hose
Countertop by the grill for a convenient outdoor food prep area
Outdoor bar top with stools and string lights
Sunken seating area with a fire pit in the middle
Pergola to provide shade in areas with a lot of direct sunlight
How to Keep Your New Deck Looking Great
Once your new deck is in place, it makes sense to take a few basic steps to keep it looking as good as the day it was installed. How you go about maintaining your structure is, of course, going to vary according to the type of material you've chosen.
If you're looking for ways to prevent damage to a wooden structure, the best way is by keeping excess moisture from it as much as possible. That's because wood rot is a form of decay that will only damage timber with a moisture content above 20% or so. Because your structure is outside and exposed to frequent soakings from rain and snowmelt, it's a lot more vulnerable than wood that remains high and dry indoors. Here are a few maintenance tips to protect and preserve natural wood or pressure-treated lumber:
Relocate patio furniture and items like flower boxes every so often to avoid trapping moisture or causing uneven wear
Trim trees and bushes, so their branches and moisture-laden leaves are at least a few feet away from your structure
Avoid rugs or mats on your deck as they attract water and encourage wood rot—but if you must have them, plastic is a better choice than natural fibers because it drains off water more easily instead of holding on to it.
Investigate your deck in the spring and fall for any signs of trouble, such as patches of softened, crumbling wood, peeling paint, or the other symptoms listed above
Call Your Local Handyman Expert Today to Get Started on Deck Installation
Whether you're living in Boulder or another nearby community in Colorado, such as Broomfield, Frederick, or Superior, you can rest easy knowing you'll get the highest standards of quality workmanship and outstanding customer care from the team of professionals at Mr. Handyman of E Boulder, Broomfield & Erie.
Want to know more about our reliable handyman services in Boulder, CO? Give us a call today to speak with our friendly customer service staff or to find out more about what we can do to give you more peace of mind by making your home more comfortable, livable and appealing.