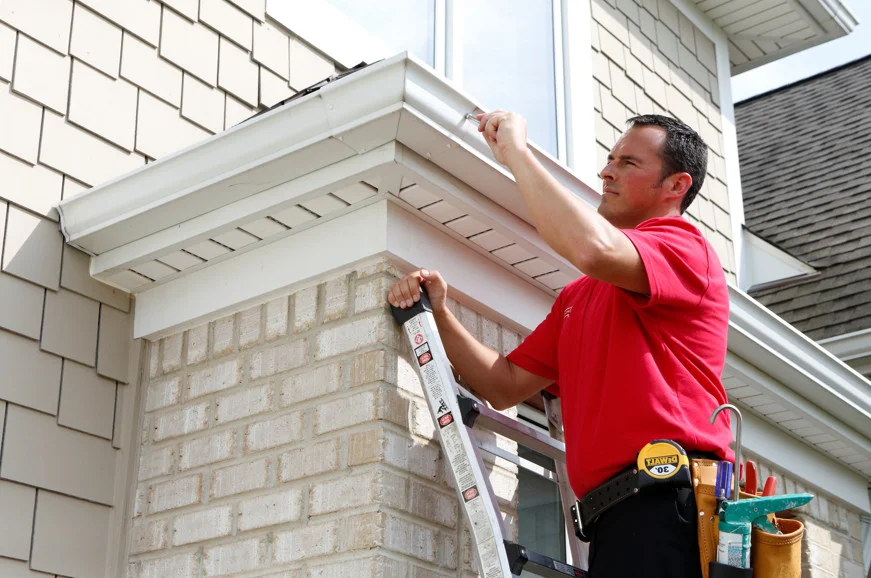 As a conscientious homeowner, you will know that property maintenance duties are more than just cleaning the interior and exterior of your house. You'll encounter many situations where urgent repairs are needed. For example, untreated wear and tear could have taken a toll on your outdoor structures, or you have issues concerning your exterior drainage system. It may not be immediately obvious until you experience leaky gutters that are dripping onto your deck structure. Or perhaps the paint underneath the U-shaped or K-shaped traps is peeling and is already signaling moisture issues. Although it is clear that you have clogged gutters, you won't know the underlying issues until you hire a professional for gutter repairs in Charlotte, NC. The area has beautiful residential properties, and at least seven out of ten don't have clean, healthy rain gutters.
We understand that an inspection and maintenance is risky for you to perform, as it involves climbing up a tall ladder and putting your safety at risk. Unless you have liability insurance and are familiar with outdoor repairs, it is not recommended to take matters into your own hands. That's why our fully insured and experienced Charlotte handyman offers a detailed inspection and diagnosis, along with the best repair solution to get your eavestrough system back to normal.
Whether you're preparing your home's exterior for the summer or winter, Mr. Handyman of East and West Charlotte to Gastonia is here to help you tackle any repair needs. Protect your property's foundation and roof with our professional gutter repairs in Charlotte, NC. We invite you to contact us to book a no-obligation inspection.
About Our Gutter Repair in Charlotte, NC
It may not always be apparent that you need repairs until you schedule an inspection and gutter cleaning service. However, our experienced service technicians bring the necessary tools and knowledge to uncover any underlying issues. It is highly possible that surrounding structures, such as your fascia boards, soffits, and siding, are also affected. So, what can you expect when hiring Mr. Handyman for a gutter repair in Charlotte, NC? We'll complete a thorough inspection, and afterward, we'll provide a detailed report summarizing our findings and discussing with you the best course of action.
There are different types of gutter materials out there and two major styles:
Sectional gutters: This is the most common type where the system is made up of various sections to fit underneath the roofline. Sections are held together by fasteners and sealants, which means that joint areas can be very sensitive spots. Clogs and other surface problems are known to restrict water flow and cause leaks. They are still highly effective drainage structures as long as you keep up with regular maintenance and the occasional gutter repair in Charlotte, NC. You are advised to schedule at least two cleaning services a year to maintain their sectional unit.
Seamless gutters: During upgrades, many property owners opt for the seamless style, which is popular for its leak-proof features. Seamless units are more difficult to install because they are cut from one single coil. They're also installed in a fashion that makes them appear to be hidden. This gives a property a neater look, but a seamless unit can still clog, and annual inspections and cleanings are still recommended.
Common Types of Charlotte Gutter Repair Our Technicians Handle:
It is true that standard sectional systems are the most common and cost-effective ones to have. However, they are also high maintenance, and neglect will lead to a series of problems if the flow of water is restricted. Without an immediate Charlotte gutter repair service, you could experience basement flooding, soil erosion, and roof damage.
When hiring our local pros for expert gutter repairs, you can rely on us to fix the following issues:
Leaks are caused by cracking or worn sealant at the joint area. As gutters age, the materials used to install them age as well. Joint sealant is used to secure the gutter joints, but as with any adhesive, with time, it breaks down.
Sagging or section pulling away from fascia. Caused by clogs and a debris buildup, we'll fix sagging by reattaching affected sections.
Worn-out protective coating on aluminum material. We apply a fresh coat to protect your aluminum gutters.
Replacing rubber gaskets on vinyl or PVC units. Gaskets seal the gap between two parts of your PVC gutter. Missing or broken gaskets can cause leaks.
Clogged downspout pipes. We'll clear out the pipe to allow the water to flow freely and away from your home.
Downspouts missing an extension. High winds can break off pieces of your downspout, especially the bottom. We can attach a new piece so that it's as good as new.
Ice damage. Ice can be sharp and heavy. We'll address any damage caused throughout winter.
Other Warning Signs To Keep In Mind:
It's important to keep in mind that the above problems could have already wreaked havoc on surrounding structures. For example, wood-based fascia boards that don't have a protective cover or drip edge can easily suffer from water damage and wood rot. Any spilled water could leak down your siding, leaving behind water stains and even entering foundation cracks. When you experience gutter clogging, it can also affect your soffits and block the vents that are responsible for venting out your attic. This problem could lead to moisture buildup and mold growth.
There are many little details to watch out for when you believe you need gutter repair in Charlotte, NC. You can rest assured that our professional handyman team will take note of every detail.
Choose Our Mr. Handyman Experts For Rain Gutter Repair in Charlotte, NC!
Mr. Handyman is a growing franchise in North America with over 200 reputable locations owned and operated by experienced local tradesmen who are committed to serving their community. What makes Mr. Handyman of East and West Charlotte to Gastonia stand out is our skilled and versatile team that always goes the extra mile to exceed our client's expectations. We are dedicated to serving our clients and are committed to delivering excellence and efficiency at all times. Count on our experts for exceptional workmanship that guarantees customer satisfaction. But you don't have to take only our word for it--take a peek at our customer reviews! What exactly do our clients love so much about our approach?
Professional Team
When hiring a handyman, sometimes you don't know what you'll get. When Choosing Mr. Handyman, you do. We're a team of professionals with an average of 10 years of experience, and we pride ourselves on our dedicated service. We'll always arrive on time, be respectful of your property, and clean up before we leave. We're in the business of total customer satisfaction, and that means listening to your needs and making recommendations that make sense for your home and budget.
Wide Service Range
Sure, you could hire a company that deals specifically with gutters, but the thing about gutter damage is that it so often affects other parts of your home. This means you may experience issues with your soffit, fascia, siding, roof, and more and will need those issues addressed going forward. When hiring Mr. Handyman, we can take care of a range of your needs, resolving more than one problem on the same service day. This saves you time and the frustration of hiring two separate companies to deal with these related issues.
Quality Products & Workmanship
When hiring a company for repairs, you want to know that they use quality products that will last. Certain businesses use cheap parts and inexperienced labor, an equation that never pays off. With us, you'll get handymen with extensive experience who not only know how to fix an issue correctly but also know how to troubleshoot it correctly. This means you'll see better results that won't re-emerge in the near future.
Done Right Promise
We're so confident in the level of service we provide that we back it with a promise. If you experience any issues with the quality of our workmanship or parts within a year from your service date, we'll come back to make it right.
Are you looking for a better kind of handyman service? Look no further than Mr. Handyman of East and West Charlotte to Gastonia. Our qualified team will repair your gutters efficiently and correctly to help safeguard your home for the coming seasons.
Charlotte Gutter Repair FAQs
When it comes to Charlotte gutter repair, it's important to be informed and know your options. If you have any questions about our repair service or process, don't hesitate to get in touch with our qualified team. In the meantime, check out our answers to some of our most frequently asked questions below.
How Much Does A Charlotte Gutter Repair Cost On Average?
The cost depends on the extent and type of damage evident. At Mr. Handyman, we typically charge per project rather than hourly. So, the labor cost would be included in the final cost estimate. Since we prioritize transparency, we only offer upfront pricing that is determined after an initial visit and inspection. To learn more about our cost guides, we invite you to give our customer service team a call today.
Can You Repair Rusted Gutters? When Is It Too Late?
Rust can be troublesome as once it occurs, it will continue to take over your metal gutters and eventually weaken them. Weakened gutters will eventually form holes and break from heavy rains. When this happens, your gutters may tear away from your roof, resulting in the need for roof repair and possible siding repair, too, if they damage the side of your home as they fall.
If the rust is only minor, we'll be able to get rid of it with a wire brush and apply a new protective coating. Minor rust is classified as a small, isolated spot that has not yet worn down the material. Minor rust will be on the surface of the material only, and scraping it away will stop it from getting any worse.
However, if the rust is widespread and your existing gutters are already old, you may want to consider replacing them. We'll discuss with you the pros and cons in greater detail during a consultation service.
Is a Gutter Guard System Worth It?
They can be, but it depends on the type you choose. Some gutter guards are useful and block out large and small debris, but they also require a lot of maintenance that requires you to regularly climb a tall ladder to check if any debris (like pine needles) is stuck. If you are not on top of your gutter maintenance (such as gutter cleaning), a guard system will not necessarily be a good solution.
Nowadays, a high-quality seamless gutter system comes with protective gutter screens that guarantee no leaks and no clogs. Moreover, they barely need any repairs because they do not have joints! Sounds appealing? Give us a call today to learn more about the advantages of seamless gutters and guard installation!
How Do I Know I Need a New Gutter Installation?
If your current system is over 20 years old and has already received multiple gutter repair projects, you may want to add up the repair costs and compare them to the cost of a gutter replacement. Your Charlotte handyman will also be happy to help you evaluate the efficiency of your current system. A few additional signs that you need a replacement over repairs include:
Cracks. As you can imagine, cracks in your PVC, galvanized steel, or copper gutters spell disaster. Allowing water to pass through them and down the side of your home, cracks make your gutter system less effective and can cause damage to your siding and foundation.
Sagging. Not all cases of sagging call for a complete replacement of your gutters, but if you have an old system, sagging can indicate that the joints are not secure or that the condition of your system is compromised. Instead of applying a quick fix that won't last, it may make more sense to replace your entire system or a section of it if you have traditional gutters.
Rust. We've touched on rust a bit already, so you know how detrimental it can be to the efficacy of your gutter system. If left to its own devices, rust will worsen and eventually eat through your gutters. This will cause a hole, which will cause a leak–and you know how disastrous those can be.
Broken Seams. This type of damage is caused by neglecting gutter cleaning. It's important to get your gutters cleaned twice per year to avoid problems like this one. If you have broken seams, it makes more sense to replace your system than try to glue it back together. Plus, glue only lasts so long and isn't always guaranteed to hold up in a storm.
While thinking about purchasing an entirely new gutter system can be overwhelming, there are more affordable options out there. Plus, you may be avoiding continuous costly repairs that a severely damaged system would require. Ask your gutter specialist for tips.
When are Gutter Repairs the Most Common in Charlotte?
Gutter repairs are probably most common around July when we get severe storms. North Carolina gets 45 inches of rain on average per year. Most rainfall can be attributed to tropical cyclones, which makes it essential to have an effective eavestrough system in place.
We highly recommend that you call an expert Charlotte gutter repair technician in the spring. This gives you time to complete the necessary maintenance steps, including gutter cleaning and inspection. Taking preventative steps to clean and repair your gutters now will ensure that your home is protected during storms. We offer a comprehensive range of services for your gutters, including repairs for your siding, fascia, soffit, and more. If you're thinking of preparing your home for the worst, give us a call. Our professional service providers will be there on the double to give you total peace of mind.
Restore Your Home's Drainage System and Curb Appeal With Charlotte Gutter Repair Service!
Is it time to restore your exterior drainage system? If your current gutters aren't performing how they should, call our expert team today to speak with one of our excellent customer service reps. Ask them any questions that you may have or schedule an appointment with one of our local experts for gutter repair in Charlotte, NC.
We're proud to serve the city of Charlotte and the surrounding areas, including Belmont and Clover, and make sure they have access to our professional rain gutter repairs, as well as a wide range of other handyman services. Considering how important your gutter system is to the condition of your home, this is one type of maintenance you should never put off! Ready to book? Call or use the online
contact form
today!