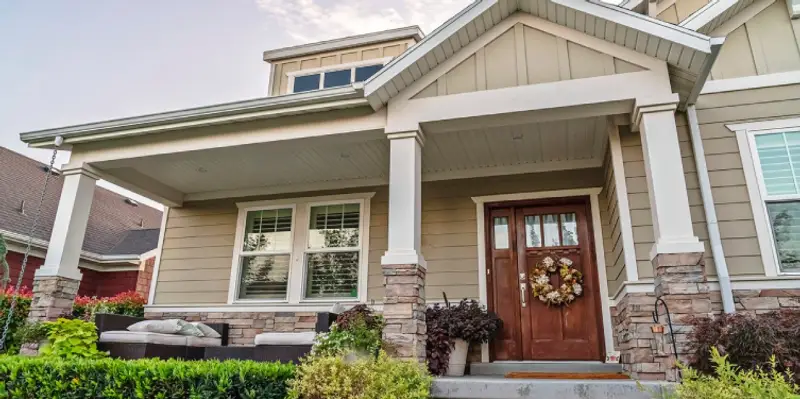 Whether your house features a huge wrap-around porch that serves as a major part of your outdoor living space or its main purpose is to shelter your front door, it's an important factor in the overall curb appeal of your home. From enjoying the breeze in a screened backyard porch to sitting out on a front porch swing to keep an eye on the neighborhood, it has the potential to be one of your favorite parts of the house—but it's a lot less enjoyable than it could be if it has deteriorated and is in desperate need of Flower Mound porch repair services from an experienced handyman.
Rotting boards, popping nails, leaning columns or a distinct sag in the middle are serious problems that obviously look unappealing, but they're also dangerous hazards for your family and visitors to dodge. If neglected for too long, the damage can worsen to the point of collapse and also spread to other parts of your house. If you've noticed that your porch is looking rough around the edges—or rough all over—you may be wondering what should be done about it. We'll explain the answers to some common questions we hear from homeowners about Flower Mound porch repair.
When you're ready to get your porch looking and functioning at its very best again, trust your local Flower Mound handyman to take care of the entire job from start to finish, efficiently and effectively. The team of service professionals at Mr. Handyman of Flower Mound, Lewisville, and Denton take pride in their work and strive to always deliver top-notch workmanship and outstanding customer service. We take customer satisfaction very seriously and will do everything in our power to ensure that the final reveal of your finished project meets or even exceeds your expectations.
What's the Difference Between a Porch and a Deck?
It's pretty common for these terms to get mixed up since they describe very similar structures. Both porches and decks are outdoor surfaces, usually attached to or directly adjacent to a house. However, there are some differences—decks are open platforms that may have railings but no walls or roof, and they can be close to the ground or elevated by several stories. They are often out back or on the side of a house, close to the kitchen. Porches, on the other hand, have roof coverings or at least an ample overhang to shelter them and may or may not be enclosed by frames with screen mesh or glass panels. They are either level with the ground or level with a building's ground floor and are commonly found in front of a house leading to its front door. They're both important amenities for a home that can make your outdoor space a lot more usable and pleasant. Regardless of whether you need deck or porch repair in Flower Mound, TX, you can count on our team of experienced carpenters to restore it to safe, attractive condition. Learn more about the types of problems that require deck repair in Flower Mound, TX.
Is Flower Mound Porch Repair or Complete Replacement the Best Option?
That's a fair question—it really doesn't make sense to dive into a total tear-down and replacement when all you need is some help from a Flower Mound porch repair expert. At the same time, you don't want to mess around with repairs if the damage is too severe, and it's not going to be possible to adequately address all the issues with your structure.
Unless the damage is widespread or it's unsafe due to faulty installation or deterioration over time, you probably won't need a complete replacement. Your local handyman service professionals can replace damaged components such as railings, porch steps, and floorboards and use Flower Mound porch repair techniques to handle any other spots of damage. That being said, if the damage is widespread, a replacement will likely be the most cost-effective option. Numerous repairs across the whole structure would be very time-consuming, and the result would not be as satisfactory as a new installation.
How Can You Tell When Your Property Needs Flower Mound Porch Repair?
By now, you might be getting curious about whether your house needs Flower Mound porch repair services right now or if you can put it off for another season or three. The damage tends to worsen over time, and a seemingly small problem can spiral into a major headache. That's why it's vastly preferable to have your handyman take care of it as soon as possible so it's not such a time-consuming hassle and you can sit back and enjoy a fresh breeze outdoors.
Wood Rot
Most porches include at least some wood, and many are made almost entirely with wood. It's a beautiful, durable material that is widely available and easy to work with, so it's not difficult to understand why it's so often chosen by builders and homeowners alike. However, it does have one big weakness: wood rot. In fact, rotten timber is one of the worst parts of water damage, and that's saying something. Wood rot is a type of decay that specifically affects timber with a raised moisture level of 20% or higher. That's why outdoor wood is so vulnerable, while indoor wood that remains dry never rots.
Wood rot causes timber to soften and crumble apart. You may notice changes in the texture of the timber that makes it appear spongy, stringy, or webbed with cracks, or you may see parts that are breaking into cube-shaped chunks (this is called cubical fracture) or crumbling into "sawdust." Wood rot is capable of traveling across the wood, and some varieties can travel across non-wood surfaces such as masonry to infect new patches of timber. In the early stages, it may simply look like a discolored patch that is lighter or darker than the surrounding material or has a purple, white, or yellowish hue. If you notice any of these signs of rot, it's best to call your handyman for Flower Mound porch repair right away before it causes serious structural integrity problems.
Damaged Columns
Most homeowners tend to take deterioration or damage to support columns pretty seriously because those columns are holding up the entire roof structure, and nobody wants to risk having that come crashing down on them. While a few scratches and scuffs aren't too big of a deal, any type of damage that looks like it could affect the stability of the column should have homeowners running to their computers to search "porch column repair near me." That could include wood rot, rust, corrosion, and other signs of decay on the columns, but it may also be that the columns are visibly leaning or, worse, wobbling when you touch them. Whatever the issue, your Flower Mound porch repair professional can re-secure or replace the columns to make sure they look great and are completely capable of doing their job by holding up your porch roof.
Holes and Rips in Screen Mesh
Screened-in porches offer a number of benefits to your household, but the biggest one by far is their ability to block out nature's most annoying insects, mosquitoes. Of course, that only works if your mesh is in good shape. If it has rusted to the point where it's pockmarked with holes or suffered a tear from an impact, your mesh might as well not be there at all because it's certainly not preventing mosquitoes from getting in and feasting on you while you're just trying to enjoy your outdoor space. If your mesh is damaged, but its frames are in good condition, we can simply remove your old screen panel and roll a new panel into your old frame, then tighten it up and put your frame back in place. Our team can also apply caulk to seal up any other small holes or gaps, so there's no chance that an ominous cloud of buzzing mosquitoes will chase you back indoors.
Creaking Steps
As porch steps age, they slowly deteriorate and become more prone to the same sorts of decay problems that affect other parts of the structure, such as wood rot and corrosion. It's already easy enough to trip and injure yourself falling down the steps—you don't need the added danger of stairs that are falling apart to make the situation even more hazardous. Whether your steps need help from a Flower Mound porch repair expert at Mr. Handyman or a total replacement, you can rely on our team to make them safe and enhance their appearance with skilled workmanship.
What Causes a Porch to Sag in the Middle?
Has your structure declined to the point where there's an obvious dip in the middle? If you can place a ball at the end and have it roll right into the middle, that's a serious problem with a couple of probable causes: it could be that your posts are rotted and leaning, or that they've broken off underground, or that your posts (and therefore your entire structure) are sinking into the ground. No matter the cause, this issue calls for expert Flower Mound porch repair help from a qualified professional.
Rotten wood softens and crumbles, which of course, leads to severe structural integrity problems—especially when it impacts the posts that are holding the entire thing up. The problem of sinking posts is related to drainage issues or incorrect installation. If the structure is older, it could be happening because of landscaping changes, major weather events, or just soil shifting around over time. If you can see visible water pooling around the posts or soil has washed away and left more of the posts exposed than there used to be above ground, don't wait to have it dealt with. The good news is, there are Flower Mound porch repair solutions that don't necessarily involve tearing down the whole structure—the posts themselves will definitely need to be replaced and reinforced with concrete footings.
How Long Can You Go Without Porch Repair in Flower Mound, TX?
That depends largely on how much maintenance and care it receives through the years. Some Flower Mound porch repair is going to be necessary here and there, but if you catch it early on and keep it well-maintained, the repair work will be minor, and the structure will stay in good shape for a long time. The length of time you can expect the structure to last before it needs replacement can vary from around 10 to 30 years, and the huge range of time is due to the variable factor of maintenance. Don't have the time, ability, or inclination to handle annual maintenance and the occasional porch repair in Flower Mound, TX? No problem—rely on your local handyman professionals to get the job done and preserve the longevity of your outdoor living spaces.
Need Flower Mound Porch Repair Services? Your Local Handyman is Standing By!
When you need home services, it's important to hire someone who is experienced and capable of getting the work done the first time correctly. It's also important to have the reassurance that they will treat you and your property with respect by displaying professional courtesy. That's exactly what you get when you call the team of professionals at Mr. Handyman of Flower Mound, Lewisville, and Denton.
Our team has plenty of experience in repair and improvement trades and has undergone an extensive screening process with an employee background check program. You can count on us for a wide range of services in Flower Mound, TX, and nearby communities such as Denton, Lantana, and Justin, including porch repair and other projects such as door installation or exterior trim repair.
Want more information about our reliable handyman services, or to book an appointment for service at a convenient time? Give us a call today—we would love the opportunity to show you how we can make your home more appealing and comfortable.