Denton Door Installation: Expert Advice and Information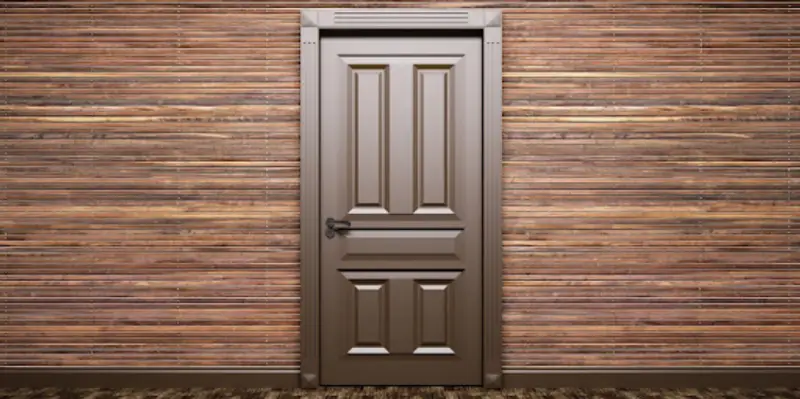 Open-concept homes are the popular choice for homeowners and builders alike these days, but we'll never completely eliminate the need for Denton door installation services, both interior and exterior. Interior entries give us privacy when we need it the most—or the opportunity to take a break from household members who are wearing away at our last nerve. Exterior doors provide a whole host of desperately needed services, including protecting our homes against intruders, harsh weather and energy loss. They also do quite a bit to boost the curb appeal of Denton homes.
If one or more of the entries in your residential or commercial property are in rough shape, you need door installation from a qualified Denton handyman. Getting your interior and exterior entryways back in excellent condition will make your home more comfortable and livable. A new door installation also offers better protection and could save you from excessively high energy costs.
Looking for some answers and advice on the best door installation options? Our Denton handyman service experts are here to help. This homeowners' guide covers what you need to know to plan a door installation that will stand the test of time. You can always trust the team of professionals at Mr. Handyman of Flower Mound, Lewisville and Denton for expert door installation services that will give you back your peace of mind.
What Should I Choose for Interior or Exterior Denton Door Installation?
There's a wide variety of styles available when it comes to both exterior and interior entries in Denton, so the choices can feel overwhelming at first and you may be tempted to just go with an option that is exactly like the one that's being replaced. There's certainly nothing wrong with that, but it's well worth your time to investigate the various possibilities and choose something that is perfectly suited to the needs of your home and household.
Of course, the location and purpose of your door installation will influence which styles and materials are going to work best. If you need a standard-sized interior door installation for a project such as bedroom or bathroom remodeling, naturally it makes sense to choose something that will match other similar interior entries. But if the entryway is leading to a common area such as a dining room, study or sunroom, consider more elaborate options such as windowed French doors that allow for the transfer of natural light between rooms and influence the interior design of the whole house.
Or, your door installation may be going in a place such as a narrow hallway that doesn't have a lot of space available for an entryway to swing open and shut, or a room where the entryway will usually be open and you don't really want them taking up space. In that situation, a pocket entry or barn door can be the perfect solution—it slides into the wall when the entry is open, keeping it neatly tucked out of sight and out of your way.
For an exterior Denton door installation, the safe, dependable choice is a classic style that complements the exterior of your home. If you have a mid-century modern ranch house, for example, it makes sense to look at front entryways designed to evoke the same era and style. If it's on the side or back of your home though, you may want to consider whether a sliding glass option or double garden entry would serve your needs best by giving you more light and making it easier to get out to the deck with a big plate of food for the barbecue.
Is My Denton Door Installation Covered by a Guarantee and Warranty?
Before you seal the deal and make a purchase, check to make sure your choice for a new door installation is covered by a manufacturer's warranty. That may not be as critically important for interior entryways, but exterior models should be covered so you can get a replacement at no cost to you in the unlikely event that you happen to get a faulty product.
Damage can occur during door installation services, so it's also a great idea to choose a professional installation expert, such as the ones on our Denton handyman team, who guarantee their workmanship. We have tons of experience with door installation, so we're very confident we can get the job done right the first time. But if, for some reason, it's not handled correctly, we'll make it right—that's our Done Right Promise.
What Type of Denton Door Installation is Most Durable?
Durability isn't necessarily the top priority for an interior installation, but it's extremely important for the exterior. If your home is a castle, the front door is your drawbridge. It needs to be capable of withstanding a lot of abuse, from wildlife attacks to being battered by storms.
If you just want something that will offer solid product performance and hold up well against normal wear and tear, fiberglass is a good choice. It's cost-effective, long-lasting and durable. It's also resistant to water damage and corrosion. But if you're looking for additional protection above the typical exterior door installation, consider choosing steel. It's a super-strong material that is highly durable and energy efficient, and it can be painted any color to perfectly match or complement the outside of your Denton house. Metal is susceptible to corrosion such as rust, but that can be avoided with some basic upkeep.
What Kind of Exterior Door Installation is Most Energy Efficient?
When you're planning an exterior installation, it really pays to think about which materials are going to provide the most energy efficiency by preventing air movement and heat transfer through the frame or entryway itself. Generally speaking, fiberglass and steel are your most energy efficient options as far as materials go, because they have the best insulating qualities.
Wood is usually less efficient, but not necessarily a bad choice, especially in a warmer climate like we have here in North Texas. The least efficient option will be any entry with a window in it, because glass is a very poor insulator. Any material option that is combined with a window will allow for at least some heat transfer.
Why Does Energy Efficiency Matter for Exterior Door Installation in Denton?
You may be wondering why energy efficiency is really such a big deal for exterior door projects. There are three key reasons why it should be a top consideration when you are getting a new exterior installation:
It takes a lot of energy to keep your residential or commercial property at a comfortable indoor temperature, which is why heating and cooling are the biggest expenses on your monthly utility bill. If your door installation is not energy efficient, it lets that warm or cool air from your HVAC system leak out and lets drafts from outside come in. That changes the temperature in the building and your HVAC system needs to operate for longer to compensate, driving up your energy costs on your bill until they are significantly higher than they were before.
If your entry has slowly deteriorated over the years, or it was not installed correctly to begin with, it can let moisture and cold breezes from outside into your house. That makes your home more uncomfortable and less livable, and it can also create moisture damage problems such as wood rot that can eat away at the timber in your home and cause serious structural stability issues.
Needlessly wasting energy strains resources like natural gas and electricity, which is not friendly to the environment. That's why the Energy Star program was created. It is jointly run by the U.S. Department of Energy and the U.S. Environmental Protection Agency to promote energy efficiency and certify products that meet certain standards of energy conservation.
What Are the Signs I Need Door Installation Services?
If you know the signs that your house or commercial property needs Denton door installation, you can call a professional handyman and get it taken care of before the condition worsens and causes bigger problems for your home. Here are some warning signs to watch for that indicate your entryway needs attention from a professional handyman:
You have to shove and pull to get your entry open and closed
Hinges are squeaky
Hinges are loose and wobbly
Rotten wood on the frame, jambs or entry itself
Insect damage such as maze-like holes or channels on the surface
Entryway window is foggy due to condensation trapped between panes
Peeling, flaking paint or wood stain
You notice cold drafts coming from the entry, even though it's shut
Visible light around the edges of your entryway
Knob doesn't turn
Difficult to turn key in lock
Entry has suffered impact or pet damage
Double doors are misaligned
Unattractive, outdated appearance
Door or jamb has been damaged by an attempted home intrusion
If you notice any of the issues listed above on your property, or there's something else happening with your entryways that is making them less convenient and effective, we can help!
Can Door Installation Be Done with the Old Frame Still in Place?
That is possible under some circumstances, as long as the original frame is in great shape and not "out of square." If the jambs have suffered warping from factors such as the house settling over time, or rotting timber, you'll need frame removal and replacement along with your door installation.
However, even if your frame is in great shape, it may actually be quicker and less costly to replace it instead of trying to get a new entry into an old frame. Many homeowners ask this question because they assume it would be easier and therefore faster, but that's usually not the case. Matching a new slab to an old jamb involves some tricky measurements, and one or both usually needs to be cut and adjusted so they can match up properly. Those extra steps actually take quite a bit of effort, time and skill. It's definitely something that is best left to a Denton door installation professional with plenty of experience.
Do I Need Storm Door Installation in Denton, TX?
That depends on the needs of your household, but generally speaking, it is an added amenity that will offer your actual entryway increased protection from the elements in Denton. Here are some benefits of storm door installation:
Additional protection against intrusion, vandalism and rough weather
Extends the lifespan of your entryway by protecting it from the elements, so you can avoid replacement for longer in the future
Interchangeable storm doors have glass panels that can be swapped out for mesh panels in warm weather, so you can get a bit of added insulation in the winter and enjoy fresh breezes in the house on summer days
Makes it easier to keep small children and pets safely contained inside the house when you want to let natural light and fresh air in through the entryway
Screen doors are similar to storm entries, but they are a lot simpler in construction. They only have mesh panels and may or may not feature a latching mechanism.
Count on Mr. Handyman for Expert Denton Door Installation!
Whether you are in Denton or a nearby community such as Flower Mound or Lewisville, you need to know that your exterior and interior entryways are in excellent shape. The team of service professionals at Mr. Handyman of Flower Mound, Lewisville and Denton offer trusted door installation and additional repair services that will restore your home to a safe, comfortable, attractive condition.
Pick up the phone and give us a call today to book a convenient appointment time with our door installation experts, or to speak with our knowledgeable customer service staff about what else your property needs to be in perfect working order.