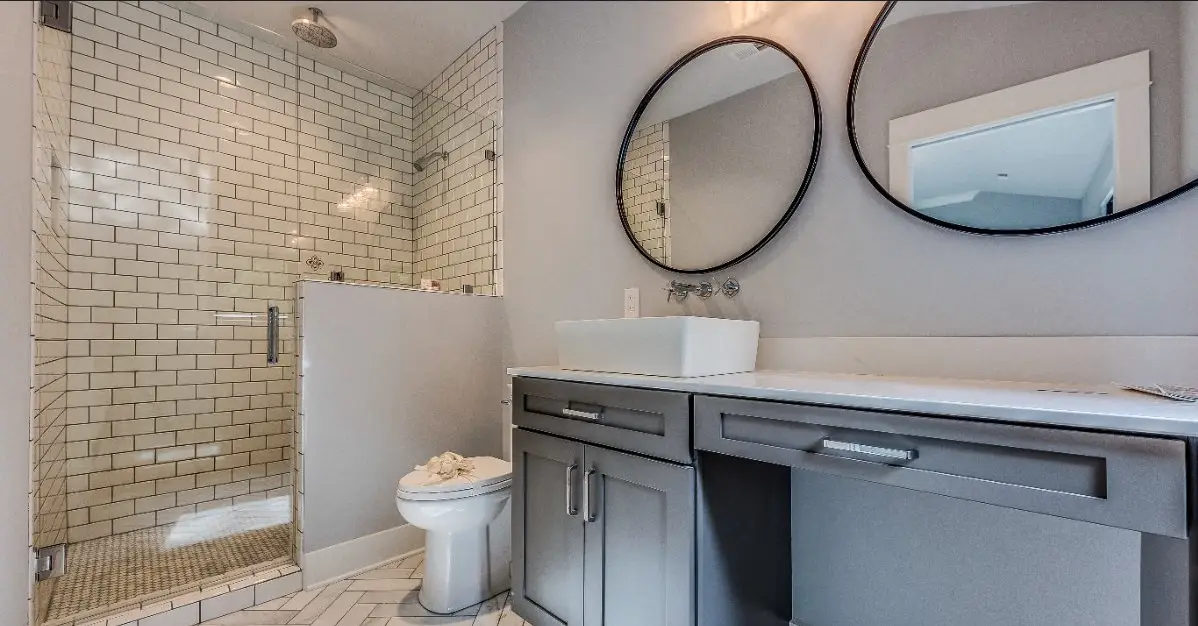 A new day is dawning, so you get out of bed, yawn, stretch and head to the bathroom—only to be faced with a dark, dingy room full of features that don't function properly and don't meet the needs of your household. Or, you get home from a long, hard day at work, ready for some rest and relaxation in your own personal spa—but you don't have a personal spa, just an ugly, outdated bathroom that makes you want to keep your eyes closed the entire time you're in there. If those scenarios sound all too familiar, it's beyond time to call a qualified handyman for Cincinnati bathroom remodeling.
When it comes to a bathroom remodel, Cincinnati homeowners have a lot to think about. This is the perfect opportunity to get your dream bathroom that not only looks incredible but is also perfectly tailored to accommodate your household's unique needs and make your daily routine easier. What exactly that entails is different for everyone, so it makes sense to take your time while planning and choose an experienced handyman professional who is capable of handling every part of the Cincinnati bathroom remodeling process smoothly and efficiently.
If you're ready to get started on your bathroom remodel, so are we! Count on your local Cincinnati handyman for dependable customer service and remarkable workmanship. The team of service professionals at Mr. Handyman of Greater Cincinnati have decades of combined experience in remodeling and repair trades, so we know what it takes to get the job done right and can take care of your entire Cincinnati bathroom remodeling process from start to finish.
Our Experienced Cincinnati Bathroom Remodel Services
Whether you need a couple of smaller touches to get a powder room looking great and functioning properly, or you need a complete overhaul to get that bright and spa-like master bathroom you've always wanted, the planning phase can be the biggest challenge of the whole project—especially if you don't have much experience with planning Cincinnati bathroom remodeling.
When you have a clear picture in mind of what you want for your bathroom remodeling in Cincinnati, you can count on the experienced team at Mr. Handyman of Greater Cincinnati to get the work done efficiently, on time and to your exact specifications. We are experienced with a wide range of services, including everything necessary to deliver your dream bathroom remodel. The components of your particular project will, of course, vary depending on your vision for the finished results, but some of the services we offer that you may need are:
Window repair or replacement
Drywall repair or installation
Installing wall, counter and floor tiles
Toilet installation
Installing light fixtures and exhaust fans for ventilation
Installing single or double vanity
Fixture replacement
Bathtub installation
Shower head installation
Shower enclosure installation
Bathroom counter installation
Installing basin or pedestal sinks
Installing prefabricated cabinets
Applying a coat of paint to the interior trim
Applying wallpaper
Installing a shower grab bar
We expertly handle Cincinnati bathroom remodeling services, big and small, so no matter if you need one tiny adjustment made or would like to bring an entirely new bathroom vision to life, don't hesitate to get in touch with our experienced team. Not sure where to start? Our design experts will help plan out the logistics of your remodel and let you know what's possible for your bath spaces.
Cincinnati Bathroom Remodeling Project Scope
The first thing you need to decide on is the overall scope of your bathroom remodel. Cincinnati homeowners sometimes dive right into a renovation when they only have a hazy idea of how they want it to turn out. Unfortunately, that usually results in spending way more money and going a lot further than they actually wanted to, or they end up with some major regret over certain decisions that aren't easily reversed. Here are some "levels" of a Cincinnati bathroom remodeling project that can help you narrow down the extent of what you want to be done.
Switch Up Surface Materials: You may be just fine with the layout of the room and satisfied that it's in relatively good condition—but that doesn't mean you have to like how it looks. If you can't spend another day looking at that hideous backsplash tile while you brush your teeth, or the surface material on your vanity countertop makes it look permanently gross and dingy no matter how much you scrub, it's possible that the only Cincinnati bathroom remodeling task you need is a surface refresh. By replacing tile and other surface materials on the floor, walls, countertops, bathroom cabinets and inside the shower, you can give the whole room a brand-new, fresh, appealing look that will make a big difference in how you feel about spending time there.
Conversions: Sometimes, focusing on one part of the room, in particular, can get you the change in function that you really need. For example, if you've got a bathtub and shower combination but you only ever use the shower part, a tub-to-shower conversion is an excellent way to ditch a large, awkward fixture that you don't even use and replace it with an extra-large, luxurious shower remodel that will enhance your bathing routine and make the entire bathroom feel more open and airy.
Start From Scratch: When you need to go beyond just swapping out some tile or getting rid of the tub, you may be ready for this level of Cincinnati bathroom remodeling. Starting from scratch basically means removing everything—tile, fixtures, cabinets, even lighting—and replacing it all with new items and materials. If you want to change pretty much everything about the room, this is the way to go.
Alter Your Bathroom Floor Plan: If you're thinking about changing your bathroom layout by moving certain fixtures, such as the toilet, to a new location, give careful consideration to whether that's really necessary. In some cases, it may not be possible for your Cincinnati bathroom remodeling contractor to relocate fixtures because wastewater lines need to be as close to the main plumbing stack as possible. The shape and square footage of the available space may also put a damper on your plans, as most bathrooms stick to one of a handful of standard layouts that are intended to maximize floor space in a small area. Finally, keep in mind that moving bathroom fixtures to new locations is going to be considerably more costly than simply putting a new fixture where the old one used to be.
Go For a Different Style: There are hundreds of styles to choose from for your bathroom, including modern, vintage, coastal, farmhouse, rustic, and more. Depending on the style you choose for your space, you may incorporate different products and accessories such as soap dishes, shower curtains, and decorations, but the certain style you choose will also influence the type of fixtures (your toilet, tub, sink, towel rack, etc.) you go with. Bathroom improvement projects can incorporate small, medium, and big modifications, but no matter the size of the job, you want to guarantee outstanding service and workmanship from the company you hire. When choosing Mr. Handyman, that's always what you'll get. While we'll leave browsing through bath remodel design ideas up to you, we'll carefully install your chosen fixtures, cabinets, shower, and tile precisely to your preference.
Let Our Experts Handle Your Bathroom Remodel in Cincinnati
Would you like to know more about our approach to bathroom remodeling, or do you have questions about our other helpful home repair, maintenance and improvement services? Give us a call to speak with our knowledgeable customer care staff and get the answers you're seeking.
Along with reliable and professional services for projects such as bathroom remodeling, Cincinnati homeowners like you can count on us to deliver a wide range of experienced services such as kitchen remodeling, wood rot repair, door installation and much more. But don't just take our word for it—check out our long list of positive reviews! We're Cincinnati's top-choice handyman and bath remodeling company for a reason, well-equipped to tackle whatever home improvement job you need to be done!
Whether you prioritize on-time arrivals and respectful service professionals, or a wide range of services and high-quality workmanship, we guarantee you'll get all of these qualities and more when choosing our qualified team. What's more, we back every one of our services with Neighborly's Done Right Promise. This means you'll never have to worry about our expert craftsmanship as we promise to do the job right the first time!
Frequently Asked Questions About Cincinnati Bathroom Remodeling Projects
You likely have a ton of questions about Cincinnati bathroom remodeling, but don't stress. You can get them all answered with one quick call to our knowledgeable customer service team. Looking for answers online? Check out our responses ahead to some of our most frequently asked questions.
How Do I Budget for a Cincinnati Bathroom Remodel?
When you sit down to make a budget for a bathroom remodel in Cincinnati, you often want to know the average bathroom remodel cost first—and for the record, the average spend in the United States is around $11,000. However, in our experience, it's not all that helpful to know the average cost because it encompasses such a wide range of potential price points, from a few thousand dollars to pushing right past $30,000. It also doesn't reflect the price of the specific Cincinnati bathroom remodel work that you want to be done in your house.
When you're trying to figure out what to prioritize in your budget, think about the qualities and features in a bathroom that matter most to you. Are you all about taking long, hot, relaxing baths? In that case, putting extra funds towards a luxury jet tub makes perfect sense. Do you strive to have every room in your house look like it just popped out of the pages of an interior design magazine? Putting more of your budget towards finishing materials such as marble countertops could be the right move. Allocate your budget to cover the things you need, but make sure to give some weight to the things you want and features that will make your entire Cincinnati bathroom remodeling process worth it in the end.
The first step in the process? Getting an estimate from an experienced bathroom remodeler. Give us a call today and speak with one of our friendly representatives to get the process started.
How Do I Prepare My House for Bathroom Remodeling in Cincinnati, OH?
If you've scheduled our experienced handyman team for Cincinnati bathroom remodeling and the start date is fast approaching, you may be wondering what needs to be done to get your house ready and help everyone go smoothly throughout the bathroom renovation work. Here are a few tips on preparing for a bathroom remodel:
Remove all items from the room that is being remodeled, including items in drawers and cupboards, textiles, shower curtains and wall-hanging items such as framed photos
Make sure there's a clear path from your door to your bathroom, with plenty of room to carry large, heavy or awkwardly shaped items through the house
Lay down old carpeting, drop cloths or something similar on that path to help contain dirt from work boots
Remove furniture and items that are close to the bathroom door, or cover them with drop cloths or plastic sheeting to keep sawdust off of them
Prepare an area for pets where they are safely contained away from the noise and commotion of your Cincinnati bathroom remodeling project
Make plans to use a bathroom elsewhere during the duration of the work—remember that even if you have another bathroom in the house, the water may need to be shut off completely, leaving it unusable
How Do I Make My Bathroom Remodel in Cincinnati More Accessible?
If you have mobility challenges that can make it difficult to complete your bathroom routine comfortably and safely, or you want to make your bathroom space more accessible for a loved one with reduced mobility, a Cincinnati bathroom remodel is the perfect time to consider some additional modifications. Accessibility starts with simple modifications such as a raised toilet seat that makes it a lot easier to transition between standing and seated positions or grab bars that are positioned correctly to offer stability and support in slippery areas like the shower. It can also be as simple as swapping cabinet hardware for touch mechanisms that are easier to open for people who have difficulty grasping small handles or knobs.
Accessibility modifications can also include larger projects, such as putting in a walk-in shower during your bathroom remodel. Cincinnati homes typically feature showers that have an edge or lip that needs to be stepped over, which can present an obstacle for anyone who has difficulty lifting their feet off the floor. Walk-in tubs are also an option—they feature a "gate" that swings open to allow access and seals shut so the tub can be filled with water once you're comfortably seated inside. Whatever you need to make your bathroom remodel more safe and accommodating, you can count on our team of quality bathroom remodelers to make it happen.
Can a Cincinnati Bathroom Remodel Improve Property Value?
Absolutely! The right Cincinnati bathroom remodel is a great choice for homeowners who are thinking of putting their house up for sale on the real estate market in the near future. The average return on investment in the selling price of the property makes it worthwhile, but it's also a great way to impress potential home buyers and make it a lot easier to get a quick sale. Along with the kitchen, bathrooms are the most utilitarian parts of a home, and most prospective house buyers are looking for a bathroom that looks new and clean so they don't have to worry about the bathroom remodel process after they move in.
If you've got property value and selling power in mind for your Cincinnati bathroom remodeling project, the best course of action is to stick with simple, classic designs that help home buyers imagine themselves living there. A neutral design makes it easier to picture the room filled with their own belongings and imagine it becoming part of their daily routines. If you're not sure how to make that happen, white or neutral colors like gray and beige are a good place to start. Beige ceramic tile and white cabinetry may seem too bland and boring, but remember, you can always dress the room up with colorful textiles and artwork.
Planning a Cincinnati Bathroom Remodel? Mr. Handyman Can Make Your Vision a Reality!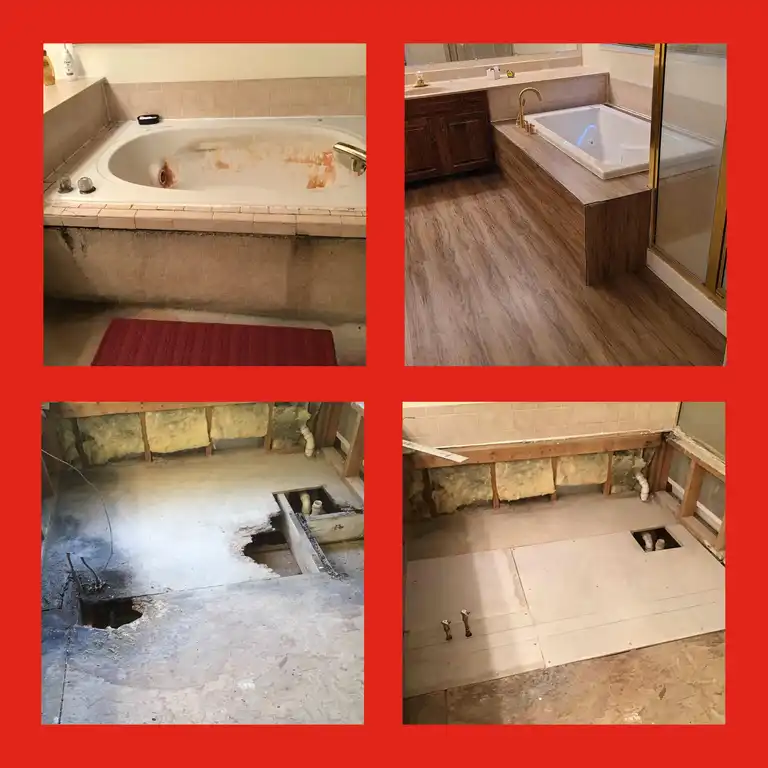 If you're dreaming of a luxury bath remodeling project and don't know where to start, it may be time to speak with the professional team at Mr. Handyman. With us, you can always count on professional installation, repairs that last, and expert recommendations to create your dream space. What's more, we offer a warranty on our workmanship, meaning that if our work isn't up to your standards, we won't stop until we make it right. Be sure to take a look at our verified reviews to learn more about why so many locals love the quality of service we provide.
Are you living in Hyde Park, Landen, Blue Ash, Mason, or other communities near Cincinnati, OH? You can get the same outstanding bathroom remodeling service and dedicated customer care as your Cincinnati neighbors from the team of professionals at Mr. Handyman of Greater Cincinnati.
Pick up the phone and get in contact with us right now to find out more about our reliable handyman services in the Greater Cincinnati area, or book a convenient appointment time for service using our online
contact form
.