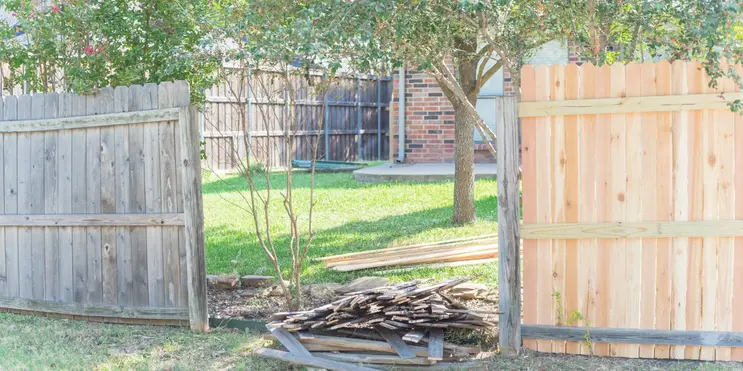 According to famous American poet Robert Frost, "Good fences make good neighbors." According to the American Society of Landscape Architects (ASLA), they also make good investments. In fact, ASLA estimates that landscaping, which includes hardscaping features, could add 20% or more to your property's value.
It's important to keep in mind, though, that the return on any investment requires maintaining it. Remember, it's good fences that make good investments; not old, rusting, sagging, or otherwise dilapidated structures. Periodic Keller fence repair is, therefore, essential to protecting your investment. Read on to learn the top signs that it's time to consider Keller fence repair service.
When that time comes, put your trust in your local Keller handyman to get the job done right. The team of service professionals at Mr. Handyman of Keller, Roanoke, and Alliance has plenty of experience with Keller fence repair and installation services, along with dozens of other reliable handyman services in Keller, TX, and nearby areas.
Different Types of Fencing Have Different Needs
While it may feel that way sometimes, wood and chain link are not the only options for fence materials. Homeowners can also choose from wrought iron or other ornamental metal, vinyl, or composite materials.
If you're investigating Keller fence repair, it's likely you already have a particular type installed. Hopefully, you've kept up with the basic DIY maintenance tasks your particular type requires. Maintenance for all types of materials involves conducting periodic inspections, weeding and removing debris, and oiling hinges and other moving hardware. However, specific types of fences have additional needs. Not up to the task of giving your structure all the TLC it needs? Count on your local handyman professionals for skilled Keller fence repair and maintenance.
Maintaining Wood
Basic maintenance for a wood fence installation, whether it's a cedar fence or some other type, requires keeping it clean and free from rot, insects, and other factors that cause decay. At a minimum, this means giving your structure a good cleaning at least once a year.
You could purchase a specially formulated cleaner from your local home improvement store, or use soap and water. Fence staining and sealing every two to five years will make these yearly cleanings easier. A good fence stain will also help maintain its structural integrity and appearance.
Maintaining Chain Link
Chain link is relatively easy to maintain. Cleaning requires soap and water—or even just water from a high-powered hose or pressure washer. Most important for chain link fence maintenance is preventing rust. Spraying the structure with a rust-resistant coating each year will significantly increase its longevity and keep it looking as good as new, so you don't need repair as frequently.
Maintaining Wrought Iron
As with chain link, wrought iron's worst enemy is rust. Inspecting for and removing the first signs of rust is key to maintaining your wrought iron. A fine wire brush and rust converter—available at your local home improvement store—are the tools of the trade here. In addition to keeping the rust at bay, you'll want to maintain your iron structure's curb appeal by protecting and touching up the paint job. When this is necessary, be sure to use a primer before applying a finishing coat of oil-based paint that is made for use on metal.
Maintaining Vinyl
Vinyl fences are among the lowest maintenance options. At a minimum, they require a yearly cleaning. You could use a long-handled brush to give it a good scrubbing, but that's a lot of time and labor—we can make the job easier, faster, and more effective with professional pressure washing. Here's why Keller pressure washing services are more important than you think.
Maintaining Composite Material
Composite materials, which use recycled plastic, wood, and resin, combine the aesthetic appeal of wood and the easy maintenance of vinyl. Like vinyl, the composite material can be cleaned with soap, water, and a stiff-bristled brush or a good power washing. Composite cleaners available at your local home improvement store are another option.
Top 10 Signs It's Time To Consider Keller Fence Repair Service
You've done your due diligence and conducted your yearly maintenance, periodic inspections, and cleanings. You're noticing, though, that those DIY measures aren't doing the trick. Your barrier looks old and unsightly. Maybe it even sounds old. It's time to call in the experts from a Keller fence company when you notice any of these 10 signs.
1. Broken Boards
Cracks, dents, or holes in the boards are among the most obvious signs you need repair services. Wood is most likely to exhibit these signs. Wood is vulnerable to deterioration from wood rot and insect damage. As the wood decays, you may notice cracks in the boards or even places where pieces have broken off. Although it's less likely, vinyl and composite material could also crack or develop holes due to accidents or extreme temperatures.
When the damage is limited to a small area, a licensed handyman can complete a more limited Keller fence repair by replacing the damaged boards or sections. Your handyman will also help you decide when the damage is too extensive. As your structure ages and the repair cost increases, however, it may make more sense to install a new one than to repair the old one.
2. Sagging, Warped, Leaning, Bent, or Otherwise Unstable Posts
Regardless of the material, your fence posts are essential to maintaining its structure. When posts have, bend, crack, or warp, this puts pressure on the boards. It could also cause the entire structure to lean and eventually fall down. Acute damage from high winds will weaken the posts in various types of material. However, chronic damage could also develop at the base of the posts that require repair.
When your structure was installed, the builder secured each post in a concrete foundation. If this foundation begins to crumble, posts become unstable. Signs that the concrete foundations of your posts are deteriorating include pooling water, shifting soil around the post, and crumbling of the concrete base.
Early detection of these problems and early intervention to replace or reset individual posts is key to preventing further damage. Sometimes post repair brackets can provide a relatively easy fix for a loose or leaning post. In other cases, a Keller fence repair expert may need to reset the post. If multiple posts and their foundations are loose or crumbling, it may be time for a new installation.
3. Contact With the Ground
A well-installed and maintained structure should show a slight and relatively even gap between its bottom section and the soil, mulch or grass below it. If you notice this gap decreasing, becoming uneven, or disappearing, it could be a sign that your barrier is becoming unstable.
Sometimes the fence itself isn't the problem, though. Sometimes the ground shifts or soil and mulch gather near the bottom of the structure. Even these cases where the structure isn't the problem can become a problem that requires Keller fence repair—especially for wood; contact between the bottom of the structure and the ground can lead to wood decay and overall instability.
4. Insect or Other Pest Damage
Maybe you haven't yet noticed your wood deteriorating, but you have noticed signs that pests are enjoying your structure more than you are. Perhaps you've noticed the wood appears swollen in places, or there are other signs of moisture damage. Your structure is buckling in places, and you don't see an obvious cause. Or you actually see insects crawling or their tracks (or mazes) scrawled across your structure.
If you notice any of these signs, it's time to call a professional Keller fence repair expert without delay. Doing so quickly will ensure that the damage doesn't worsen. Delay might mean that you'll need to replace rather than repair your structure.
5. Discoloration
All types of materials can exhibit discoloration. Of course, this discoloration is a problem because it is unsightly. However, the discoloration can also indicate bigger problems. Wood, vinyl, or composite can show stains as algae or water damage develops. White vinyl in particular can develop a greenish tint due to algae growth. Fortunately, algae on vinyl is mostly a cosmetic issue. Again, though, the discoloration from wood rot or insect infestation on timber can be a symptom of a Keller fence repair problem. The graying of wood is also a sign that the wood is drying out. This is also problematic because dry wood splits, chips, and splinters more easily.
Discoloration from rust can, likewise, be a big problem for a chain link or wrought iron fence. If the rust is severe and resistant to your efforts to remove it, it may be time to involve a professional Keller handyman. Widespread rust may also indicate that it's time to replace rather than repair a chain link or wrought iron structure.
6. Noisy, Loose, or Broken Hinges
Even wood, vinyl, and composite structures include metal parts on gates and hinges. Without proper greasing, these hinges can become noisy. If you notice that your gates and hinges are not just noisy but loose and even broken, you may need a Keller fence repair expert. In fact, a structure's moving parts are among the parts most easily damaged. Think about the human body, and this makes sense. In the body, it's the joints, like knees and elbows, that are most easily injured. Just as these joints are crucial to a well-functioning body, they are crucial to a well-functioning barrier.
Broken gates and hinges are not only inconvenient but also unsafe. Open gates can allow casual trespassers to enter your yard. In fact, burglars report that they look for signs of exterior disrepair. When they notice a broken latch, it offers easy access to the yard. More importantly, it also suggests that the rest of the property, including door and window latches, maybe in disrepair as well.
7. Loose or Bent Chain Link Fencing
Like broken hinges, loose or bent chain link fabric can invite burglars and other security threats. It's also unsightly and can be dangerous. If you or your child gets too close to a loose piece of chain link, then cuts and scratches may be the aftermath.
Most of these injuries will be minor, but any broken skin that results from contact with metal, especially potentially rusty or dirty metal, brings a risk of tetanus and other infections. Thus, it's important to maintain a chain link with Keller fence repair services to reduce this risk. A chain link repair expert can help you fix any loose or bent sections and secure the bottom entire edge of the fence with a tension wire.
8. Damage from Storms or Accidents
Storms can produce significant damage to every type of material. Wind, hail, and falling trees or branches are just some of the threats that can arise suddenly. Over the long term, excessive temperatures can also cause damage that requires Keller fence repair. Depending on the location, your front or backyard fence may also suffer sudden trauma from car crashes or backyard accidents involving children, pets or machinery.
When your structure suffers any sudden and significant damage, it's important to call a repair expert right away. A professional handyman can help you assess the damage, complete repairs if possible, or suggest replacing a structure that has been damaged beyond repair.
9. Multiple Warning Signs
If any one of the above signs means it's time to contact a repair expert, any of these signs in combination makes that contact urgent. A collection of even minor repair issues suggests that your entire fence may need more work than you can or want to do yourself.
Our team of Keller fence professionals has the tools and expertise to assess and address multiple issues efficiently and properly. This can save you time and money. Considering that Americans spend 10.2 minutes a day, or 3,723 minutes a year, maintaining the exterior of their property, these savings are significant.
10. You're Simply Ready for a New Fence
Maybe none of the signs above are staring you in the face, but you're ready for a change. Maybe you have a chain link, but you'd prefer a more sophisticated wrought iron fence. Maybe you have a wooden fence, and you're tired of the ongoing maintenance it requires. Perhaps a lower-maintenance vinyl or composite option is in your future. Whatever your needs and preferences, a professional Keller handyman can help you choose and install a new barrier. Then, as the need for maintenance and Keller fence repair arises, you'll be able to rely on that ongoing relationship for advice.
Need Keller Fence Repair? Count on Your Local Handyman Professionals!
Superior exterior fencing adds value to your home. Whether it's a standard style or a custom fence, it offers protection and it's aesthetically pleasing. With the Keller fence repair professionals at Mr. Handyman of Keller, Roanoke, and Alliance on your side, you don't have to worry about the condition of your outdoor structures.
If you notice any of the warning signs above or you're ready for a new fence, contact us today. We are very proud to deliver quality workmanship and premium customer service on every job—in fact, complete customer satisfaction is our top priority. Our service areas also include many nearby areas in North Texas, such as Trophy Club, Westlake, and Haslet.