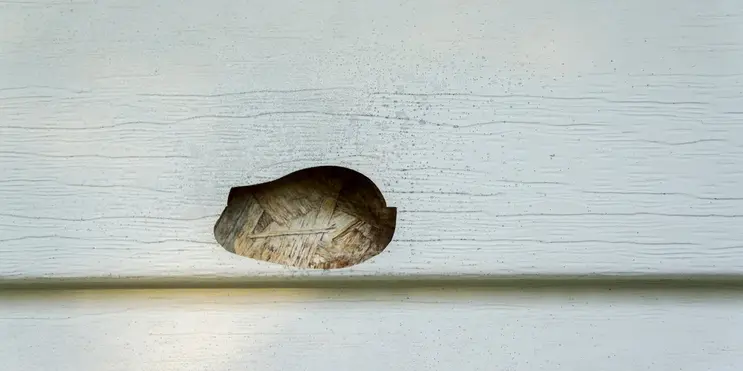 You could give your home a facelift with just siding repair. However, it can prove tricky to decide between repair vs new installation. Keller siding repair is an important part of caring for your home. By taking care of important features, you will prevent severe structural damage, save money and keep your home looking sharp.
Along with annual checks and maintenance, you should keep an eye on the exterior of your home. If you're vigilant about maintaining your exterior, you'll get a lot more life out of it and when the time comes for replacement, you'll be aware of the signs that it needs professional services. Every season, you should check to make sure that your exterior cladding is in good condition, just as you check your heater in the fall. If you see a problem that's beyond your ability, then it's time to make an appointment for Keller siding repair.
When that time comes, put your trust in your local Keller handyman to get your home's exterior back in excellent condition so it can protect your house. The team of skilled service professionals at Mr. Handyman of Keller, Roanoke, and Alliance have plenty of experience with deck repair in Keller and other nearby parts of North Texas, and we take pride in delivering the highest standards of workmanship and customer care on every home improvement and repair job.
Know the Signs of Siding Trouble
The exterior siding on your home makes a statement. It's a testament to your character and your sense of style. Also, it protects the internal structure of your residence. Antiquated or damaged cladding is more than unattractive; it could reduce the value of your home.
Damaged cladding is also a weakness in the barrier that protects the frame of your house. It can lead to moisture infiltration, which could, in turn, rot the beams that hold up your walls. If there is extensive damage, or you've let damage go unchecked for some time, a small Keller siding repair is most likely out of the question. Furthermore, your exterior may have suffered damage from pests such as termites if you haven't checked it in some time. Weather, cracks, fading, and peeling are all enemies of wood.
Fading is another big problem. The sun's persistent rays could cause your exterior to fade over time. A continuous cycle of freezing and thawing could cause some materials to become misshapen. Wood isn't the only material that's prone to warping and swelling. Moisture will also cause damage to steel in the form of rust.
Sometimes your exterior will have damage, but it will still look great. However, you may notice signs of moisture damage inside your house, like brown water stains on the walls and ceilings, softened, damp drywall, or rotting wood on interior trim. If that's the case, that moisture has to be coming from somewhere—it could be a hidden plumbing leak or leaky roof, but deteriorated material that needs Keller siding repair is a definite possibility.
Pest Infestations
Several common issues may warrant Keller siding repair or replacement. For instance, wood is especially susceptible to pests. Enemies of wood cladding range from woodpeckers to termites and carpenter bees. As nature's beloved creatures scavenge for a meal or look for a home, they'll tunnel through the wood. Just by doing what they were born to do, they'll compromise the integrity of your siding and decrease the energy efficiency of your home.
The holes that animals and insects leave behind expose the structure of your home to the elements. As a result, an infestation of any kind could cause the framework of your home to rot. In a worst-case scenario, a home overrun by an animal or insect invasion may collapse. If only a small area of your siding is damaged, you can get localized Keller siding repair for the area and spray pesticides to keep away bugs. There are also eco-friendly products that you can use on the foliage surrounding your house that will keep wood-eating offenders away.
Moisture Damage
Moisture is another serious issue with failed cladding. The worst moisture damage, however, happens when you can't see a breach in your exterior. Usually, you won't notice this type of damage until your exterior covering starts to warp or buckle. Lax maintenance will allow these kinds of small problems to become big issues that require Keller siding repair. Small problems begin with old paint peeling from the cladding. In time, this kind of breach could become something worse. This is why gutter services to keep your rain gutters in great shape are so important to avoid damage to everything from your roof to your foundation.
Today, many manufacturers market their material as low maintenance. However, that doesn't mean that you can install it and forget about it. Even the best cladding left unattended will fail given enough time. By scheduling a regular maintenance check and Keller siding repair services, your local handyman can catch small problems before they become major repairs.
Making Choices: Keller Siding Repair or Replacement?
If your siding is old-fashioned, you may want to consider updating the exterior of your home with new materials instead of getting repairs. An update will add curb appeal to your home, increase its value, and increase your energy savings. Modern materials require much less maintenance. Also, they're more attractive and better insulated compared to their predecessors. Accordingly, replacement makes more sense than Keller siding repair if the material is more than a decade or two old.
Alternatively, you may decide to replace only sections of your cladding. However, there's a big drawback to this plan. It's nearly impossible to get new material to match the old material, so the repair work is painfully obvious. A new section will look brighter than the rest of your home.
Some contractors in Keller excel at matching colors for existing siding repair. Still, it's highly improbable that even an expert can make new materials match old materials perfectly. The only way to overcome this obstacle is to paint the entire house after Keller's siding repair.
It helps to think of a new installation as an investment. Usually, homeowners get a solid return on their investment if they are planning on putting their house on the market within the next few years. New cladding is one of the top ways you can invest in your home to improve its value.
In addition to recouping your investment by increasing your home's value, energy-efficient, modern siding can also help you enjoy annual savings. Throughout the year, updated cladding can reduce the cost required to cool your home in the summer and heat it in the winter. Best of all, fresh cladding can make your entire home look brand-new. With a new exterior, you can say goodbye to your home's "That 70s Show" look and step into the architectural realm of a "Modern Family."
The Case for Replacing Wood With Vinyl
The beauty of wood is undeniable. However, vinyl is typically a more reasonable option for most of today's homeowners. Vinyl requires much less upkeep compared to wood. It doesn't need exterior painting. Most often, the only thing you need to do is wash it with a hose occasionally. This low maintenance benefit is usually a top consideration when homeowners ask themselves, "Should I get Keller siding repair or replacement service?" The idea of not having to care for wood is often hard to resist.
Vinyl also has its weaknesses. In some ways, vinyl is fragile. Impacts and extreme temperatures can cause vinyl to crack. When this happens, it's best to replace the damaged areas immediately. Some homeowners, however, can't resist the allure of wood or cedar siding, and that's fine. However, there are common issues with this type of exterior material.
Wood Is Attractive but Prone to Damage
Wood is subject to gouges. For example, heavy hail can leave deep marks in cedar and wood. Typically, you can repair damage to wood by sanding it and applying a fresh coat of paint to the area. You may also have to fill in the gash with outdoor spackle. Again, any such Keller siding repair is likely to leave signs of its presence, so painting is necessary to avoid disrupting the continuity of your home and diminishing its appearance.
Dampness is also an enemy of wood siding in Keller. Enough moisture can cause wood to decay. Wood rot repair usually involves replacing the affected timber altogether. In some instances, you only need Keller siding repair to replace a few shingles or boards. In other cases, however, you'll need to replace the whole wall instead of getting repairs. You can avoid most of these kinds of repair problems with annual maintenance. By caring for your siding, you can extend the life cycle of your exterior and your home.
Vinyl is Highly Durable and Damage Resistant
If you're vigilant in maintaining your exterior, it can last for decades with little maintenance and only the occasional Keller siding repair and pressure washing. Find out more about why Keller pressure washing services are more important than you think. Vinyl will protect your home from insects and moisture. For now, vinyl is the most affordable and popular choice among homeowners.
Hands down, vinyl is the best option when it comes to maintenance and durability. Furthermore, there is a seemingly endless selection of colors and styles for the building material. You'll never mistake vinyl for wood. However, manufacturers are getting better at making vinyl cladding that mimics wood materials.
The biggest weakness of vinyl that causes it to need Keller siding repair is fading. You can purchase colorfast options, but you'll pay more for them. There are other advanced features that you can choose for your vinyl. For instance, you can buy vinyl siding with fewer seams. Fewer seams will create a more unified look around your home. These panels are usually 12 to 13 feet long. You can also choose vinyl with a double hem. This kind of cladding attaches more securely to the wall. You can also choose vinyl with foam backing. Foam backing provides more insulation, cutting down on heating and cooling costs. There's also extra durable cladding that's resistant to intense climates. This kind is extra rigid and lies flatter and straighter. As a result, it's more wind resistant than standard cladding.
Keller Siding Choices: Know Your Options
Over the years, manufacturers have tried to introduce different materials to the housing market. However, a few materials have stood the test of time.
Wood
When considering new cladding, most homeowners love the appearance of wood. However, that passion fades once they realize the maintenance and Keller siding services involved with maintaining a wood exterior. Still, there are many beautiful styles, textures, and finishes of wood cladding on the market in Keller, and that most likely won't change in the foreseeable future.
Metal
At some point, manufacturers introduced metal siding to overcome the drawbacks of wood covering materials. For example, aluminum siding is a low-maintenance alternative compared to wood. Recently, however, the falling cost of steel has sparked interest among homeowners in using metal for cladding. Manufacturers also make aluminum and steel siding in a variety of styles that can even resemble wood.
Metal cladding is available in a wide variety of styles, including vertical and horizontal panels. It's also available in shingles. Usually, manufacturers will coat metal cladding with a corrosive-resistant, colored finish. You can also purchase unfinished metal siding that's galvanized to protect against corrosion.
Vinyl
For now, vinyl is the low-cost, low-maintenance top choice of most homeowners in Keller. Typically, manufacturers make vinyl cladding in strips with interlocking edges. Vinyl is available in a range of styles, including vertical and horizontal panels. It's also available in many colors. With vinyl, homeowners can choose their favorite color and never have to worry about painting. For homeowners who love the look of wood, vinyl doesn't disappoint. Manufacturers make vinyl siding that looks like wood shakes and shingles. As with any new siding installation, the quality of a contractor's work makes all the difference in the world. If a contractor installs vinyl incorrectly, it's likely to warp or buckle.
Trust the Experts to Care for Your Home With Keller Siding Repair
Mr. Handyman of Keller, Roanoke, and Alliance has the tools and expertise to perform perfect Keller siding repair or new siding installation for your house or commercial property. When you want a better final result from exterior services in Keller and nearby towns such as Alliance, Trophy Club, and Roanoke, our siding experts are up to the task.
Contact us today to speak with our friendly office staff about how we could get started on your project and give your home a fresh look with reliable handyman service. We can even help with other types of carpentry work, such as window repair, fence installation, and much more.