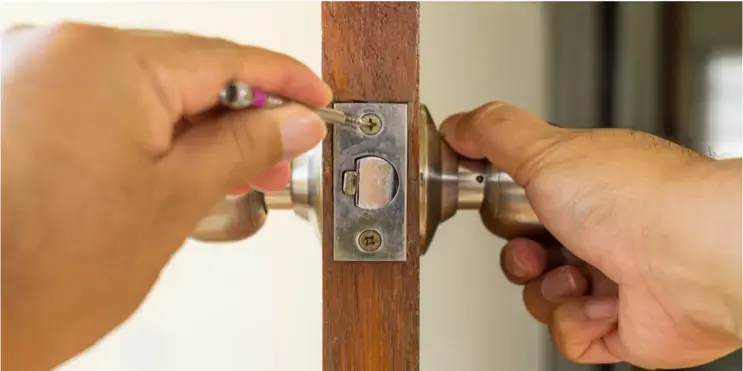 While they're one of the most underrated parts of your home, your doors are also one of the most essential. Thus, it's important to take care of them—whether they welcome friends and family into your place or provide privacy within a busy household. Like anything else in your home, numerous factors cause wear and damage to doors as time goes on. The good news is when you're looking for efficient door repair, your local Provo handyman at Mr. Handyman of Lehi, Provo, and Spanish Fork will guarantee that your entries are always in first-class shape. We are here to add security to your home.
We offer a range of door repair and installation services in Provo. From sticking latches to squeaking hinges, our service professionals can efficiently and professionally fix the problem. We provide outstanding repair and installation solutions for all interior and exterior entries. If you have damaged doors that are beyond repair, we also offer excellent replacement services. Continue reading to learn more about the top ten door repairs. Mr. Handyman of Lehi, Provo, and Spanish Fork is here to help you.
1. Loose, Tight, Rusty, or Damaged Hinges
Hinges typically start to wear down over time—especially on frequently used doors. A bracket's performance is affected by humidity, dust, constant use, and fluctuating weather. If left unattended, a small amount of rust could lead to serious corrosion. When a hinge corrodes, it might also break off entirely. Since brackets are what hold the panel to its frame and support its weight, severely damaged brackets could cause everything to fall. Prevent the risk of injury and keep your family safe by calling our experienced technicians to repair or replace damaged hinges immediately.
2. Misaligned Wheels
Hinge doors are not the only models that need repairs from time to time. Sliding varieties have their own set of problems as well. Whether you have sliding tracks on your closets, patio entries, screen doors, or shower doors, you've probably already noticed that they don't always work properly. Misaligned wheels and other issues with the track mean the sliding door will stick and have trouble functioning properly. This can make it frustrating, if not impossible, to use. Instead of struggling with an entry that won't slide properly, call our highly trained and versatile technicians. We'll carefully replace or re-align wheels and tracks, so they work smoothly.
3. Irritating Noises
Squeaking sounds are, without a doubt, annoying. But luckily, it's a relatively easy fix with the help of one of our expert service professionals. Whether the hinges need lubricating, are too tight, or are too loose, your local Provo handyman can replace damaged hinges, re-align the frame or make the necessary adjustments to fix the issue efficiently. You won't have to stress about squeaking anymore!
4. Opening and Closing Issues
Opening and closing your entrances should be easy. Not only because it's frustrating when they don't work properly but also because it's a safety concern. If you feel like you have to body-check the door just to get it open, you need handyman service. Moreover, if you're dealing with problems such as sticking, uncooperative knobs that won't turn, or obstinate panels that always seem to swing open right after you close them, then you likely have an alignment issue. A few reasons why this could happen include:
Hinges are too loose or tight
Panels have warped from humidity or insect damage
Latches are too high or low
Latches are misaligned
Your home's structural foundation has shifted, which has resulted in a warped jamb
These issues could also result in cold air leaking in from any gaps during the winter and heat escaping when you want it most.
5. Damage from Wear-and-Tear
Humidity and changing temperatures cause damage throughout your home, including to your doors. If you often leave windows open, your HVAC system is not working properly, or you have poor ventilation in your bathroom, then moisture can cause mildew and wood rot to form. Furthermore, other environmental factors from everyday use can wind up damaging your entryways. For instance, pets scratching or chewing at the frame, the age of materials, and accidental slamming could hurt both functionality and aesthetics down the road.
6. Outdated Appearance
Sometimes, your door might work as it's supposed to, but you don't like its style. Maybe you've recently renovated, and your entrances don't match the rest of your home, or they were never your taste even when you first moved in. The good news is that you have many options to choose from! And our team is more than happy to help you update your old models.
7. Inoperable Knobs
When your knob doesn't lock or turn, doesn't line up with the latch, or is sticking, it's time for a replacement. Our experienced repair experts will let you know why your handle is not working properly, be transparent about your options to fix it, and efficiently complete the necessary repairs.
8. The Latch Does Not Work
It's very important for your exterior entrances to lock correctly. This is also true for any interior doors that create privacy—such as the entries to the bathroom. It's frustrating when a latch fails you and, more importantly, can leave your home vulnerable to break-ins.
If your latch doesn't work correctly, there could be a number of problems affecting the lock. The frame might be twisted, and the latch bore (the small hole opposite the lock that connects with the latch) no longer lines up correctly. As a result, the lock will be practically useless. Keep your home safe and maintain privacy by getting the latch fixed right away.
9. Garage Door Issues
Even if you're on top of caring for your household entrances, it's easy to neglect your garage! When you need garage door repair service because the opener has stopped working, the garage door weather stripping is worn down, or the door itself is looking rundown, trust your local Provo handyman to fix it. Whether a quick paint job will boost your curb appeal or you need to repair the surrounding parts of your garage, we can help.
10. Damaged Beyond Repair
Sometimes, you need door installation services to fix an entryway that's been severely damaged. Perhaps a storm blew a tree branch into your porch, a flood caused serious water damage, or a car backed up into the entryway. When disaster strikes, our team at Mr. Handyman will make things right.
Why Provo Door Repair Is Important
Oftentimes, people ignore small issues like opening and closing issues, irritating noises, or loose hinges, but this is because they may not consider the implications of the effects these problems can have on them and their house.
Home Security:
What good is a home with a latch that doesn't function properly? What's stopping someone from walking into your home without your permission? A latch that doesn't always work may not seem like a huge deal, but that could be the only thing stopping a burglar or trespasser from entering your home while you're not home or worse, while you are. Don't leave your house unlocked, hoping you'll be safe. Instead, get prompt, reliable repairs from one of our skilled technicians.
Quality of Life:
How many times do you pass through a door a day? Now, how many times does someone in your household pass through it as well? Adding those up, you can see how disruptive a squeaky hinge is to your daily life. Hearing the same irritating sound consistently throughout the day can be detrimental to your quality of life. Why continue to allow your day to be negatively impacted by something as simple as a squeaking noise every time someone enters a room? Why let a simple project for a Provo door repair professional be a distraction in your daily life?
Love Your House Again:
After a while, people begin to feel neutral about the place they live in. Seeing the same doors and other furniture every day can begin to give a bland feeling. Our Provo door repair services include replacements that can make you feel like your entire house has been renovated with new styles and colors. Not only that but removing wear and tear from doors will make your house feel brand new again too. Let a Provo door repair expert help you love your house again.
Convenience:
What good is a door that won't function properly? A door that constantly sticks is a consistent inconvenience for anyone. Misaligned wheels or door knobs that only lock some of the time have a similar effect. Adding extra steps to your already rushed morning routine to jam your closet door back onto its track can cause a headache before you've even started your day. Let our professional technicians help you take back your day by removing these inconveniences from your daily life.
Door Repair: Provo, UT FAQs
How Much Is The Cost of Provo Door Repair or Replacement?
It really varies, depending on the wide range of material types. Furthermore, it also depends on where you order from because some companies add a surcharge on sourcing. In terms of repair, it depends on the severity of the damage. If an entryway is chopped in half by an intruder, it will cost significantly more than changing the lock on a door. If you want to learn more about pricing, please give us a call and have one of our service technicians give you an estimate to put your mind at ease about door repairs.
Provo UT homeowners who need a replacement can choose from a wide selection, from wood to steel to glass. While standard fiberglass is a generally popular choice, there may be other materials that are more suited to your needs. It's important to consider both how a material functions as well as its cost when choosing a replacement for installation, especially for exterior doors in your home.
More complex interior styles, such as double doors, French doors, or sliding doors, can cost more than the standard options available in Provo. When deciding on your preferred style, it's important to consider how its price, material, and style could affect your future replacement or repair costs.
How Much Does Door Installation Service Cost?
A door typically lasts for between 15 and 30 years, depending on the weather conditions faced and how well it's maintained or used. With the large variety that exists, some may last longer than others, but eventually, they will all need replacement, and the cost of installing something new will generally depend on the model you choose, as well as the condition of your surrounding frame.
A custom-made door is typically the most expensive, especially when you factor in the potential cost of supplies, fees, new locks, labor, and tracks. While a new installation may seem expensive, it could increase your home's value by giving it a new beautiful look with high-quality materials that increase energy efficiency. Plus, you can't undervalue the added security of a new door.
Need Expert Door Repair? Provo, UT Homeowners, are in Luck! Get in Touch with Mr. Handyman Today!
When you need door repairs in Provo, we're the team for the task. Whether your screen has torn, you require entry door repair, have an issue with misaligned double doors, or the bathroom won't lock correctly, we've got it covered. Our experienced team of service professionals has more than a decade of experience serving customers with quality service. There's no job either too big or too small for us to handle! In fact, we're recognized throughout Provo for our excellent customer service.
We've helped countless homeowners with a wide variety of door repair needs throughout Provo and many nearby areas, such as Lehi and Spanish Fork.
To book an appointment with our team of service professionals or learn more about our additional services, we invite you to call our friendly customer service representatives . We're ready to help with everything from door repair and deck repair to your next bathroom remodel.