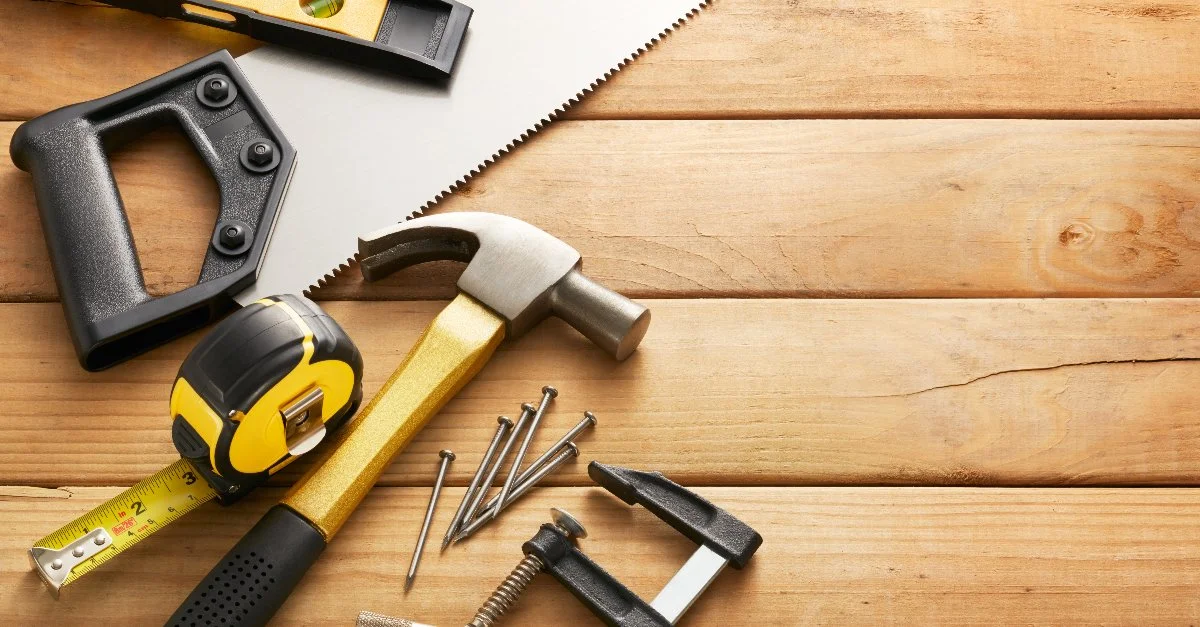 When you're looking for the best place in Madison County to raise your kids and buy a home of your own, you've likely chosen Glen Carbon. Besides the sparse suburban feel, you have essential services, social activities, and hiking trails nearby, so you'll never run out of things to do. You're also close to the main highways, so commuting to work in the city is more than convenient (if there is no major traffic).
When you lead a busy life, it's easy to fall behind with things that you need to do around the house. However, maintenance tasks are more than just gardening, vacuuming, and sweeping. Routine maintenance and minor home repairs help you stay on top of the health of specific systems on your property that make your home safe and comfortable. Examples include your gutters, soffit and fascia. While some duties are not safe for homeowners to perform, they can rely on their local Glen Carbon handyman services.
Mr. Handyman is a locally-owned and operated handyman company, committed to serving our local community of Glen Carbon and surrounding areas by providing exceptional outdoor and indoor repair and maintenance services. Every service provider on our team is background-checked, bonded, and fully insured, bringing an average of ten years of experience helping residential and commercial property owners with professional upkeep, repairs, and various improvement projects.
Glen Carbon Handyman For Home Maintenance And Repairs
Many of our local customers are experienced homeowners who take their routine maintenance services very seriously. They chose to have Mr. Handyman on speed dial to ensure they don't fall behind with seasonal maintenance duties that include gutter cleaning, pressure washing, deck sealing, and, if applicable, repair projects too.
GUTTER CLEANING
As one of the most overlooked exterior cleaning duties, we don't blame homeowners for dreading gutter cleaning. Not only is it a grimy task, but you're also required to climb a ladder to inspect your U-shaped metal traps for clogs. We have found that not many people are aware of ladder safety. Ladders kept in the shed or garage are prone to rust and corrosion and require periodic inspections and repairs. Otherwise, in the event of an accident, your insurance may not provide coverage for any injuries.
If it has been a while since your last gutter cleaning service, you may need more than just maintenance. Your local Glen Carbon handyman will go the extra mile to inspect the surface areas, as well as take a look at your soffit, fascia, and even check your attic and siding for moisture damage.
Once we have determined your rain gutters' health and discussed with you any potential repair needs, we'll either use a gutter scoop or a pressure washer to clean the system from grime and debris. Often, weather damage can deteriorate the protective coating on the aluminum and restrict water flow. Or perhaps you have leaky gutters because the weight of a clog loosened the joined areas. When hiring an experienced handyman, Glen Carbon, IL homeowners will get the peace of mind knowing that no details will be missed.
SIDING, SOFFIT, AND FASCIA MAINTENANCE AND REPAIR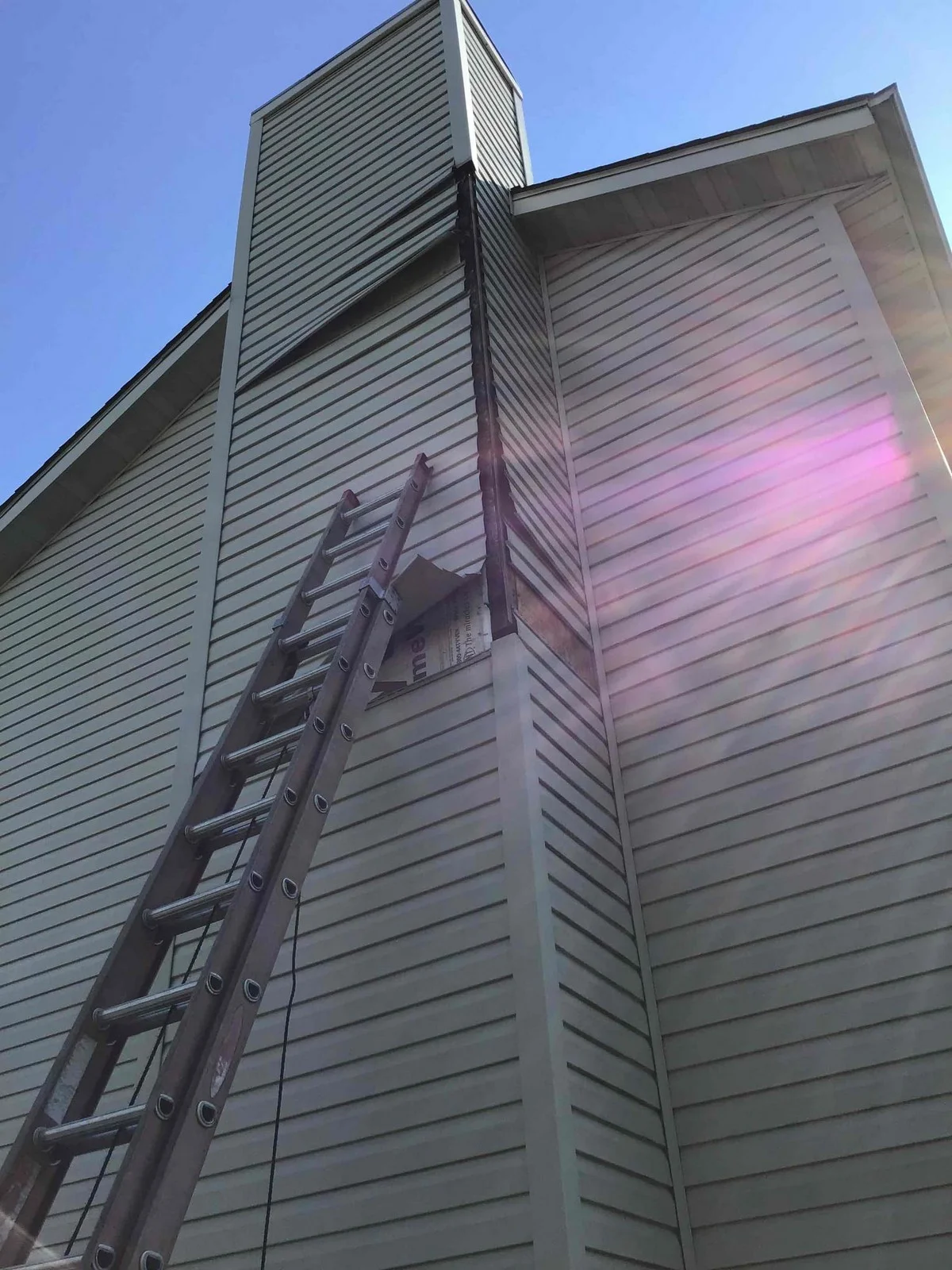 Mr. Handyman believes that soffit and fascia deserve more attention because they are essential parts of your rooflines.
Soffits are the perforated aluminum system underneath your roof eaves that extend to the siding. Working in combination with your fascia boards, soffits are designed to protect your roof rafters from the elements by keeping out moisture, so the air in your attic is well circulated. As long as your rain gutters are effectively redirecting stormwater away from your property, you won't have to worry about blocked vents.
On the other hand, fascias are the long boards that run along your roof's edge. You may not see some structures, because they're primarily made to hold rain gutter systems in place. They also play a huge role in protecting your roofline from water and also contribute to your home's curb appeal. Nowadays, most fascia boards, like soffits, are made of aluminum, but it's common to use wood materials like spruce, cedar, and fir. Wood-based materials require routine maintenance, such as sanding, cleaning, and repainting.
Warning signs of damaged or poorly maintained soffit and fascia include:
Peeling paint
Splintering wood
Condensation in attic
Clogged gutters, leaky gutters
Interior ventilation issues
Pest infestation
Visible damage on roofline
Water stains on siding
Your siding is often referred to as the armor of your house, protecting it from the elements and boosting your curb appeal. Whether you have vinyl, fiber cement, or stucco, it is not bulletproof and can suffer from weather damage as much as your roof materials. Water damage caused by clogged gutters can leak onto your siding and trigger water stains. If any of that water seeps into cracks and holes, you could face serious problems, such as foundation damage, basement flood, wood rot, and deteriorated wall insulation. Your professional Glen Carbon handyman provides a wide variety of services that include siding inspection and repair.
Newer homes will experience house settlement, during which each corner of your house settles into the foundation. What you want is a uniform house settlement, but it's not uncommon for some properties to experience minor tilting that causes some misalignment. A foundation specialist will be able to give you a detailed report. But during house settlements, you will likely experience interior and exterior wall cracks. Having a reputable handyman in Glen Carbon IL inspect your siding during seasonal maintenance could save you a headache! Our team of experts will help you fix up any holes that would otherwise be susceptible to water infiltration or bug infestation.
PRESSURE WASHING
After a long, cold winter, you just want to wash away any winter remnants and prepare your outdoor living space for the summer. If your exterior materials take longer to dry after snowmelt, it's worth inspecting them for moisture damage, whether it's your fence or deck. In the early spring, our local customers hire a qualified handyman in Glen Carbon IL for pressure washing services.
High-pressure water jets can blast away grime and debris effectively, and even remove grease and oil stains from driveways and garage floors.
Difference Between Pressure Washing and Power Washing
Essentially, they are the same units, either gas-powered or electric but varying in size. However, unlike a standard pressure washer, a power washing unit operates with heated water, which is best when trying to remove stubborn stains.
Benefits of Pressure Washing
Minimizes your need for repairs (i.e., deck repairs)
Prepares surface for treatment (i.e., for fence repairs)
Removes mold and mildew
Makes your outdoor area more sanitary
Increases curb appeal and protects your home's money value
Important!
Unless you have operated a pressure washer before, we do not recommend homeowners in Glen Carbon to do it themselves. If you walk into a hardware store to rent a unit but are overwhelmed with the number of choices, it's a clear sign that this job should be left to a professional. One major benefit of hiring a local Glen Carbon handyman is that they will thoroughly inspect the materials and complete any necessary repairs.
DRYWALL REPAIR
Similar to your siding, watching out for severe cracks is important during home settlement. It may be easier to detect damage inside, so you can take immediate action and have your local Glen Carbon handyman complete the necessary drywall repair. Made of gypsum, paper, and other bonding additives, drywall is the most cost-effective and popular interior wall option to date.
While highly durable and fire-resistant, it's not bulletproof or waterproof. It's easy to fix small holes with patching jobs or larger holes with replacement panels. Working with drywall compound is a messy business that can also be time-consuming, especially when you need to cut different size panels and apply several coatings. This means more sanding and waiting. But you can rest easy knowing that all of our professional handyman services include cleaning up after ourselves. So you won't need to expose yourself to hazardous dust or worry about cleaning.
Ceiling repair is also a part of our drywall services. In the event of water damage, we'll have a team ready for drywall replacement.
CEILING FANS AND LIGHT FIXTURES
With a licensed handyman, Glen Carbon IL property owners can also rely on efficient lighting services or ceiling fan installation.
Ceiling fans may appear too retro or outdated to some people, but we beg to differ! Studies have shown that ceiling fans can help improve your heating and cooling system's energy efficiency. Some of our clients were able to lower their monthly energy costs by 15% during peak seasons. Set your ceiling counterclockwise in the summer and feel how it pushes cooled AC air back down. On the other hand, set it clockwise in the winter, and you'll notice that heated furnace air won't rise up into the attic as fast.
If you need improved lighting in your home, your Glen Carbon handyman team is happy to inspect your home and help you choose energy-efficient options that increase productivity and comfort. Insufficient light is often more than a poor choice of the light bulb.
Home Remodeling
As your most versatile handyman in Glen Carbon IL, we are experts in home remodels and are proud to offer the following services:
KITCHEN REMODEL:
When you plan a kitchen remodel, it's likely that you want to upgrade appliances, countertops, backsplashes, sinks, range hoods, and lights. Larger projects may even involve new floors, drywall, and cabinets. But not no project is too challenging for our Glen Carbon handyman team!
BATHROOM REMODEL:
Homeowners who consider a bathroom remodel often struggle with the lack of space, poor lighting, ventilation, or outdated plumbing fixtures. Whatever is making you uncomfortable about using your bathroom, we recommend that you make a list of changes that would make you feel better! When hiring our qualified handyman, Glen Carbon property IL owners will get a detailed inspection service, during which our local professionals will check for any undetected moisture damages that may need prior repairs.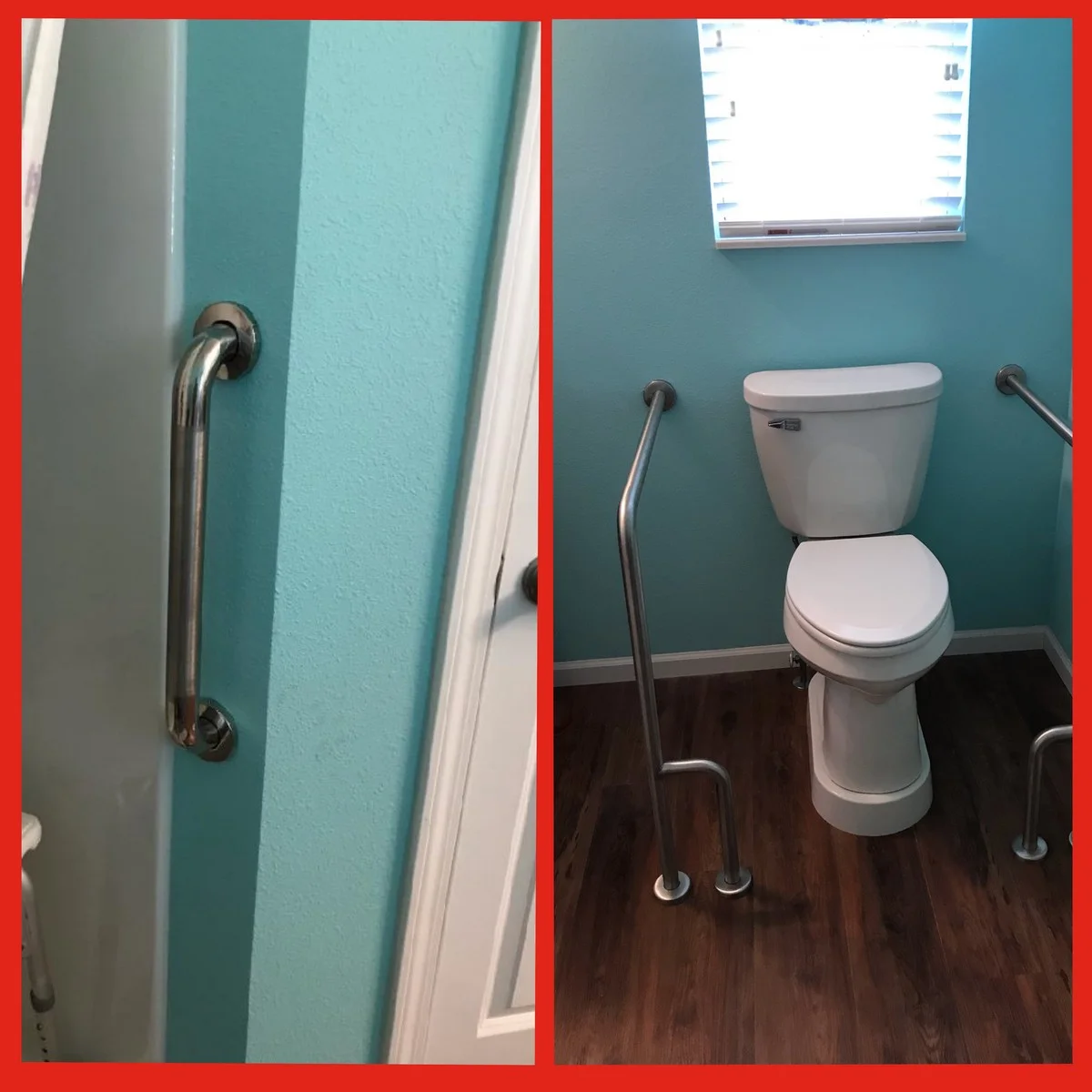 BASEMENT REMODEL:
Basements provide you with extra space that you could use for a wide range of things. For example, a game room, movie theater, home gym, and more! But in order to make that happen, it's important to have a finished space and ensure that there is a separate utility room. We'll help you install new floors, drywall, and waterproofing system, as well as complete some minor plumbing repairs. That would be the first step before developing your basement into something greater and more fun!
Commercial Handyman in Glen Carbon IL!
If you are a building manager of a commercial building in Glen IL, you probably have a maintenance checklist for seasonal work that is required. Our expert handyman team has experience working with building maintenance managers and is efficient in completing inspection and repair services without any problem.
Alternatively, if you're a business owner who is also in charge of maintaining your workspace, we'll ensure not to cause any major disruption to your workflow. On the contrary, we'll do our best to recover your balance fast, so you can return to focusing on what's important.
Whether your commercial business is a shopping mall, retail store, healthcare facility, financial institution, school, or hotel, our professional handyman in Glen Carbon IL can complete the following tasks hassle-free!
Furniture assembly, commercial carpentry
Automatic door installation
Door closer installation
Bathroom repairs
Drywall, stucco repair
Graffiti removal
Lighting systems
Painting services
Tile services (countertop, backsplash installation)
And much more!
Need Help With Seasonal Maintenance? Trust Your Glen Carbon Handyman Near Me!
Our team of professional handymen in Glen Carbon IL have helped multiple property owners recover their comfort, if not, enhanced it! Mr. Handyman of Metro East is committed to providing exceptional workmanship and superior customer service.
Our Glen Carbon handyman services are also available to our next-door neighbors in
Shiloh
,
O'Fallon
, and
Belleville
. When you need reliable handyman service near me, look no further; instead, contact our friendly customer service reps by dialing us to learn more about what we can do to make your home a safer and more comfortable place to live!