The Home Repairs Checklist All Midwest Collin County Homeowners Should Have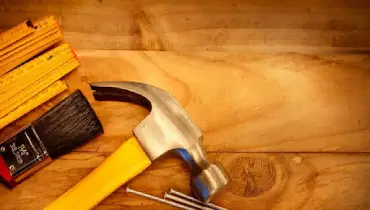 Imagine for a moment what your home would look like if you never took the time to care for it. Everyone has busy periods of life where day-to-day tasks get a little hard but were your home to be seriously neglected, it would be almost inhabitable. That's why it's important to check off everything on your routine Collin County home repair list.
Without routine maintenance, your siding would be stained and deteriorating, your gutters would be overflowing with muck, and your deck would start to rot away. And it's not only the exterior of your home that requires maintenance—the interior would likewise look unkempt. Dented drywall would be sure to get worse, the grout surrounding kitchen and bathroom tiles would start to get moldy and dingy, and water would be sure to leak through windows where the caulking has begun to deteriorate. Suffice it to say, all those little odd jobs that are such a hassle to complete on the weekend are also the essential Collin County home repair jobs that keep local properties looking and functioning their best.
Home repairs are a lot of work. It's all too easy for busy homeowners to avoid putting in the time and effort required to keep their homes in good condition. While certain tasks are easily handled by the average homeowner, there also may be a few that are out of your skillset or that you do not have the correct tools for. This may lead to further procrastination, and the issue is sure to only get worse.
The good news is you don't have to tackle these maintenance tasks alone. Our hardworking Collin County handyman team at Mr. Handyman of Midwest Collin County is here to assist with whatever you need to be done about the house—from retiling your backsplash to assembling lawn furniture.
Additionally, to keep you on track and ensure your home stays in peak condition, our experts have put together the following Collin County home repair checklist. Whether you choose to tackle the following tasks on your own or enlist the help of a home repair expert, this list of common home repairs will help keep you organized.
1. Power Wash Surfaces
Pressure washing is a home repair task that can make an incredible impact on the surfaces of your property. However, it is also a job that should be handled by a professional technician. Since power washers emit such a high-pressure stream of water (2,000 to 3,000 PSI to be exact), it can be dangerous to use in untrained hands. You may accidentally damage your property, or worse, injure yourself or a loved one.
Yet, the benefits of pressure washing are huge—it easily and quickly gets rid of stains, discoloration, and mildew. Additionally, pressure washing is an excellent way to strip away old paint from your fence or deck to prepare for refinishing.
2. Touch Up Exterior Paint
A fresh coat of paint can work wonders on your property's exterior. Touching up any chipped, old, or discolored paint can boost curb appeal and make your home look as good as it did when you first moved in. It may also be a refreshing change if you've spent years living in your house with the same color. Make your home pop by painting it in a fresh tone.
Pro Home Repair Tip: Paint Your Trim
If painting the entire house is not realistic, but you still want to revamp your property, why not paint your trim instead? This home repair job is significantly less work, and will still increase your curb appeal while refreshing the look of your home.
3. Refinish Your Deck
Refinishing your deck is a great way to improve the appearance of your outdoor space. However, it's also a key maintenance task. By sanding and staining your deck regularly, you'll help prevent damage from the sun, water, and changing weather. Stain, paint, and sealant all help protect wooden decks from rot and deterioration. If you're planning on doing this task by yourself, ensure you grab a couple of cans of stain to cover the entire structure. Alternatively, the pros at Mr. Handyman of Midwest Collin County are more than happy to help with your routine deck repairs and maintenance.
4. Gutter Cleaning
Cleaning your gutters regularly is one of the most important tasks for Collin County homeowners. Why? Because your gutters have a very important job. They safely transport water away from your home. This protects your property from water damage, erosion, and more. If you don't clean your gutters regularly, you may find yourself dealing with significant home repairs.
Gutters should be cleaned at least twice a year, once in spring and once in the fall. While it's a critical home repair, this is undoubtedly an unpleasant task many homeowners would prefer not to do themselves—not to mention, it can be dangerous if you're not comfortable climbing ladders. If you'd rather not do it yourself, Mr. Handyman of Midwest Collin County would be happy to take care of gutter cleaning for you.
5. Apply Fresh Indoor Trim Paint
Your exterior is not the only area that could benefit from a fresh coat of paint. Whether you've lived in your home for a few years and you're tired of the current trim color or you just moved in and the previous owner's style does not match your own, updating that color is a simple home repair that can work wonders. You'll be amazed at the difference! Should you choose to paint by yourself, remember to apply several coats, so the original color does not show through.
Pro-Tip: Preparing to Move?
If you're thinking of moving, then you should consider painting your home's trim in neutral colors like white, gray, or beige. These tones tend to perform best when trying to attract prospective buyers.
6. Re-Grout Old Tiles & Re-Caulk
Over time, the grout in your bathroom or kitchen backsplash gets old, dated, and dirty. Likewise, caulk only lasts about 5 years. After that time, it will need to be replaced with fresh caulk. Both these fixes are easy kitchen or bathroom home repair—and refreshing your grout is a fantastic way to make your backsplash, countertop, or flooring look brand-new without having to retile the entire area. If you are not sure how to regrout tile or re-caulk, give our technicians a call. We're more than happy to help out!
7. Hang Up Pictures & Photos
How often have you had paintings or photos stacked against the wall waiting to be hung? It's such an easy task to put off—resulting in empty walls and dusty artwork. Some Collin County homeowners put off hanging pictures and photos because it can be challenging getting frames at just the right height and ensuring they are all straight—especially while avoiding putting 50 holes in the wall in the process. If hanging pictures isn't your strength, our expert handymen have it covered.
8. Mount Your TV On the Wall
Just like how many Midwest Collin County homeowners put off hanging pictures, it can also be a challenge to properly mount TVs. Thus, all too often we see TVs that are sitting on the floor because homeowners are hesitant to try and hang them on their own. Our team of Collin County home repair experts can help with that! Our careful, skilled pros will mount your TV safely.
9. Fix Damaged Drywall
Cracks or dents in your walls are unattractive and can make your interior look rundown. These damaged areas are also likely to get worse if they are not fixed as soon as possible. Completing drywall repairs promptly also keeps your home more energy efficient by preventing air from getting in and out. If you're not comfortable patching drywall on your own, or you don't have the tools required, consider calling a local Collin County home repair team.
10. Clean Trim & Molding
When was the last time you cleaned your floorboards or crown molding? You likely stay on top of dusting shelves, pictures, and decorative items, but it's surprising how often molding goes without getting dusted. It's a good idea to regularly clean easy-to-reach trim like baseboards, and complete routine cleaning for crown molding and other hard-to-reach trim. Doing so will reduce your need for future trim replacement and other related home repairs.
11. Oil Squeaky Doors
Squeaking doors are annoying, to say the least. Don't suffer that nuisance any longer. The easiest way to get rid of squeaking is to remove the pin in your door's hinge, coat it with a little petroleum jelly, and then put it back.
12. Repair and Replace Damaged Doors
Replacing severely damaged doors is an important part of home repairs. Even completing basic door repair will ensure that your privacy, security, and energy efficiency are never compromised. If you have a problem that you're not sure how to fix, or you need more than home repairs for a damaged door, consider asking local pros for help. Whether your door has been damaged in a storm or accident, or you want to refresh your curb appeal, the pros at Mr. Handyman of Midwest Collin County can install a new door efficiently and correctly.
13. Tighten Door Handles
Keep your home safe by ensuring your handles work properly and are not becoming loose. If you've noticed your doors are not latching correctly, simply tighten the screws on your door handle. This should stop further loosening.
14. Test Smoke & Carbon Monoxide Alarms
Smoke and carbon monoxide alarms are crucial for keeping you and your family safe. Thus, it's integral that you confirm these detectors are working properly. Test each device at least once a month.
15. Replace Batteries in Smoke & Carbon Monoxide Alarms
In addition to making sure your smoke and carbon monoxide detectors are working, you should be replacing the batteries at least once or twice a year. These systems are imperative for your safety, so you wouldn't want the batteries to die without you knowing.
16. Inspect Fire Extinguishers
If you ever need one, you need to be sure your fire extinguisher is working properly. A few times a year, check on these devices by confirming the following:
Is there any physical damage, leaking, or corrosion?
Is the locking pin intact and the taper seal unbroken?
Are they visible and easy to access?
Do all the members of your family know where they are?
17. Replace Dead Light Bulbs
It's important to replace burnt-out light bulbs promptly. Lighting can make any home look warm and inviting. But if you have light bulbs that have burnt out your once cozy space might look dark and gloomy. If the bulbs are difficult to reach, don't be afraid to ask a local handyman for help.
18. Clean Dryer Vents
Did you know that dryer lint is highly flammable? In fact, roughly 15,970 fires are started yearly in the United States because of improperly cleaned dryer vents. Not to mention, clogged dryer vents can impede the machine's ability to work properly—possibly even resulting in the need for clothes dryer repair.
Keep your home safe and prevent the risk of a fire by having your dryer vents cleaned regularly. This is not an overly difficult task, but it does require a bit of technical knowledge. Thus, it's best that this home repair task is handled by the pros at Mr. Handyman of Midwest Collin County.
Call Our Team for Your Collin County Home Repair Needs!
We hope this Collin County home repair checklist is helpful for you. Perhaps you plan to tackle those home repairs on your own, but if you think you may need a little help to get it all done, we hope you get in touch with the friendly and hard-working team at Mr. Handyman of Midwest Collin County. We've helped countless homeowners with their repair and maintenance needs across Midwest Collin County, from Anna to Sherman and beyond.
Give us a call today, and we will start checking off your to-dos as soon as possible! Our hardworking team can help with all types of repairs.