Warning Signs That Indicate You Need McKinney Porch Repair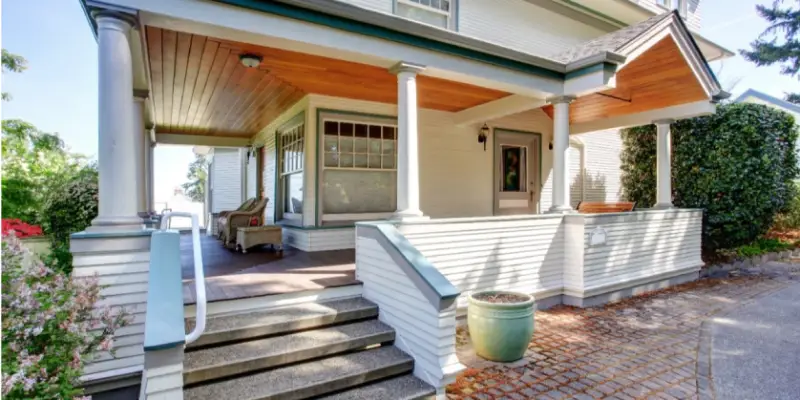 Is the porch your favorite part of the house? Most people would probably answer no, but it could actually achieve favored status with a little help from our local McKinney porch repair experts. That statement might seem surprising (or just plain unlikely) if your porch is currently in rough shape, but the right porch repair services from a skilled handyman can make a world of difference to how you feel about your outdoor space.
Whether your porch is located on the front, back, or side of your house, it can have a big impact on your curb appeal—and if it is covered in signs of damage and deterioration, that impact will be a negative one. But it's not all about appearances. The kind of damage that requires McKinney porch repair is often capable of worsening and spreading to other parts of your house, causing serious problems that could lead to structural integrity issues and even injury.
If you notice some of the signs listed below that indicate you need porch repair, count on your local, qualified McKinney handyman to provide top-quality workmanship and excellent customer service. The team of service professionals at Mr. Handyman of Midwest Collin County have plenty of experience with McKinney porch repair issues like wood rot and damaged screens, so we have the skill to take care of those issues efficiently and effectively.
Porch Vs. Deck: What's the Difference?
Many people assume porches and decks are basically the same things because the terms are sometimes used interchangeably. They are both outdoor living spaces and serve similar purposes, but they do have a couple of key differences. Porches attach to the house, usually where the front door access is located, and they feature a roof or prominent overhang to shelter your structure. They may be open on three sides or have mesh screen panels and partial walls. Porches are usually not significantly raised above ground level and may be either flush with the ground or level with the ground floor of a house that is raised by its foundation.
Decks can either be attached to a building or can be free-standing, but they are not enclosed and do not have a roof. They are typically, but not always, found in the backyard or adjacent to your kitchen for ease of use when grilling or dining outside and may be several stories high or very close to the ground. Regardless of which type of structure you have, if you need deck repair or porch restoration in McKinney, TX, the professionals at Mr. Handyman of Midwest Collin County can take care of it for you. We also offer many other reliable exterior services, such as fence repair and installation, patio services, pressure washing, and more.
Overall, a wide variety of materials can be used to make either porch or deck. Porches are often built on a slab and have finished concrete floors, whereas decks are primarily wood-based.
How to Tell When You Need McKinney Porch Repair
With the right porch restoration services, your current drab, dingy, rotting, or sagging structure could be transformed into an ideal place to entertain visitors, enjoy your hobbies or just catch a fresh breeze without being attacked by insects. Not sure if your structure is due, or perhaps long overdue, for McKinney porch repair? Here are some of the major warning signs to look for.
Softened, Crumbling Wood
When it comes to damage on a wood deck or porch, wood rot is by far the most common problem we encounter at McKinney, TX, homes, and commercial properties. Wood rot is a type of decay that only affects timber with an elevated moisture content of about 20% or higher. That's why any timber that is outdoors and exposed to the elements is particularly susceptible to rotting—it's constantly being soaked by rain and humidity, often without much of a chance to dry out for long periods of time, so it might be a challenge to keep moisture locked out of outdoor timber in the Dallas-Fort Worth region of Texas.
Wood rot eats away at wood fibers, causing the timber to soften and crumble apart. Because parts of the wood, such as the cellulose or lignin, are removed from the structure of the wood, there's no way to handle porch restoration for wood rot that will completely restore the timber to its former condition. What's more, some types of rot are capable of traveling across non-timber surfaces like concrete and masonry, so it's important to stop it before it gets out of control. That's why the best course of action is usually to remove damaged boards or trim altogether and replace them with new timber that has been treated to resist water. During your wooden porch repair, McKinney TX handymen will follow it up with paint or solid stain and a sealant to give it added moisture protection.
Holes or Rips in Screen Mesh
If you have a screened-in porch, you already know all about its biggest benefit to your family: it gives you somewhere shady to relax, enjoy the fresh air, and listen to the birds chirping—without the risk of being driven back indoors by a threatening, buzzing cloud of nature's most annoying insects, mosquitoes. But when your screen mesh is riddled with rust, holes, and tears, it's only keeping out the very stupidest mosquitoes and letting in more than enough to leave you miserable and itchy.
As long as the screen frames are in good shape, your handyman will take care of McKinney porch repair by removing the damaged mesh panels and installing new ones, then put the frames back in place. We could also seal up any tiny gaps or holes in the structure to make sure no pests will get in and bother you.
Pro Tip: Make sure you get the correct size screen mesh to block out bothersome insects. The standard size for screen mesh is 16x18, which means there are 16 strands per inch in one direction and 18 strands per inch in the other direction. Mosquitoes range from about a tenth of an inch long to around a quarter of an inch for the behemoths. That's far too big to squeeze through 16x18 mesh, so your outdoor living space will be free and clear of mosquitoes once we're finished with porch repair. McKinney, TX residents who are concerned about their irritating little cousins, the no-see-ums (which are also called biting gnats or midges), should go with 20x20 mesh instead.
Structural Column Damage
When homeowners notice signs of deterioration or damage on supporting columns, they're more likely to take it seriously. The columns are supporting your roof structure, and nobody wants to risk a possible collapse. Minor surface problems like scratches or scuffs aren't a major cause for concern, though they could hurt your home's curb appeal. But any type of damage that looks like it could affect the stability of the column needs to be handled right away by a professional who is experienced with porch repair. McKinney, TX homes can suffer from issues such as wood rot, rust, corrosion, and other signs of decay on columns. If columns are visibly leaning or shift and wobble when they are touched, that's a bad sign that could signal the structure is unsafe. Whatever the issue, your McKinney porch restoration professional can repair or replace columns in a safe, attractive condition.
Moss and Algae Growth
When your structure has been slowly taken over by creeping moss or a slick layer of algae growth, it makes it a lot less pleasant to actually spend time out there and can lower your property value. But it's also a problem that could dramatically accelerate normal deterioration rates by trapping moisture against surfaces, encouraging water damage problems like wood rot and cracking concrete.
The best way to deal with porch restoration and get rid of organic plant growth like moss and algae, along with built-up dirt and grime, is with professional pressure washing. Using a pressure washer is the most effective cleaning method for most outdoor surfaces and items. The device produces jets of water that range in pressure from about 750 to 3,000 psi, or pound-force per square inch. That's strong enough to strip off stubborn substances and stains that most techniques can't budge, including slimy algae, leaving a clean surface behind that is ready to be painted and sealed.
Missing Spindles or Balusters
Spindles and balusters are both vertical parts of a railing that support the horizontal handrail. The difference between the two is that spindles are attached to another horizontal rail at the bottom, while balusters rest on their own base or plinth. When they are missing, broken, or softened by wood rot, they can't do their job of holding up the railing properly, and it weakens the overall railing structure. That could be dangerous if someone is horsing around and falls against it or simply leans on it expecting it to hold their weight—and it doesn't. In this situation, McKinney porch repair calls for a replacement spindle or baluster to be installed.
Structure is Sagging
When a porch is noticeably sagging or sinking, it's likely due to a serious issue with the posts or footings. If it is very old or wasn't installed correctly, the soil may have eroded away underneath the footings. That can pull the whole structure downwards as the posts sink into the soil, eventually causing a collapse. It could also be an issue with wood rot in the posts causing them to crumble and buckle, which can pose a risk of injury. In either situation, timely repairs are critical before it gets worse, and you should not allow anyone to walk on your structure until it has been looked at by a McKinney porch repair professional.
Maintenance Tips to Help You Avoid Needing McKinney Porch Repair
If you've just gone through the process of getting your outdoor structure in excellent condition with McKinney porch repair services, you may want to know what you can do to keep the good vibes going so you don't need porch repair again in the near future. Here are our top maintenance tips:
Take the time to do a proper inspection annually or semi-annually, checking the entire structure carefully for any signs of rot.
Spray mesh screen with an anti-rust coating to avoid corrosion and holes that will let in pests.
Keep moisture-laden leaves away from the porch by trimming trees and bushes so they're at least a couple of feet away.
Move patio furniture and patio fixtures, such as planters, around once in a while so they can't trap moisture against the porch timbers.
Avoid using water-attracting mats and rugs. If you must have them, plastic is a better choice than natural fibers.
Can McKinney Porch Repair Improve Property Value?
If you are planning to put your home on the real estate market in the near future and you want to find ways to raise the property value, McKinney porch repair should definitely be on your improvement list. You can likely get a partial return on investment in the selling price, but more importantly, it will be really helpful for convincing prospective home buyers to see the merits of your property. If the first thing they see is a well-maintained porch in great condition, it will reassure them that the property is well cared for, and they won't see any nasty surprises after moving in.
Do You Need McKinney Porch Repair? Trust the Local Pros at Mr. Handyman
When it comes to services like porch repair, McKinney, TX residents want to know that their handyman will deliver quality craftsmanship and dedicated customer care. Whether you're in McKinney or a nearby community, such as Allen, Princeton, or Lucas, you can get exactly that from the team of professionals at Mr. Handyman of Midwest Collin County.
Want to know more about our reliable handyman services or schedule a convenient appointment time? Give us a call today to speak with our outstanding customer service staff, and let us show you why we're considered McKinney's top choice for dependable repair, maintenance, and improvement services.