Mr. Handyman of Northern Pittsburgh, South Hills, Moon
When you're searching for a handyman for your home or business, Mr. Handyman is your trusted and dependable full-service solution. We provide professional, safe, reliable handyman services in Pittsburgh for your entire "To Do" list. Mr. Handyman specializes in all home repairs, including plumbing, drywall repair, ceiling fan replacement, gutter repair, light fixture replacement, and much more.
How do you know if Mr. Handyman is the right choice for your repair or maintenance needs? When you choose us to be your handyman in Pittsburgh, you're choosing a business run by one of your Pittsburgh neighbors. Averaging 20 or more years of experience in the industry, your Mr. Handyman professional is also an expert you can trust.
Each professional technician at Mr. Handyman is fully insured and licensed. They arrive on time and in uniform, so they are easy to identify. You'll get professional and friendly service and answers to any of your questions in plain language. Long before the work starts, you'll know you've found the right handyman services in Pittsburgh for you.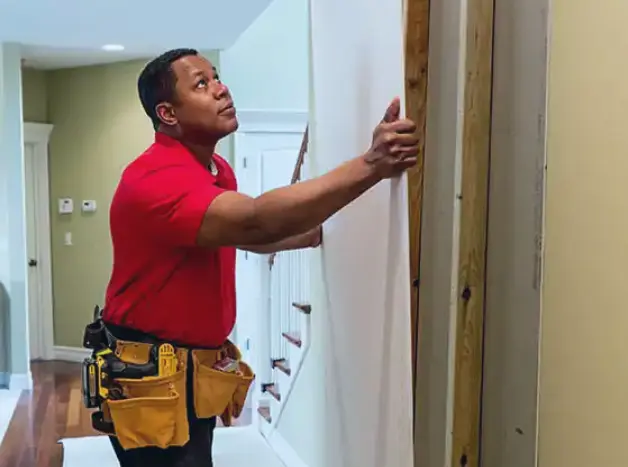 Why Choose Mr. Handyman?
Convenient one-call solution.

Safe, worry-free experience.

Fully insured with general liability and workers' compensation.

We'll clean up when we're done.

Our workmanship is guaranteed.
Our Mission
Mr. Handyman is your one-stop shop for a wide range of home maintenance and repair solutions. Mr. Handyman's service technicians are highly skilled craftsmen, so you know they will get the job done right the first time.
Partnerships & Achievements
A Handyman in Pittsburgh for Every Need
When you want new hardwood floors installed, a deck or patio repaired, or the exterior of your home cleaned, we have a handyman in Pittsburgh to get the job done right. Invest in Pittsburgh's best professional handyman services and get expert help for all your home maintenance and repair needs.
Home Repair and Maintenance
Additions and Remodeling
Carpentry and Electrical
Installation and Assembly Services
Assembly Services
Installation Services
Mr. Handyman in Pittsburgh is ready to roll up our sleeves and work on your home repair and maintenance. From the basement to the attic, indoors or out. Imagine having the safe, well-maintained, and beautiful house you deserve — Mr. Handyman can make it a reality.
When you need help with building maintenance, Mr. Handyman provides commercial services, including assembly, installation, and repairs. Whether you manage a local small business or a healthcare facility, Mr. Handyman is your trusted and reliable facility maintenance partner. Whether you choose our handyman services in Pittsburgh for your home or business, you always get a job done right thanks to our Done Right Promise.
For professional Sewickley handyman services that are reliable and trusted, call today.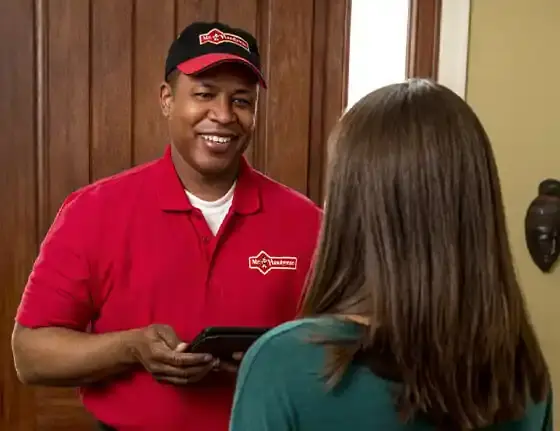 Mr. Handyman of Northern Pittsburgh, South Hills, Moon FAQs
Mr. Handyman of Northern Pittsburgh, South Hills, Moon provides handyman services performed by professionals with an average of 10+ years of field experience. Combine that unparalleled experience with next-generation customer support, and you get a level of expertise and customer care second to none. Your locally owned and operated Mr. Handyman also backs every service with the Neighborly Done Right Promise™. Instead of searching for a "handyman near me," why not go with a proven winner and choose Mr. Handyman. Still have questions? Below are the answers to the most frequently asked.
What is a Handyman?
When thinking about the term "handyman," many envision someone who is a jack of all trades and has experience with a range of home repairs. Some handymen may be skilled carpenters and specialize in remodels, while others may offer electrical work and installation services. At Mr. Handyman, we specialize in nearly every home repair you can imagine because our team features professional plumbers, electricians, contractors, and other specialists. When you need home repairs and maintenance, you want the best handyman in Pittsburgh you can find—Mr. Handyman.
What Does a Handyman Do?
A Pittsburgh handyman service may perform home repairs such as broken windows, drafty doors, and leaky faucets. More experienced handymen offer carpentry, floor installation, tile work, and many other services. Some handymen focus on small jobs and can often complete several different repairs in a single visit. Others may prefer to work on larger projects or specialized work like window installation. The professional technicians on the Mr. Handyman team can handle nearly any repair inside or out to help make your home the best it can be. From bathroom remodels to cabinet installation to minor repairs, you can rely on decades of experience to get the job done right.
Does a Handyman in Pittsburgh, PA Need a License?
A handyman service in Pittsburgh, PA, doesn't need a state license, but they must register with the Attorney General's Office if they exceed a certain amount of work each year. Because Pennsylvania professional contractor licenses are handled at the municipal level, specific requirements for handyman services vary. Regardless of local licensing requirements, all licensed handyman contractors in Pittsburgh are required to carry insurance. Every Mr. Handyman professional is licensed, insured, and experienced to deliver the highest level of
Mr. Handyman of Northern Pittsburgh, South Hills, Moon
Choose the right handyman services team in your area. When it comes to selecting the right team for your home improvement needs, Mr. Handyman is the right choice.
Areas We Serve:
Aliquippa, Allenport, Allison Park, Ambridge, Amity, Atlasburg, Avella, Baden, Bairdford, Bakerstown, Beallsville, Bentleyville, Bethel Park, Bradfordwoods, Bridgeville, Brownsville, Bulger, Bunola, Burgettstown, California, Canonsburg, Carnegie, Cecil, Charleroi, Cheswick, Clairton, Claysville, Clinton, Coal Center, Cokeburg, Conway, Coraopolis, Cranberry Township, Creighton, Crescent, Cuddy, Curtisville, Daisytown, Denbo, Donora, Dunlevy, Eighty Four, Elco, Ellsworth, Elrama, Finleyville, Fredericktown, Freedom, Gastonville, Gibsonia, Glenshaw, Harwick, Hendersonville, Hickory, Hiller, Houston, Imperial, Indianola, Ingomar, Joffre, Langeloth, Lawrence, Leetsdale, Marianna, Mars, McDonald, McKees Rocks, Meadow Lands, Midway, Monaca, Monongahela, Morgan, Muse, New Eagle, Newell, Oakdale, Pittsburgh, Presto, Prosperity, Richeyville, Roscoe, Rural Ridge, Russellton, Scenery Hill, Sewickley, Slovan, South Heights, South Park, Southview, Springdale, Stockdale, Strabane, Sturgeon, Tarentum, Taylorstown, Valencia, Van Voorhis, Venetia, Vestaburg, Warrendale, Washington, West Alexander, West Finley, West Middletown, Westland, Wexford, Wildwood, Zelienople