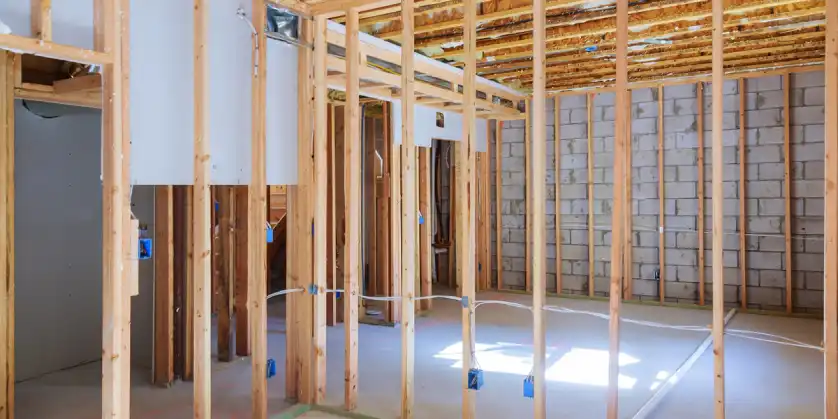 Do you currently have an unfinished basement space? Or was it finished by the previous homeowners but isn't functioning as it should for you and your lifestyle? Perhaps you've always wanted to have a game room with enough space for a billiards table, or maybe your kids are getting older and could use their own space to hang out with their friends. Your basement should be more than just a dumping ground for cardboard boxes you aren't ready to throw away and all that old furniture you have yet to find the time to sell or drop off at your local donation center. Basement remodeling will significantly increase the amount of living space you have, making your home feel bigger than it is.
In addition to providing you with more space so you can enjoy your favorite activities with the people you love, a finished basement can boost the resale value of your home. Though there is an upfront cost involved in basement remodeling, you can recuperate a substantial portion of this cost if you plan to sell down the line—as long as you avoid making costly mistakes. In this article, we'll share the top mistakes that many homeowners make during a basement remodeling project, including:
Choosing to renovate when you should remodel, and vice versa
Incorrect budgeting and financial miscalculations
Failing to inspect the condition of your basement
Forgetting to obtain permits for basement remodeling in Manassas, VA
Doing the remodel yourself when you should hire a skilled Manassas handyman from Mr. Handyman of Northern Virginia - Arlington to Haymarket
Basement Remodeling Manassas, VA: Common Mistakes
Manassas Basement Remodel or Renovation?
If you use the words 'remodel' and 'renovate' interchangeably, you're not alone. Though these terms are often treated as synonyms, they actually describe two very different types of projects. Basement renovations describe projects wherein a basement has already been finished to some extent, but the finishing features are out of date or need repairs. In contrast, a basement remodel describes a project where structural changes are made.
For example, a basement that already has a spare bedroom and bathroom but also has orange shag carpet and paneled wood walls may benefit from a renovation rather than a remodel. This renovation would include installing laminate flooring and drywall to bring the space into the 21st century. If the basement did not already have a bathroom and bedroom and the homeowners wanted to add these, the project would be considered a remodel.
Determining whether you should renovate or remodel your basement depends on your personal goals. Some factors worth considering in this decision include what you intend to use the space for and your plans for the future.
The Purpose of the Space
There are many different ways that homeowners choose to use their basements, many of which depend on the amenities they have on the main and upper floors, as well as their lifestyle. Some may want a space for watching movies and playing video games, while others may want a game room with a wet bar. A household that receives frequent visits from extended family may also want to provide a comfortable living space for their guests when they're in town.
Establishing your goals for the space will help you determine the extent of the changes you want to make. If large-scale layout changes are required, it makes more sense to do a basement remodeling. Northern Virginia property owners who think one step ahead are more likely to succeed in the future.
Your Plans to Sell
Suppose your motivation behind your Manassas basement remodel or renovation is partly to improve the resale value of your home. In that case, you may want to consider the kind of ROI (return on investment) that each type of project offers. A full-scale remodel often costs more than a renovation due to the extra materials and labor involved. If you're planning to sell in a few short years, a renovation may give you a bigger bang for your buck.
Looking at Upfront Costs Only and Ignoring the ROI
The cost of basement remodeling in Manassas, VA, can be enough to put some homeowners off entirely. According to Remodeling Magazine's 2017 Cost vs. Value Report, a mid-range Manassas basement remodel will set you back an average of around $71,000. This calculation includes costs associated with painting, installing new flooring, adding a wet bar, and installing a full bath.
Reports published since 2017 haven't included cost estimates for total basement remodels, but with inflation, you can guess that this average cost has increased. That being said, a well-designed and executed Manassas basement remodel also has a great ROI, with an estimated return of about 70 percent. This means that an $80,000 project could increase the value of your home by $56,000.
Something else worth considering is inflation. Most people discuss inflation as something that is problematic, but there are ways that you can make it work for you. If you plan on living in your home long-term, that 70 percent ROI will be worth considerably more by the time you go to sell. The only caveat is that you'll want to make sure that your newly finished basement is timeless and appeals to a large crowd. In other words, that built-in ball pit might be off the table. Some timeless elements to consider include:
A neutral color palette. Perhaps you're a massive fan of the art deco style and have a vision of a brightly colored basement bathroom with unique patterned porcelain or ceramic tile. Unfortunately, not all prospective buyers will appreciate your refined, avant-garde interior design style. Prospective buyers like to see their potential home as a blank slate that has all the necessary bones but leaves room for them to add their own personal touches. No matter how boring you find subway tiles, you're more likely to attract lots of bidding buyers with them.
Clean lines. Some interior design styles that are in today are here to stay, while others could be gone next month. The problem is, it's impossible to predict which will stay and which will go. Instead of picking a distinct style and hoping for the best, try to stick with simple designs and clean, straight lines that will remain timeless for years to come.
Natural light. Basements have a reputation for being dark and dingy, but they don't have to be. If your basement doesn't already have a couple of windows, it's worth adding one—as long as it is possible to do so. Existing windows may be expanded to bring in even more natural light to the space, making it a more enjoyable space to spend time in.
Ignoring the Current Condition of the Basement
If your basement is currently a bit of a dumping ground, don't worry—this is exactly what basements were intended to be used for in the past. Because basements weren't meant to be as liveable as they are today, older homes were not required to meet strict building codes that help protect a basement from moisture.
If you suspect your basement space may have moisture issues, it's important to get this looked at before beginning basement remodeling in Manassas, VA. Without addressing these issues, all the hard work you put into your Manassas basement remodel could be damaged. To check your moisture levels, pick up a moisture meter. These handy devices will give you a moisture percentage on a scale from 0 to 100, with 0 being dry and 100 being wet.
The most likely culprit of moisture problems in your home is a problem with your exterior drainage system. Clogged or damaged gutters won't be able to effectively carry water away from the foundation of your home, resulting in basement dampness or even flooding. To prevent this from happening, consider hiring a professional to look at your gutters and landscape grading.
Depending on the age of your home and the extent of the problem, you may need to waterproof your basement. Waterproofing can be quite expensive, but you should be able to recuperate a significant portion of these costs through basement finishing. If you don't already have one, installing a sump pump may also be worthwhile.
Failing to Obtain the Required Permits
We live in an era when access to information is greater than ever before. Although this has equipped homeowners with the knowledge to do far more home improvement projects on their own, it has also caused some to take on more than they can handle. You may be surprised to learn that basement remodeling in Manassas, VA isn't just your business—it's the county's business too.
To avoid getting into any legal trouble or voiding your insurance policies, check to see if your Manassas basement remodel will involve any projects that require a building permit. The Building Development Division of Prince William County, VA, provides comprehensive information on when a building permit is required for residential home projects. According to the BDD, permits are always required for the following work:
Finishing a basement
Wet bar additions
Permits are not required for the following renovations:
Replacing windows and doors of the same dimensions
Cabinet installation
Floor finish replacements or installations
Plumbing fixture replacement
Light fixture replacement (including recessed lights)
There are four steps to the building permit application process for basement remodeling in Manassas, VA. First, you'll need to receive zoning approval from the Zoning Division. Next, you'll need to get plan approval. To obtain plan approval, you'll need to submit a Manassas basement remodel building permit application and a floor plan for your basement project. The floor plan must include room dimensions, square footage, and intended uses of each area of the room. Once you receive plan approval, you will pay the fee for the permit. If you've decided to hire a licensed contractor to perform the work, they'll need to submit a copy of their license. Finally, an appointment will be scheduled for a construction inspection.
Not Hiring a Manassas Basement Remodel Professional
Basement Remodeling in Manassas, VA, isn't cheap. You're putting a great deal of your time and money into this project, so it's important that it's done well and stands the test of time. To get the best results possible, it's important, to be honest with yourself about how much of the project you're capable of doing properly on your own, and when it's in your best interest to hire an experienced team of basement remodeling contractors. At the end of the day, all you want is a livable space that will get you a reasonable ROI—and hiring a professional is a great way to achieve your goal. If you're set on doing some of the work yourself and have adequate knowledge of construction and carpentry, some of the elements you may be able to DIY include:
Painting basement walls
Shelf and picture hanging
And bathroom mirror installation
The tasks that are best left to the pros include:
Hardwood, tile, luxury vinyl, and laminate floor repairs and replacement
Drywall repair and finishing
Light fixture installation
Shower door installation
Door repair and replacement
Cabinet installation
Wet bar installation
And anything else that you might need
When looking for a Manassas basement remodel contractor, don't look at the price of service alone. If you're on a tight budget, it can be tempting to hire the most affordable contractor, but this could result in workmanship that isn't up to snuff. Make sure you only hire contractors that are licensed, bonded, and insured, like the basement remodel experts of Mr. Handyman.
Trust Your Manassas Basement Remodel to the Pros at Mr. Handyman!
Since 1996, Mr. Handyman has been helping homeowners across the United States with all their home maintenance, installation, and repair needs. Our team at Mr. Handyman of Northern Virginia are highly-rated local pros with an average of ten years of experience in the industry. Before becoming a member of the team, our employees undergo thorough background checks so that we can provide our community of homeowners with peace of mind.
Our expert service providers proudly serve not just Manassas but also many of the surrounding communities, including Alexandria, Clifton, and Woodbridge. If you're ready to get started on your Manassas basement remodel, give us a call today at to set up an appointment or discuss any questions you may have. We can help with everything from finishing drywall to installing an exterior basement door.