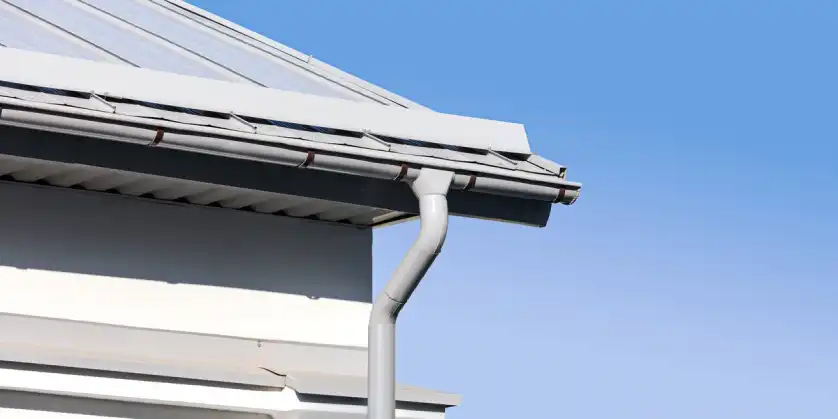 Manassas, VA, is home to an array of charming, historic homes. As the site of two major Civil War battles, preserving Manassas' culture and history is important to residents and tourists alike. Whether you have an old Manassas brick home or a more modern residential property, you need to protect your dwelling from the havoc wreaked by water and moisture damage with efficient gutter installation. Manassas, VA property owners, know this important part of the equation for protecting their homes.
If your rain gutters have fallen into disrepair, or you can't remember the last time you got up on a ladder or booked a professional gutter cleaning, you could be unknowingly putting your property at significant risk of water damage. Mr. Handyman of Northern Virginia - Arlington to Haymarket can protect your property by repairing or upgrading your exterior water draining system, allowing you to avoid costly repairs associated with structural damage. If you're considering gutter installation in Manassas, VA, this helpful guide will inform you of everything you need to know about this essential service.
What Are Gutters and Why Are They Necessary?
Rain gutters are an important component of your roof system. They are often attached to another roof component, called the fascia. Fascia boards seal spaces between the roof's edge and your attic's opening and are used as anchors for both soffits and gutters. Soffits cover the roof rafters by extending horizontally from the side of the house to the fascia. Together, your gutters, fascia, and soffits protect your roof from incurring moisture damage.
Unlike the fascia and soffits, your gutter system is also responsible for protecting your home's foundation. By carrying rainwater from the roof to the downspout, a high volume of water is expelled in an area with good drainage and therefore kept away from the foundation. Without this system, foundation damage and basement flooding could easily occur.
In this sense, your gutters are like the defence battalion of your home. To defend your home to the best of its ability, your system needs to be in tip-top shape. Water damage costs the home insurance industry approximately 2.5 billion dollars every year. The average cost of this damage works out to be around $7000 per home. If you think water damage is unlikely to occur to your Manassas home, consider this statistic—a whopping 98 percent of basements in American homes will experience some degree of water damage during their lifetime. The risk of basement water damage and flooding happening in your home isn't just high. It's almost certain.
Despite these statistics, water damage isn't inevitable. By taking preventative measures, such as new gutter installation, Manassas, VA homeowners can reduce their risk of basement flooding and foundation damage. Inspect your system for the below problems to determine whether Manassas gutter installation is right for you.
Common Gutter Problems
Over time, gutters age and begin to break down. If you're not sure when your system was installed, it's worth taking the time to thoroughly inspect your troughs and downspouts for any signs of damage. The extent of damage will indicate whether your system requires a repair or a full Manassas gutter replacement. Some common issues with gutters include clogs, leaks, warping, pulling, and incorrect downspout placement.
Clogged Gutters
You've likely heard that homeowners should use a professional gutter cleaning service twice per year—in the fall and spring—to keep their system draining properly. If you're like most homeowners, you've probably taken this advice with a grain of salt. Isn't this suggestion just a handyman scam to get more business? This is, in fact, not a scam. If you choose not to hire a professional handyman to clean your troughs, you should still get out your step ladder and clean your system yourself.
Residents of Manassas, VA, are fortunate to have many large, stately-looking leafy trees. Though these trees are lovely to look at, they come with a cost. During even light rainfall, leaves and twigs can fall from trees. Where do they end up? Pretty much everywhere including your gutters. Once they're in your troughs, they're repeatedly exposed to high volumes of water and become soggy. This means they tend to stay in your troughs despite windy days.
Over time, debris can form a big, wet clog. Once large enough, this clog will block water flow from heavy rain, much like a dam. With nowhere else to go, water has no choice but to spill over the sides of your troughs rather than being drained away from your home's foundation.
Leaky Gutters
Your gutter system goes through a lot. Between the Northern Virginia rain during spring, snow during winter, and sun during summer, wear and tear on your system is only natural. Potential damages from weather-related events aren't just possible but expected.
If you notice puddles beneath certain areas of your troughs or water trickling down your siding, check to see if your gutters are clogged over the particular area. If not clogged, they're probably leaking. At this point, calling your Manassas handyman for inspection and siding repair may be the safest way to protect your foundation.
New gutter installation in Manassas, VA, isn't always necessary for leaking troughs. Oftentimes, you can repair leaks—but start saving up for Manassas gutter installation in the not-so-distant future. To repair leaks, you have a few options:
Use a waterproof caulk. Drips usually develop near the joints of troughs or the point at which two segments are connected. Aluminium may also begin to corrode near areas of damage, leading to small holes. In these situations, gutter caulk can be used to temporarily seal any gaps.
Add a drip edge. Drip edges, or aprons, are pieces of L-shaped metal that you can add to your troughs to prevent water from dripping between troughs and fascia boards. Bear in mind that these usually need to be nailed to your roof, which can void your roof warranty.
Replace clips and spikes. Troughs are attached to fascia boards using one of two methods: clips or spikes. Over time, they can rust and become loose, causing troughs to pull away from the fascia. Replacing rusted fasteners will help tighten up the troughs so that they're flush against the fascia.
Incorrect Downspout Location
The downspout is part of the gutter system that runs vertically from the horizontal troughs. After troughs have carried the rainwater, it's the downspout's job to expel water away from your home. To work efficiently, downspouts need to meet several requirements:
Extend 6 feet away from the side of the home for sloped yards.
Extend more than 6 feet away from the side of the home for flat yards.
Carry no more water than a span of 35 feet of troughs. If your troughs extend more than 35 linear feet, you'll need a second downspout to help share the work.
Types of Gutters Used in Manassas Gutter Installation
At some point in time, gutter systems reach the end of their lifespan. If you're constantly making repairs or spending money on quick fixes, it's in your best interest to consider Manassas gutter installation.
There are multiple different materials, types, and methods of gutter installation. Manassas, VA, property owners get overwhelmed by so many options, trying to decide which system is best for their home. Below, we've broken down your options to make your decision more straightforward.
Method of Installation
There are two main types of systems used for gutter installation in Manassas, VA: sectional gutters and seamless gutters. Also known as the "traditional" style, sectional troughs come in segments that can easily be installed piece by piece. The biggest drawback to this type of system is all the seams that it creates. Each area of connection between segments is susceptible to leaks down the road.
Unlike sectional systems, seamless troughs are measured and cut according to the exact dimensions of your roof. Therefore, the only seams are at roof corners, which reduces the chance and number of leaks.
Gutter Material
Today, there are many different materials used for gutter installation in Manassas, VA. The material you choose for your system will largely depend on two factors—your budget and how durable you want your system to be. Generally speaking, the more durable the material, the more expensive it is. Something to bear in mind is that systems with a higher upfront cost may save you more money in the long run simply by lasting longer.
The most popular materials used in gutter installation in Manassas, VA, are as follows:
Vinyl gutters. Low-cost and lightweight, vinyl is one of the most frequently used materials. The drawback? It tends to crack with temperature fluctuations, leading to leaks.
Aluminium gutters. Depending on the gauge of aluminum, gutters made from this material can be cost-effective or highly durable. The thinner the material, the more likely it is that it will dent or bend, which can remove its finish and cause corrosion.
Copper gutters. One of the most expensive options but also one of the most durable and beautiful. Copper will boost your curb appeal instantly.
Gutter Guards
Following gutter installation in Manassas, VA, some homeowners also choose to install gutter screens or guards. While guards don't completely eliminate the need for gutter cleaning, they can do a good job of reducing cleaning frequency. They can also give you peace of mind that your troughs won't develop clogs in between semi-annual cleaning.
Guards come in a wide variety of styles:
Screens. Made from a plastic or metal grid, this installation-free guard slips right under your shingles.
Micro mesh. With a finer weave than screens, micro-mesh guards prevent even small debris from entering troughs.
Brush. Similar in appearance to a water bottle cleaning brush, these sit just inside troughs and prevent large leaves from entering your system.
Foam. Like brush guards, foam guards sit directly inside troughs. Water is able to pass through the permeable foam, but debris cannot.
Reverse curve. This type of guard covers the top of the trough. Its unique curved edge forces debris to fall off while allowing water to drip into the trough.
Hiring a Professional for Gutter Installation in Manassas, VA
Some homeowners wonder if they can do their own Manassas gutter installation. If you choose to use a section vinyl system, you may be able to do the installation yourself. However, for all other types of gutter replacement, it's recommended that you hire a professional contractor.
A seamless system made out of a thicker gauge, aluminium, or steel will allow you to enjoy your gutters without worrying about them incurring damage for years to come. A professional company can install this type of system according to the exact dimensions of your home, resulting in a high-quality installation that is bound to last for years to come. Gutters also need to be angled properly to allow water to flow toward the downspout. By doing the installation yourself, you risk angling the troughs improperly, leading to overflowing gutters that may result in costly repairs.
Manassas Gutter Installation Cost:
The cost depends on several factors:
Type of material used. As discussed, durable materials like copper will cost more than vinyl.
Linear feet of gutters are needed. The more materials are needed, the more the product will cost.
Cost of gutter installation service. Unless you're doing your Manassas gutter installation yourself, you'll need to factor in the cost of labour.
Lifetime warranty. It's worth looking at systems that come with warranties. Although these tend to have higher upfront costs, you'll have peace of mind knowing that if a problem arises, gutter repair expenses will be covered.
For Reliable Gutter Installation, Manassas, VA, Homeowners Choose Mr. Handyman!
Ar Mr. Handyman of Northern Virginia, we're proud to offer a range of gutter services, including gutter installation and repair. Not only do we serve Manassas, VA, but we also provide services throughout Prince William County and in nearby areas, including Haymarket, Lake Ridge, and Springfield.
If you're ready for a new gutter installation in Manassas, VA, contact us today to book an appointment or arrange a consultation. You can reach us by phone to learn more about our wide range of handyman home improvement services. We look forward to showing you why Mr. Handyman of Northern Virginia is known for incomparable customer satisfaction!