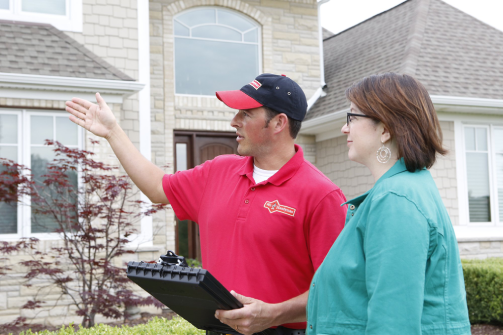 The Village is a beautiful city nestled right by Oklahoma City, with a small population of approximately 10,000. Being a relaxing city close to water, it's a dream spot for going through all stages of life, from having kids and choosing your family's forever home to settling down for retirement. No matter what stage you're in, home improvement projects will inevitably come up. You may want a dedicated study spot for your children as they move up grades in school. Or maybe you want to be encouraged to spend more time outdoors by adding a large deck and patio. As a city that's part of the metropolitan area, residents of The Village are fortunate to have easy access to all Oklahoma City services, including reliable handyman experts. With help from The Village handyman, achieving your dream home through home services is easy.
To get all those renovations and minor repairs done around your house, from high-quality remodeling services to gutter cleaning, get in contact with Mr. Handyman of North Oklahoma City and Edmond. Our crew of experts will fulfill your home improvement vision with a wide range of services for your residential property. No matter what improvement services you and your family may have in mind, we can accomplish them with precision.
When it comes to customer satisfaction, we go beyond the standard and aim to provide you with the best experience possible. Making sure your needs are met and your space is looking as beautiful as scenery straight from The Village is our top priority. We'll take the time to understand exactly what issues you are dealing with and what you need to ensure we do a great job. Our team has experience from decades of jobs to pull from, and we've seen it all.
Common Services Provided By A Professional Handyman in The Village, OK
As a locally owned and operated handyman business, we're proud to be able to provide local handyman services to residents of The Village and surrounding areas. Our handymen and carpentry experts have an average of 10 years of experience in the industry and can handle all types of projects, from basements to decks and everything in between. We're fortunate to retain the loyalty of many of our customers due to our high customer service standard and provision of outstanding workmanship. Our workmanship is backed by our Neighborly Done Right Promise, and we offer upfront, transparent pricing, so you know exactly what to expect.
Whether you require installation, repair, replacement or maintenance services for your home's interior or exterior, we're ready and willing to help. To find out more about the extensive services we offer, check out our local services list or give us a call. Not yet convinced? Keep reading below to find out more about our most popular services.
INTERIOR AND EXTERIOR DOOR REPAIR
The Village, Oklahoma is located in a beautiful, relaxing environment with easy access to the stunning Lake Hefner. This is the ideal location for giving your family a break from the high intensity of the big city. It's important to have your front door reflect that same atmosphere where you live.
Our Village handyman team has a wide range of skills to help achieve that sense of peace and tranquility in your home. The front entrance is key to making a good first impression on any guest visiting your home. Many different forces may damage or negatively impact your front door. Even smaller issues that may go unnoticed may become catastrophic if left without care. If a door starts deteriorating, it can have consequences like a spike in energy costs. Having a damaged seal may also cause damage to your drywall because of excess humidity.
A property's entrance may be important, but other doorways in your house also need attention from a professional handyman in The Village, OK. From interior doors to sliding patio doors, they all require an experienced hand when making replacements or providing upkeep. Depending on how severely your doors are damaged, it may be difficult to pinpoint whether repair or replacement is right for you without the help of a skilled handyman in The Village.
For minor bumps and scuffs, you can rely on basic upkeep to get everything looking as good as new. However, for more severe damage, or if an entry is in an irreversible condition, you may need a total replacement. Pouring money into fixing old doors is one option, but the costs can pile up. In this case, it might just be better to forgo that process by installing a new entrance.
There are different signs that will tell you exactly when you should call Mr. Handyman to fix your property's doors in The Village. Whether it's an issue that's easy to spot or a more internal problem that needs a closer eye, it's important to fix the damage right away. Pay attention to the following warning signs:
Visible light or an air current leaking in. This may create an opportunity for wind, rain and pests to sneak inside.
An entrance that is difficult to open and close, or doesn't latch shut properly.
Wood rot, which needs to be addressed immediately to avoid it spreading to other parts of your house.
Insect damage such as maze-like holes or channels on the surface of your entryway.
Hinges that are squeaking, rusting or becoming loose. This may lead to a loss of integrity in an entrance and possible injury if any hinges break.
Door frame that no longer fits flush with the slab.
No matter what entryway, or what caused damage, our handyman team can help. On a first check-up, we will determine exactly what fixes or renovations are required to fulfill your door's former glory. Our Village handyman services at your disposal include:
Frame repair, to address all types of damage to your door frame.
Entryway repair/replacement, for when minor entryway repairs won't cut it.
Lock or knob replacement, which ensures any attempts at breaching space are dealt with properly.
Sealing rooms from outside elements and ensuring room temperature stays at room temperature.
Fixing wood rot, which halts any further deterioration through its growth process.
Interior and exterior entryway repairs handling all entrance care.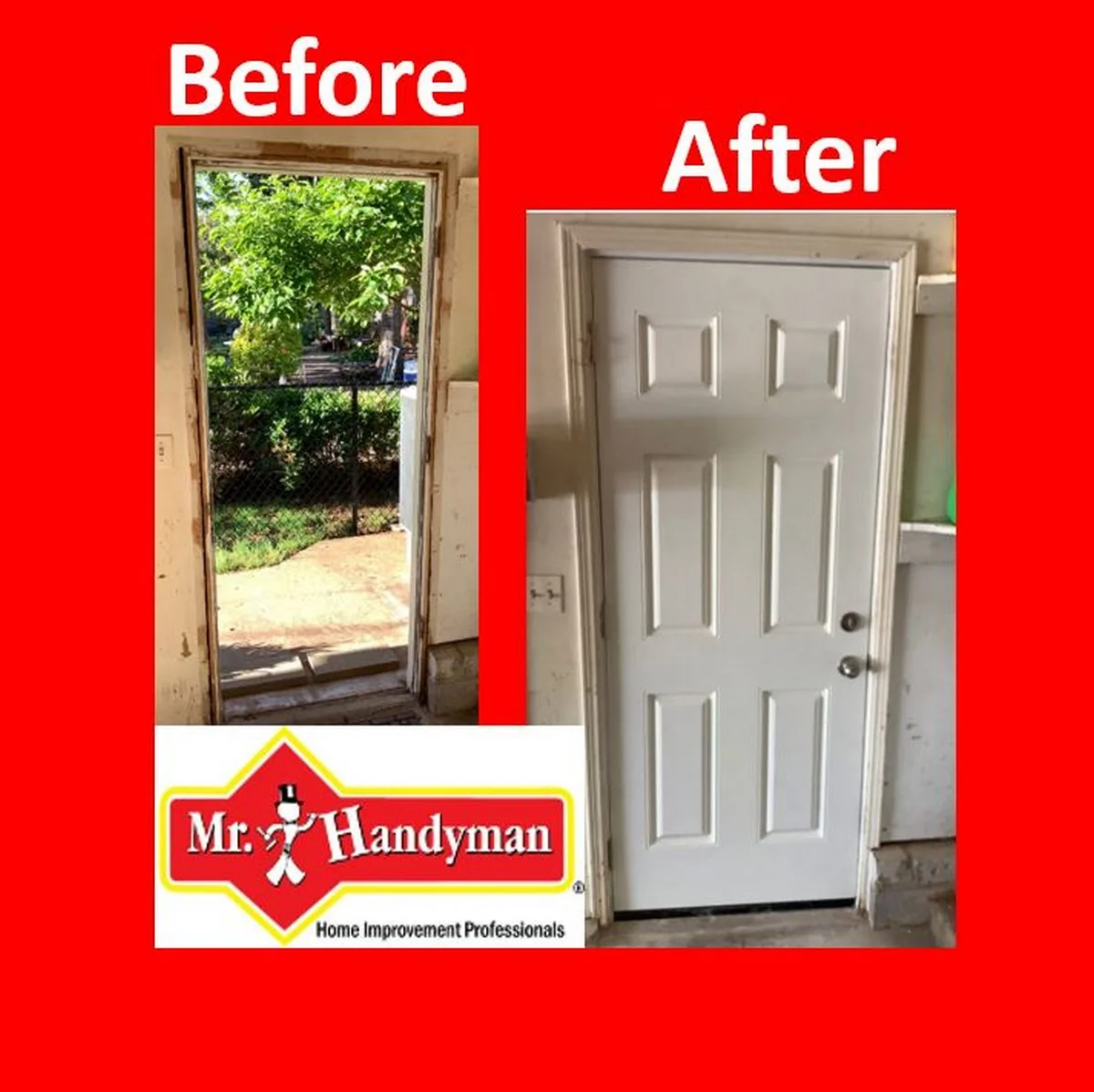 DRYWALL REPAIR
Drywall is an important part of your house that needs monitoring. Although it's easy to overlook, you need to acknowledge how important drywall is when considering your home's overall condition and appearance. As an important part of your home's structure, you need to take good care of it. With the expertise of The Village handyman team at Mr. Handyman, sniffing out possible issues or damage to drywall is a breeze.
There are many reasons why you should get drywall repairs done. Not only is damaged drywall unattractive, but putting aside atmosphere and appearance, it may also inflate energy usage and increase the risk of bigger damage occurring over time. Regardless of severity, drywall repairs can benefit from a professional handyman with the appropriate knowledge and experience. Some of the things to watch out for if you are concerned about needing drywall repair include:
Structural damage affecting drywall, including holes, cracks, or moisture damage. These may be more difficult to fix depending on severity, so you may need consultation for further assistance.
An increase in drafts that negatively impacts your HVAC system. This may result in drastic changes to your overall energy bill, so you should handle these issues sooner rather than later.
A decrease in drywall integrity, which results in an increase in noise transference between walls. This can invade your home's privacy by letting everyone in earshot know what's going on in your own home.
A decrease in drywall's fire retardant effectiveness. This may affect how your walls and ceilings hold up during house fires.
No matter what damage your drywall has sustained, our handyman experts can handle any problem effectively and quickly. We'll make sure to get the job done right the first time, without exception. The last thing your family needs is to worry about potential risks and hazards from a second-rate job, which is why we pride ourselves on our quality workmanship. From the very beginning of any project to when all the details are wrapped up, we take care of everything. We will make sure that your space looks exactly like it should, to your liking—whether you need help maintaining your sense of privacy or getting away from the demands of everyday life.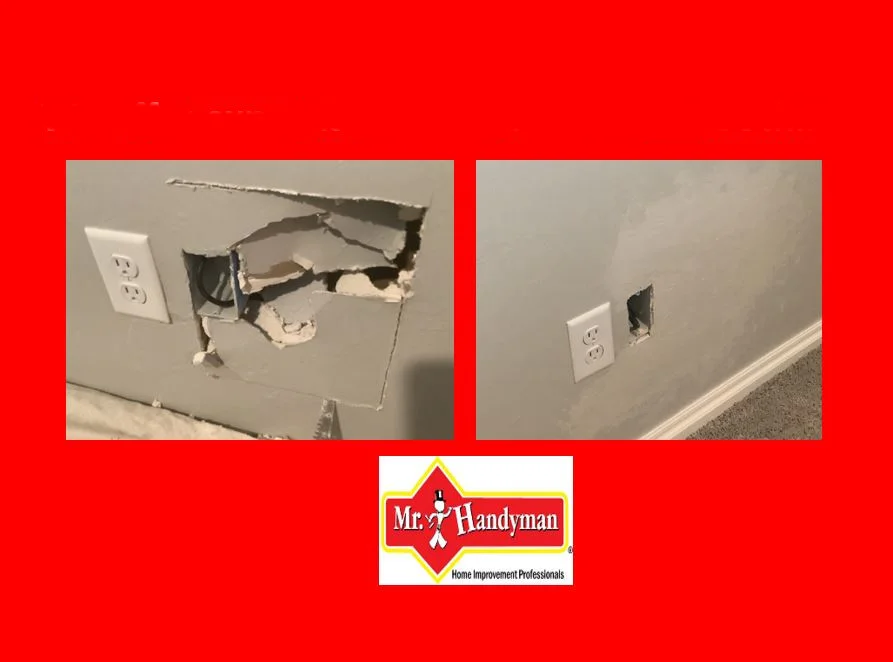 PORCH AND DECK REPAIR
For many homeowners in The Village, the very best part of summer is escaping the confines of the house and spending free time out on the deck, soaking up the sunshine, grilling dinner and socializing with friends and neighbors. But all that warm weather fun may come to an end if your deck suffers sudden damage or has been slowly deteriorating over the years. Problems such as popping nails and wobbly railings aren't just unsightly—they're dangerous hazards for your guests and family to navigate around.
A skilled handyman in The Village, OK can get your deck or porch back to excellent condition so it looks as great as the day it was installed. Our deck repair services include:
Replacing rotten boards.
Replacing wobbly railings and weakened stairs.
Pressure washing to remove built-up grime and loose paint.
Painting, staining and refinishing.
Fixing damaged porch screens and screen doors.
Fixing grading and drainage issues.
And more!
If your current deck has gone far too long without attention and looks like it might collapse in the next heavy rain, we can build a brand-new structure that is perfectly suited to the needs of your family. Or, we can add features and amenities to improve your deck such as bench seating around the perimeter, custom planters and flower boxes or a countertop next to the grill for an outdoor food prep area.
FLOORING INSTALLATION AND REPAIR
If there's one part of your home that gets used more than anything else, it's your floors. Regardless of the type of flooring you have in your home, over time, it will begin to show its age. Wood floors in a bathroom may start to warp and get scratched, tile can chip and linoleum can peel. Instead of replacing your flooring altogether, trust a professional handyman in The Village, OK to make cost-effective fixes to your flooring to get it looking like new again.
Some of the types of flooring we install and fix include:
Laminate flooring
Tile flooring
Wood flooring
Linoleum flooring
Vinyl plank flooring
In some situations, flooring installation may be a better choice than repair. If repairing your flooring will cost nearly as much as replacement, or you're simply tired of what you have and want an update, flooring replacement may be right for you.
Our guide to flooring repair can help you establish whether flooring repair or replacement is right for you. You can also contact us for a free on-site consultation, during which we'll inspect your current flooring and make recommendations based on our knowledge and expertise. We can also take measurements and provide you with an estimate.
Choose The Village Handyman Services from Our Expert Team to Get Repair or Improvement Help Today!
If you need effective, efficient and cost-effective home renovation services, odd jobs or minor home repairs, you can trust us to meet your needs for a handyman in The Village, OK. Our experienced team members have all gone through a background check program and are passionate about customer service, so you can be confident that they'll treat you and your home with respect.
When it comes to home renovations or upkeep, many different aspects need to be addressed. The amount of maintenance required can also affect how your home repair job is approached, and even how long upkeep will take. Either way, whether maintenance involves a few small jobs or one big task, our handyman team can handle a wide range of home repair projects.
Call us to speak to one of our knowledgeable and professional team members about your service needs and schedule service at a convenient appointment time when you're ready. Request service today from the most reliable handyman company on this side of Oklahoma—Mr. Handyman of North Oklahoma City and Edmond.