Residents living in East Lake enjoy their suburban lifestyle on the coast of Tampa. East Lake offers close access to parks, amenities, and neighboring cities and has attracted many young families and retirees to settle down. In fact, over 80 percent out of 32,000 residents proudly own their homes, allowing them to take advantage of Pinella County's largest lake—Lake Tarpon, which offers a great alternative to the Gulf of Mexico. While this is just one of the many outdoor activities available, you as a property owner probably don't want to spend too much time thinking about home maintenance and repairs that would stop you from enjoying your hobbies. That's what your East Lake handyman is for.
Since Florida receives the highest rate of salt penetration in the USA, you will likely find yourself cleaning your car regularly at the car wash, which is already too much work on your plate. Salt air has a high impact on your vehicles, ACs, and dehumidifiers, but also on your property as a whole. Coastal wind speed enables salt air to travel inland faster than you can imagine. Both residential and commercial buildings require periodic maintenance to stay in shape, and that includes outdoor living spaces like decks and patios. Any types of metal or wood are most susceptible to damage without the required annual maintenance and inspections.
Don't worry if you're just getting prepared for the summer or the rainy season. Your local East Lake handyman already has a seasonal checklist ready to get you started. Mr. Handyman serving Palm Harbor, Clearwater, and Largo, is a locally-owned and operated business with the goal of providing East Lake residents with exceptional workmanship and dedicated customer service. We only add certified service professionals to the team who have passed their background checks and drug screens, and we bring many years of experience in maintaining local homes and providing a wide range of repair services. We look forward to helping you enhance your home with our expert, courteous service.
As a conscientious homeowner, you want to give back to your home and ensure it's ready to combat the humid heat or storm season, but where do you begin? It might be your least favorite thing to do, but you know that preventative measures need to be taken. The truth is that every property owner needs a trusted handyman in East Lake, FL—someone who knows the area and climate the best and is familiar with common types of damage found in homes.
We understand if East Lake homeowners are wary about hiring professional East Lake handyman services. It requires a lot of upfront trust to invite a stranger into your home, especially if that specialized contractor doesn't have a professional Google Business Profile with genuine customer reviews or doesn't follow safety guidelines. At Mr. Handyman, you will get peace of mind knowing that our team is made up of licensed Neighborly home service experts with proven workmanship. We always approach assigned tasks efficiently and with a positive attitude.
There is always something around the house that could do with some improvement and preventative maintenance to eliminate early signs of wear and tear on your doors, trim, tiles, and much more.
POWER WASHING AND PRESSURE WASHING
If only coastal rain would help us clean our properties! But unfortunately, that's not the case. It might be hard to believe, but there is chlorine and sodium gas in the atmosphere, and when ocean waves break and throw salt water in the air, the atmosphere captures it. While most rain is fresh water, it's combined with a lot of ocean spray, and more ocean water evaporates into the atmosphere. This is how salt water spreads all the way to your doorstep. If you walk around your property to inspect your gutters, fascia boards, siding, deck, and fence, do you see grime or ocean sediment? It's not always easy to tell whether your property has faced some damage or is merely dirty. When you hire your local handyman in East Lake, FL, you can benefit from an expert pressure washing service to recover your house's original shine.
PRESSURE VS. POWER WASHING: WHAT'S THE DIFFERENCE?:
Both consist of a large water tank connected to a high-pressure hose. The only major difference between the two is that power washing uses heated water. That's the best option you have when you're dealing with stubborn stains like salt or grease. Your local East Lake handyman will likely use a power washer to effectively clean your surfaces and ensure it is sanitary and spotless.
WHAT ARE THE BENEFITS OF POWER WASHING?
It prevents damage by effectively stopping salt, ocean sediment, and other stubborn substances from settling on the surface and causing interior damage.
It helps you maintain home value by protecting sensitive materials and restoring curb appeal.
It keeps your family healthy by eliminating mildew or other types of harmful bacteria. Pressure and power washing remove pollutants that could put your family's health at risk.
It prepares surfaces for specific maintenance tasks like resealing your deck or re-painting your fence.
Your trusted service providers always do a detailed inspection of your materials before they professionally clean your surfaces. This is one of the most valuable perks that come with our East Lake handyman services. An inspection allows us to diagnose damage severity and do necessary repairs if needed.
IS PRESSURE WASHING DIY-FRIENDLY?
Technically yes, but if you haven't used one before and find yourself lost in the hardware store staring at a line of different types and sizes, we recommend that you contact your local handyman in East Lake, FL. Not only will you benefit from our expertise in detecting salt corrosion damage or wood rot, but also from our skill and expertise in providing services at a pressure setting that is safe for your materials.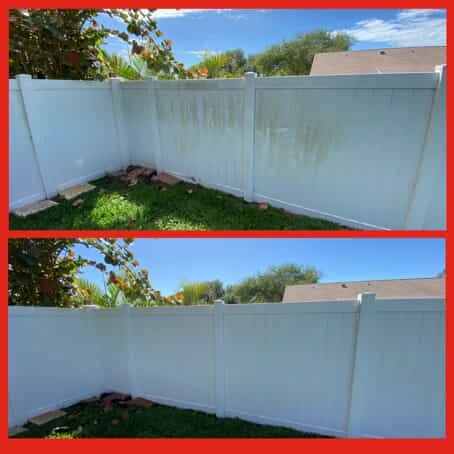 Gutter Cleaning
East Lake receives, on average, 51 inches of rain per year which is disastrous for properties with wood and metal materials. If you think about the salt content in the air that spreads throughout the city, you would wish you could take your entire house to the washing center. But the most important part to take care of is your exterior drainage system, starting at your rain gutters—the U-shaped metal traps built at the edges of your roof.
SECTIONAL VS. SEAMLESS GUTTERS
Sectional types are the regular ones that have been pre-cut and come in sections. Although they're more common and easier to install, they are prone to leaks at the seams and joints. On the other hand, seamless types are made in one long piece with no joints and thus, reduce the risk of clogs. They're low-maintenance and aesthetically more pleasing but have a high upfront cost and installation that requires a certified handyman in East Lake, FL.
WHY IS GUTTER CLEANING IMPORTANT?
Our gutter cleaning services include thorough inspections, during which we assess your gutter's health. Since most are made of light metal materials like aluminum, they require periodic coating and painting to remain healthy and efficient. Whether you have steel or aluminum gutters, they require annual cleaning maintenance to make sure decomposing leaves and debris won't trigger clogs that will cause damage to your roof if accumulated water spills over and starts running down your siding. Furthermore, the chalky film that salt leaves behind on metal can do a lot of harm to steel.
During our inspection, we will tell you about your gutter's health and offer new coatings, preventative methods, and repairs that will ensure you're set for the next rainy season.
BENEFITS OF GUTTER CLEANING:
Protects your home's foundation
Protects your roof from moisture damage
Protects your siding
Minimizes the risks of flooding
Supports your soffit and fascia
Keeps pests away from the property
Enhances safety and comfort
Boosts curb appeal
Extends your gutter's lifespan
East Lake Handyman: Repair Services
Even if you tick off various essential tasks on your maintenance checklist, other problems tend to come from out of nowhere. It could be undetected damage or wear and tear that deteriorated over time in a non-visible area. The different types of repairs your experienced East Lake handyman offers include both smaller and larger projects for both outdoor and indoor repairs. Repairs may be enough to solve the problem, but in the event of a full replacement, we will be transparent about our diagnosis because providing you with long-term solutions is our top goal. We want you to benefit from enhanced efficiency and safety in your home.
DOOR REPAIR
Our local weather conditions make door repair in East Lake almost inevitable. Coastal towns are very humid, which poses a threat to your housing materials, including your door. If you are passionate about wood or metal, you'll likely have one of these materials as a part of your front door. Unless you have become too overwhelmed with all the high-maintenance work and have opted for something more weather-resistant like fiberglass doors. Having completed many door repairs and replacements, your experienced handyman in East Lake can confirm that fiberglass has become quite popular among local property owners.
Fiberglass is made of compression-molded fiberglass and has three major components: skin, frame, and core. The core consists of rigid insulation and glass-reinforced polymer, whereas the frame is made of either wood or composite. The skin is usually a layer of artificial grains that makes the door appear like wood. It resists salt air corrosion like no other material!
Signs You Need Door Repair:
It's noisy
It doesn't close properly
Drafts
Damage in the frame
Rust
Wood rot
It's over 20 years old
DECK REPAIR
Your outdoor living space is only complete if you have a healthy deck. Decks in East Lake require routine inspections and maintenance to remain safe for you and your family. If you don't remember the last time you checked the footings, posts, boards, or joists, now is the time. Pressure-treated wood is the most common decking type you will find in East Lake because it's cost-effective and easy to source. Most hardware stores have pressure-treated wood boards ready to go.
As a lover of natural wood, you might be partial to cedar, which is more difficult to source in Florida. As a naturally moisture-resistant wood that doesn't need to be sealed or painted, it can still fade and lose efficiency over time. But we still recommend sealing or staining if you want to get the most out of its looks and performance.
Composite material is also popular but comes with a higher price tag than other types. That said, the price for composite will eventually pay off due to the minimum maintenance it requires. Unlike wooden materials, composite can last up to 30 years.
DECK REPAIR SERVICES FROM YOUR EAST LAKE HANDYMAN:
Replacing rotten boards
Fixing or replacing loose railings
Installing footings
Replacing stairs
Repairing screens and windows
Staining, painting, or refinishing
Pressure washing
DECK MAINTENANCE TIPS:
Pressure-wash it at least once a year to keep it clean
Refinish or seal every two to three years
Cover it with a tarp during storm season
When decorating it with a rug, opt for synthetic fiber (anything that doesn't hold moisture!)
Install an awning to protect your deck from excess UV rays
Caulk areas that need additional waterproofing
OTHER EAST LAKE HANDYMAN REPAIR SERVICES
Wood rot
Termite damage
Soffit and fascia
Siding
Grout and tile
Interior and exterior trim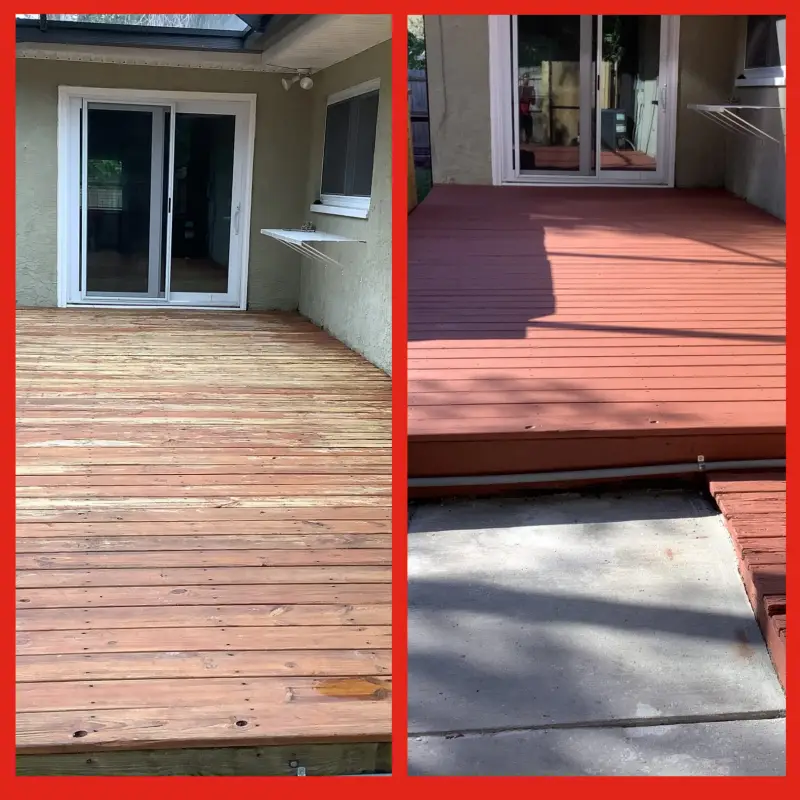 Home Remodeling Services:
Our home improvement experts have a good eye for home renovations and more complex projects too. We can provide remodeling services to enhance your living space with newer improvements and additions just for you.
Bathroom Remodeling: We'll help you upgrade your tile system and other parts of your bathroom with something more personalized, whether it's for your shower wall or floors.
Kitchen Remodeling: Looking to install new drywall or kitchen cabinets? Perhaps you need to upgrade your kitchen backsplash with new tile? We can get that done for you!
Are You Falling Behind With Home Maintenance Or A Repair Project? Hire Your Local East Lake Handyman!
Whether you need major or minor home repairs and improvement services or someone to inspect your residential or commercial property, your skilled team at Mr. Handyman serving Palm Harbor, Clearwater and Largo will take care of any seasonal maintenance tasks that take up too much of your valuable time.
There is no need to further search for a "handyman near me" because we are the team that truly cares about your safety and comfort, which is why you can trust us to get the job done right without leaving any mess behind. We are a locally-owned and operated business, happily serving East Lake and nearby communities like Palm Harbor, Clearwater, and St. Petersburg.
Give us a call to chat with our outstanding customer service representatives about what we can do to make your home safer and more comfortable.