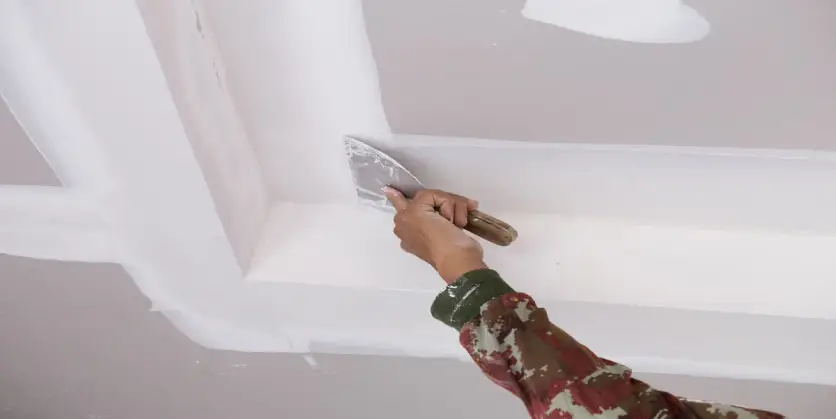 Do you have cracked or dented drywall that needs repairing? Finding the right drywall repairman service to fix damaged drywall in your home can be stressful. You need to know the contractor you hire is trustworthy, will provide quality work, and will respect you and your home.
At Mr. Handyman of Wheaton-Hinsdale, we get it. We know how important it is that you feel confident you've chosen the best drywall repairman service for your home. After all, your home is precious. You've invested a lot of love, time, and care into it and those values should be reflected by your contractor.
To help you choose the right drywall repairman service for the job, we've put together a collection of hiring tips to follow. We've also compiled a few questions to ask your prospective contractor before starting your drywall repair job. Continue reading to learn what you should know to hire the best drywall repairman service in DuPage County, IL.
Steps for Choosing the Best Drywall Repairman Service
Our experts created the following guideline to help you choose the best drywall repairman service for your DuPage County home. Follow these steps to find a contractor you can trust, who knows what they're doing, provides quality work, and will solve your drywall problems efficiently.
1. Establish the Project Scale
The first thing you should do before hiring a drywall repairman service is to examine the damage. Depending on how bad it is and how extensive the repair is, you might put more or less investment into what contractor company you choose.
For instance, if you have a tiny dent in your wall made by falling furniture, you may be able to complete the repair yourself or be less invested in what contractor you hire.
But, if you have severe cracking, sagging damage, or water damage, the repair will be much more extensive and you will require professional help. If the structural integrity of your home has been compromised, you'll need a technician that can fix the damage and ascertain the underlying problem.
At Mr. Handyman of Wheaton-Hinsdale, each of our professional technicians possesses an average of 15 years of experience in the trades. Additionally, we deliver outstanding customer service. When you hire our team, you know you're getting the best drywall repairman services.
2. Do Your Research
Conducting thorough research before hiring a drywall contractor is very important—especially if the job will be time-consuming and have a large impact on your household while it gets done. One way to start researching contracting companies is by looking at websites like the Better Business Bureau. These websites offer customer reviews and accreditation that can be a good sign of a contracting company's quality.
There are a few important marks indicating if a business is professional and can be trusted to handle your drywall repair needs. When researching a contracting company, check to see if:
The technicians are licensed and insured
The technicians arrive in a company vehicle
The technicians possess all the necessary tools
You have the option to schedule an appointment
The company offers up-front pricing
The company offers a guarantee
The team at Mr. Handyman of Wheaton-Hinsdale checks all these boxes. We pride ourselves on our professionalism and dedication to excellence.
3. Be Sure to Get References
Has someone in your social circle hired a drywall repairman company previously? If so, would they recommend them? It's certainly worth asking your friends and family if they know a good company they could recommend. Not only will they be able to give you a first-hand review of their experience, but you can also see the work completed for yourself.
If your social circle does not know a good company or you would like further references, one way to see if a company is trustworthy is through its online reviews. Google My Business reviews tend to be a particularly excellent place to read a range of ratings for a business. You can also see the frequency of reviews to ensure that the feedback you're reading is current.
4. Create a List of Questions
Having a list of prepared questions to help you choose what drywall repairman company to hire will help you feel more confident in your decision-making. Scroll down to the section below for a detailed list of questions to ask your contractor before any work begins.
5. Check Skills and Experience
Experience in the trades matters when it comes to choosing a drywall repairman service provider, especially if you need help with a big project. The more experience a technician has, the better he or she will be at troubleshooting issues that might arise and get the repairs completed in a timely manner.
Ensure you choose a contractor that has years of experience on the job - and ideally one with an A rating on BBB. At Mr. Handyman of Wheaton-Hinsdale, our technicians each have an average of 15 years of experience working in the trades. Additionally, our staff is given further training when they join the Mr. Handyman team. We'd never send a drywall repairman to your house who was not an expert.
6. Familiarize Yourself with What to Expect
A strong indication of whether or not a contracting company is trustworthy and professional is its transparency about what to expect during a job. Companies that are more structured tend to be more experienced and have a focus on customer service. For example, at Mr. Handyman of Wheaton-Hinsdale, you can expect a streamlined process that puts your needs first. Our process includes the following steps:
Scheduling: With one simple phone call, you can hire a seasoned professional who will handle your drywall repair needs like a pro. You can also schedule an appointment online at your convenience.
The Arrival: You will receive a dispatch notification with a photo of the technician as they make their way to you. Your Mr. Handyman technician will arrive at the scheduled appointment on time in a clearly marked van. He or she will also have all the necessary tools to complete the job. Wearing a Mr. Handyman uniform, your technician will review the job details with you to confirm the length of time needed and the price to complete the job.
The Work: Once the job has been confirmed, we get to it. Either using materials you've supplied or materials we pick up for you (at an additional fee), our technicians will repair your damaged drywall efficiently and professionally. All of our technicians are fully insured and bonded for accidental damages and workers' compensation.
Payment for Work Completed: Generally, our services are billed at an hourly rate so that you only pay for the time required to complete the work. Our work is backed by our Done Right Guarantee. Once we leave, if you find a problem with our workmanship, give us a call, and we will return to fix it.
7. Discuss Pricing
Something you need to be certain of when booking a drywall repairman service is the project cost and how pricing is handled with that company. Different companies have different policies, and it's important you inquire about an estimate (when applicable), what methods of payment are accepted, and how the pricing process works. For example, some companies might supply you with a reasonable-sounding estimate over the phone and then hit you with a much larger bill than you anticipated because of hidden fees.
That's why the team at Mr. Handyman of Wheaton-Hinsdale offers is very communicative about the pricing so that you're never caught off-guard due to hidden fees and surprise costs. When we arrive at the job site, we look at the work required and provide you with an estimate. If there are additional complications/issues found then your technician will communicate the changes with you.
8. Leave a Review
While this tip is not part of the hiring process for a drywall repairman service, it will benefit the next DuPage County resident looking to hire a contractor. Leaving a detailed and honest review about the work you had completed, how the experience went, and whether or not you would hire a given company again, helps other homeowners choose a drywall repairman service they can trust.
What to Ask When Hiring a Drywall Repairman Service
After narrowing down the contractor companies you are interested in for your drywall repair job, you should prepare a list of questions to ask before interviewing your prospects. Continue reading to discover what to ask when hiring a drywall repairman service.
How Long Has Your Company Been in Business?
Is the company you're interested in a start-up with very little experience, or a company that has been in operation for decades? Likewise, do they belong to an accredited company or are they simply looking to make a quick buck?
At Mr. Handyman of Wheaton-Hinsdale, our owners Wayne and Kim Owczarzak have been in business since 2009 and have served many communities within DuPage County for 11 years. Additionally, the Mr. Handyman brand has been operating throughout North America for more than 20 years.
Are You Insured?
It's worthwhile to check and see if a drywall repairman is insured for damages and workers' compensation. At Mr. Handyman of Wheaton-Hinsdale, all our technicians are insured and bonded. This is to ensure your comfort and safety when working with our team!
When Would Be the Tentative Timeline?
It's entirely valid to want to know how long a drywall repair or installation job will take to be completed. Not only will this give you a sense of how long a task should take—and how many interruptions your family will have to deal with while the repairs take place—but you will also be able to narrow down contractors based on their answers. If a repair for a dented wall is quoted as taking more than a few hours, you're likely being taken for a ride.
How Does Payment Work?
Different contractors have different ways of billing and accepting payments. Be sure to ask if the contractor accepts the method of payment you require. Additionally, be sure to discuss how much the bill should be and look at the breakdown of costs. No one wants to be hit with a bill they did not budget for.
Our team offers upfront pricing based on the information provided, never charges overtime fees, and will communicate any changes to the estimate upon viewing the damage to your drywall. At Mr. Handyman of Wheaton-Hinsdale, we pride ourselves upon being professionals—and professionals do not take advantage of their clients.
Do You Have References?
Do always ask your prospective drywall repairman for references and if they can direct you to unbiased reviews. For example, Google My Business tends to offer a range of honest reviews that will help you make a decision.
Will You Bring the Right Drywall Tools?
Your contractor should be thoroughly prepared with the right tools to complete your drywall repair as soon as they show up at your home. You don't want your valuable time and money wasted waiting on a technician to find the correct tools. If the job requires our team to provide materials, we will work efficiently to acquire them quickly for you during the job.
Will You Clean Up After You Leave?
It might sound obvious, but not all contractors consider cleaning up part of their job. Be sure to ask the drywall repairman you're interested in hiring if they clean up the job site once finished. This will give you a sense of the company's professionalism and set the expectation that the job should be cleaned upon completion.
Mr. Handyman of Wheaton-Hinsdale's hardworking team always cleans up after finishing a job. It's one way we show our clients that we put customer service first and truly respect you and your home.
Do You Offer a Warranty on Your Services?
In the event that something goes wrong, it's good to know what a company will do to help you out. Should the job not be completed to your satisfaction or you find damage to your home that wasn't there before, you need to be certain the company you hire will make it right.
At Mr. Handyman of Wheaton-Hinsdale, we offer all our clients our Done Right Guarantee. This promise guarantees all our workmanship and products. If you're unhappy with the work or services we gave you, give us a call, and we'll send someone out to fix it right away.
Our Drywall Repair and Installation Services
Our professional drywall repairmen can complete a range of drywall repairs and services. Whether you need to replace the drywall in your basement due to water damage or you've noticed new cracks in your walls that weren't there before, we can complete the necessary repairs to make your walls look good-as-new. Also, we will inspect the damage to see if there is an underlying issue you should know about. For example, if you have damaged drywall in your bathroom, we can check to see if the cause was due to poor ventilation or perhaps a water leak.
Our professional technicians can complete the following services:
Drywall repair
Drywall mudding
Drywall sanding
Drywall installation
Painting and finishing services
Schedule Drywall Repairman Services at Mr. Handyman Today!
If your drywall needs replacing or repairing, the team at Mr. Handyman of Wheaton-Hinsdale are the professionals to call. Reach out to our friendly and experienced team or request a service online to get started today.