Top 10 Bathroom Remodeling Tips For Your Wheaton Home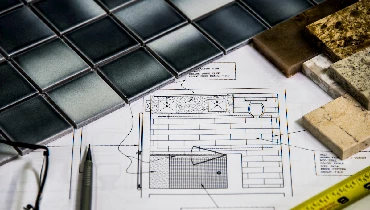 Home remodeling is hard, stressful, and can get costly if you're not careful. For many homeowners, tackling a remodel is on the bottom of their home to-do list. But there doesn't have to be so much disdain for the task.
A renovation can increase the value of your home if you're looking to sell. If you're not planning on going anywhere, it's also a great way to enhance your space. Renovating can increase the efficiency of your daily activities.
The bathroom is one space every homeowner should pay a little extra attention to. Bathroom remodeling may not be on the top of your list, but it should be. A stunning bathroom not only adds value to a home, but it can also create a much-needed oasis.
Yet, a remodel of any kind can get out of hand. Here are 10 tips provided by our expert Wheaton handyman that will make your bathroom remodeling experience more simple and stress-free.
1. A Bathroom Remodeling Budget
Let's jump right into it. You're going to need a budget, and you're going to need to stick to it. An out of control budget is the biggest stressor when it comes to completing a renovation.
Bathroom remodels are expensive because of the labor that goes into the room, and sometimes because of the materials used. If you don't keep track of these two factors, costs can rise and budgets can spiral out of control.
To combat this, you'll need to sit down and make a plan for your dream bathroom. First, you should ask yourself some questions:
Are you going to change the bathroom layout or plumbing?
Is this an update or an upgrade?
What is absolutely essential in your new bathroom?
Changing the layout or moving the plumbing can get expensive since it's more labor. An update consists of cosmetic fixes to current fixtures while an upgrade typically includes brand-new features and fixtures. Your bathroom essentials are those features you need for your new bathroom.
Next, you will have to figure out how much you can afford to invest in your bathroom remodeling project. Knowing your budget in advance will help you make better decisions about your renovation.
It's also a good idea to set some of your budget aside as a contingency for potential issues.
2. Create a Layout
Knowing the type of bathroom you want will guide your remodel decisions. Most often, the size and type of bathtub doesn't change—but that doesn't mean it can't. If your renovation includes enlarging the space, changing the bath type is probably on the to-do list.
There are three common types of bathroom layouts: a standard bath, a half bath, and a wet bath.
Standard Bathroom
This is a style you're probably familiar with: standard bathrooms have a sink, a toilet, a bathtub or shower, or some combination of bathtub and shower.
These bathrooms can be unattached to a room (hall bath); connected to a room (en-suite); or, connected to two rooms (Jack and Jill bathroom).
Half Bathroom
Often called a powder room, a half bathroom is only a sink and toilet. These are often downstairs and next to living spaces like living rooms, family rooms and basements.
Half baths are great for guest use, so they don't have to go through bedrooms or venture far from the area guests are being entertained.
Wet Bathroom
A wet bath features a shower that isn't separated from the rest of the room, typically in an open floor plan design. It's essential for everything in a wet bath to be waterproofed, including the floor, vanity, and walls.
This kind of bathroom often utilizes sleek modern designs. For example, using glass to create a division for the shower while keeping it open to the rest of the room. Wet baths have many benefits such as accessibility for those with limited mobility, while also being efficient on space.
Developing the Layout
Once you know what type of bathroom you want, you should start thinking about the layout. Moving plumbing can get expensive, so if your budget isn't big, it's advised you leave the layout alone. But changing the layout may create a more efficient space.
Consider the layout of your current bathroom. Will you keep it the same, or will it be different? Will the current layout support the bathroom type you want?
If you plan to keep the same layout and that layout can give you the bathroom type you want, then you're ready for the next steps of remodeling. If you're going to change the layout to give you the bathroom type you want, then predetermine where everything will go.
You don't have to create the layout alone. Work with a bathroom designer or contractor. They can give you their professional opinion and ensure that everything is done correctly and up to the necessary codes.
3. A Good Contractor
Hiring a professional is one of the best ways to ensure your bathroom turns out well. A renovation can be overwhelming for a homeowner. But a contractor is trained to handle the stress and juggle the needs of the remodel.
Hiring a contractor can save you time. A good contractor—and possibly their subcontractors—are able to work quickly and efficiently to deliver a professionally finished project. They can navigate permits and inspection requirements.
Often, a contractor can get professional or wholesale discounts on materials—saving you money in the long run. A good contractor would allow you to focus on the fun parts of renovating, letting you have less stress overall.
4. Consider the Tub
While tubs are a feature in a bathroom, they aren't always needed. Some people prefer a shower over a bathtub. Others don't want to use the water needed to fill the tub or would rather dedicate the floor space to something else.
If you love a long soak, then you'll want to keep your tub in mind when planning your layout. And if you're going to have a tub, figure out if the shower will be connected or not.
It's best for a home to have at least one tub as it increases the resale value if you ever plan to sell. That one tub can be either in the hall bath or the en-suite bath, whichever layout works best for you.
5. Keep Ventilation in Mind
This is an often-overlooked necessity in bathrooms. Because of all the moisture from relaxing baths and long showers, bathrooms can get damp. And dampness left unchecked can lead to mold issues—which can lead to expensive removals later on.
Bathroom ventilation comes in two forms: window ventilation and exhaust fans. Windows vent well, but they can also let some of the outside in. Pollution, pollen, bugs, and animals have all been known to find their way into your home through bathroom windows.
Exhaust vents can pull the air out of the bathroom, taking with it the humidity and dampness that can wreak havoc on a home. Ask your contractor where a vent should be to get the most out of the airflow.
6. Lighting is Key
Lighting can set the mood of any room, including your new bathroom space. You don't want to have a gorgeous space that's ruined by bad lighting. There are two types of lighting for bathrooms: natural and artificial.
Natural lighting comes in through the windows and can make a space feel larger and airy. Adding large windows to let in natural light will greatly improve the design of your bathroom. If you can't install floor to ceiling windows, consider a skylight instead.
You'll want to position the natural lighting so that it faces a mirror. Light coming through the window will reveal things more accurately including the colors and details of your outfits, makeup, and skin tone.
Artificial lighting is just as important. You should think of lighting in layers that work separate from (and in conjunction with) each other. A combination of overhead LED lights and soft lighting around a mirror or vanity is ideal.
It's important to light your entire bathroom. So if the space is big, one overhead light may not work. Consider lighting the shower and/or bath separately for mood lighting.
7. Don't Forget Outlets
Outlets are one of those necessary but often second-thought ideas when it comes to the bathroom. It would be a tragedy to be close to finishing your renovation and realize there are few or no outlets in the bathroom.
If the appearance of outlets threatens the beautiful design you have in mind, consider stashing outlets away. With a little advanced planning, you can place outlets inside medicine cabinets, drawers, and vanities. Hiding outlets away allows a sleek and clean look.
Whether you have a hairdryer or an electric toothbrush, you're going to need a sufficient amount of outlets in your bathroom. Update the ones you have or add a couple more, but don't forget about them.
8. Be Smart About Tile
Tile is where bathroom remodeling can get a little overwhelming. With thousands of different options in color, size, shape, and pattern, it's understandable that decision paralysis can set in. Tile options can also get expensive, especially by the square foot.
When choosing tile, it's important to get rid of all the noise. Eliminate tiles that aren't durable or long-lasting. They may look beautiful upon installation, but if you can't enjoy them in a few years, what's the point?
Porcelain, cement, ceramic, natural stone, and glass are great options for a bathroom. Figure out where you're going to put the tile—that can help narrow down choices. For a total tiling job, you probably don't want tile that's $25+ per square foot.
Along with tile, choose your grout carefully. If you want your grout to stand out, go for a color that contrasts your tile. If you want grout that blends in, choose one similar in tone to your tile.
In places where your grout will get wet, like the shower or behind the sink, try a synthetic grout to seal out moisture. And if you don't want to clean often, avoid white grout at all costs.
9. Add In Storage
This is especially important if you're taking apart your bathroom and putting it back together. You don't want to come to the end of your renovation and realize you have less room to store things than you started with.
Adding storage doesn't mean large, walk-in linen closets. You can add storage in small ways like a built-in shelf in the shower or with new cabinets on the wall. For larger storage, consider your vanity or open shelves to store towels, washcloths, and products.
You may also want to consider installing towel racks by the shower, where to store soap and shampoo and where the cleaning products are to go.
10. Luxury Upgrades
You don't always have to spend a lot of money for your bathroom to feel luxurious. If you plan it right—or have some extra money leftover—adding some luxury upgrades can make for a unique bathroom experience.
If you're going over your bathroom flooring options, why not consider a heated floor? Stepping out of the shower onto a warm floor will make you feel like you're at a five-star hotel.
Or maybe you like wrapping yourself up in a large, cozy towel. A heated towel rack might be an easy luxury add-on to install. Rain showerheads, multiple showerheads and shower control panels are common extras that make your shower feel like a spa.
Upgrade Your Wheaton Bathroom Today
Your bathroom should be an oasis in your home. It should be a place to de-stress and relax. In an old and non-functioning bathroom, you won't get that downtime your body aches for—especially after a long day's work.
A bathroom remodeling project doesn't have to be hard. An easy, hassle-free experience is possible if you follow our guide. Your in-home spa-like retreat isn't far away when you hire Mr. Handyman of Wheaton, Illinois.
Have A Question? Contact Us
Mr. Handyman of Wheaton-Hinsdale
245 W Roosevelt Rd Building 6 Suite 39
West Chicago, IL 60185, United States
https://www.mrhandyman.com/wheaton-hinsdale/
Let us help you transform your bathroom into its full potential. With our services, your satisfaction is guaranteed. Book your appointment by calling us today.