5 Deck Repair Services You Need to Get Summer-Ready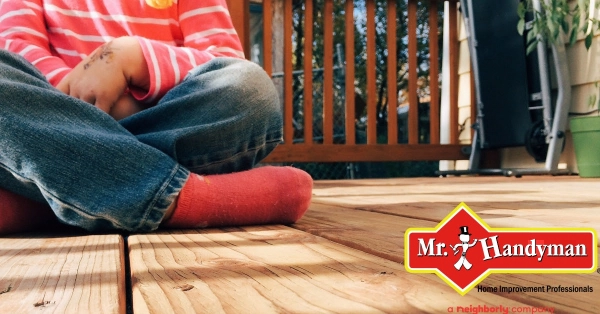 Some people can enjoy warm breezes and sunshine on their backyard deck year-round, but in Illinois, we have to seize the opportunity when warm weather arrives. From socializing with friends to grilling dinner on the barbecue, chilling outside is one of the very best parts of summer—but when your deck is in rough shape, it can really put a damper on outdoor fun.
Rotting, splintered boards, popping nails, and wobbly handrails aren't just unsightly cosmetic issues, they're hazards for your family and guests to dodge. Because outdoor surfaces are exposed to the elements, keeping them well-maintained is an ongoing process that needs to be repeated annually.
Not sure what deck repair projects you need to get your ideal outdoor living space ready for summer? This guide covers five of the most requested repair services in the West Chicago area that Mr. Handyman of Wheaton-Hinsdale can carry out to get your deck and porch whipped into shape. With more than 15 years of hands-on experience under their belts, each of our service professionals is dedicated to quality workmanship and exceptional customer service every step of the way.
Wave Goodbye to Wood Rot
Are your timber boards turning soft and spongy, showing patches of discoloration, webbed with cracks, or crumbling away in places? These are all signs of the homeowner's natural enemy, wood rot. A wood deck or porch is particularly vulnerable to this form of decay because it's caused by wood-eating fungi that require a high wood moisture content to begin growing, and outdoor structures are subjected to frequent wet weather.
If left to fester, wood rot can cause serious structural damage—we've seen entire decks collapse due to wood rot that was allowed to run rampant. The best treatment for wood rot is to remove the affected wood entirely and then replace it with new, pressure-treated lumber; next, paint or stain and cover it with a coat of sealer to make it water-resistant. However, if there are only very small patches of rot it may be possible to treat them by scraping out the rotten bits and filling the holes with epoxy wood filler.
Make Stairs and Railings Safe
If your railings are loose and your stairs dip down when they're stepped on, it's not you—it's them. Railings are often the only thing standing between us and a nasty tumble off the edge of the platform; but even if we're talking about a porch that is low to the ground, it's a safety issue if someone leans against the rail and it can't support their weight.
Weak stairs are another problem that needs to be repaired so you can rest assured that you have a safe deck. Whether it's kids and dogs rocketing up and down all day or just normal wear and tear, stairs take a lot of abuse and can become unstable from wood rot. Your handyman will install a brand-new set of solid stairs, then seal them to protect against rot.
Spotlessly Clean Without Scrubbing
Is your deck covered in caked-on grime, slick algae growth, mud, and other unwelcome substances? Those slippery surfaces make it hard to keep your footing, but they also erode the material underneath, trapping moisture and making water damage much more probable. That's why deck cleaning should be part of your spring home repairs checklist. You can put away the mop and bucket, though—we'll use a pressure washer to get into every nook and cranny so it's sparkling clean, blasting away dirt and harmful bacteria that ruin the appearance of your outdoor space and can cause corrosive damage over time.
Protect and Polish by Refinishing
Speaking of pressure washing, it's by far the best method of surface preparation when it comes time to put a fresh coat of paint or stain on your outdoor structures. Pressure washers can strip loose paint and wood stain off much faster and more efficiently than sanding ever could, leaving behind a smooth, clean surface to work on. Once it's clean and primed, we'll apply a new layer of paint or stain, then cover your deck with sealant to protect against moisture damage and give it a fresh, attractive appearance.
Don't Forget the Footing
When you're looking for potential problems that need deck repair, remember to check the underside for damage as well. Changes in landscaping or just soil erosion over time can create grading and drainage issues that cause water to pool around concrete footings and deck posts. This can wear away soil, leaving too many of the posts exposed and weakening the supports. Pooling water also freezes in winter, and constriction from the freeze-thaw cycle can cause concrete to crack. Mr. Handyman will correct any problems with the grading and drainage, and repair damage to the footings so your deck is secure and solid.
How to Keep Your Deck in Great Shape Year-Round
Aside from professional deck repair, maintenance, and installation services, there are some things that homeowners can do to keep their outdoor structures in great shape all year. Make sure your outdoor surfaces are part of your annual preventative maintenance schedule for your home, so you can check for problems such as wood rot and catch them early on when they're still just a minor inconvenience. Regular maintenance such as cleaning will keep your surfaces looking great season after season. Here are a few more tips to keep your deck looking good:
Move furniture, planters, and other items around once in a while to prevent them from trapping moisture.
Avoid rugs outside if possible, as they attract water. If you must have them, plastic is a better choice than natural materials.
Trim tree branches, bushes, and other plants so their moisture-laden leaves are at least a couple of feet away from the wood.
Mr. Handyman is Your Local, Trusted Deck Repair Company
Whether you're in Westmont, Schaumburg, Bloomingdale, or other parts of the West Chicago area, you can rely on the deck repair professionals at Mr. Handyman of Wheaton-Hinsdale for repairs, maintenance, and improvements that will give you back your dream deck.
Give us a call or text to find out more about how we can enhance your home and make your life easier!