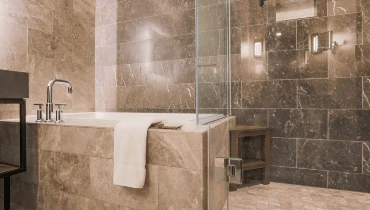 Out of all the rooms in your house, the bathroom is probably the most crucial one. It's your first stop at the beginning of the day and your last stop before bed. It should be the perfect place to relax and rejuvenate. But when it doesn't function properly or suit your needs—or is just plain ugly—there's nothing relaxing or enjoyable about it. It's just a room you have to use and can't wait to leave. The washroom of your dreams is closer than you think with help from our team of Wichita bathroom remodeling experts!
Planning to remodel a room in your home—especially one as complex as the restroom—is a big challenge, but it's also a lot of fun when you think positively! Your dream bathroom remodel could increase the value of your property and give you a chance to put your own personal design style on display. Follow these tips to plan your Wichita bathroom remodel, and you can avoid the pitfalls of a messy, time-consuming improvement project while still getting the gorgeous renovation you've been dreaming of.
Whether you're looking for a luxurious, spa-like master bathroom or simple remodeling enhancements for a bathroom makeover, the team at Mr. Handyman of the Wichita Metro Area has the Wichita bathroom remodeling expertise needed to transform your washroom from drab to fab. Our highly skilled and vetted Wichita handyman team has 25 years of experience on average, and we take great pride in the exceptional quality of our workmanship. Our licensed, qualified team will take care of every single step in your bathroom remodel. Wichita, KS property owners can rest easy knowing that our service technicians are licensed to carry out electrical and plumbing work, such as installing lighting and bathroom fixtures and readjusting drain pipes.
Make a Budget and (Try to) Stick to It
While you might be tempted to shoot for the stars, it's important to do your research and think carefully about how much you're able to afford before you get started, so you don't have an unpleasant surprise when you receive the bill.
There are two key costs that you need to consider: the cost of the materials and fixtures you want to include and the cost of labor from professionals who offer Wichita bathroom remodeling services. You'll also need to consider if you'll need more costly services, like moving the location of a plumbed-in fixture.
Although you don't want to go over your planned budget, it's important to understand that you can't plan for every eventuality, and unexpected costs might pop up that stretch your budget thinner than you'd like. Always include some extra padding for those "just in case" scenarios.
Think About Future Needs
The next thing to ponder is your life goals and how your custom bathroom will be used in the future. Planning on selling your house in the next few years? Stick with an attractive, classic remodel that will increase the value of your home. If you're not sure how to accomplish that, white or neutral-colored tile is a good place to start. It may feel bland to you, but remember, it's in your hands to spice it up a bit with artwork and colored textiles like towels and bath mats.
Maybe you're thinking of having children in the near future—keep in mind that it's pretty difficult to wash a toddler in a shower (they're slippery!), so you'll want a bathtub installed. Thinking about not only what you need and want now but how your requirements may change over the next decade or so will help to give you a road map for how to approach Wichita bathroom remodeling.
Improve Accessibility for Those With Reduced Mobility
Whether you are approaching your golden years and plan to age in place in familiar surroundings, or you're looking for ways to make your home more comfortable and accommodating for a loved one with reduced mobility, it makes sense to consider accessibility modifications that will improve the safety of your bathroom.
The bathroom is an intimate space, and most people prefer to have privacy when they're in there. People with disabilities are certainly no exception, so it's particularly important to provide installations and assistive devices that make it safe and easy for them to handle as much of their bathroom routine as possible on their own. Here are some typical modifications that will help to accomplish that, though there are other options as well.
Grab Bar Installation
A person who has difficulty with mobility is most at risk of injury in those transition moments when they need to move from a seated to a standing position or vice versa, or when they are moving from a wheelchair to the toilet or shower. Grab bars can be a simple and very helpful addition to your Wichita bathroom remodeling plans. They reduce the possibility of falling injuries because they provide a firm gripping point that can be used to steady yourself or to use the strength in your arms to pull yourself into a standing position. When it comes to the toilet, it's often best to have grab bars positioned horizontally on either side of the seat, but it's also helpful to have a vertical bar on the wall opposite the toilet as well as above the toilet tank. In the shower, it's typical to have a long horizontal bar along the wall and a vertical bar on the wall opposite the shower head. It's not necessary to remove existing wall tiles for grab bar installation—your handyman will need to drill holes in the tile, but they'll be completely concealed once the grab bar is installed.
Raised Toilet Seat
Another relatively simple Wichita bathroom remodeling installation that could make a big difference for safety and comfort is a raised toilet seat. The elevation of the seat reduces the distance between standing and sitting, so there's less risk of accidentally crashing down onto the seat, and it's easier to get back up into a standing position.
Barrier-Free Shower Base or Walk-In Tub
Accessing bathing facilities is no simple matter when you can't swing your leg up over the side of a bathtub or lift your foot over the raised edge of a shower pan. Our Wichita bathroom remodeling experts can install a barrier-free shower base with a gentle slope to keep the water moving toward the drain or a walk-in tub with a "gate" that swings open so you can get into the tub and seat yourself safely on a built-in seat.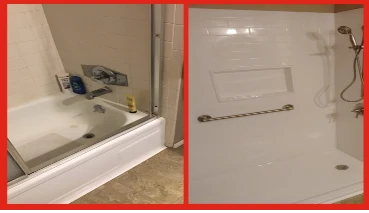 Consider Modifying the Type of Bathroom
Though homeowners typically stick with the same type of room when it comes to a Wichita bathroom remodel, there's nothing wrong with considering the other possibilities as well. Here are the most common types of bathroom remodel in Wichita, KS:
Standard Bathroom: Also known as a full bath, this configuration includes a toilet, shower, or bathtub and at least one sink. Modern homes are typically built with one or more standards along with an ensuite or powder room, but in older homes, it's common for the household to share one standard among everyone.
Half Bath or Powder Room: Usually located on the main floor, these small rooms contain just a toilet and sink with no shower or tub. If you're thinking of selling your home and you don't currently have a bathroom on your main floor for guest use, you can boost property value by putting in a half bath.
Ensuite: These rooms are similar to standard bathrooms, but they are only accessible through another room (usually the primary bedroom). They are also generally bigger and more luxurious, with added amenities such as a double sink vanity, brand-new bath, or oversized shower.
Should Tub to Shower Conversion Be a Part of My Wichita Bathroom Remodeling Project?
Homeowners sometimes ask us if we think they should get rid of their bathtub or tub-shower combo in favor of a large, luxurious shower. If you don't enjoy taking baths and really only use your bathtub as a place to stand while you're taking a shower, then by all means, add a tub to shower conversion to your Wichita bathroom remodeling plan. That space will be far better used by an oversized shower that you'll enjoy a lot more, and you'll have space for extra amenities like a second shower head or added in-shower storage space for shampoo bottles and loofahs. It can also help the room feel brighter and more open, especially if you opt for a glass shower barrier.
If you don't have room in your budget to gut an entire room and start from scratch, then you should absolutely consider the benefits of shower remodels as an alternative. A tub-to-shower conversion can be the perfect way to make a big difference in the appearance and function of your bathroom without having to change every last thing.
Sketch Your Bathroom Layout
Grab a paper and pencil and sketch the layout of your new washroom. This is a good step even if you aren't planning on changing the location of any fixtures because it'll help you visualize the finished product and notice any weak points in the design. It also helps your handyman understand what you want, enabling them to deliver an easy, stress-free Wichita bathroom remodeling experience.
Can I Add or Relocate a Wall During Wichita Bathroom Remodeling?
Absolutely! Maybe your current room is too small to adequately meet the needs of your household, and you want to move a wall back to give some extra space. Or, it could be that the current layout is an odd or inconvenient shape, and adding a wall will bring it more in line with your interior design vision for Wichita bathroom remodeling while allowing you to claw back a little space for another room. The skilled framers on our team are licensed, insured, and highly experienced, so they know how to move or add a wall safely and efficiently without causing any damage to components of your house, such as your plumbing or electrical system.
List Every Component, From Large to Small
Make a list of every last component that will go into your Wichita bathroom remodeling project, from the large and obvious stuff to the smaller things that you might not think of right away. Here are some things that might show up on your list:
Flooring
Walls
Windows
Wall and floor tile
Bathtub
Shower
Toilet
Sinks
Faucets
Countertop
Cabinets and drawers
Drawer knobs and handles
Double-Vanity
Mirror
Lighting
Ventilation
Medicine cabinet
Towel rack
Toilet roll holder
Decorative features
Go down your list and think carefully about each item. What will it look like? How will it function? Where will it be located? Will it match or contrast with other items in the room? It might not seem important to think about something like the toilet roll holder right now, but you'll be glad you did when you're enjoying a perfectly functioning, well-designed washroom.
Don't Forget About Ventilation.
If you have a window in the room that opens, you can use it for natural lighting and open it when you get in the shower to ventilate steam. But if that's not an option—or you're not willing to shower with the window open—it's very important to include a bathroom fan when you're planning your bathroom remodel. Wichita, KS, homeowners need an efficient ventilation fan that sucks up steam and deposits it outdoors; all the steam from hot showers will condense on surfaces and seep in, causing serious water damage problems like wood rot softened drywall, mildew growth, and more. It's well worth avoiding moisture damage mitigation by simply having your handyman install an exhaust fan.
Decide on Materials
There is a wide variety of things to choose from. Your choice of materials can really make or break your bathroom remodel. Homeowners should be aware that materials used can affect durability, functionality, and, naturally, appearance.
If you're looking for ways to shave down the price of your bathroom renovation, consider using less expensive options in some areas. This isn't about using poor-quality stuff because, of course, you want top-quality materials. But if, for example, you have marble penciled in for your countertops, remember that granite or a man-made material such as a quartz countertop can be just as durable and appealing.
Also, consider which materials will perform best in your home and climate. That's why it's important to hire expert bathroom remodelers, such as Mr. Handyman of the Wichita Metro Area—you want a handyman who understands how homes are built and maintained in Kansas and can give you recommendations on the best materials to use.
One more note on materials—don't get too hung up on product trends. It's nice to be "in," but this room is going to be around for a long time and will probably outlive those trends pretty fast, leaving you with an outdated look.
What's the Best Option for Cabinet Installation in Wichita, KS?
There are hundreds of options for styles and configurations, but when it comes right down to it, there are two main types of bathroom cabinets: prefabricated and custom-built. It will come as no surprise to learn that we believe our custom solid wood cabinet construction is the best option for any Wichita bathroom remodel project. Here are the key advantages of custom cabinets made by our skilled carpenters, and you can learn more about why custom cabinets are totally worth it!
Right Look: When cabinets are built for you, they can be tailored to suit your aesthetic preferences, from color and style to configuration and location.
Perfect Fit: We've all seen cabinets that were a bit too big and had to be awkwardly adjusted or are too small and leave a gap for dirt and debris to get trapped in. Custom cabinets eliminate that problem because they're built to perfectly fill the available space.
A Place for Everything: There are a lot of things that need to be kept on hand in the bathroom, but you don't necessarily want to have to look at them all the time. With a creative cabinet installation, you can get the space you need to keep everything tucked away, so it's right there when you need it.
Indulge in a Luxury
We know we know... we told you to stick to your bathroom remodeling budget, and we stand by that. But, you should make room in the budget for at least one luxury item that you've always wanted. It'll take your washroom from "nice enough" to "luxurious bathroom getaway" and be totally worth it.
Here are a few ideas to get you started:
Heated tile floors
Warming towel racks
Wall mount fixtures such as the toilet or washbasin
A jetted hot tub-style bath
A television (hey, there's nothing wrong with watching TV in the tub!)
A double-sink vanity for your master bathroom
Mr. Handyman is Your Wichita Bathroom Remodeling Expert!
If you want a quality renovation, steer clear of unlicensed remodeling contractors. Instead, put your trust in your dependable Wichita handyman who understands your vision and has the skill, tools, and expertise to make it happen. Look no further than Mr. Handyman of the Wichita Metro Area! We are a locally-owned and operated business, so whether you're in Wichita, KS, or nearby communities, such as Haysville, Andover and Garden Plain, you can trust our team for expert workmanship and reliable customer service.
Give us a call today, and we'll show you why we're the number one choice for bathroom remodeling in Wichita, KS.