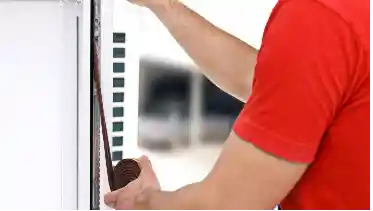 You probably don't think about your windows much, but they're one of the most important aesthetic and functional features of your home. A large window can make a small space feel larger by adding lots of natural light and views of your Wichita neighborhood. On warm summer days, your windows also allow you to let a fresh breeze into your home. But did you know that your windows are also a key component of your home's heating and cooling system? This means they're vital to keeping your energy bill low and reducing your ecological footprint. Without window repair, Wichita, KS homes' windows could actually be an eyesore and drive your energy bill up.
It goes without saying, but when your windows have seen better days, they seriously detract from your home's appearance. Peeling paint, rust, and cracks give your home suggest neglect, whether or not that's the case. Additionally, some types of damage may be a fire hazard, resulting in your loved ones being unable to use your windows as exit points in the case of an emergency.
Many homeowners in Wichita spot signs of damage to their frames and glass and think their only option is to replace them, but this is not always the only option. For many issues, a skilled Wichita handyman or carpenter will be able to complete a repair. At Mr. Handyman of the Wichita Metro Area, our team of experienced service technicians is ready and willing to help you out. We offer a range of home repair and maintenance services to both residential and commercial customers, including window pane replacement, repair, and installation of all new units.
In this guide, we'll help you understand the importance of window repairs. Wichita, KS homeowners, will learn about common signs that call for repairs or when replacement becomes your only option and how to avoid needing repairs in the future.
Importance of Window Repairs in Wichita, KS
Nothing is made to last forever. Even the highest quality window frames and glass can't get away without repairs or even glass replacement at some point. As a homeowner or business owner, it's in your best interest to make repairs and replacements that make the most financial sense. In many cases, a reasonably priced repair will be all you need to reap the benefits of a fully insulated window.
The biggest reason to get a window repair in Wichita, KS, is to improve the energy efficiency of your home. In the winter, your damaged window may increase your bill from Kansas Gas Service, and in the summer, your air conditioning unit may need to work overtime to keep your home cool. Though, there is an upfront cost to window repair. Wichita, KS property owners, will, however, see a reduction in their energy bill as a result of those repairs. It will pay off the cost in no time and even include an Energy Star certification.
Damaged glass and frames can also be a security risk. Those cabin windows with cracks will indicate to intruders that the property isn't cared for, and they may see an opportunity to commit a crime. Awning windows with loose hinges can fall and cause a large amount of broken glass, resulting in a major hazard. Even if it seems like a hassle, that old window repair is worth it.
6 Signs You Need Window Repair in Wichita, KS
There's a wide variety of window types, and if you weren't responsible for the installation of your existing system, it's worth inspecting them. Some residential and commercial customers aren't sure how to tell if their windows are compromised. You are lucky if there are home insurance companies that cover any damages. Unfortunately, it is your responsibility to act fast on warning signs. There are usually two primary regions where you should look for damage:
First, check out the pane. Is it cracked? Does it have a hole in it? If it is double-pane glass, check between the panes. Is it foggy? Or perhaps the glass is no longer aligned with its frame? Damaged glass will almost always need to be replaced because glass repair won't give you a long-term solution.
Next, take a look at all the areas surrounding the panes. This includes the sash, jamb, siding, and drip caps. In most cases, these elements can be repaired rather than replaced. As such, our article will mainly focus on these components.
If you can't see any visible signs of damage, but you notice that the room feels very hot or cold near the window, it's best to call in a window repair expert. Visible signs of damage include the following:
1. Water Damage
No homeowner in Wichita state wants to deal with water damage. Even spotting a small brown stain on your wall or ceiling is enough to cause alarm—and for a good reason. Water damage can seriously wreak havoc on your house's structure by causing the wood to rot. Once wood rot begins, there is little you can do to stop it.
The first point of contact for moisture to get into your home is often through the window. Like an unwelcome burglar, water will creep into cracks, missing molding, and already rotting frames and sills. To determine whether you have water damage, simply look for pools of water on the sill or condensation on the glass. Sometimes, a damp smell may also be present.
2. Rotted Frames
One of the most worrisome side effects of water damage is a rotting window frame. Typically, heavy rains and humidity will seep into the wood over time. Even treated and weatherproofed wood can rot if exposed to enough prolonged periods of moisture. Keep an eye out for wood rot, not just along your windows but throughout your home. Signs include:
Crumbling wood that breaks into cube-like pieces
Discoloration
Softwood (e.g., it punctures when you press a screwdriver against it)
Generally, unless you own an older home or commercial property, you won't have wood windows. Property owners with frames made from vinyl, fiberglass, and aluminum do not have to worry about wood rot. In the end, it still pays to be aware of any signs of moisture, as the drywall can be impacted by water.
3. Rotting Drip Cap
Another high-risk area for wood rot is the drip cap. Located on top of the frame, the drip cap acts like a tiny awning and stops moisture from seeping into your house. Not all drip caps are made out of wood. Many are made out of vinyl or aluminum. However, they can still get damaged or go missing—say in a storm. It's important to ensure your drip cap is in good condition. They might be small, but they protect your home from considerable damage. This damage is considerably more costly than the cost of replacing a drip cap.
4. Chipped and/or Peeling Paint
You might think peeling and chipped paint are simply cosmetic issues. While they are to a degree—they certainly detract from your curb appeal and make your home look dilapidated—they also increase the risk of wood rot.
Exterior paints are formulated to protect the wood from the elements. Sun, rain, and fluctuations in heat and cold are just some of the benefits that paint provides. If your paint is peeling, give the frame a quick sand and reapply a fresh coat at your earliest convenience.
5. Worn Caulking
Drafty windows? Perhaps your caulking has worn out. Caulking seals gaps, usually where one part of your home meets another, for instance, where the pane meets the frame. In bathrooms, caulk is typically used to seal the space where your tub meets the wall. This thin strip of material prevents drafts, bugs, and water from sneaking into your home.
6. Difficulty Opening and Closing Windows
Inoperable windows may not seem like a big deal, especially if you're not fond of having them open, to begin with. But it's actually quite a serious problem because sticking windows are a fire hazard. Windows that don't open or close are usually caused by the following problems:
Rusty latches and hinges
Twisted window frames (sash can't work properly)
Too much paint on a sash (causing it to stick)
The sash is misaligned with the track
A sticking window also tells you that your frames have been damaged and are likely no longer providing a proper seal. In this case, frame replacement may be your best bet.
When Window Replacement Is Your Only Option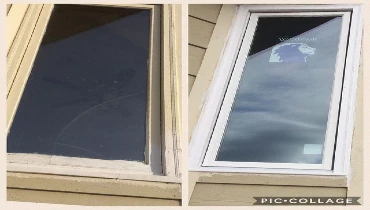 If you notice frame or glass damage, your first course of action should always be to peruse potential repair options. Unfortunately, repair is not always in your best interest.
The number one reason you should consider installing a completely new window unit is to replace a single-pane unit with an energy-efficient double-pane unit. As the name suggests, single-pane units are composed of a single pane of glass. This provides little to no insulation benefits for your home. A double-pane unit is composed of two panes of glass with a vacuum of air or argon gas in between. The insulation benefits of this are such that, on a cold Wichita city day, you should be able to place your hand on the glass and find it is around the same temperature as the interior of your home.
In addition to upgrades, there are occasionally situations in which the deterioration or damage to the window unit is so extensive that window replacement of the entire unit becomes the most cost-effective option. Broken glass on a single pane within a double pane window cannot be repaired and requires purchasing a replacement window. Repairing broken windows of this kind would allow the vacuumed air or gas to escape, thereby eliminating the insulation benefits.
An experienced window repairman can help you answer the following questions:
Can the frame be repaired?
Can the broken piece of glass be replaced, or do I need new windows?
A reputable specialist in window repair will be able to determine the best course of action for your goals and budget. This way, you can look forward to a brand new energy-efficient and Energy Star-certified product.
How to Avoid Window Repair in Wichita, KS
Although window repair is sometimes unavoidable, just like your front door, there are steps you can take to avoid needing window installation and repairs in the near future. The longer you can make your windows last, the more money you'll save in the long run. Our top maintenance tips include:
Conduct annual window inspections. If you're a business owner, hiring a service technician to inspect all windows around your commercial property will help you work repairs and replacements into your annual budget.
Remove moisture. Wooden frames are at a high risk of developing wood rot. To prevent this, ensure that you wipe off any condensation that develops on your frames. For outdoor frames, regularly apply a sealant to protect them from moisture.
Touch-up caulking. The first thing to go on windows is often the seal. If left unaddressed, broken seals can allow water into gaps and cause moisture damage. Regularly check your caulking and reseal the corners and edges as necessary.
Follow safe window cleaning. When cleaning glass, ensure that you are using the proper products and are being gentle. Though pressure washing may seem like a quick and easy way to get the job done, it could end up causing cracks in even the highest quality glass.
Window Repair Wichita KS: Hire Mr. Handyman from the Wichita Metro Area
Whether your frame is rotten or stuck, or you've noticed the drip cap is missing, the pros at Mr. Handyman of the Wichita Metro Area can help with your window repair. Wichita, KS residents can count on our expert service professionals who are highly trained and hard-working. With an average of ten years of experience working in the handyman and carpentry industries, our window repair experts have the skills and expertise to efficiently complete your repair according to a high quality of workmanship. Using our expert knowledge, we'll provide advice on whether repair or replacement is the best solution for your situation. You can count on our team to be transparent throughout the entire process and always treat you and your home with courtesy and respect.
Our team is proud to serve not only residents and business owners within the city of Wichita, including surrounding areas like Augusta, Derby, and Bel Aire.
To book an appointment or to learn more about our complete range of services, we invite you to give our friendly customer service representatives a call, can't wait to help you with your window repair. Wichita, KS homes deserve the best handyman services!